Looking for a hostess gift? Look no further! Grab a jar and layer up all of the ingredients for these delicious Chocolate Chip Snickerdoodle Pancakes!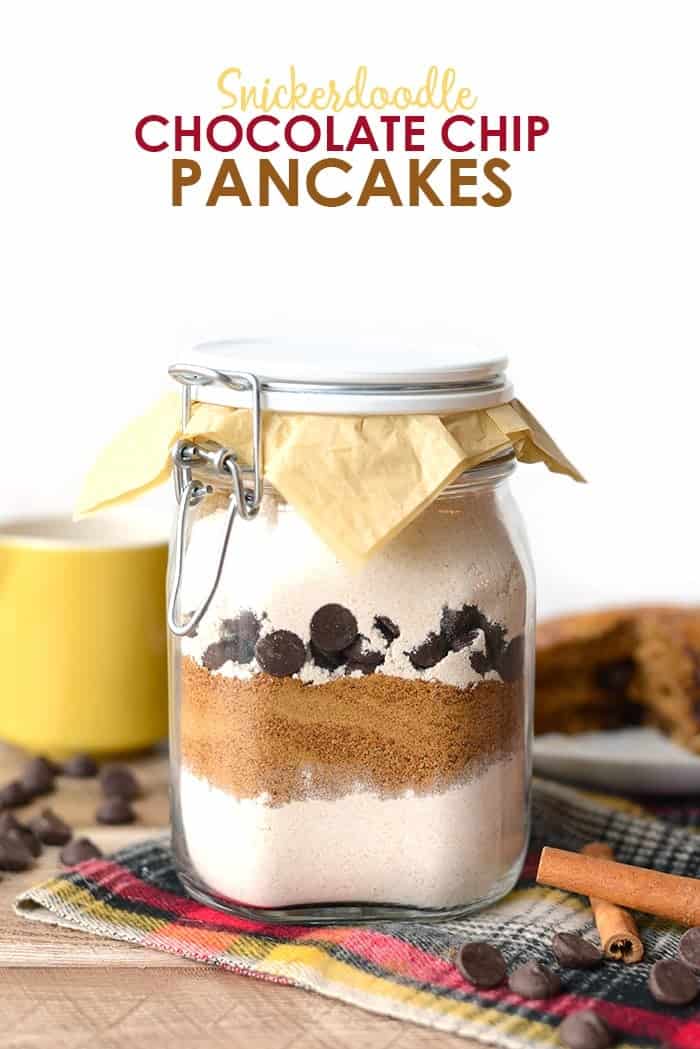 Today Davida and I would like to introduce DIY Holiday in a Jar Series! For the next 6 weeks we will be bringing you some fun DIY gift ideas for the holidays. There's nothing better than a homemade gift, and that's the truth. I feel the same way about cards, too.
I wanted to start off the series with a little something that is near and dear to my heart.
PANCAKES.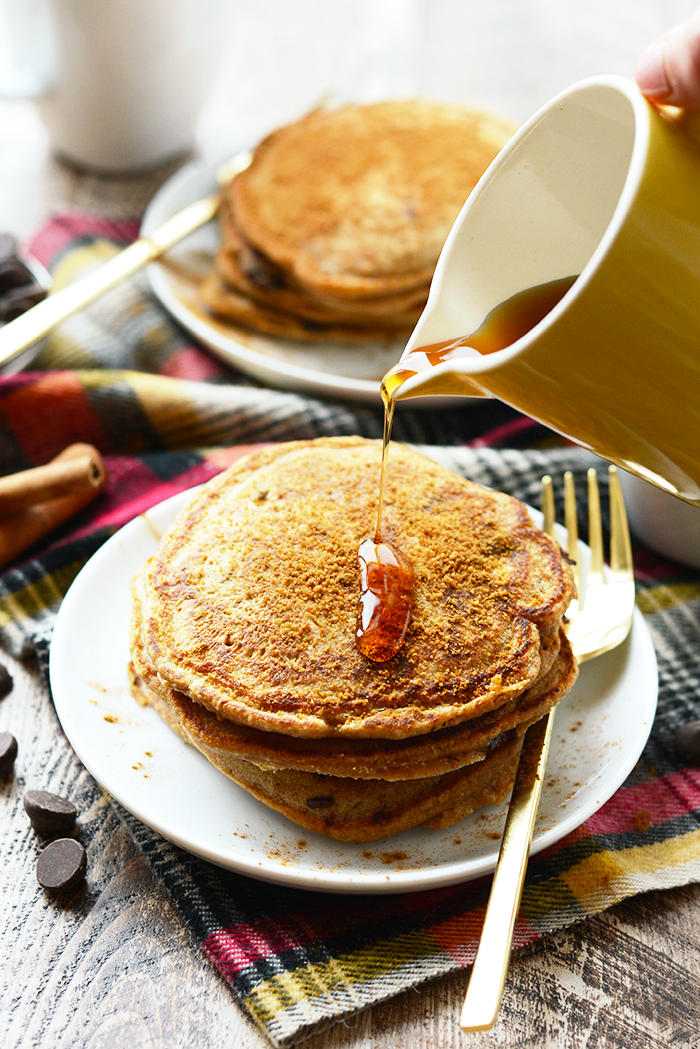 Pancakes are a weekly thing for me. Usually when it's 6AM on Sunday morning and I'm wide awake, I decide it would be in my best interest to make a huge batch of pancakes. I never set an alarm and I'm up by 6:15 most days…even on the weekend! I know, crazy. Right?
You guys loved my Whole Grain Banana Pancakes so I decided to take that recipe and modify it into a little something more holiday. Insert  —> snickerdoodle + chocolate.
These pancakes are made with 100% whole grain flour, no refined sugars, and coconut oil! They're topped with coconut sugar + cinnamon to give the same effect as classic snickerdoodle cookies.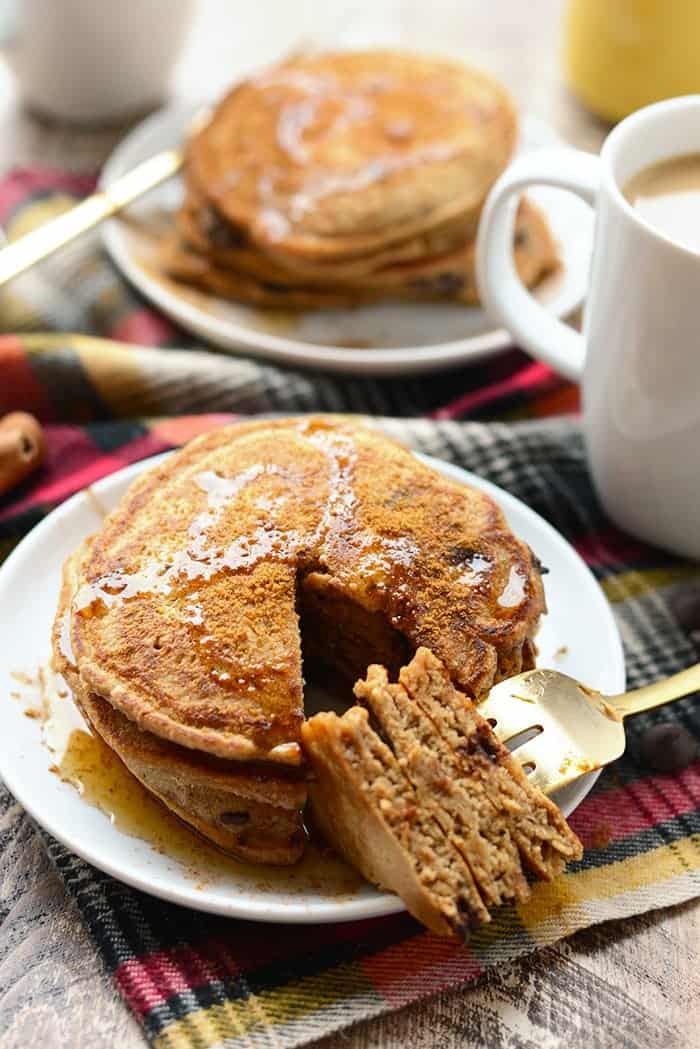 You can either make these pancakes for yourself, or throw all of the dry ingredients in an awesome jar and hand this off as a gift! If you are wondering where I got my awesome jar, the answer is TARGET. I also wanted to note that this specific jar (which is 1L) holds a double batch of these pancakes. You read that correctly, DOUBLE BATCH. SO just make sure you gift accordingly 🙂
I layered 1/2 flour + sugar + chocolate chips + 1/2 flour + spices/baking powder. You don't have to follow the exact layout of method, but just wanted to give you some direction with what I did. Also, make sure to tell your gift recipient to only use half of what's in the jar + the wet ingredients from this recipe.
I know, I'm making you do math.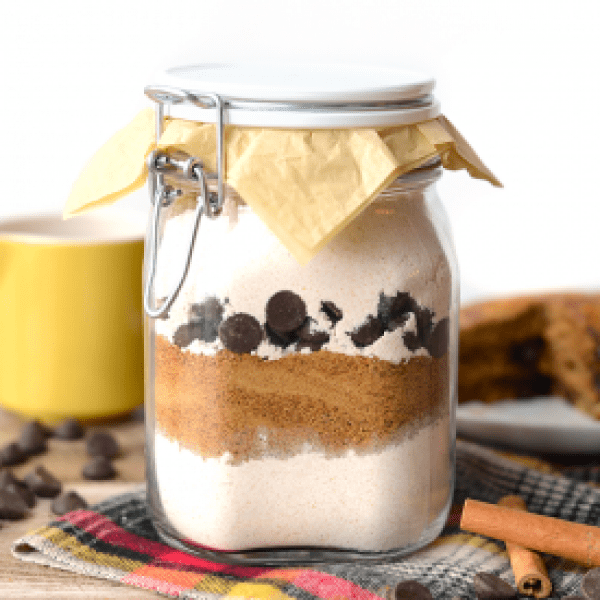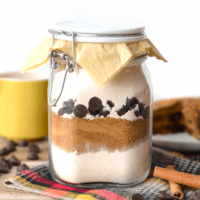 Chocolate Chip Snickerdoodle Pancakes
Prep:
5 mins
Cook:
15 mins
Total:
20 minutes
Yield
12

medium pancakes

1

x
Ingredients
Dry
1.5 cups

whole wheat pastry flour

1/3 cup

coconut palm sugar

1 teaspoon

baking powder

2 teaspoons

cinnamon

1/2 cup

dark chocolate chips (or dairy-free)
Wet
2

eggs, large

1 teaspoon

vanilla extract

3 tablespoons

coconut oil, partially melted

1.25 cups

almond milk, unsweetened
Instructions
First, spray a nonstick pan with coconut oil cooking spray and turn stove to medium heat.
Mix together wet ingredients in a large bowl. Slowly add in dry and mix until combined.
Using a 1/4 cup, scoop batter onto pan. Let cook for 2-4 minutes on each side, or until golden brown.
Tips & Notes
If you are using the jar that I used in the photo, make sure you DOUBLE the recipe in order to fill the jar all the way to the top!
Head over to The Healthy Maven for her first recipe in the series. She is the master of all things DIY and makes the most fabulous scrubs. I have no doubt that this Gingerbread Body Scrub is amazing as ever.