I have been a carb queen lately.
Oats, Pasta, Rice, Quinoa, Cous Cous…you name it I'll eat it!
I wanted to make a dish using simple ingredients that has a whole lot of flavor. Oh, and that doesn't take a lot of time to make. IE: Pancetta Pasta!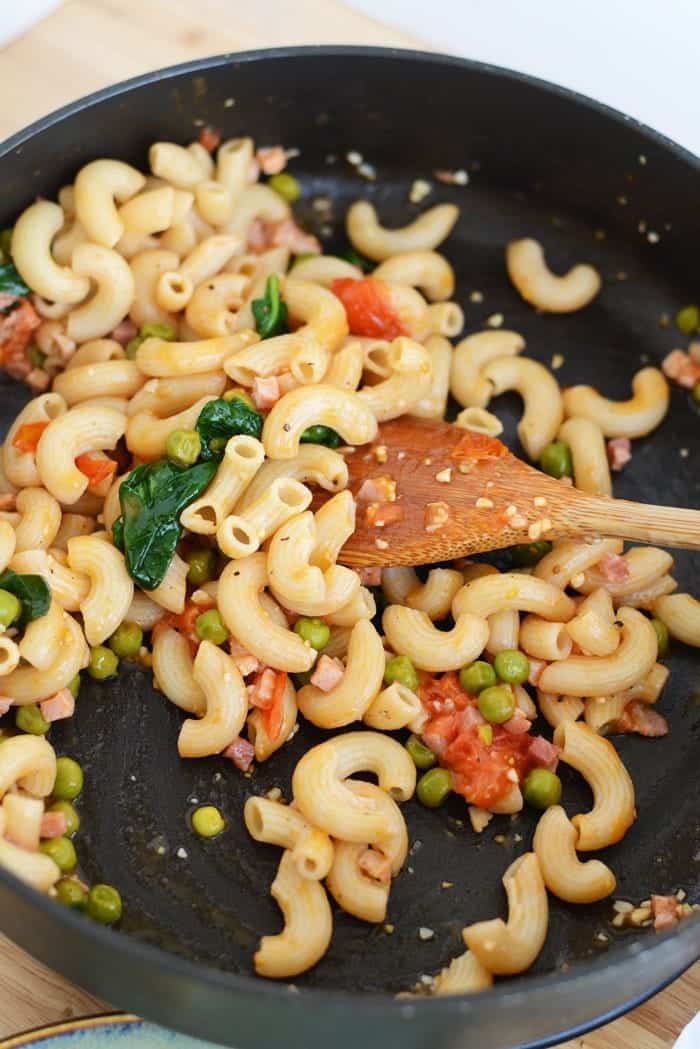 Yes, you saw that photo correctly…I added spinach. Me eating sautéed spinach? I know you must think the world is ending, but it was actually really good :D Probably because it was smothered in garlic. #winning
I've also been on a pea kick lately. Peas and sea salt are like the best thing ever. So are steamable vegetable bags that you buy frozen.
Pancetta. This was my first time experimenting with pancetta..a very close relative to bacon (pork). I got it pre-diced from Trader Joe's. Make sure you COOK IT BEFORE YOU EAT IT. I couldn't tell for the life of me if it was pre-cooked or not, but after some research on Sir Google I found that it was uncooked.
So- I sautéed it in some EVOO and garlic before adding the rest of the veggies and pasta.
Topped with some slices of parmesan cheese and you've got yourself one delicious dinner!
That your man candy won't even know is gluten free!
Recipe
Easy Peasy Pancetta Pasta
Prep Time:

10 minutes

Cook Time:

20 minutes

Total Time:

30 minutes
Ingredients
-2.5 cups gluten free, brown-rice pasta (or whatever pasta you want)
-1 tablespoon EVOO
-1 tablespoon minced garlic
-3/4 cup pancetta, finely diced
-1 cup peas, frozen
-2 handfuls of spinach
-1 cup cherry tomatoes, cut in half
-salt and pepper to taste
Instructions
Begin by cooking pasta. Follow the directions on the box.
While the pasta is cooking, heat a tablespoon of EVOO and 1 tablespoon of minced garlic in a large non-stick skillet to medium/high heat. Then, add in pancetta and sauté for about 5 minutes. Add in peas and cherry tomatoes and continue to sauté for about 5 more minutes. Finally. Add in 2 handfuls of spinach and sauté for an additional 2-3 minutes. Season with salt and pepper.
Once the pasta has cooked, drain water and add pasta directly into pancetta mixture. Mix, so that the pasta is fully coated.
Serve with freshly grated parmesan cheese.
Similar
I always find it extremely fascinating to compare my before and after images of the photos I take. There is so much that goes into play for a photo- the lighting (whether it is cloudy, snowy, sunny, etc.), time of day, food composition, etc.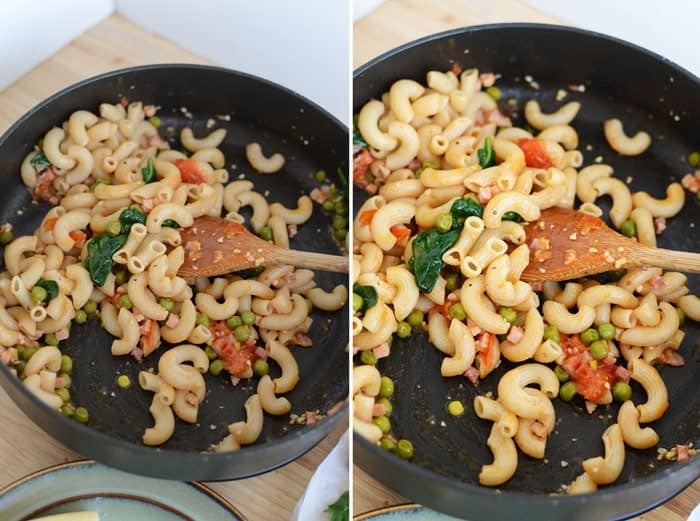 In both of the above photos, I pretty much did the same thing. I get the question a lot of what program I use…PHOTOSHOP and have access to the entire Adobe Suite. I have the standard version, which I purchased through my university at a discounted rate (at the time I was still in school), but it retails for around $2,000 (I THINK). Adobe launched something new a few months back called the creative cloud, where you can pay monthly for certain programs. They currently have a special going on called Photoshop Photography Program for just $9.99/month. More info —-> here) :D
Anyways, back to the above photos! I brightened them up A LOT using both Levels and Brightness/Contrast. I enhanced the vibrance and upped the saturation just a little bit. Both have been cropped and slightly rotated.
Pin for later!
Happy Saturday Night!