CHILI FOR BREAKFAST.
Is actually the best thing ever.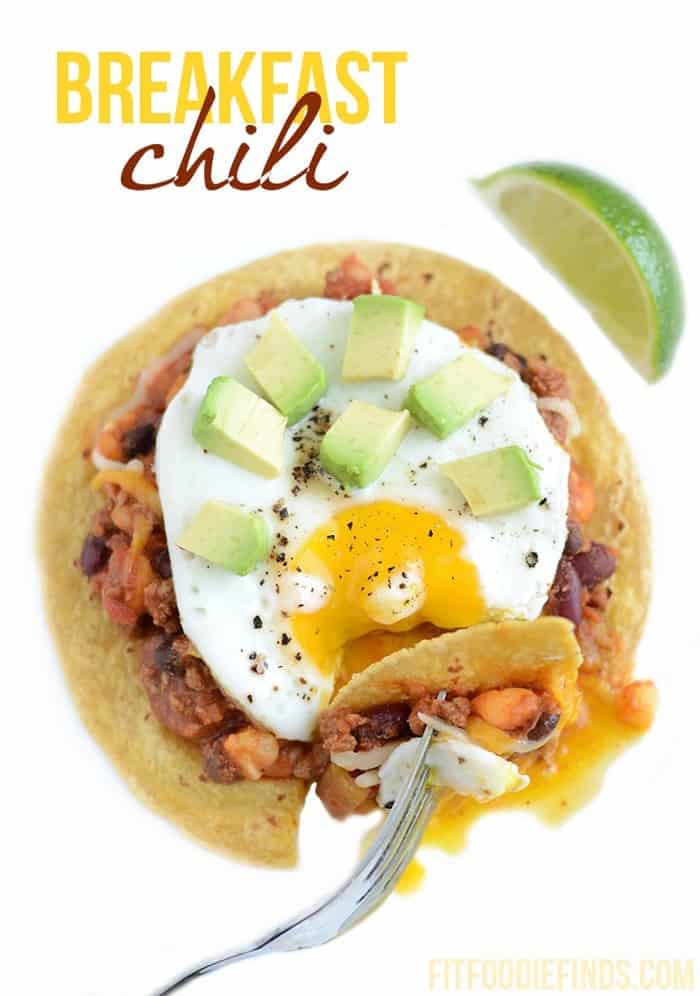 Blake and I made a giant batch of Beef and Bean chili on Saturday- similar tasting to my Lazy Girl Turkey Salsa Chili, but with beef, more beans, and no salsa.
Then Sunday morning, we really got our money's worth out of the chili and had it for breakfast. It's like huevos rancheros on steroids. SO flavorful and oh so easy to make!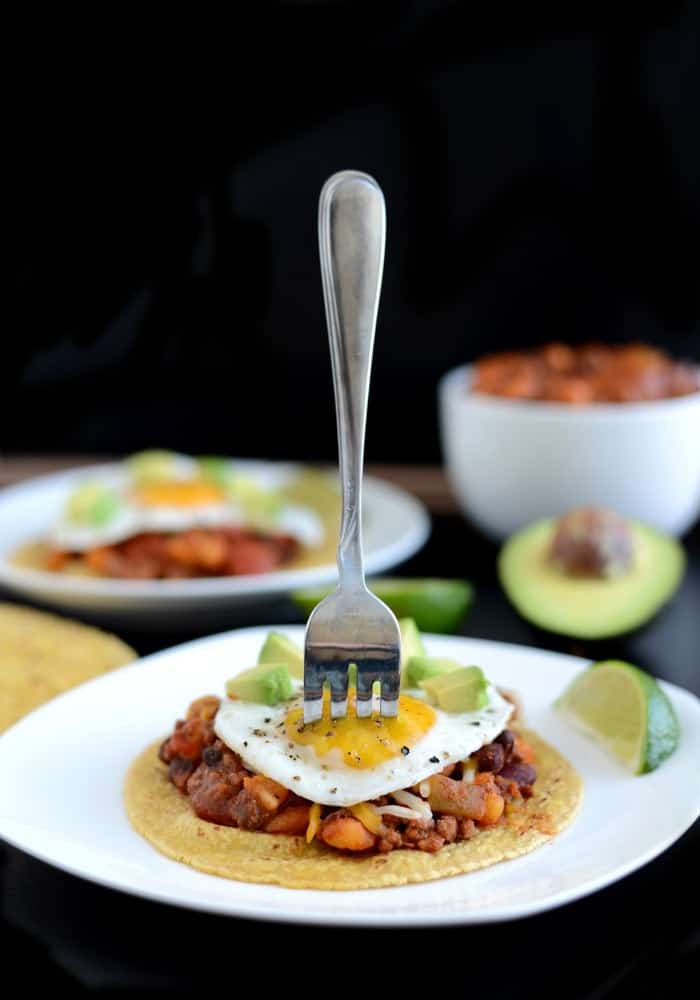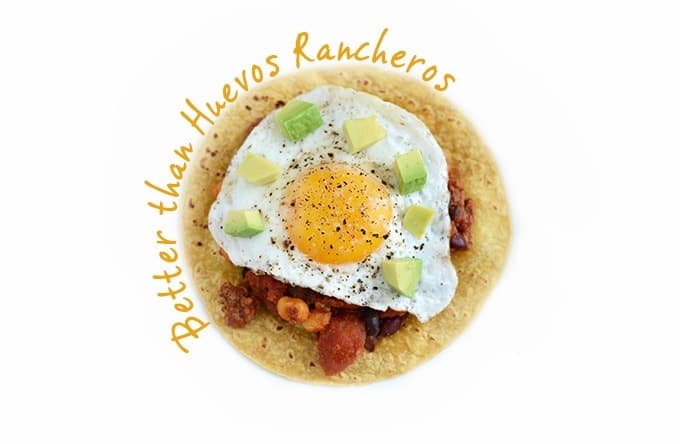 In the Beef and Bean Chili-
Ground Beef
Hominy (sort of like corn but cooler)
Black Beans
White Northern Beans
Kidney Beans
Diced Canned Tomatoes
Tomato Paste
Chili Peppers
Tons of Spices (we actually used a McCormick's Chili Spice Packet)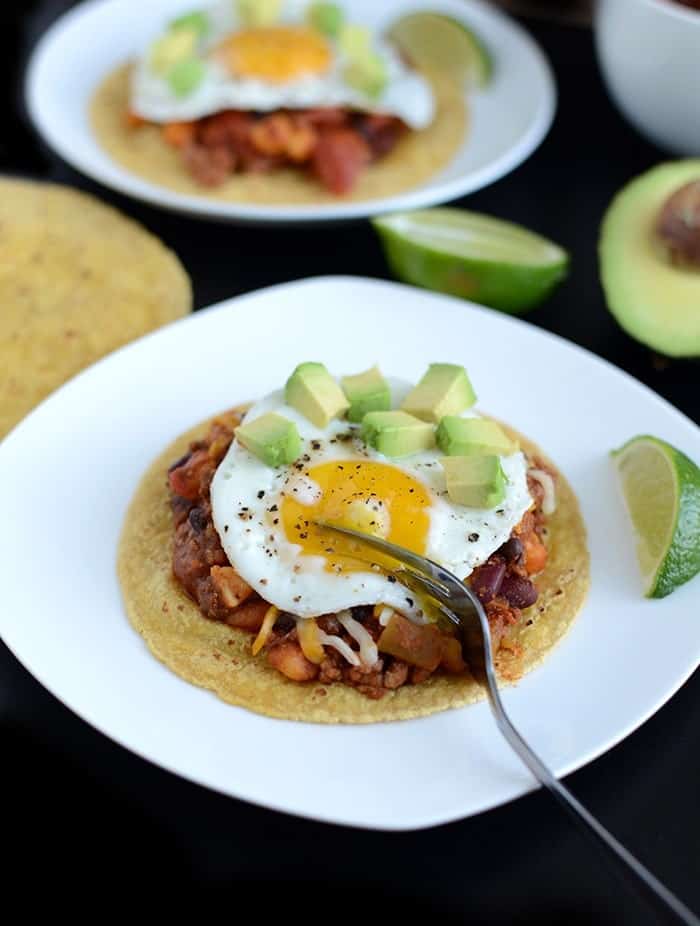 I have a little secret. I am probably the worst sunny-side egg maker EVER. I can never get them to turn out pretty. SOOO I had to turn to Blake for some tips. Here's what he said:
Use lots of lube (yes, his words)…I used Olive Oil
Turn the heat a little below medium heat
Cover it with a lid.
These were some solid tips because I made 4 eggs that were just bomb.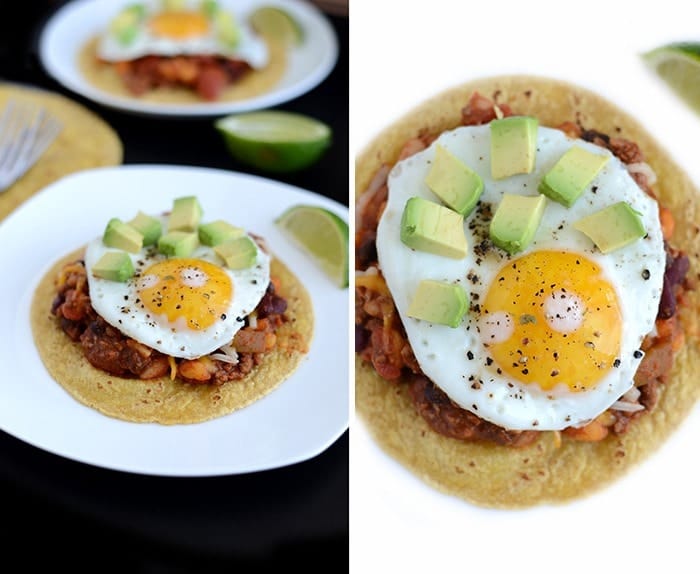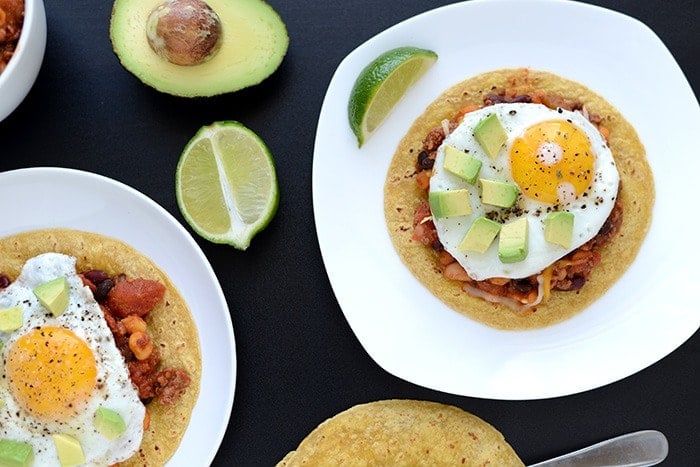 Recipe
Breakfast Chili
Prep Time:

10 minutes

Cook Time:

15 minutes

Total Time:

25 minutes
Ingredients
For the Chili
-1 pound of lean ground beef
-1 large can of diced tomatoes
-1 small can of tomato paste
-1 can of hominy, rinsed
-1 can of black beans, rinsed
-1 can of kidney beans, rinsed
-1 can of white northern beans, rinsed
-1 tablespoon of green chilis, diced (or to taste)
-1 packet of McCormick's Chili Seasoning OR your favorite chili spices
-1/3 cup water
For Breakfast
~3 cups of leftover chili
-6 corn tortillas
-6 eggs, sunny-side up
-1/4 cup Mexican Style Cheese
-1 avocado, sliced
Instructions
For the Chili
Place ground beef into a large pot. Using a wooden spoon, saute until brown. Next, add the rest of the ingredients and let simmer on medium heat for about 10 minutes,
For Breakfast
Preheat oven to Broil (high). Then, spray a baking sheet with non-stick cooking spray. Place tortillas onto baking sheet and sprinkle with salt. Place tortillas into oven and broil for about 2 minutes. Then, flip and cook for an additional 2 minutes (watch closely because these guys cook fast!).
Next, top tortillas with about 1/2 cup of chili (heated in the microwave) and a sunny-side up egg. Garnish with some Mexican Style Cheese and sliced avocado.
Similar
Do you guys have any recipe requests? I'm all ears!