Homemade gifts are the way to my heart. Really- I think the best way to show that you care is by taking some time to make something special for someone you love. If its edible…EVEN BETTER!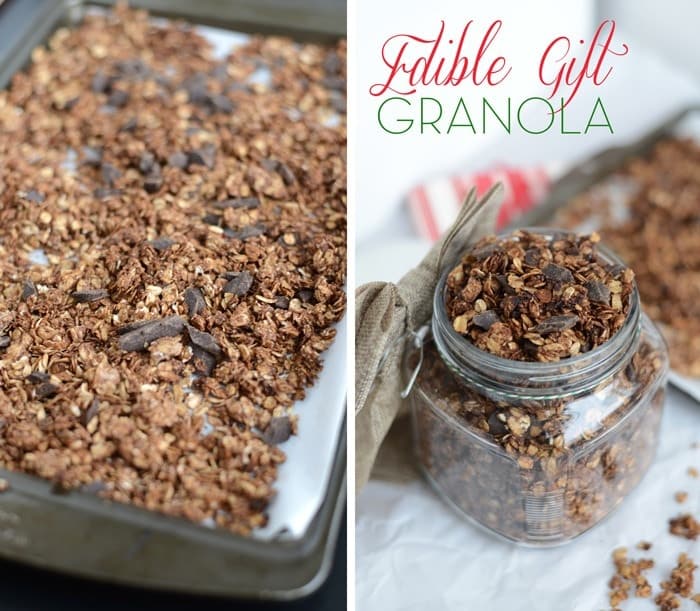 Granola is one of my go to gifts. It takes all of an hour from start to finish to make an entire batch of granola. Plus- it's much healthier than the store bought kind because you know EXACTLY what is going into the recipe and how much of it.
This granola is spiced with classic gingerbread flavors and has chunks of dark chocolate. I wanted to make sure the base of the granola wasn't too sweet because when mixed with the chocolate chunks, you don't need it any sweeter!
I picked up this cute jar at target for like $4.99 and the granola ingredients probably caused me under $5.00 to make. That's not even a $10.00 gift! Plus- you'll impress the socks off of the recipient when you tell them its homemade :)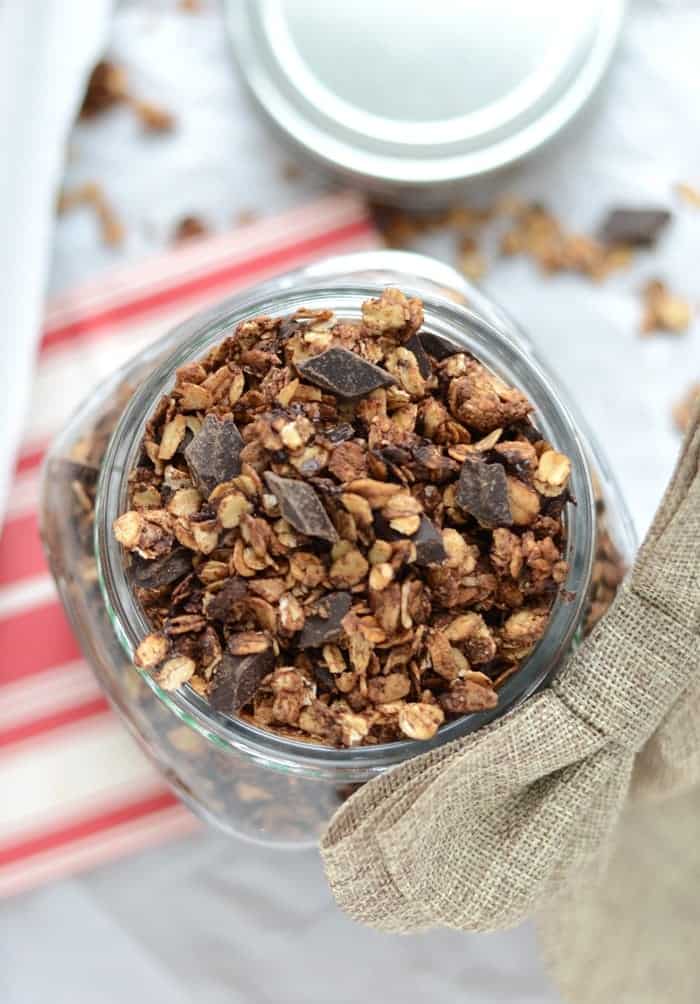 I found this cute little bow in the dollar section at Target. No need for wrapping paper when you can simply spice it up with a bow!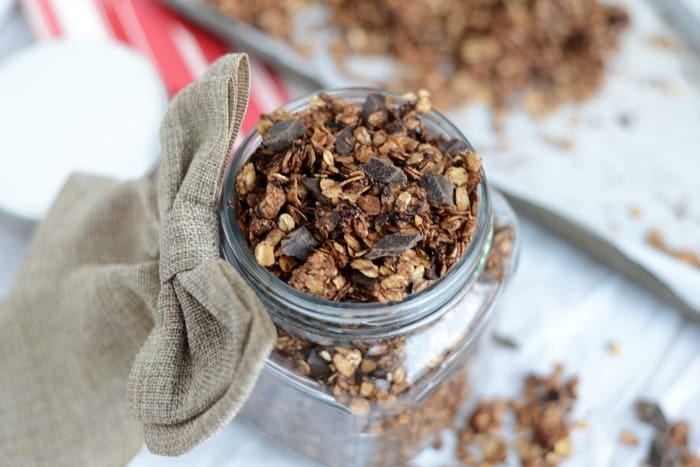 Recipe
Gingerbread Chocolate Chunk Granola
Prep Time:

10 minutes

Cook Time:

20 minutes

Total Time:

30 minutes
Ingredients
-5 cups rolled oats, gluten free
-5 tablespoons coconut oil, melted
-1/3 cup molasses
-1/4 cup almond butter, unsalted
-1/4 cup cocoa powder
-1/2 teaspoon salt
-1 tablespoon cake spice
-1 teaspoon ginger
-1/2 to 3/4 cup of dark chocolate chunks
Instructions
1. Preheat oven to 350F and line 2 baking sheets with parchment paper. Set aside.
2. In a large bowl mix together oats, salt, spices, and cocoa powder. Then add in coconut oil, molasses, and almond butter. Start off by using a wooden spoon to mix things together, then to make sure everything is fully coated, use your hands (it's okay…get down and dirty).
3. Once everything is fully coated, spread half of the granola on one baking sheet and the other half on the other sheet. Spread out evenly.
4. Place granola into the oven at 350 and bake for about 20 minutes or until it begins to brown (I suggest checking granola after about 15 minutes and tossing with a spatula).
5. Let the granola cook for a good 20 minutes, then add in the dark chocolate chunks (note: if the granola is too hot…the chocolate WILL melt).
Similar
What is your favorite type of homemade gift?