Make your own fall trail mix for a sweet and salty, in-season snack that's made with real food and in less than 5 minutes!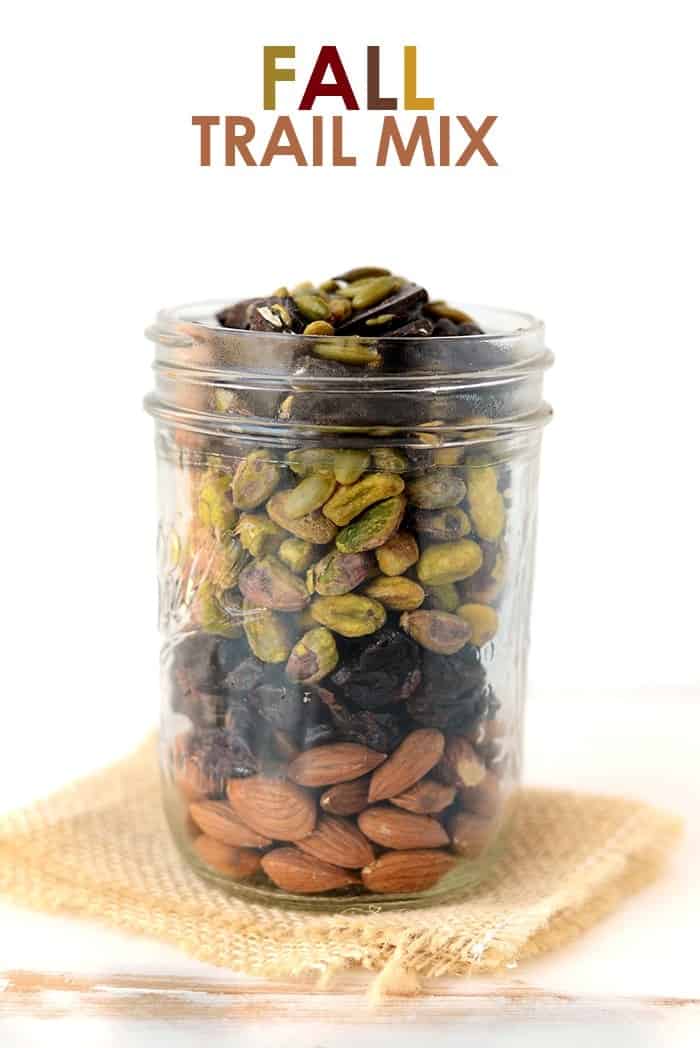 I am totally that girl who picks out only the things that she likes out of trail mix. I'll take the salty raisins and chocolate pleaseeeeee! Seriously though, I always buy giant packs of trail mix and after a while it's down to just nuts. Who like to eat just nuts?
Today I am partnering with one of the best snacks ever – barkTHINS! Let's get real, anything that involves dark chocolate is the best snack ever especially if it involves a crunchy topping and sea salt. A sweet treat after dinner is a must for me and this is the perfect little something to tie me over until breakfast (or a midnight snack :P). You guys, this stuff is like CRACK. So yummy and the perfect snack!
I love partnering with brands that care about where they source their ingredients and the quality of the ingredients they use. barkTHINS are a non-GMO and fair trade snack #boomsauce. The ingredient list is super short and I can pronounce all of the words! That'll tell you something – REAL FOOD IS GOOD.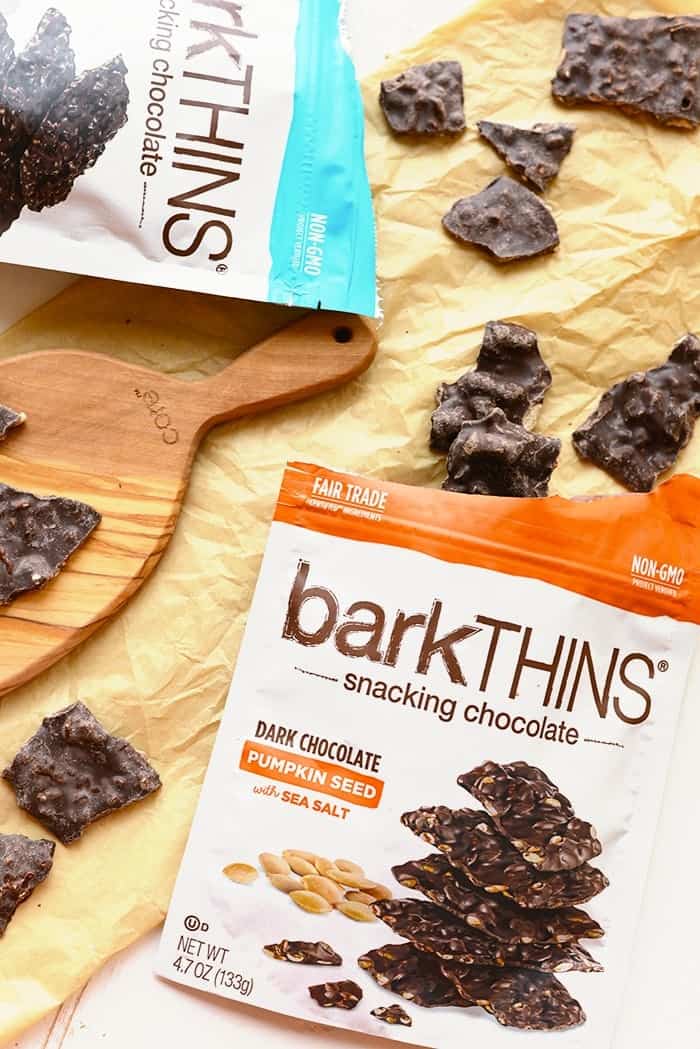 Let's talk flavors for a second…
Dark Chocolate Almond with Sea Salt
Dark Chocolate Pretzel with Sea Salt
Dark Chocolate Mint
Dark Chocolate Pumpkin Seed with Sea Salt
Blueberry Quinoa with Agave
Dark Chocolate Toasted Coconut with Almonds
Dark Chocolate Peppermint Pretzel with Sea Salt
You couldn't pay me to choose my favorite. If you scroll all the way to the bottom of this post, you can try them alllllllll!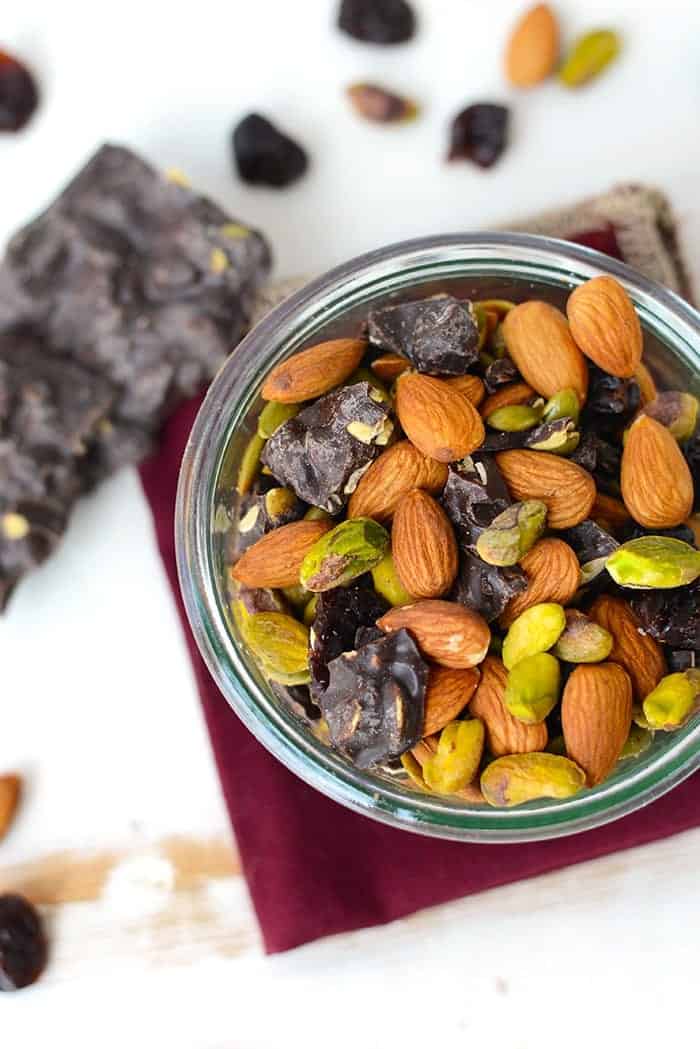 So this trail mix has all of my favorite things in it! Salty nuts, dried fruit, and chocolate. Have you ever tried a dried tart cherry? ER MER GERD. I've made my own dried cherries before in my dehydrator, but you can get them at Trader Joe's or Costco for a lot less work. They are SO GOOD and definitely one of my favorite dried fruit! I've been putting them in everything lately.
The cool thing about trail mix, is that you can make it your own! This version is simply an inspiration for you to do a little DIY project in the kitchen. This also makes for an amazing gift. I went to a fall party the other day and gave the hostess a big mason jar full of this.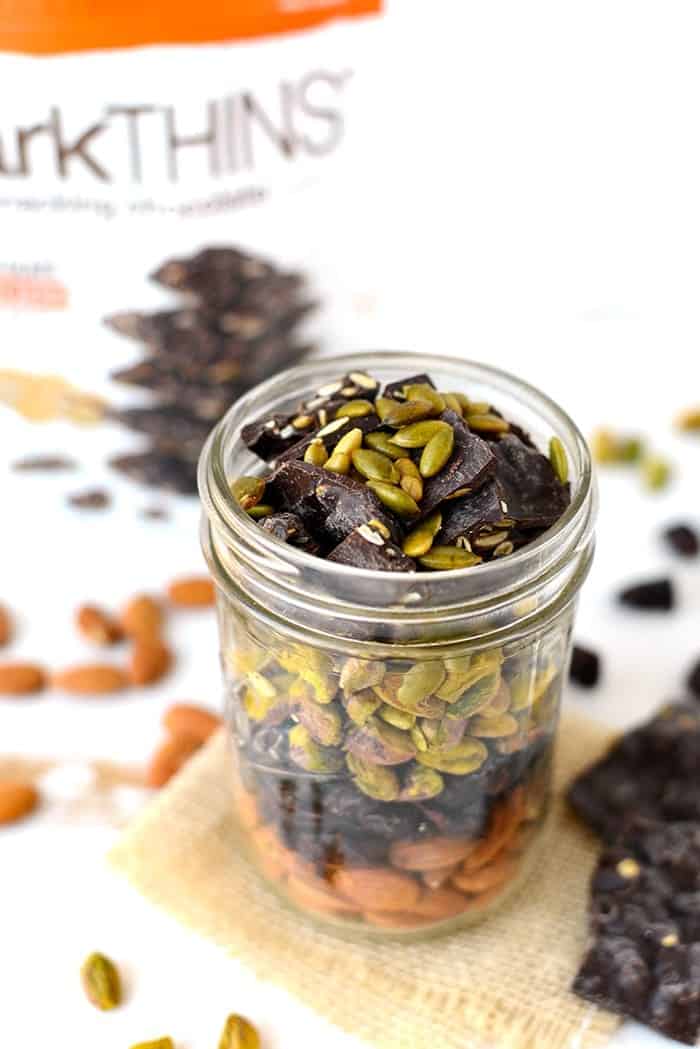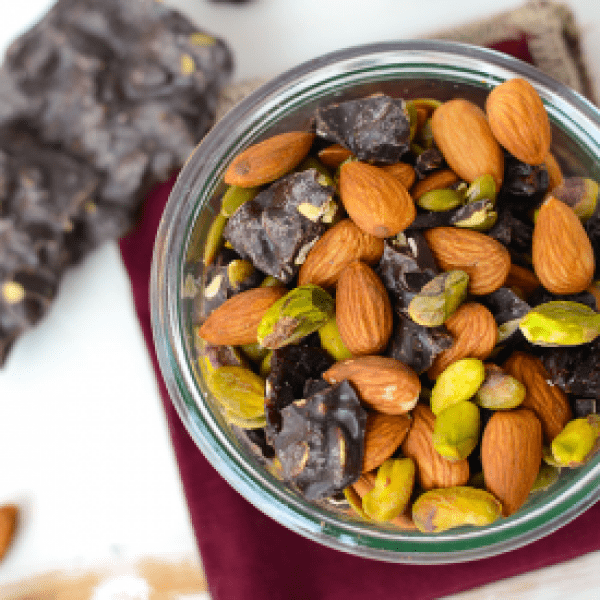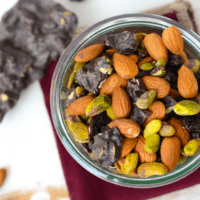 Fall Trail Mix
Prep:
5 mins
Total:
5 minutes
Ingredients
1 cup

barkTHINS, chopped

1 cup

Dried Cherries

1 cup

Almonds, roasted and salted

1 cup

Pepitas, roasted and salted

1 cup

Pistachios
Instructions
Mix all ingredients together in a large bowl.
Store in an air tight container, such as a mason jar, in a cool, dark place.
Nutrition Facts
Serving Size:
1/3 cup

BARKthins Giveaway
Want to win 25 bags of deliciousness? All you have to do is follow the steps in the widget below to enter! Good luck.