This post is sponsored by Fitfluential LLC on behalf of Lorna Jane Active. I was compensated and all opinions are my own.
I am really excited to be sharing some new Lorna Jane product with you! LJ is one of my favorite activewear brands (based in Australia). Each month they release anywhere from 70-100 new styles, mixing high fashion with an active lifestyle. Fashion meets function- now that's my kind of clothes and my kind of gift!
Lately I have been all about black, so I loved that both my top and bottom are black! If you are all about a pop of color, no worries because they have that too :) :)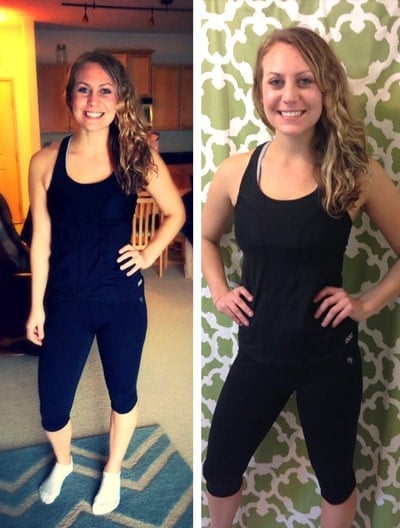 Links to the product on LornaJane.com- Top: Temptation Excel Tank | Bottom: Amy 3/4 Tight
To put sizing in perspective- I am 5'7 and 148 lbs. and I took a small in both the top and bottom. The top does NOT have a built in sports bra thankfully because I don't think it would fit my girls. I have a hard time finding tops with built in sports bras that fit. I go back and forth between a 34 C and D, so often times I need to go up a size in tops so that they fit my girls, but then it's usually baggy in the stomach. Conclusion: I am a HUGE fan of tanks without built in sports bras!
I had the choice between a crop pant or a full-length. I am a crop kind of girl. I like to have some airflow on my legs because when I teach yoga sculpt, I am in a heated room (95 degrees and high humidity). I love love that the crops are shrink and fade resistant along with the fact that they wick away moisture and are quick drying. All things necessary for teaching in extreme heat!
Luckily for you, LJ is having a holiday special of 20% of fall full-priced styles on LornaJane.com! Use the code RUNGIRLRUN when you checkout.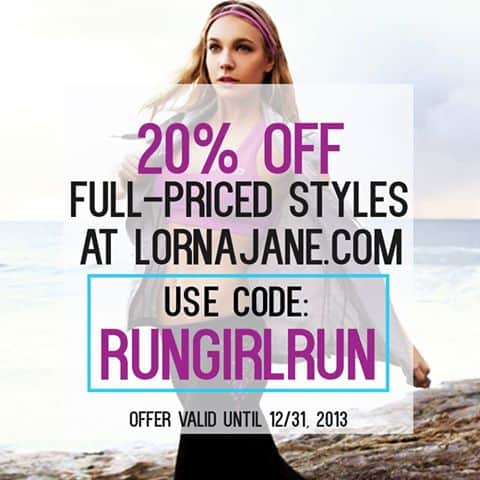 One last thing- you know I am all about healthy recipes that use little (to no) sugar. Well LJ has a holiday e-book they released on their blog, Move, Nourish, Believe, called Move Over Sugar, with over 50 recipes! And it's free :)

Thank you LJ and Fitfluential! Here's one last photo of me in my favorite LJ Zip Up from the last campaign I did…still wear it every week!