Fit Foodie Finds created 100+ recipes in 2017 and I couldn't be more of my team. After much deliberation, we've selected Fit Foodie Finds' best recipes of 2017 below. We hope to see these recipes in your kitchen this new year!
This entire week I've been telling myself, "stop stressing out Lee, you've still got 3 weeks before Christmas". WHAT AM I DRUNK!? Christmas is next week. I am crying with tears of joy inside, but also crying thinking about all the things I have to do before January 1st! Not only do we have some AMAZING content coming at you on FFF, but we have a new product launching over at Healthy Glow Co. I can't even wait I'm so excited!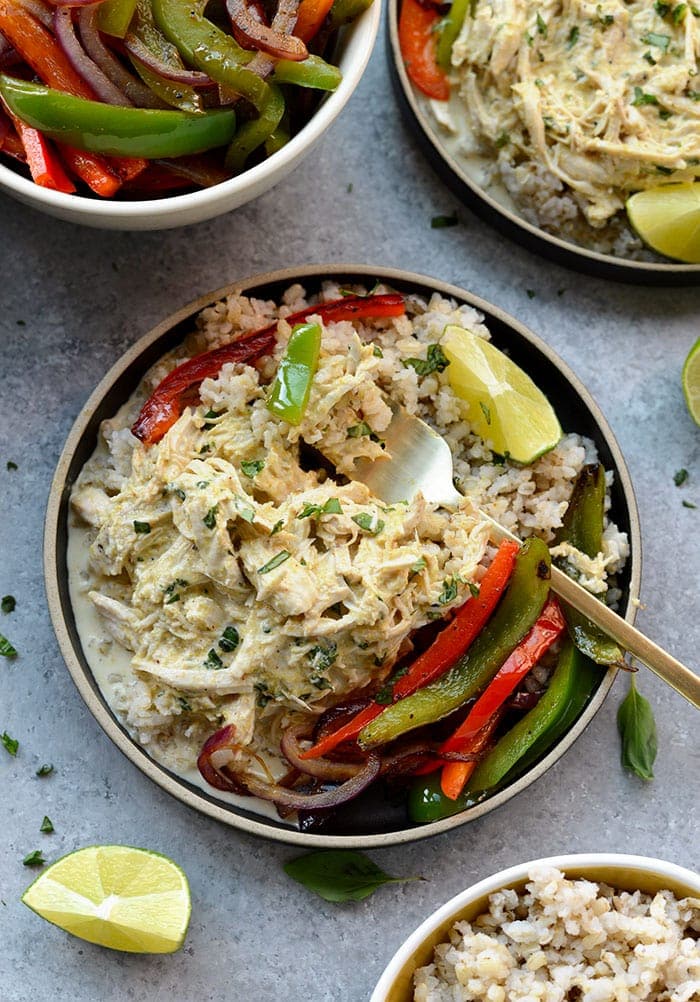 Each year I like to take a step back and look at all of the amazing pieces of content we created on Fit Foodie Finds. I'm sure you've noticed that we've been branching outside of just recipes and workouts and creating more content surrounding everyday lifestyle, travel, style, and more! One reason why I love being my own boss is that we get to make all of our own decisions internally. We get to choose exactly what kind of content to create, when to post it, what brands to work with, what brands not to work with, etc. I've had this conversation with Davida so many times about wanting to be more than just a food blog. In all honesty, I feel like Fit Foodie Finds has always been more than just a food blog, but food blog is the only phrase people know to describe what this is. What do I consider Fit Foodie Finds? Well, I refer to it as a food and lifestyle website! While we do cover a lot of different topics on FFF, food is definitely my favorite topic and biggest passion! Linley and I work magically together from development to styling to photography and I think food will always be Fit Foodie's "thing".
Back to taking a step back to look at a year's work. I'm a total analytics junkie and I love seeing which recipes perform best and figuring out why. After 7 years of running this website, the equation of how to make a piece of content go viral is constantly changing. Social media and Google algorithms are on the move and you never know who is going to see what anymore. Good news is, at the end of the day, we use this website to share healthy living ideas and inspiration with other like-minded individuals and that's not going to change. We're not going to jump on some fad diet just because it's popular. We love cooking with real food while keeping in mind time (because no one has a lot of it), cost (because no one wants to spend a million dollars on food) and taste (because that's really what matters).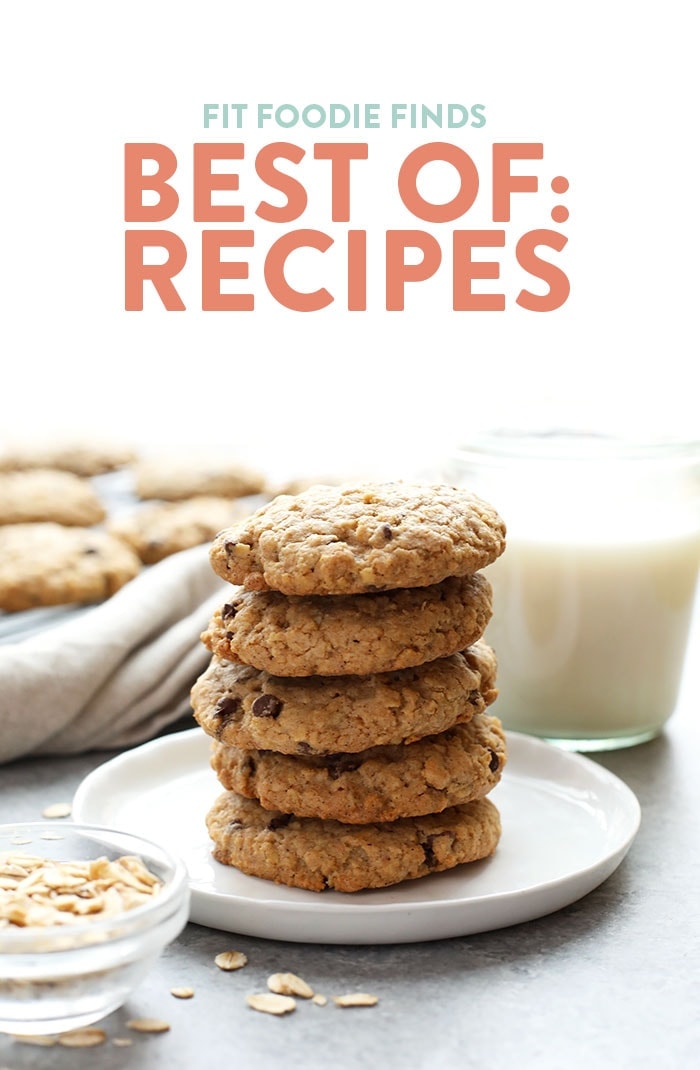 In 2017 we…
Published 123 total recipes. <– That's an average of 2.3 recipes per week. WOAH! This number doesn't include the number of recipes that never made it onto the blog or all 100+ recipe we developed and photographed for the Healthy Glow Guide.
Published 60+ videos. Thanks to our amazing girl Brita Britnell, we've been able to turn our recipes into wonderful how-to videos for all of you to see! We started working with Brita this past spring and I couldn't image life without her. Her creativity and wittiness fit right in with Team Fit Foodie and TBH, I wish she lived in Minneapolis.
Tested each recipe an average of 2.5 times per recipe.  This might sound cray, but we try and test all recipes that go live on FFF at least 2 or 3 times before it goes live. A lot of you make these recipes the day they go live (which is awesome!), so we want to make sure you have 100% success with every FFF recipe you make. Also, I just did the math and 2.5 x 123 = 307.5. NUTS.
Alright — let's check out the best of Fit Foodie Finds in 2017!
Most Popular Recipes Overall
These are the most popular recipes overall from FitFoodieFinds.com in 2017. Whether they were made in 2012 or 2017, these recipes got the most views on the blog, shares on social media, and love from you guys! Last year our top 3 recipes were  How to Bake Eggs in the Oven (2012), Healthy Kung Pao Chicken (2015), and  Copycat PF Chang's Lettuce Wraps (2014). This year our top three came in as:  Meal Prep Carnitas Burrito Bowls (2016), How to Bake Eggs in the Oven (2012), Sweet Potato Hash Egg Cups (2017). Here's the complete lineup for this year:

Most Popular Recipes Made in 2017
This section is different from above in that these recipes were created THIS year. We pulled up our analytics and only considered recipes that went live in 2017! I think I can safely say that these were also the most made recipes by YOU guys.

Team Fit Foodie Favorites
Because it wouldn't be a best of post without Lee and Linley sharing their favorite recipes of the year! These recipes are like our kids. We tell people we can't choose favorites, but then we do. JKJKJK. Check out our favs from 2017: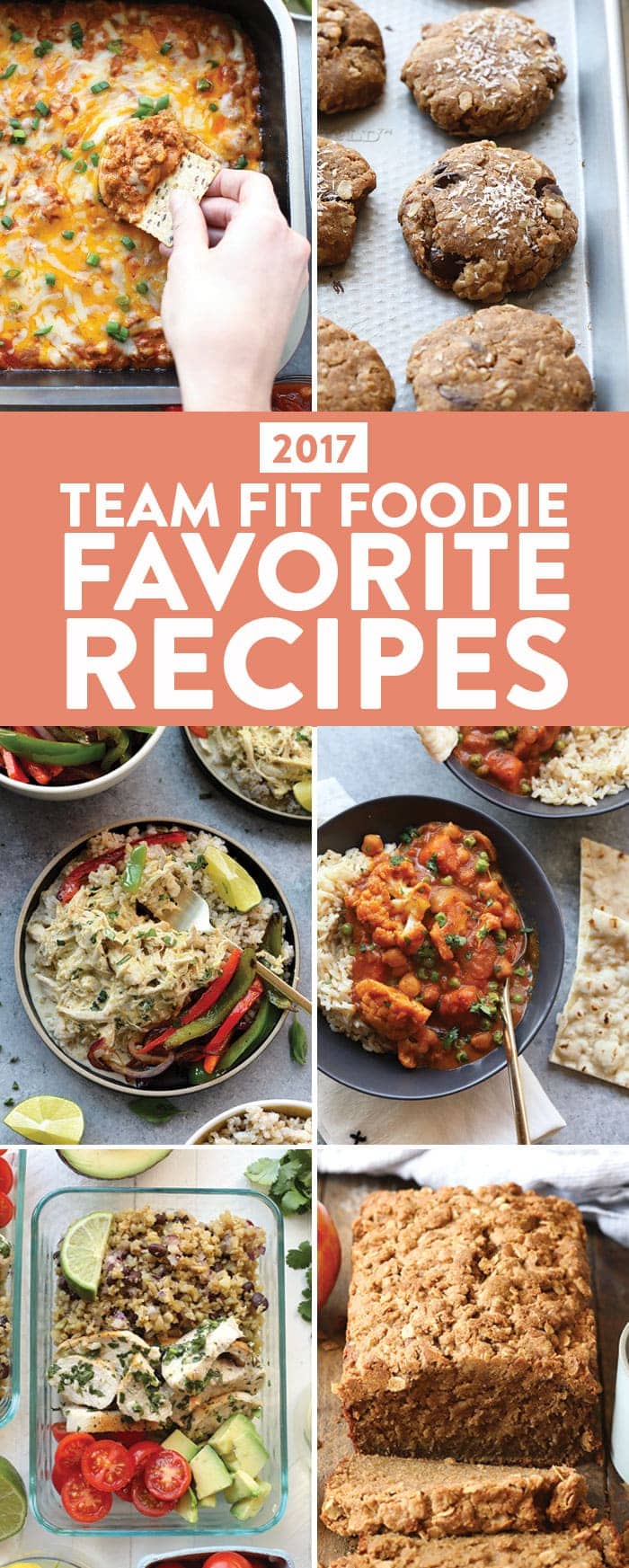 What kinds of recipes on FitFoodieFinds.com are you looking forward to in 2018? Meal-rep? Vegetarian? Breakfast? TELL US!