These Flourless Mocha Chocolate Chip Cookies Cookies are the perfect combination of chocolate and coffee. They are grain-free, made with almond butter, and perfect for a healthy sweet treat!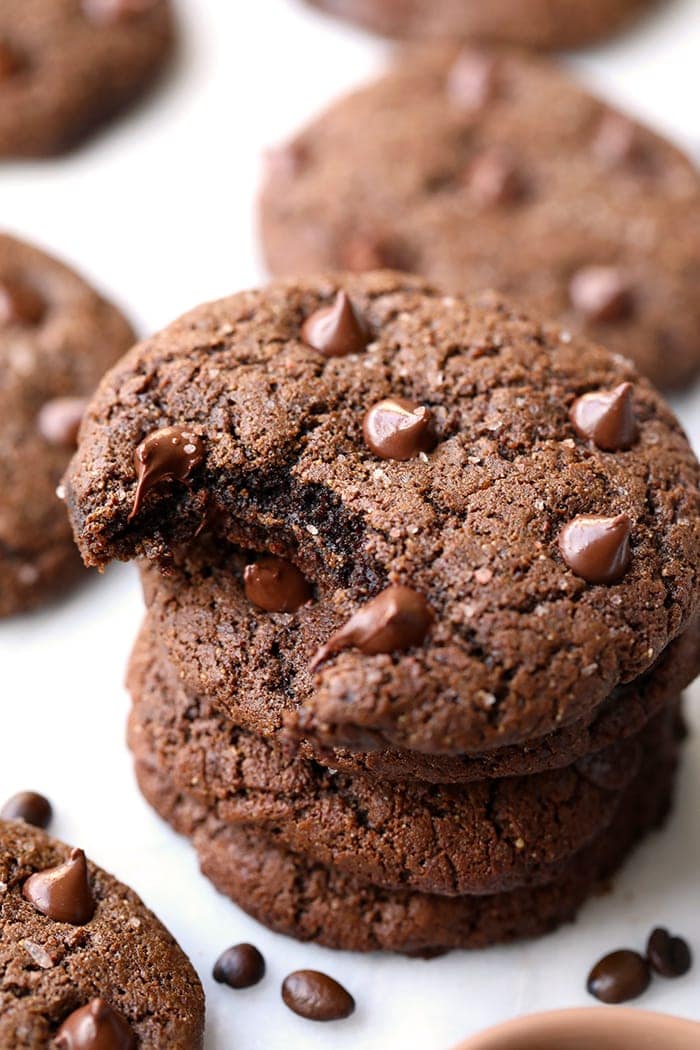 HAPPY SUNDAY, friends! It's Linley, here.
There is nothing quite like starting the week off with something SWEET. We are still at the river house with friends and it has snowed like 6-inches! Cole and I really needed to get out of the house. Mostly Cole because you GUYS..Cole broke his leg! I forgot to mention that in my Nicaragua travel post from this weekend! Long story short is that Cole broke his leg THREE days before I left for Nicaragua for 13 days. How you ask?
Cole was carrying groceries into our house on an icy Saturday morning after work. He simply stepped off a snow bank, slipped on the ice and snapped his damn leg in half.  Let me just say that Cole is a very sturdy man, so it still seems bonkers to me that something like this could happen. I met him and my roommate at the hospital and Cole seemed totally fine–> until they removed his boot and his foot flopped out of his jeans like it was hanging on a piece of rope (i know..the visual..ew.) We found out soon after that, that he had snapped his tibia, fibula, and fractured his ankle. All because the man was in a hurry to make breakfast tacos.
We spent three days in the hospital and headed home. I left the next day for Nicaragua, it was such a crazy weekend. The poor guy can't walk on his foot for SIX WEEKS. It is the first time one of us has had something like this happen, so we are taking it one day at a time. Let me tell you, Cole is one of the most positive humans I know. He is definitely taking his leg break a heck of a lot better than I am (like, big time). As a caretaker and a fixer it's so freakin' hard to have absolutely no way to fix something.  SO, those of you that have been where we are, holler at your girl. We are taking field trips, but I'm also trying not to be such a control freak. #learning
Now. These cookies.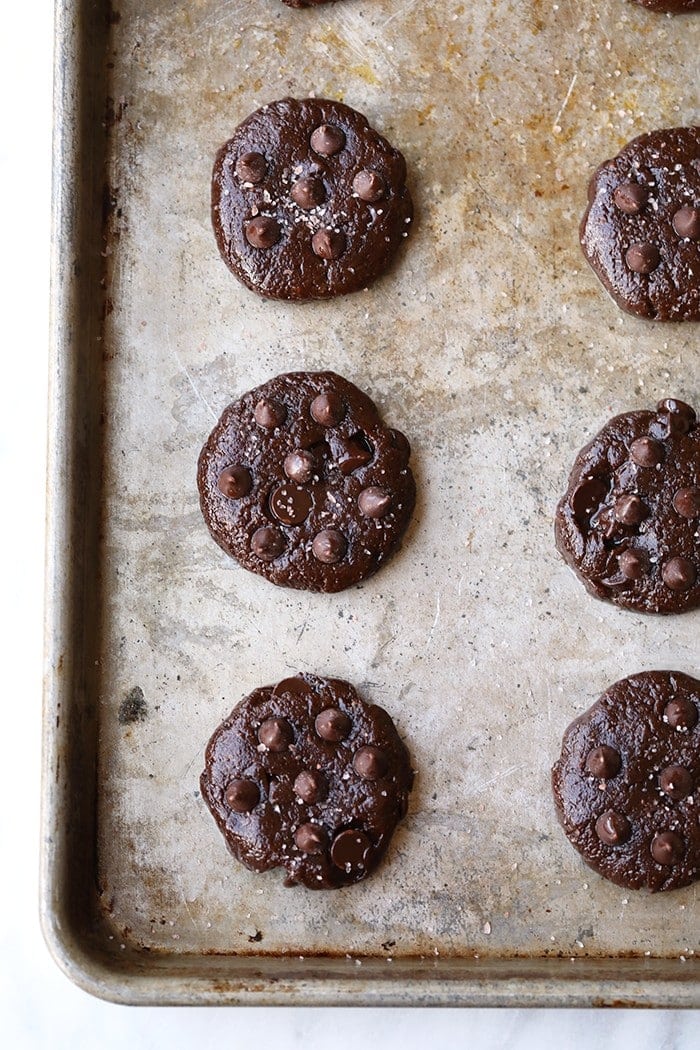 Are these flourless mocha chocolate cookies a dessert? YES. A snack? YES. Breakfast? HECK YES. These cookies can be whatever you want them to be. Lee and I are huge cookies and coffee people. So why not combine the two?
These Flourless Mocha Chocolate Cookies are
gluten-free
packed with chocolate
naturally sweetened with coconut sugar
perfect for dessert-prep for the week
I can't deny that my favorite part is the sea salt on the top! DO NOT forget the sea salt. It just gives these cookies the most delicious sweet + savory feel. Recently, I have really loved making a batch of cookies and tossing them in the freezer. I feel like the flavor of the cookies gets frozen in time. So, this week your job is to make a batch of these cookies and enjoy one fresh out of the oven, but then pop them in the freezer and let me know what you think! Enjoy!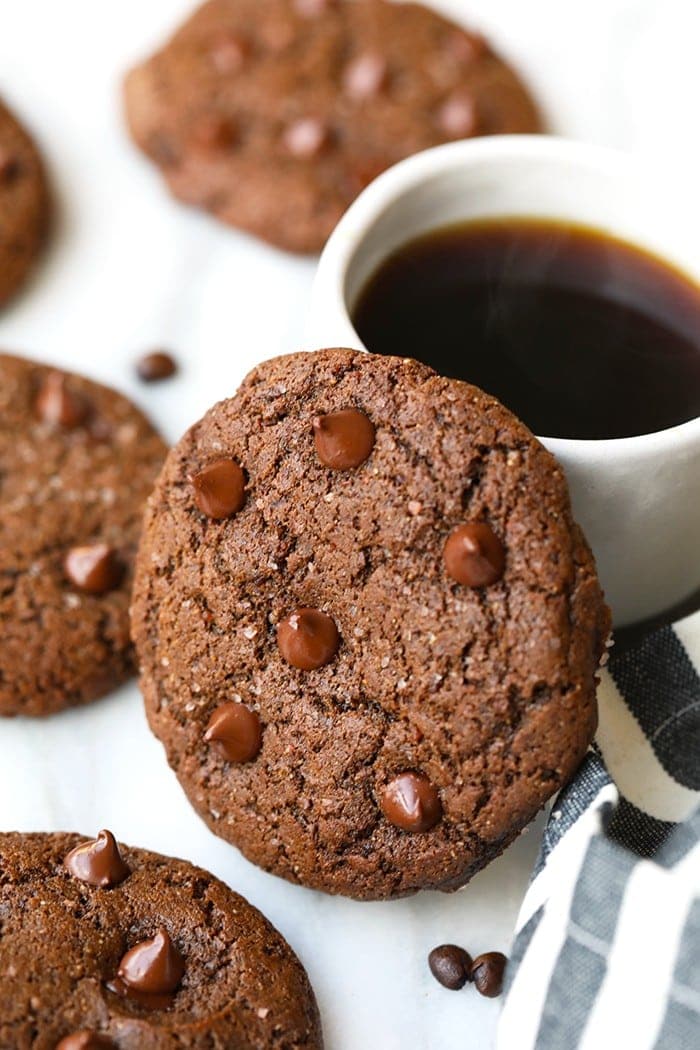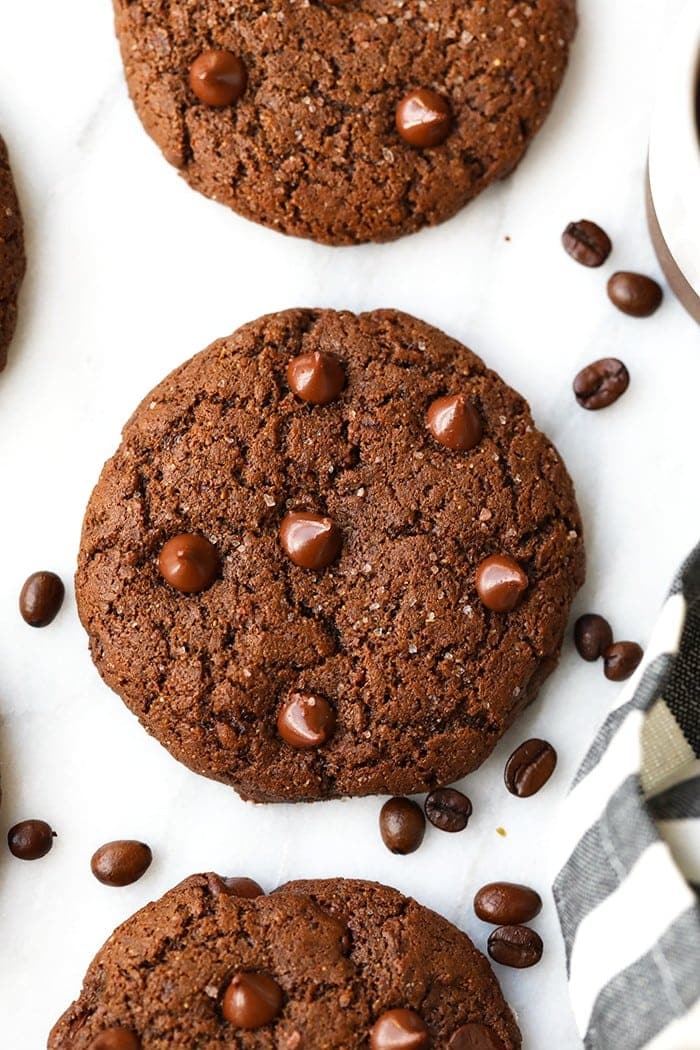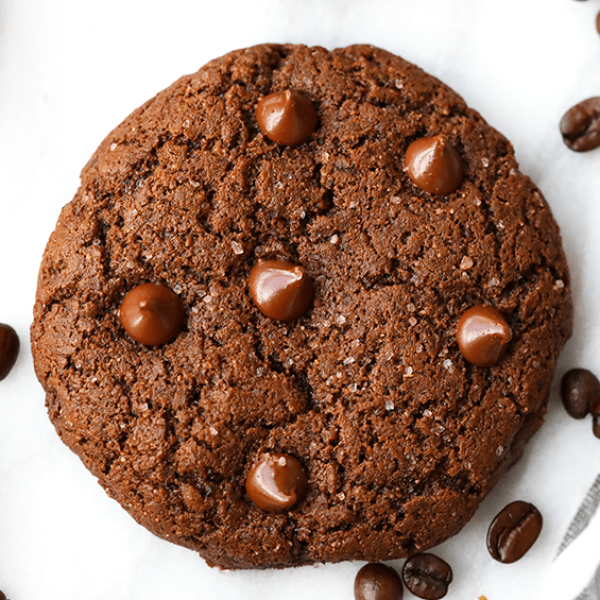 Flourless Mocha Chocolate Chip Cookies
These Mocha Cookies are the perfect combination of chocolate and coffee. They are grain-free, made with almond butter, and perfect for a healthy sweet treat!
Instructions
Preheat the oven to 350ºF and spray a baking sheet with cooking spray.

Mix all dry ingredients in a small bowl.

In a separate bowl, mix all wet ingredients. Slowly add dry ingredients to wet ingredients until well combined. Fold in chocolate chips.

Use a table scoop to scoop out cookies and roll them into a ball. Use your palm to slightly flatten and then add more chocolate chips on top if desired and a sprinkle of Himalayan sea salt.

Bake cookies at 350ºF for 10 minutes.

Remove from oven and enjoy!
Nutrition facts
Serving:
1
/10
Calories:
253
kcal
Carbohydrates:
23
g
Protein:
6
g
Fat:
16
g
Fiber:
4
g
Sugar:
17
g