Make these Gluten-Free Asian-Style Pork Chops for a healthy, weeknight dinner that the entire family will love!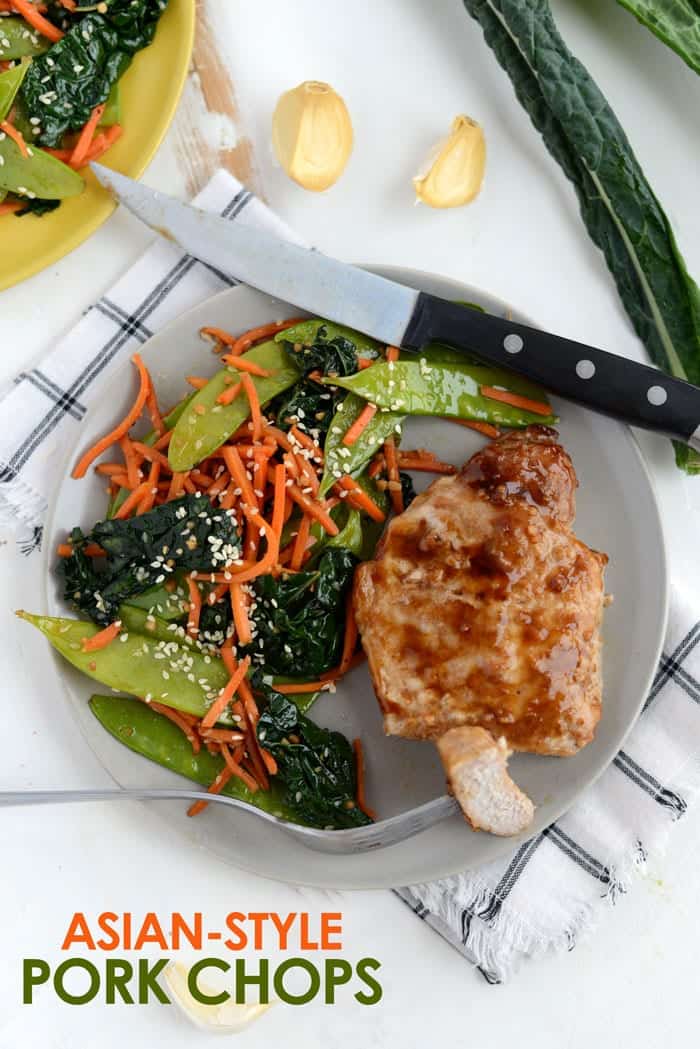 So you know how I got a Costco membership last week…well I was SUPER impressed with their organic/free range meat selection. I am a huge fan of purchasing any kind of food in bulk because it will save you money in the long run. We're talking $7.99/pound for organic bison and $5.99/pound for organic beef.
I went home with an 11 pound pork loin that I paid $27.00 for. The best part is, we cut the loin into 26 thick pork chops making it each just just over $1.00/pound. Talk about an amazing deal.
After we cut the loin into chops, Blake and I seasoned or marinated them in sets of 4 or 5 and put them right into a freezer bag and into the freezer for later. That will make for easy and inexpensive dinners down the road. I left 5 amazing chops out just for this recipe!
I wanted to make a juicy marinade for our first batch of chops with an Asian-inspired twist. This is where the hoisen, garlic, and tamari come in.
I (aka Blake) poked holes in the pork chops and then poured the marinade on top so that they could sit overnight and soak in all the delicious Asiany goodness.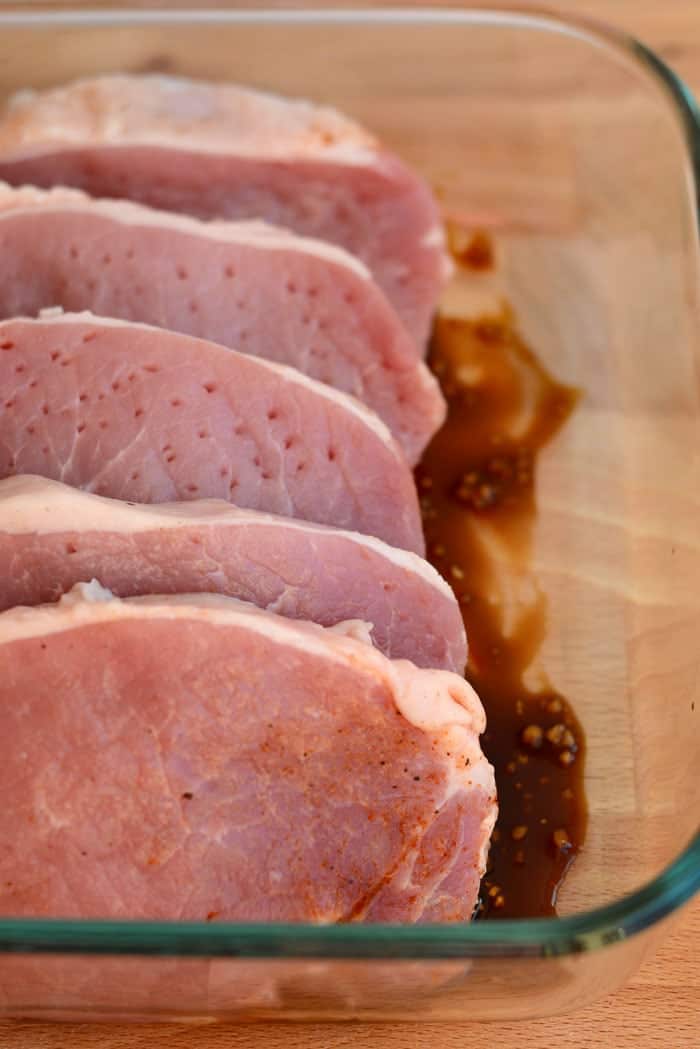 Talk about teamwork!
The beauty of shooting a recipe on the weekend means that I don't have to attempt to get a pour shot on my own. Maybe next year I'll ask for a third arm for Christmas.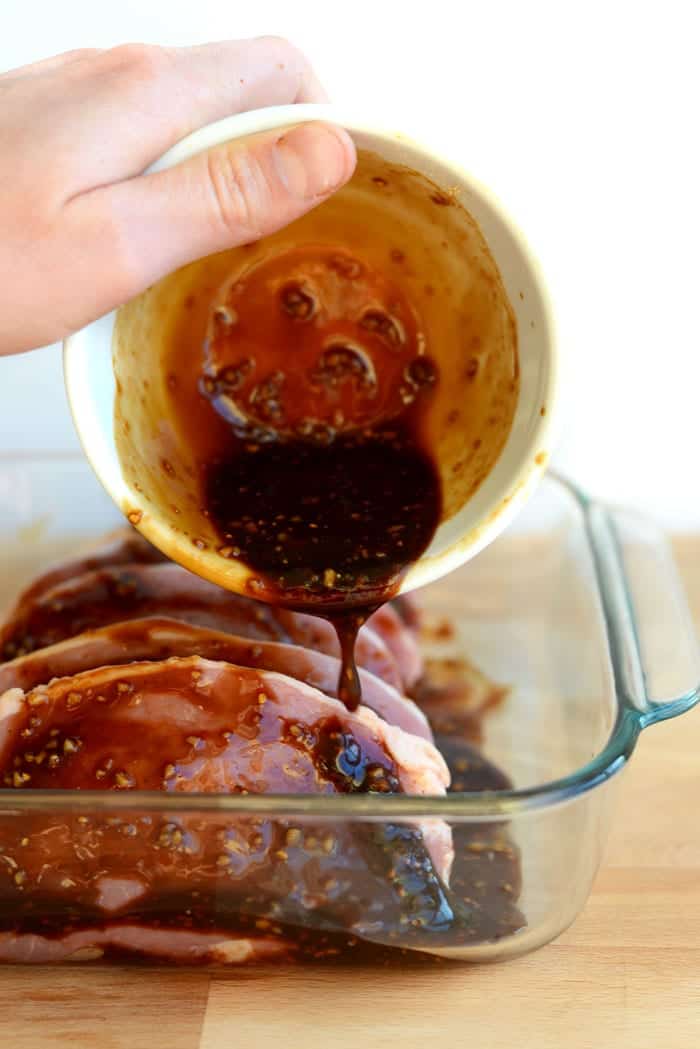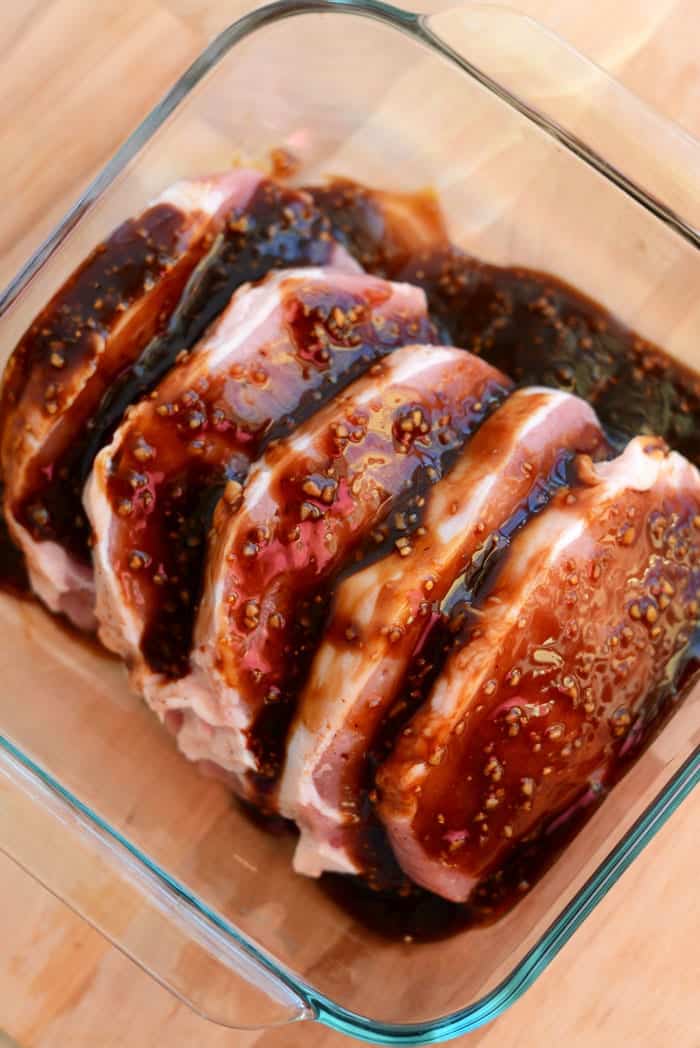 Recipe
Healthy Asian-Style Pork Chops
Prep Time:

5 mins

Cook Time:

30 mins

Total Time:

35 minutes
Ingredients
For the Veggies
1 tablespoon

sesame oil

1 tablespoon

garlic, minced
salt and pepper

1 tablespoon

tamari

1

–

2

teaspoons sesame seeds

1/2 cup

shredded carrots

1 cup

pea pods

2

handfuls kale
Instructions
For the Pork Chops
First, prep your marinade by mixing together, hoisen sauce, minced garlic, tamari, ground ginger, and dried orange peel.
Then, place pork chops in a large glass or tupperware container. Pour marinade on top, making sure to cover the top and bottom. Cover and set in the refrigerator for at least 4 hours or even over night (that's what I did!).
Preheat oven to 375ºF. Then, place a piece of tin foil on a baking sheet. Arrange pork chops on baking sheet. Cook for about 30 minutes, depending on the thickness of your pork. Note that your pork will release some liquid, this is okay! Just discard it. Once the chops are done cooking, rub them with additional hoisen sauce or more of the marinade you made!
For the Veggies
In a sauce pan, heat sesame oil and garlic to medium/high heat. Then, add in veggies, salt and pepper, and tamari. Sautee for about 5 minutes or until veggies reach desired texture.
Nutrition
Serving Size:

1 pork chop
Similar
Once the chops came out of the oven, I rubbed them with a little more hoisen sauce. You could also double the marinade and rub it with that once they come out of the oven or even use it as a dipping sauce!
I paired the meat with some sesame stir fried veggies: kale + pea pods + carrots. Yumtastic.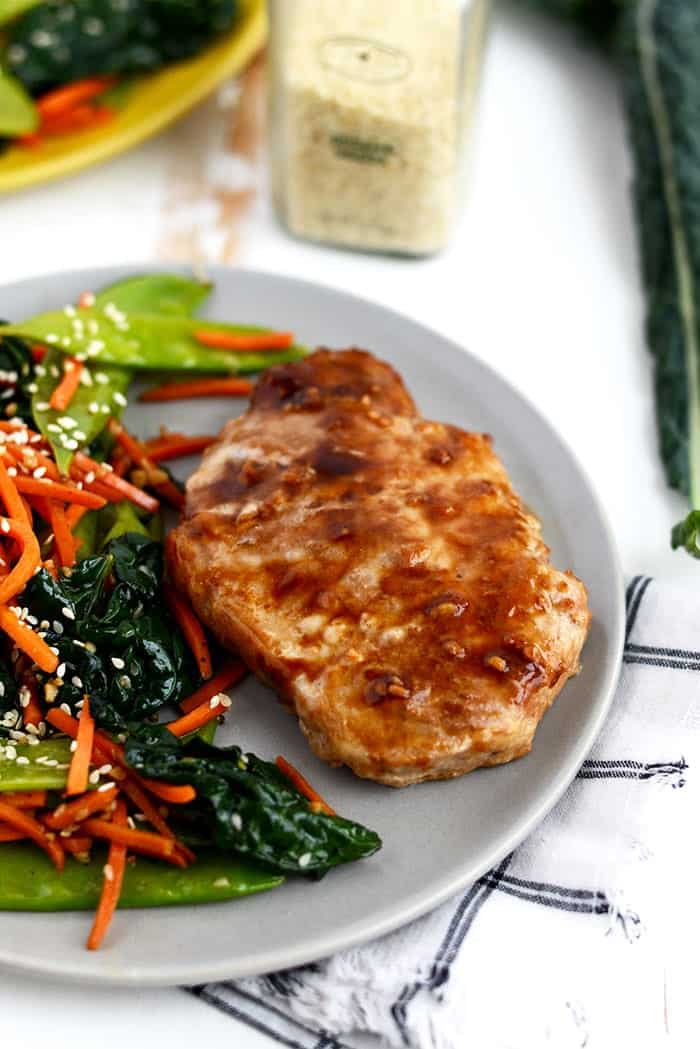 This is one of those dinner's thats great in the oven, but that will be even better on the grill.
Summer- get here fast. K, thanks.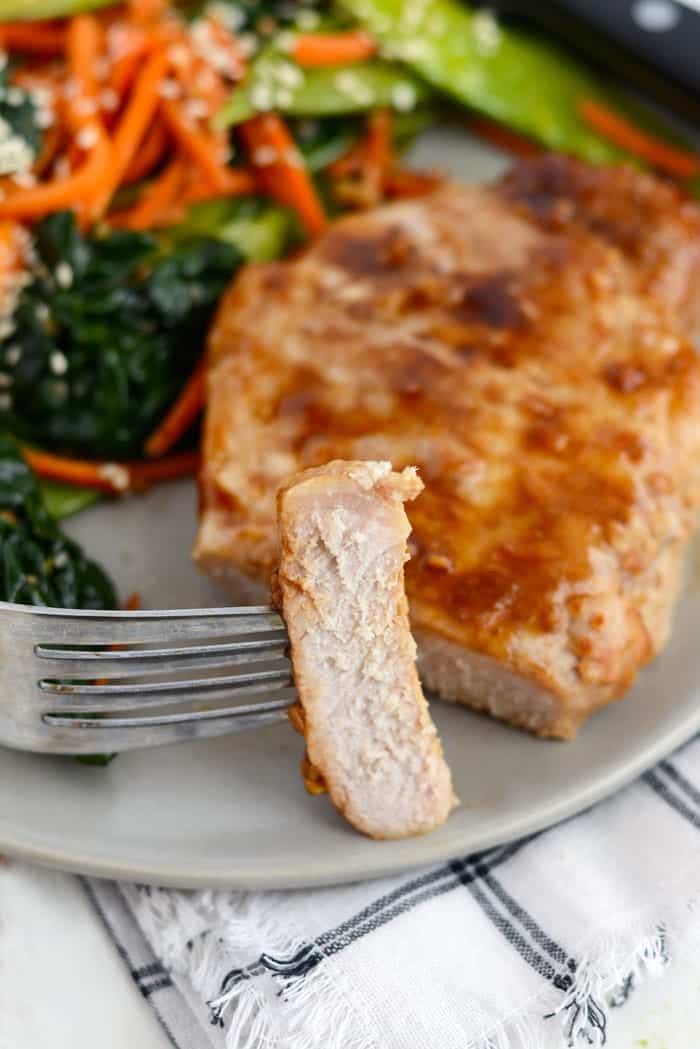 Meat eaters- what is your favorite meat to cook for dinner?