This Tuscan Turkey Vegetable Soup is the perfect recipe for post-Thanksgiving leftovers! It's jam packed with vegetables and lean protein.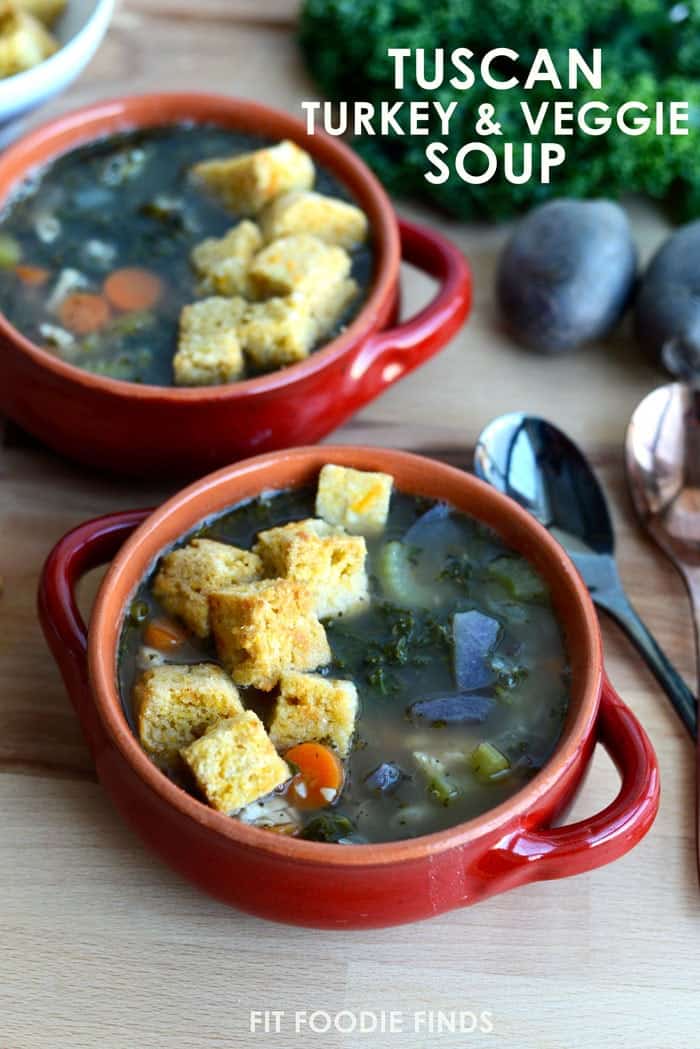 Time and time again I get asked…Lee, what do you use as inspiration for creating recipes on Fit Foodie Finds? My answer: EVERYTHING AND ANYTHING! Pinterest is a huge inspiration, as well as magazines and restaurants. What inspires me most are usually ordinary things for example the color combination on this Nakano Roasted Garlic Rice Vinegar Bottle.
Purple + Green + Orange.
---
---
I knew I wanted to make some sort of soup incorporating Thanksgiving turkey leftovers, but what else should I include! I headed to the store to see what I could find using colors from the bottle.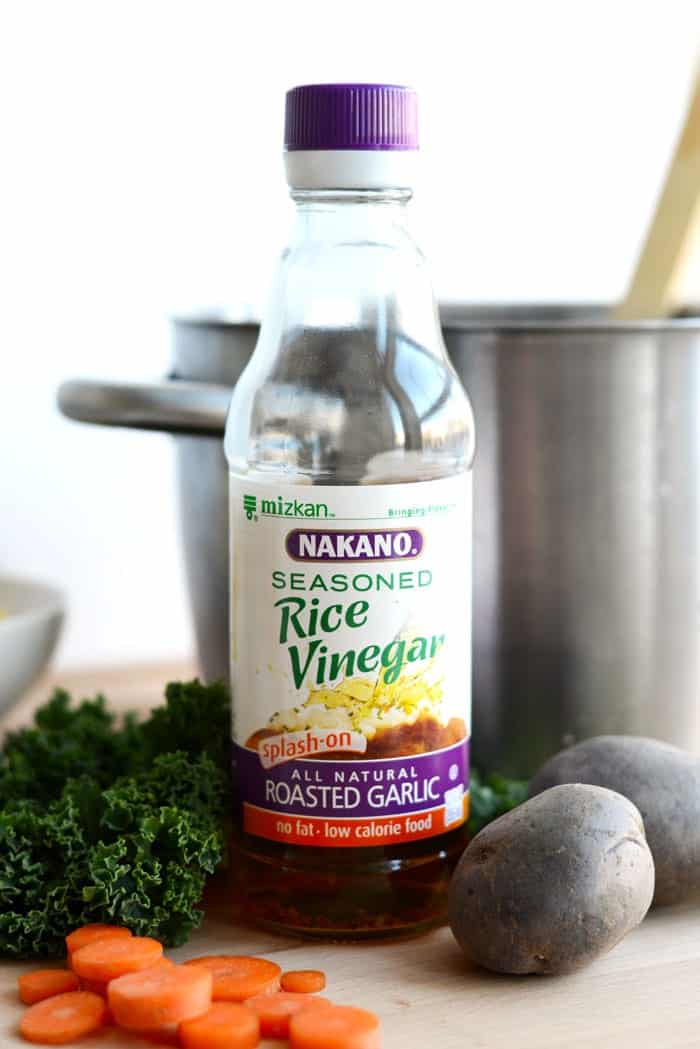 Uhhhh purple potatoes anyone?! These things are GORGEOUS and full of flavor. I decided on a veggie packed soup with my favorite Italian seasonings and of course a few splashes of Nakano rice vinegar to really bring out the flavor of the veggies.
This soup features…
Kale
Garlic
Purple Potatoes
Carrots
Celery
Yellow Onion
White Beans
TONS of spices
PS: the roasted garlic flavor from Nakano is one of my favorites. I was at Target the other day and saw that they now carry that flavor. SCORE! The more garlic the better 😀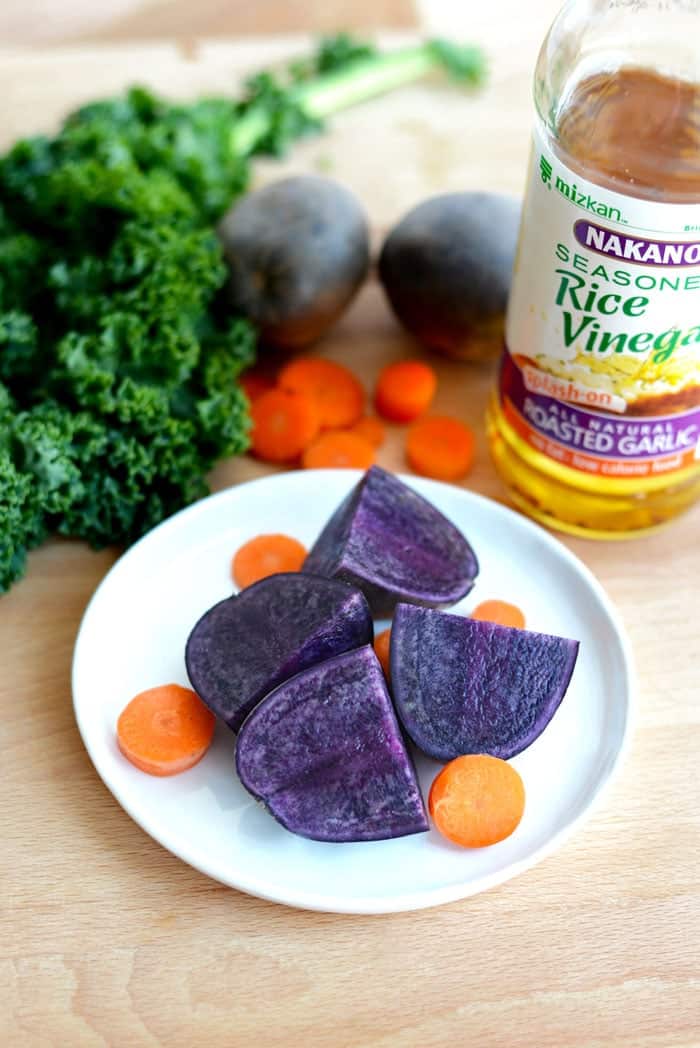 Hearty and delicious, just the way I like my soup!
I even used some of my Gluten-Free Cornbread Croutons to top it off and add some texture. I could eat this soup all day every day! Best part is- you can totally mix up the meat if you'd like…you can use leftover chicken breast or you could even sauté some chicken or Italian sausage for a spicier variation!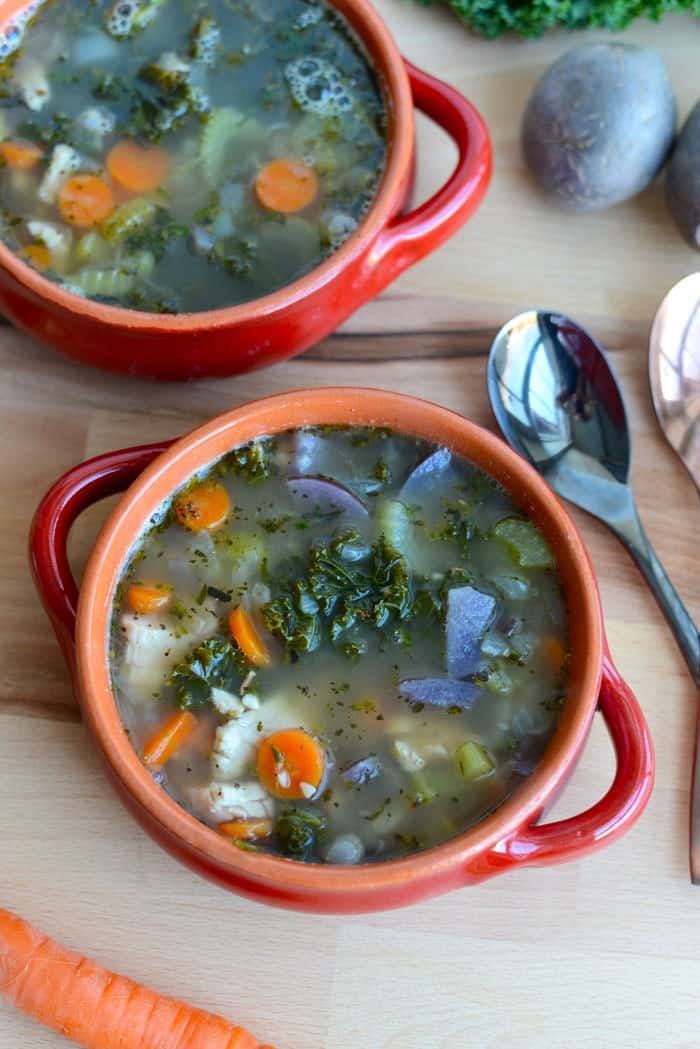 I haven't personally tried freezing this soup, but I have no doubt you could throw it in some freezer safe tupperware and freezer for later. This soup really does make for an easy dinner down the road!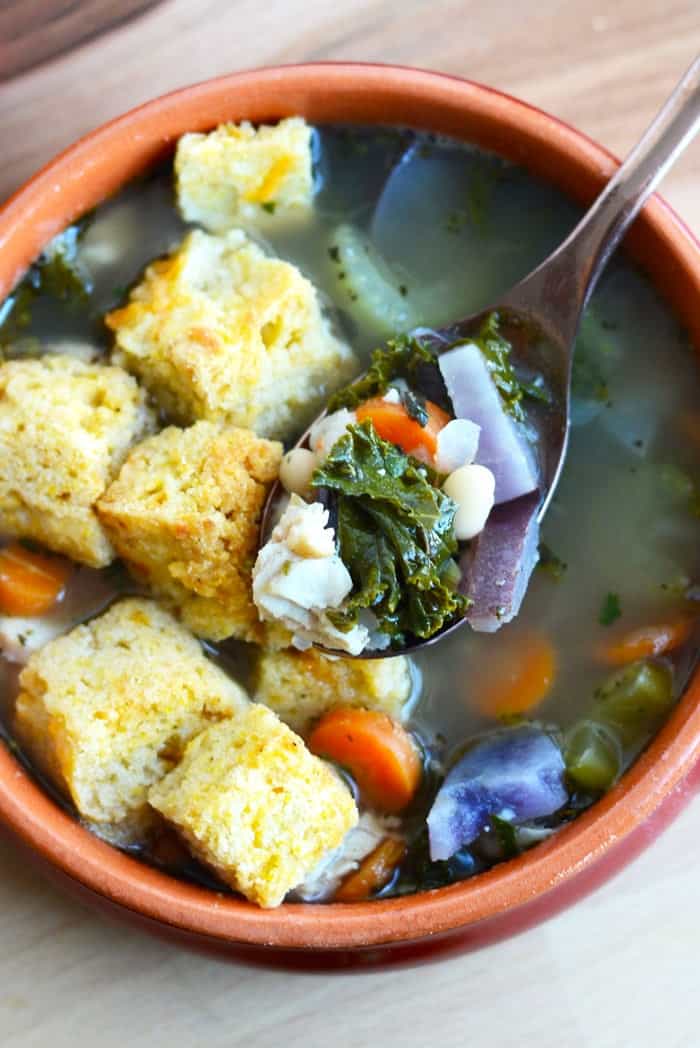 Gluten-Free Tuscan Turkey and White Bean Soup with Cornbread Croutons
Prep Time:

30 minutes

Cook Time:

1 hour

Total Time:

1 hour 30 minutes

Yield:

6-8 servings
Ingredients
4 celery stalks, chopped
4 medium carrots, chopped
1/2 large onion, diced
6 small purple/red potatoes, chopped
1 15 oz can northern white beans
2 stalks kale, deboned and chopped
3 cups of leftover turkey (white meat), chopped into bite-sized pieces
1 tablespoon garlic, minced
2 tablespoons EVOO
2 bay leaves
2 teaspoons tuscan sunset or italian seasoning
2 teaspoon basil, dried
2 tablespoon fresh parsley, finely chopped
salt and pepper, to taste (I was very generous!)
48 oz chicken broth, low sodium
2 tablespoons Nakano Roasted Garlic Seasoned Rice Vinegar
Instructions
First, begin by prepping your vegetables. Chop celery, carrots, and potatoes into bite sized pieces, finely dice your onion and, de-stalk your kale and chop into small pieces.
Next, in a large pot, heat 2 tablespoons of EVOO and 1 tablespoon of garlic to medium/high heat. Add in celery, carrots, and potatoes, season generously with salt and pepper and sauté for about 8-10 minutes to slightly soften veggies. Then, add in kale and sauté for about 3 more minutes.
Chop turkey into bite sized pieces and add into pot. I used about 2-3 cups (just use what you have!).
Add in the rest of your ingredients: white beans, spices, chicken broth, and rice vinegar.
Bring to a boil. Then let simmer for about 30-60 minutes or until your veggies have softened.
Notes
Feel free to add more chicken broth or even a few cups of water!
Pin for later!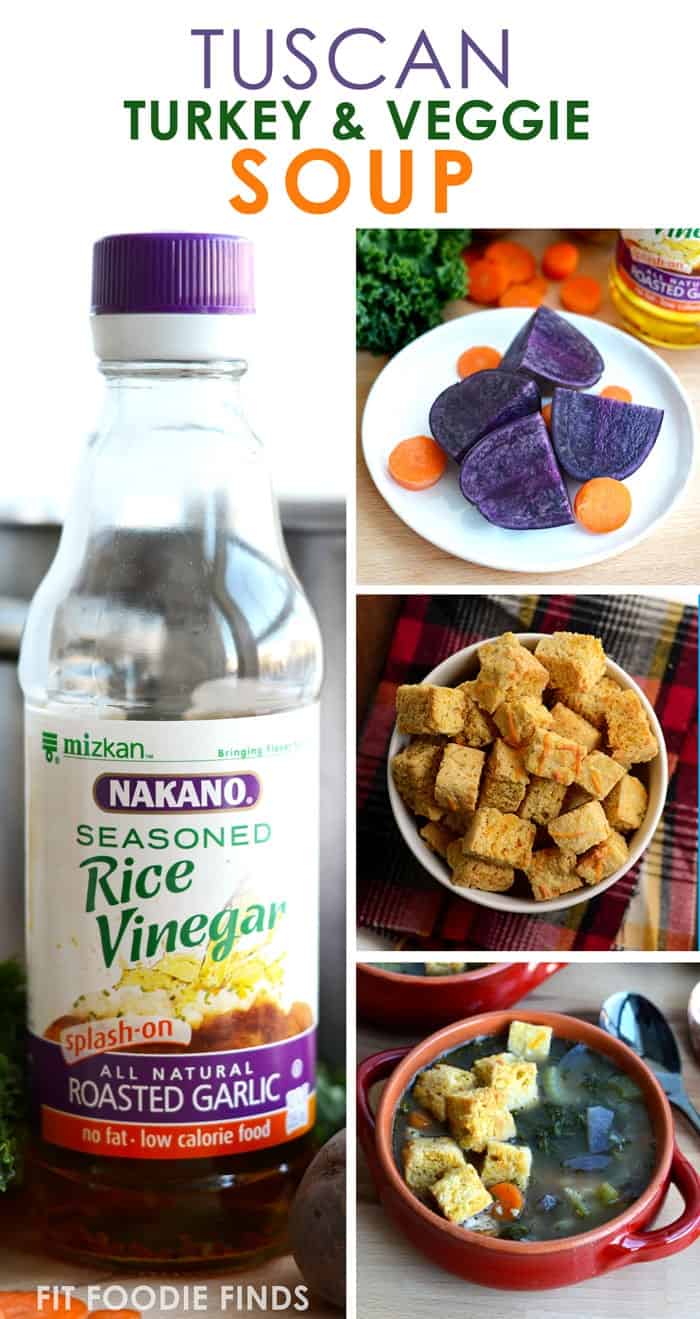 Check out some other ways to use Nakano Rice Vinegar from the FFF archives!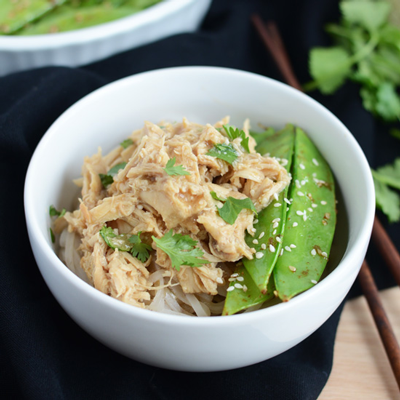 This post is sponsored by Mizkan's Nakano Rice Vinegar. I was compensated and all opinions are my own. Thank you for supporting Fit Foodie Finds as I cook, eat and travel my way through life!
What is your favorite thing to do with your leftover Turkey from Thanksgiving?