The following post is sponsored by Fitfluential LLC on behalf of Wild Blueberry Association of North America.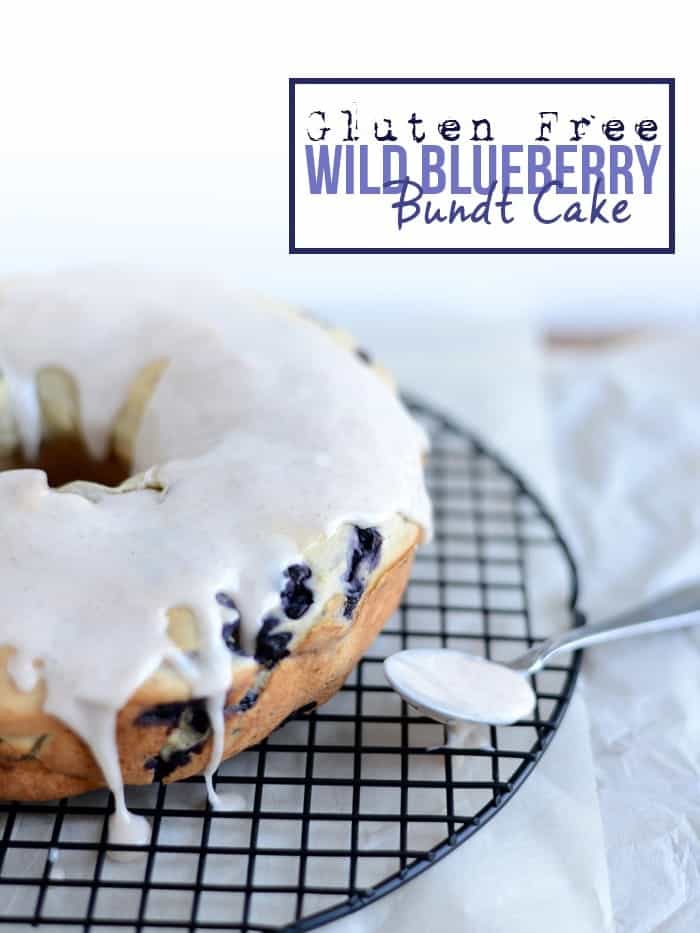 I know what you are thinking….blueberries…those aren't in season.
Well hold your horses…because I used frozen wild blueberries for this recipe that you can get at your local grocery store ANYTIME of the year! Wild blueberries are very different than normal blueberries. They have double the antioxidants, a more intense blueberry flavor, ANd are darker in color.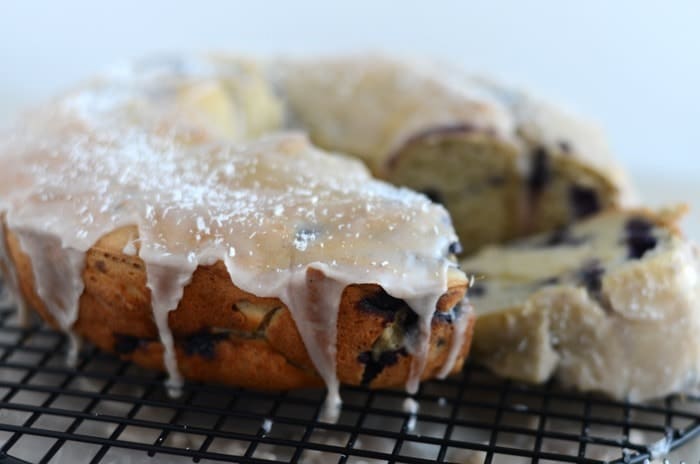 They really are a punch of bloob! I had never tried wild blueberries until this campaign (I didn't know the difference), but you can definitely see and taste a difference between wild berries and regular blueberries, especially in the size. If you click HERE you will find all of the differences!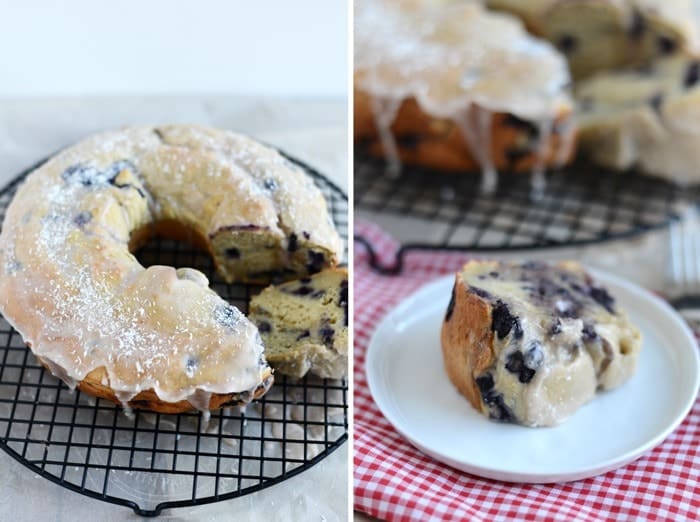 I was excited to use these little frozen super fruits in a baked-good because I have been waiting for the perfect recipe to use my new bundt cake pan with.
The smaller the berry, the more likely they will be in every bite, right?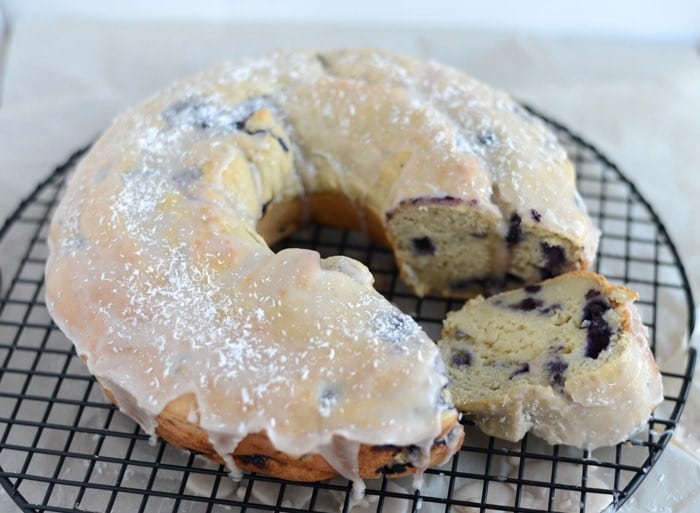 This recipe is in fact gluten free AND I made some healthier substitutes along the way like using park Greek yogurt and apple sauce instead of butter and oil #winning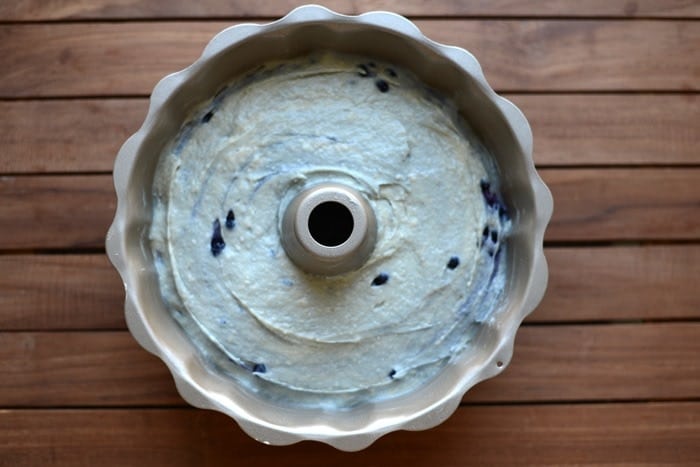 Not to mention wild blueberries are absolute superstars when it comes to health enhancing: (promotes brain health, anti aging, heart health, cancer prevention, etc.).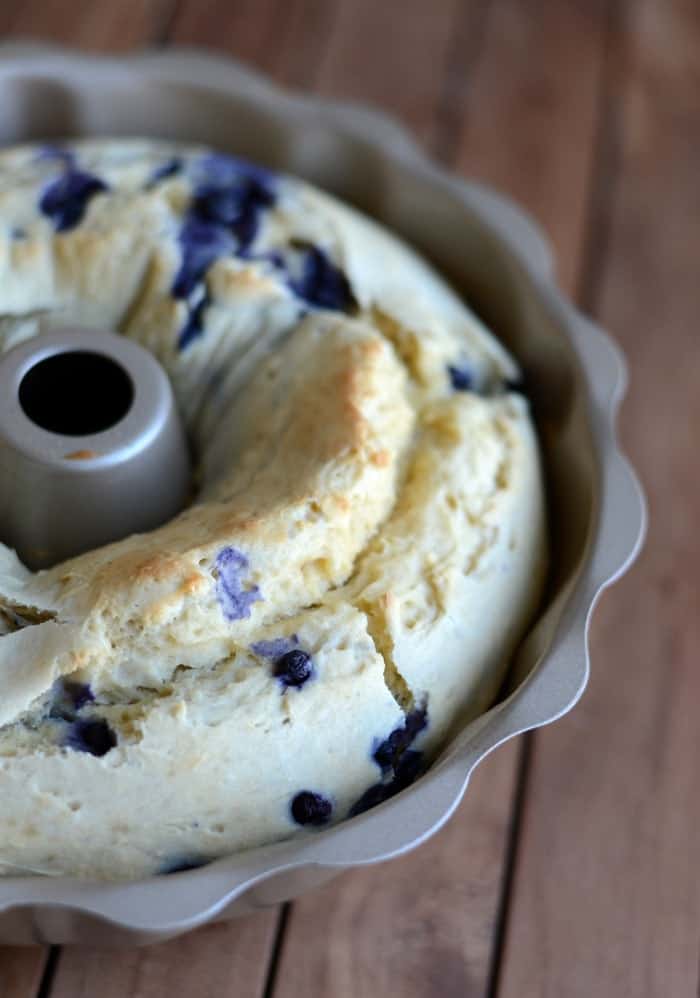 I actually decided NOT to flip my bundt cake because I love how the top looks. I did however decided to make a delicious almond cinnamon glaze for on top. OHHHH BAY. BEE.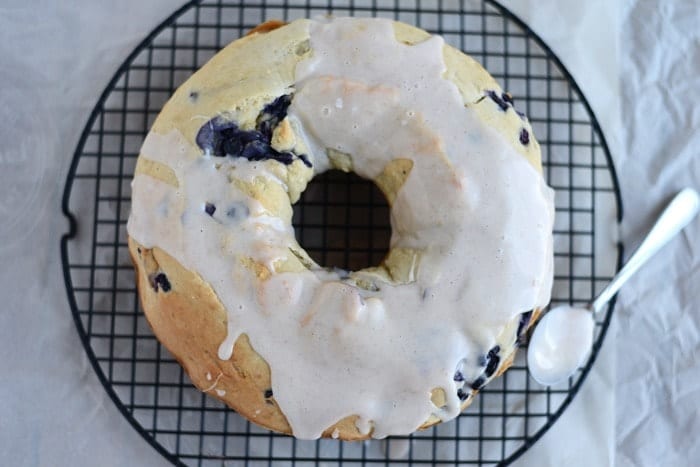 Recipe
Gluten Free Wild Berry Bundt Cake with Almond Cinnamon Glaze
Ingredients
For the Cake
-3 cups gluten free flour baking mix (I used the Trader Joe's Brand)
-1 tablespoon baking powder
-1/2 teaspoon salt
-2 teaspoons xanthan gum
-1/4 cup organic cane sugar
-1/4 cup vegan butter (or regular butter), melted
-4 eggs, large
-1/2 cup Greek yogurt
-1/2 cup apple sauce
-1 teaspoon vanilla
-1/4 cup honey
-1 cup wild blueberries (I used the Wyman's brand)
For the glaze
~1.5 cups powdered sugar
-1 teaspoon almond extract
-1/4 teaspoon cinnamon
~2-3 tablespoons almond milk (or more until you get your preferred consistency)
Instructions
First, preheat oven to 350F and spray your bundt cake pan with nonstick cooking spray. Set aside.
In a large bowl, mix together all dry ingredients (flour, powdered sugar, salt, xanthan gum, cane sugar). In a medium bowl, mix together melted butter, eggs, greek yogurt, apple sauce, honey, and vanilla. Then slowly add wet ingredients to dry and mix with a wooden spoon.
Finally, add in blueberries and stir.
Transfer batter into bundt cake and use a wet spatula to spread evenly.
Bake at 350 for about 50 minutes, or until you do the toothpick test and it comes out clean.
While your cake is baking, mix up your glaze. Making glaze is more of an art than a science. I used about 1.5 cups of powdered sugar and then added in my almond milk by the tablespoon until it was at the consistency I wanted (thicker than thinner). Then, I added about 1 teaspoon almond extract and about 1/4 teaspoon cinnamon.
Once the bundt cake has cooled off about (about 10-15 minutes), take it out of the pan. You are more than welcome to glaze either side. I finished my cake off with some shredded, unsweetened coconut.
Similar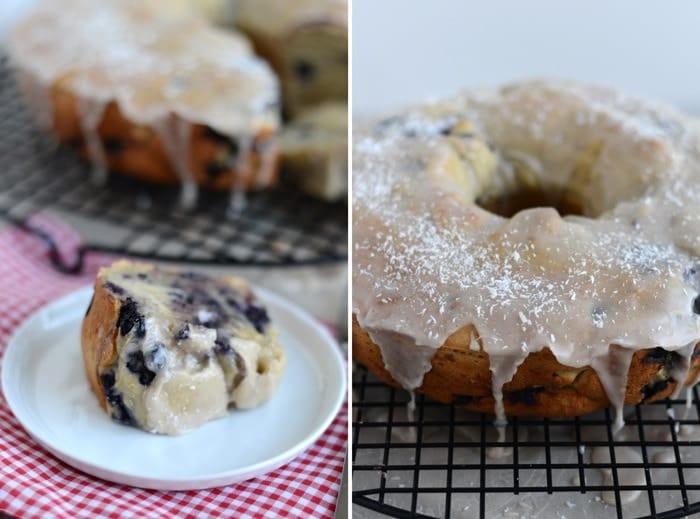 Pin for later!
Wild Blueberry Association of North America
|
TWITTER
|
FACEBOOK
|
PINTEREST