Happy Monday! I am so excited to be teaming up with 3 of my favorite bloggers again for a collaboration of Healthy Fall Treats! All recipes in this post are gluten-free, refined-sugar free, dairy-free, and grain-free (paleo-friendly).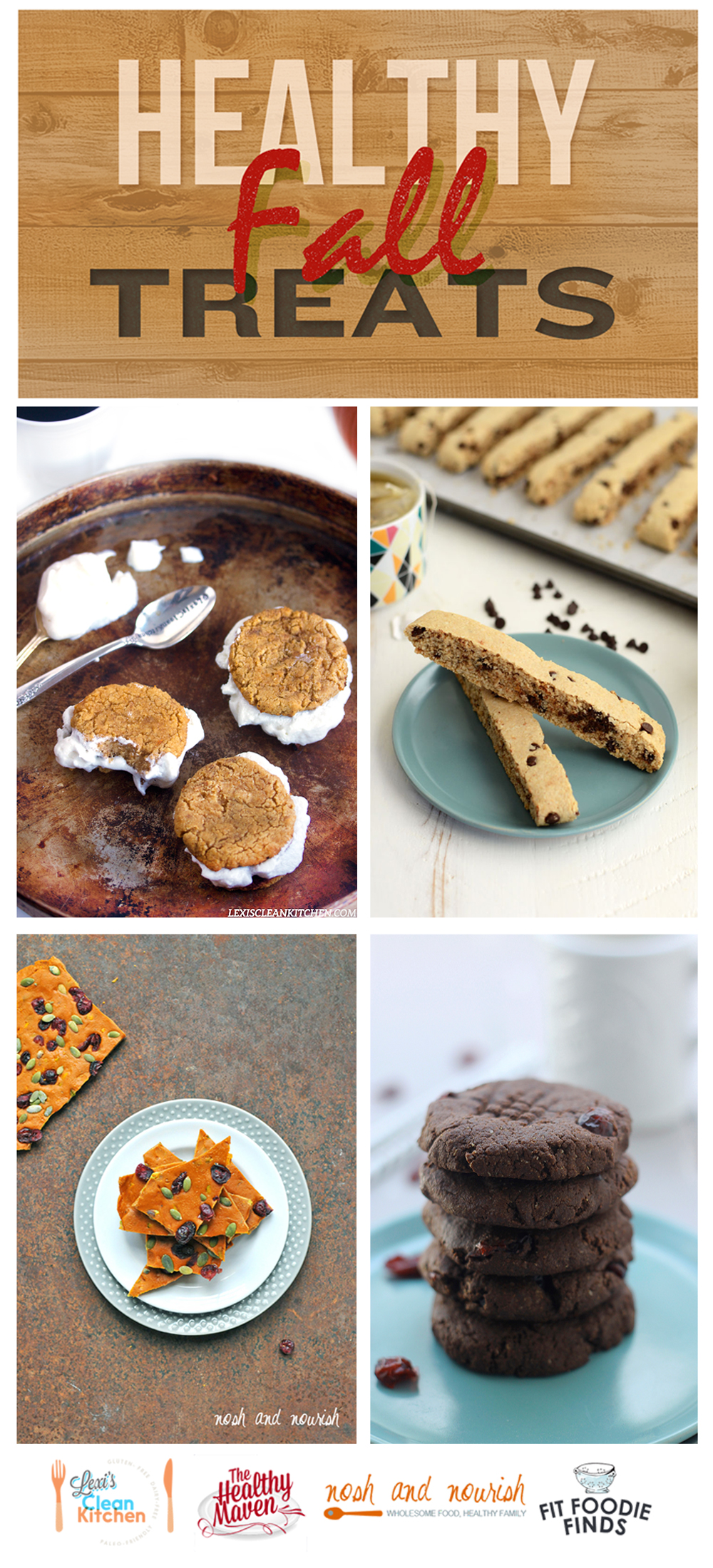 Every other monthish
Lexi's Clean Kitchen
,
The Healthy Maven
,
Nosh and Nourish
, and I like to pull together for one giant post of deliciousness. We all have similar outlooks on food and focus on fueling the body with healthy WHOLE foods.
First up- we've got Lexi's Pumpkin Whoopie Pies. Uhm, I didn't know whoopie pies could be healthy, but Lexi's put such a special twist on them to make them oh-so good for you and delicious, too!
Get the recipe —-> HERE.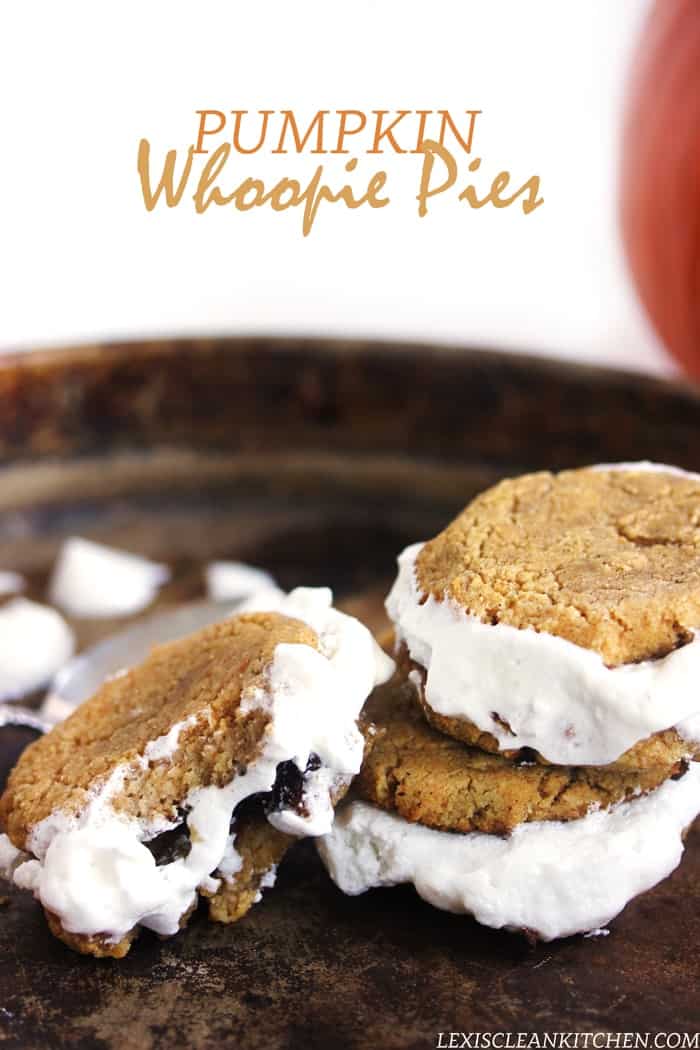 Davida's Grain-Free Chocolate Cranberry Cookies look divine! They're made with an almond butter base and no flour is involved! SCORE!
Get the recipe —> HERE.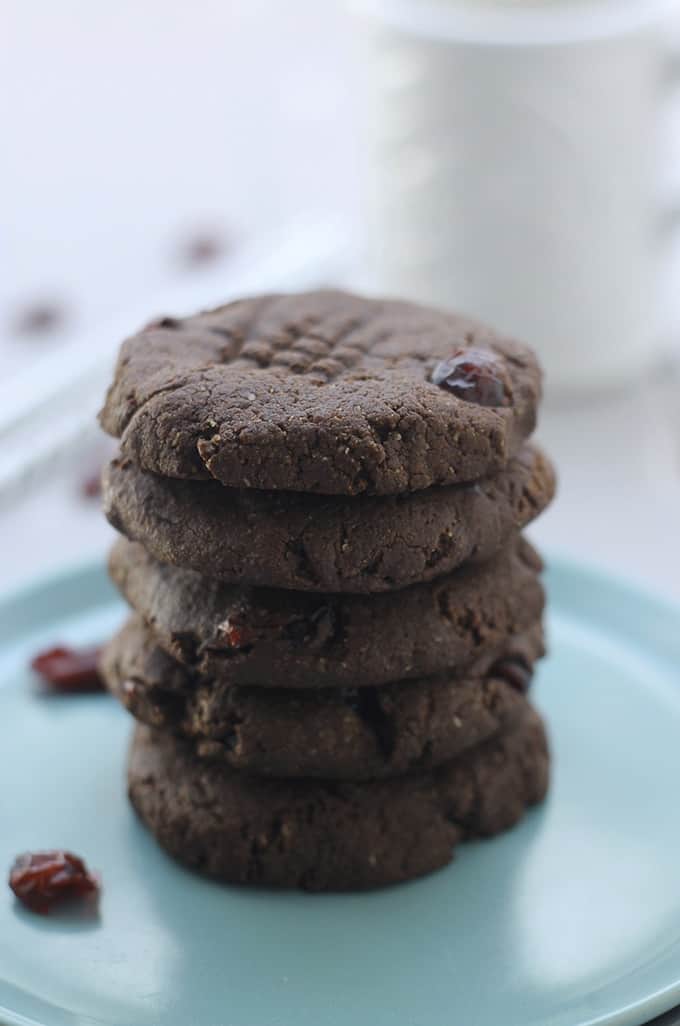 How amazing does Kelly's Butterscotch Pumpkin Bark Look? This recipe is refined-sugar free and paleo-friendly.
Get the recipe —> HERE.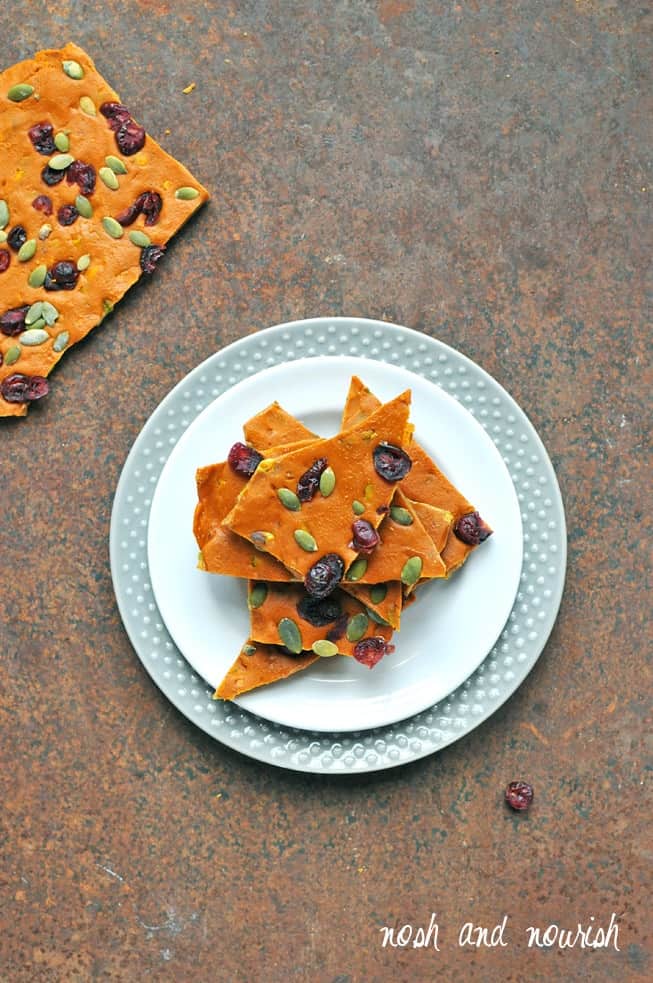 Seriously I can't handle how talented my blogger buds are! They inspire me every single day to get creative (and healthy) in the kitchen with their awesome recipes!
Now for my recipe….
This grain free biscotti is gluten-free, dairy-free, and refined sugar-free. It's flavored with maple syrup and chocolate chips to create the best tasting biscotti EVER!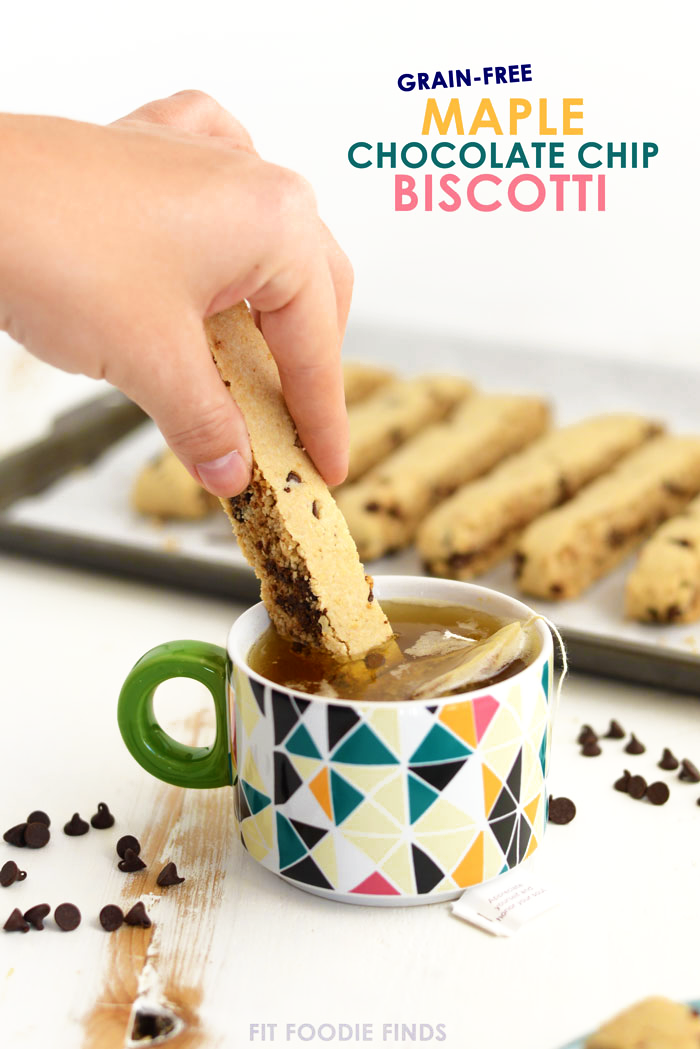 Perfectly dippable (which apparently isn't a word) and only slightly sweet.
There is definitely a process to making biscotti, but it's totally worth it in the end. They store well and really are the best treat ever!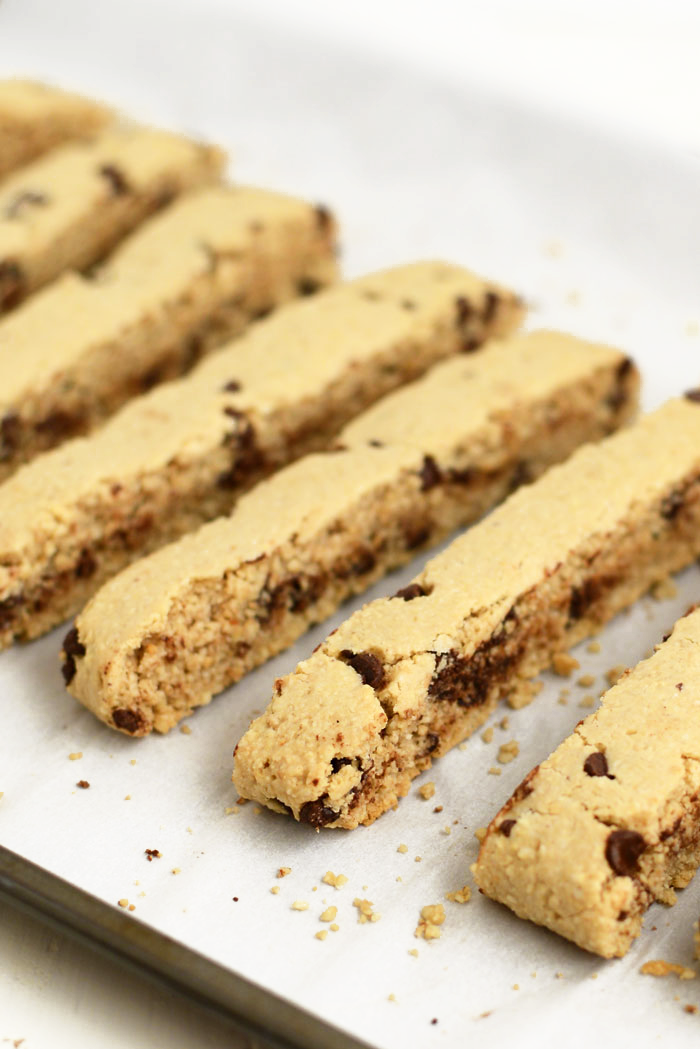 Recipe
Grain-Free Maple Chip Biscotti
Prep Time:

10 minutes

Cook Time:

50 minutes

Total Time:

1 hour
Ingredients
Dry
3 cup

s cashew meal, I use the Trader Joe's brand (the entire bag)

1 tablespoon

tapioca starch

1/2 teaspoon

baking soda
pinch of salt

1/3 cup

dairy-free chocolate chips
Wet
1/4 cup

100% Pure Maple Syrup

1

egg, large
Instructions
First, preheat oven to 350ºF and line a baking sheet with parchment paper.
Next, in a large bowl, mix together cashew meal, tapioca starch, baking soda, and salt. Then, add in wet ingredients and mix. Finally, add in chocolate chips. You dough should be a little looser than typical cookie dough.
Next, wet hands so that you can easily create your log (if you don't wet your hands, the dough will stick to you). You'll want the log to be about 3/4 of an inch thick and 4-5 inches long.
Bake log at 350ºF for 20-25 minutes until the top firms up and begins to brown.
Let cool for about 15 minutes. Turn oven down to 250º.
Once the log has cooled, slice into biscotti pieces. I sliced mine about 3/4 of an inch thick. Just make sure all of your biscottis are relatively the same thickness.
Place biscotti back onto the baking sheet on either of the open sides.
Bake at 250ºF for 15 minutes. Then remove from oven, flip and bake for an additional 10 minutes.
Similar
You bake these guys not twice, but thrice.
Yes, thrice.
One time for the log, one time sliced, and one time flipped.
Like I said, worth every second in the oven :D