I am consciously trying to eat more salads and green foods in general. I have said this multiple times lately, but I have SERIOUSLY been slacking in my fruits/veggies department.
Lee- peanut butter is not a food group and should only be consumed in normal portion sizes.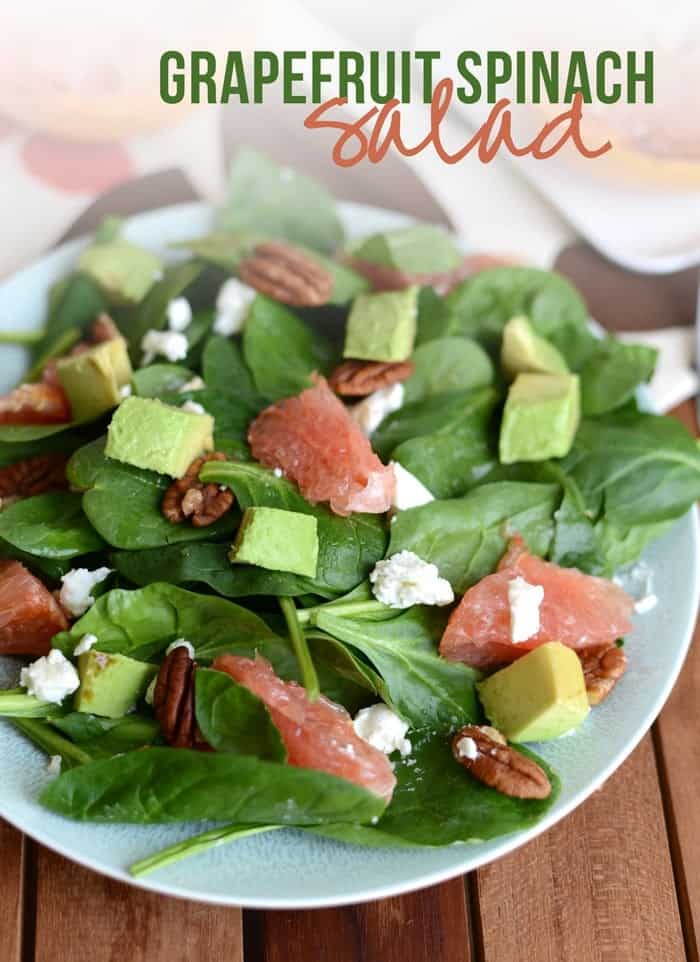 This is a super easy salad with some of my favorite salad toppers!
I experimented with broiled grapefruits…and I actually really enjoyed it! Broiling the grapefruit halves with a little coconut sugar sprinkled on top brings out some sweetness. And eating warm grapefruit wasn't as weird as I thought it was going to be :D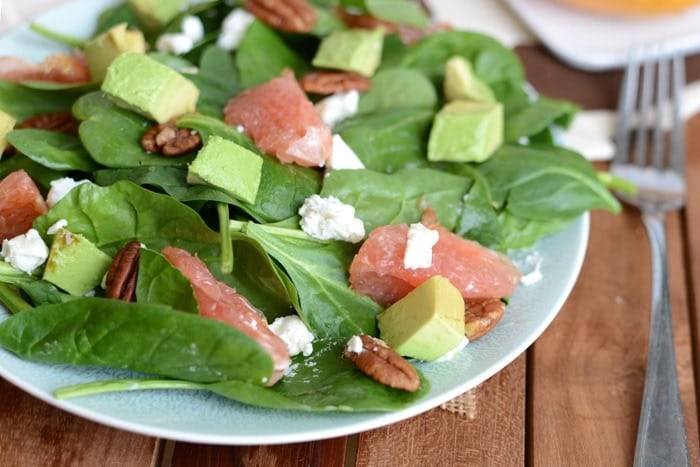 I also added my favorite cheese ever- goat cheese, with slices of avocado, and walnuts. If I had grilled chicken, that would be on here too…but there's no way I'm taking out the grill in sub zero conditions :D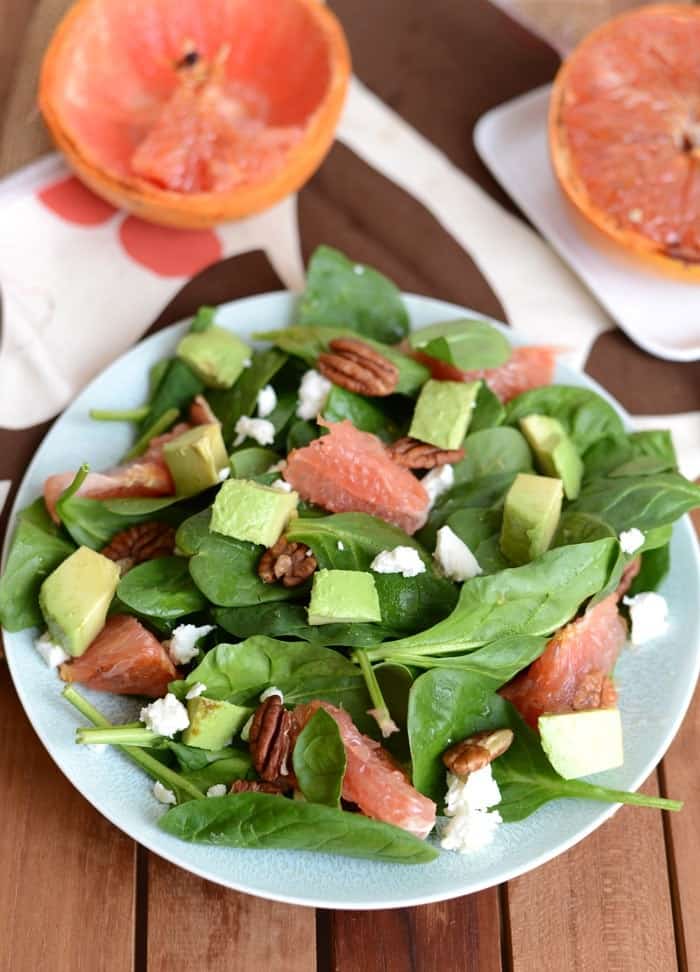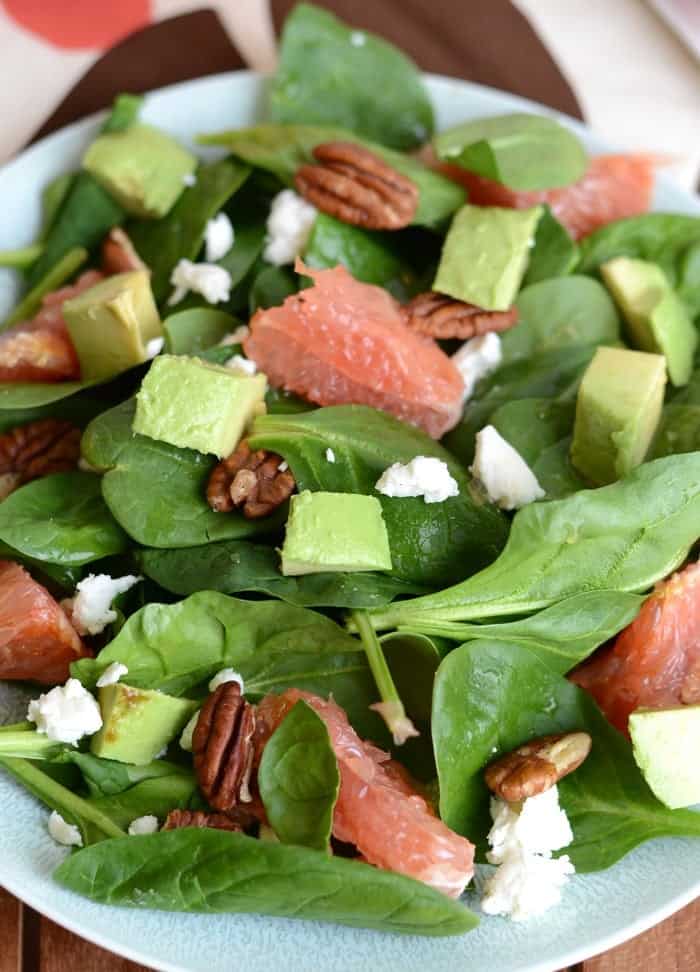 I remember as a kid eating grapefruit and sugar. That's the way my mom did it :D I'm not the biggest sour fan, but I really do enjoy the flavor of grapefruit…so for me some sort of sugar/sweet is necessary.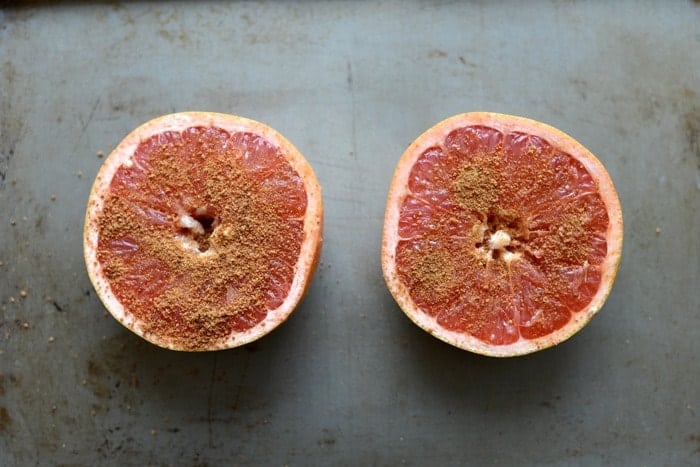 How pretty!
Recipe
Grapefruit Spinach Salad
Prep Time:

5 minutes

Cook Time:

5 minutes

Total Time:

10 minutes
Ingredients
-1/2 grapefruit
-1/2 teaspoon coconut sugar
-2 handfuls of fresh, baby spinach
-1/2 avocado
-1 oz. goat cheese
-1 tablespoon pecans
Instructions
First, preheat oven to broil on high. Then, cut a grapefruit in half and place a grapefruit (sliced side facing up) on a cookie tray. Sprinkle with coconut sugar and and broil for 3-5 minutes. Watch carefully. You just want to melt and caramelize the sugar on top.
Next, use a knife to cute the grapefruit meat out of the skin. The easiest way to do it is to cut around the skin and then slice each individual section.
Prepare salad by mixing the rest of the ingredients together. Pour some of the excess grapefruit juice on top of salad instead of dressing!
Similar
Check out the latest salad recipe I did for Anytime Fitness- The Perfect Vegetarian Power Salad. I could eat one of these bad boys every single day!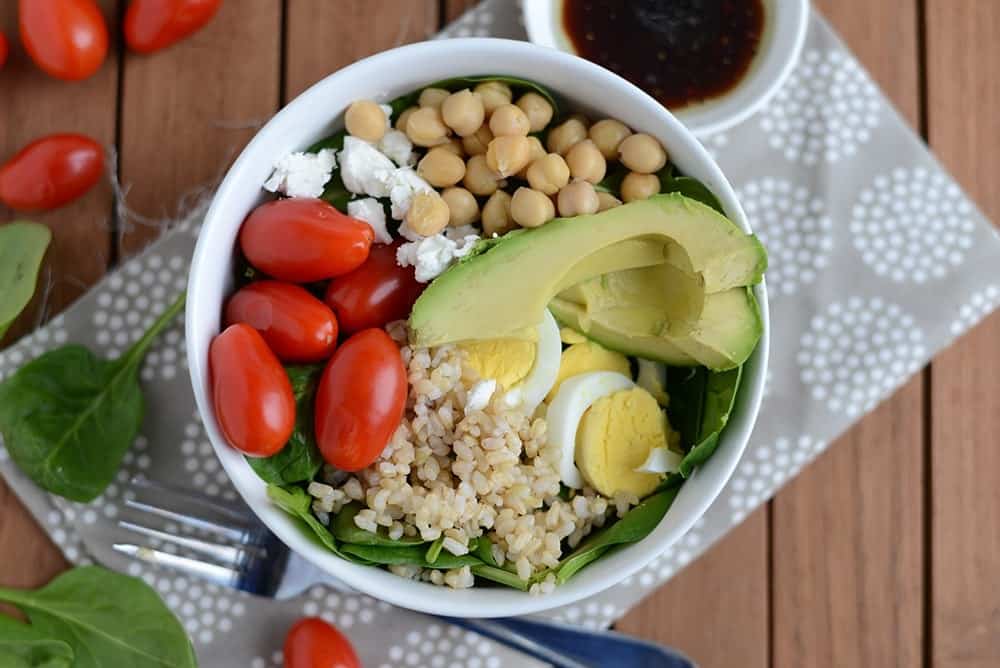 Salad talk- What's your favorite kind of salad?