Make yourself this protein packed Greek yogurt and steel cut oatmeal parfait for an easy week day meal that will keep you full all morning!
Raise your hand if you love oatmeal.
ME ME ME ME!
I think it's pretty clear that I have a MAJOR obsession with oatmeal. When I first started FFF almost 5 years ago, all I ever posted was oatmeal recipes…and for a great reason! Oatmeal is my go-to breakfast and it has been since college. I love the taste, texture, and fiber content. Plus it's the perfect match for peanut butter, my bestie. I typical only cook with rolled or quick cooking because it's the easiest and fasted way to make my breakfast. However- I much prefer steel cut over all variations because of it's wholeness. The only issue with steel cut, is that it takes forever and ever to cook. Sometimes you're so hungry that you just can't wait 🙂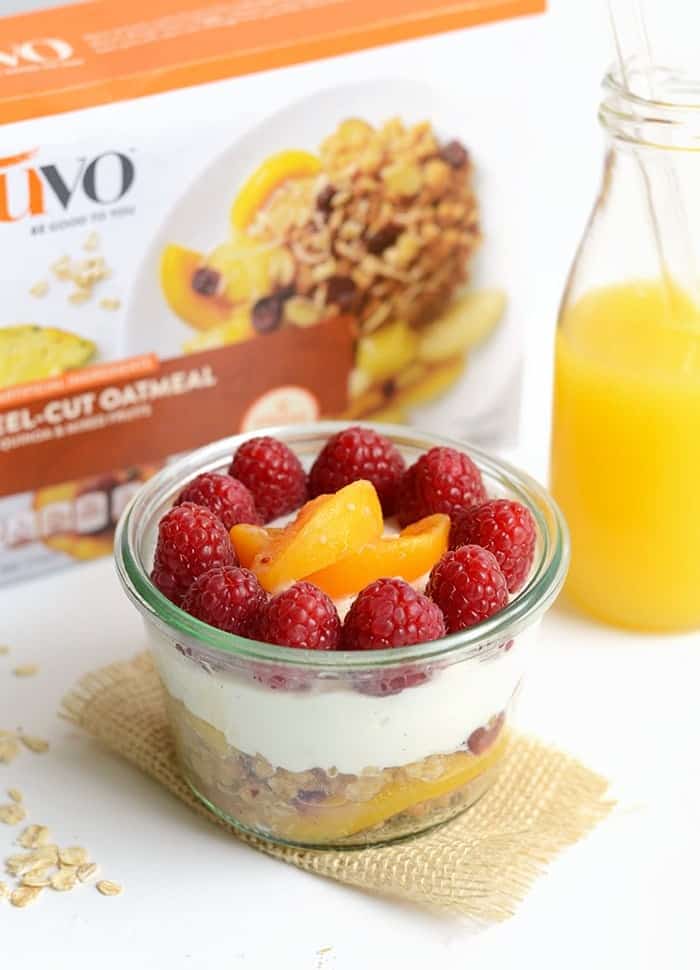 Luvo's Steel Cut Oatmeal is not only super convenient, but deeeeeeelish. It's mixed with quinoa and fruit for a naturally sweetened, texture-filled breakfast. I love that they only use real ingredients in their products and that everything is flash frozen!
I love Luvo's brand philosophy:
"We want to make it easy to make good choices by creating wholesome, nutritious meals that taste amazing. And we're doing it by sticking with a few guiding principles: 1. food should be delicious 2. food should be nutritious 3. the smart choice should be an easy choice 4. food should come from a good place."
Ummmmmm, can I copy and past that into FFF's about page? Spot on to my beliefs!
Where can you find Luvo? In the frozen section! They have a wide variety of products ranging from breakfast, to entrees, to burritos! To see what grocery stores carry Luvo products near you…use their store finder HERE. If you're in the Twin Cities, Lund's and Byerly's carries a great stock of products!
For this recipe, I layered hot steel cut oats with Greek yogurt to satisfy my hold + cold love. I also added some fresh berries to the top of mine.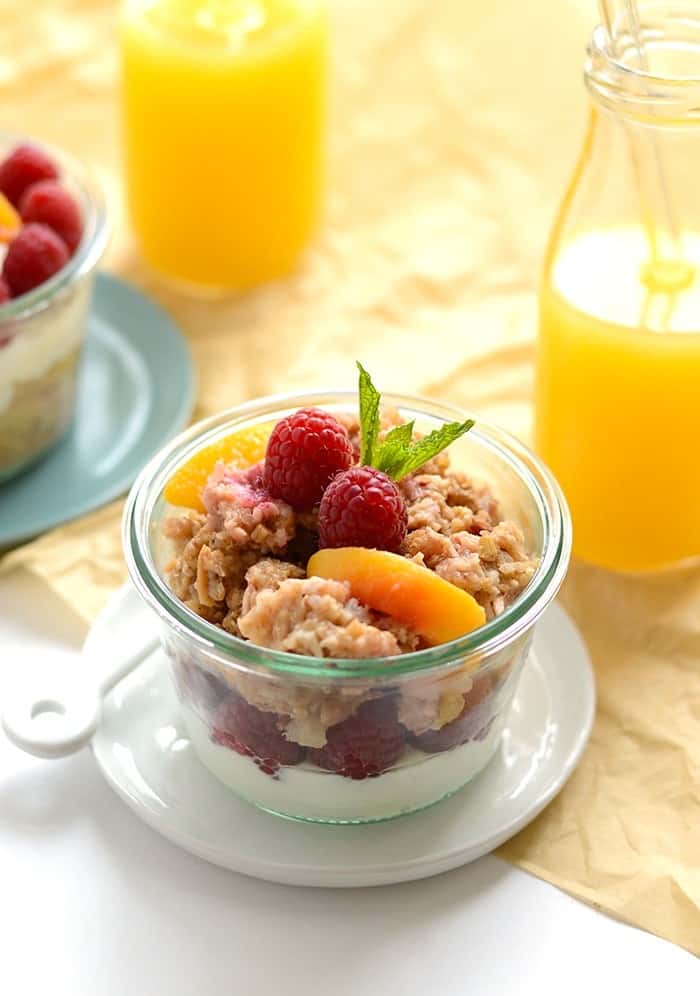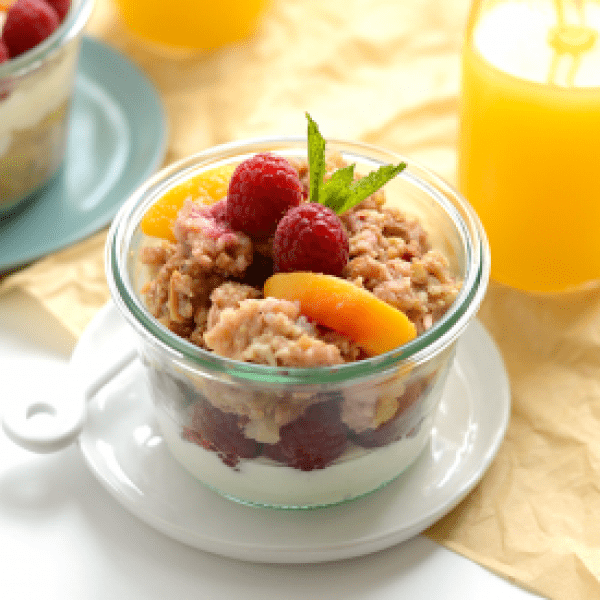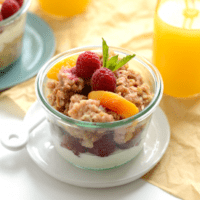 Greek Yogurt and Steel Cut Oatmeal Parfait
Prep:
5 mins
Total:
5 mins
Instructions
First, follow the directions on the box to cook Luvo Steel-Cut Oatmeal in the microwave. Set Aside.
Add half of the Luvo Steel-Cut Oatmeal mixture into one jar and the other half into the other jar.
Next, prep yogurt layer by mixing together Greek yogurt, chia seeds, and raw honey. Layer the yogurt on top of the Luvo Steel-Cut Oatmeal mixture in each jar.
Top each with fresh raspberries. Enjoy!

In addition to sharing this healthy and delicious parfait on FFF, it is also featured in the September issue of SELF Magazine. This will be my first full-page recipe spread in a major magazine. If you subscribe to SELF or see it on the shelves, look for this recipe!
Check that off my bucket list…SO COOL!
This post is sponsored by SELF Magazine and Luvo. I was compensated and all opinions are my own. Thank you for supporting Fit Foodie Finds!