This Green Goddess Zucchini Pasta by Inspiralized is the perfect dish if you want a delicious meal packed with veggies and flavor!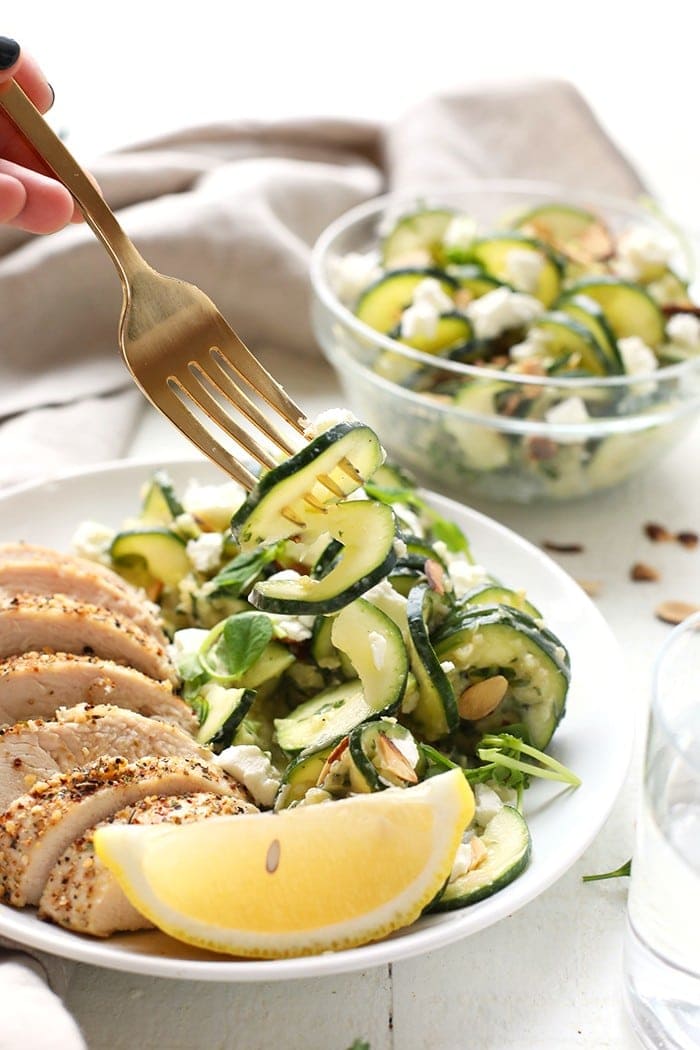 Does anyone else feel like the holidays are still months away and that you have plenty of time to shop for gifts…when in reality, Christmas is in just 3 weeks and you still haven't even thought about who who you're buying for this year? Woof. That's me! I did a little bit of shopping at Lululemon, but I still have a handful of people to buy for. I know I will get everything done and that the holidays are really about spending time with the people you love, but I LOVE giving gifts. (I chat more about this in my Fit Foodie Finds Gift Guide Post). I love making people smile because I bought them something that really shows them how much I care and how well I know them.
I was thinking about fun gifts to get for my people and thought, COOKBOOKS. I love how cookbooks can inspire you to cook outside of the box and also act as a guideline to teaching you how to cook delicious meals. I am proud to say that I personally know a handful of talented bloggers that have written and published some beautiful cookbooks this year. One of which is Ali from Inspiralized,who recently sent me her newest book- Inspiralized Everything, which goes hand in hand with her amazing Inspiralizer
!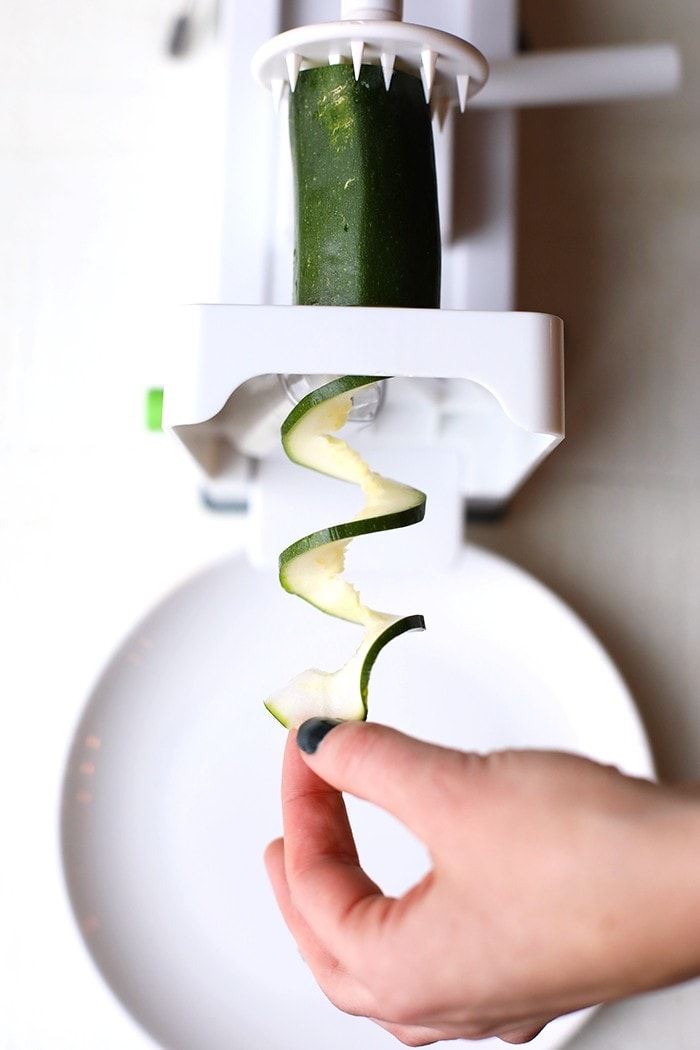 If you've ever been to Inspiralized, you know that this website is devoted to all things spiralized veggies! Ali, the founder, continues to impress me with her creativity, business savvy brain, and all around beauty. That's right- beauty. Not only do I love Ali's recipes and business, but she is an all around amazing human. We finally got to meet this past year in Wine Country and I've been so excited to see her knew book from that very moment.
So, today's recipe – Green Goddess Zucchini Pasta, is straight out of Inspiralized Everything
! Of course, in order to make this delicious dish, you need a veggie spiralizer. My all time favorite spiralizer is obviously the Inspiralizer
by Ali herself. Why do I love it so much? Well not only did Ali patent this bad boy, BUT IT'S SAFE. I've had some close calls in my day cleaning my older spiralizer, but this boy has safety protectors and is easier to use with the knob blade switcher.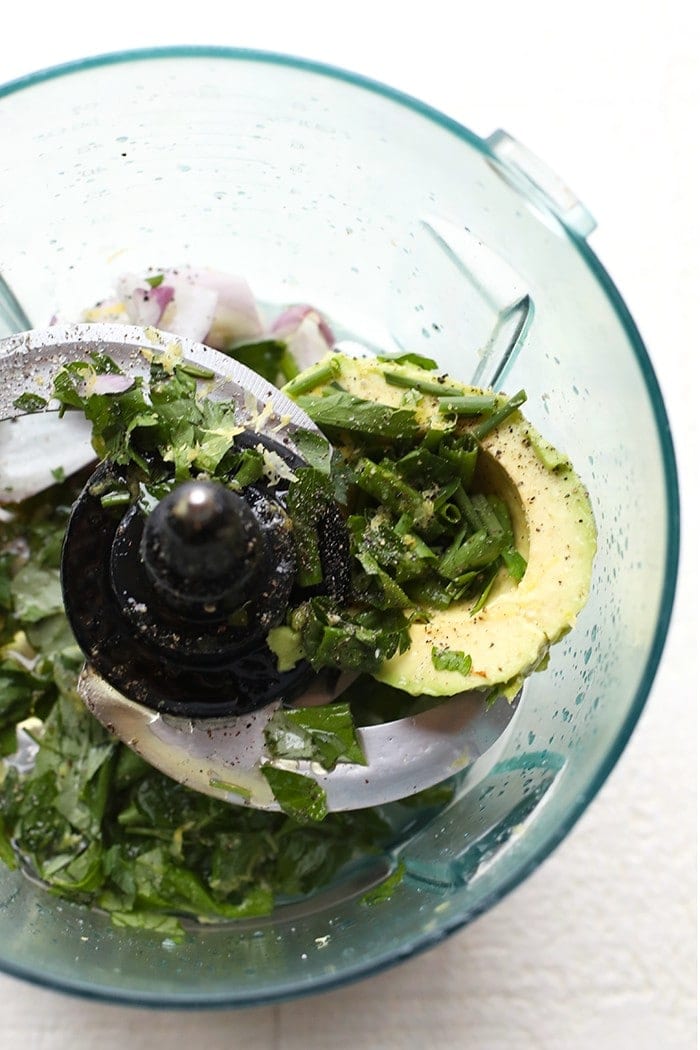 Man, I was reminded how much fun spiralizing is while making these zoodles. Not only does it make beautiful noodles, but look at these photos. #gorgeous I also have to admit when I first started making the Green Goddess Zucchini Pasta I thought it was going to be a warm salad, but halfway through realized it was supposed to be served cold. It was a pleasant surprise! I served it with a baked chicken breast (warm + cold combo) and it was absolutely delicious. An even better surprise was that there were leftovers and was still tasty the next day.
Long story short– buy THIS BOOK
right now. Whether it is an early Christmas gift for yourself or for someone you love, it's full healthy recipes that are fun to cook!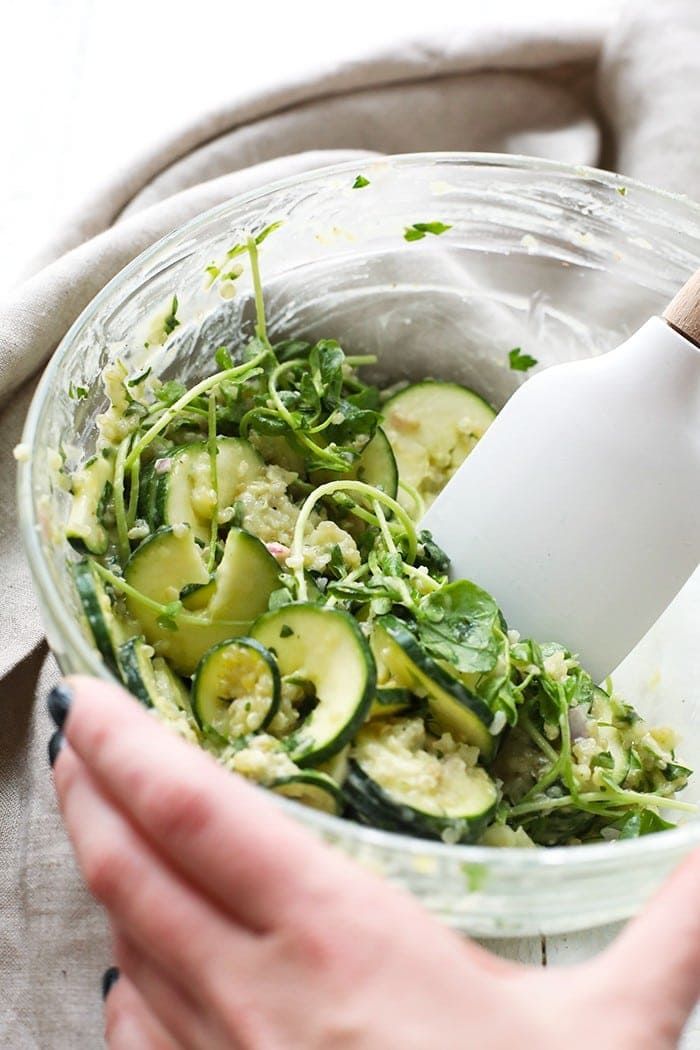 Green Goddess Zucchini Pasta
Prep:
35 mins
Cook:
5 mins
Total:
40 minutes
Fat
32
Carbs
31
Protein
10
Ingredients
1/4 cup

quinoa

1

small garlic clove

1/2

medium avocado

1/4 cup

minced fresh basil

2 tablespoons

minced fresh parsley

2 tablespoons

minced fresh chives

3 tablespoons

extra-virgin olive oil

1/4 cup

cup minced scallions (green parts only)

1/2 teaspoon

red wine vinegar
Salt and pepper

2

medium zucchini, spiralized with Blade A, noodles trimmed

2 tablespoons

slivered almonds

1 cup

packed watercress

2 tablespoons

crumbled goat cheese, optional
Instructions
Place the quinoa and 2/3 cup water in a small saucepan. Cover and bring to a boil over high heat, then uncover, reduce the heat to medium-low, and simmer for 15 minutes or until the quinoa fluffs up. Transfer the quinoa to a small bowl and refrigerate for 30 minutes
Meanwhile, make the dressing. Place all the ingredients for the dressing plus 1 tablespoon water in a food processor and pulse until smooth. It should be thick, but add more water, 1 tablespoon at a time, as needed until the desired consistency is reached. Taste and adjust the seasoning to your preference.
Put the zucchini noodles in a large bowl. Pour the dressing over the noodles and toss to combine. Set aside to soften for 5 minutes.
Place a small skillet over medium-high heat. Toast the almonds in the skillet, tossing to avoid burning, for about 5 minutes or until fragrant and golden brown. Immediately remove them from the pan.
Add the watercress and quinoa to the bowl with the zucchini and toss to combine. Divide the zucchini pasta between two plates and top with the toasted almonds and, if desired, goat cheese.
Nutrition Facts
Serving Size:
1/2
Calories:
413
Sugar:
6
Fat:
32
Carbohydrates:
31
Protein:
10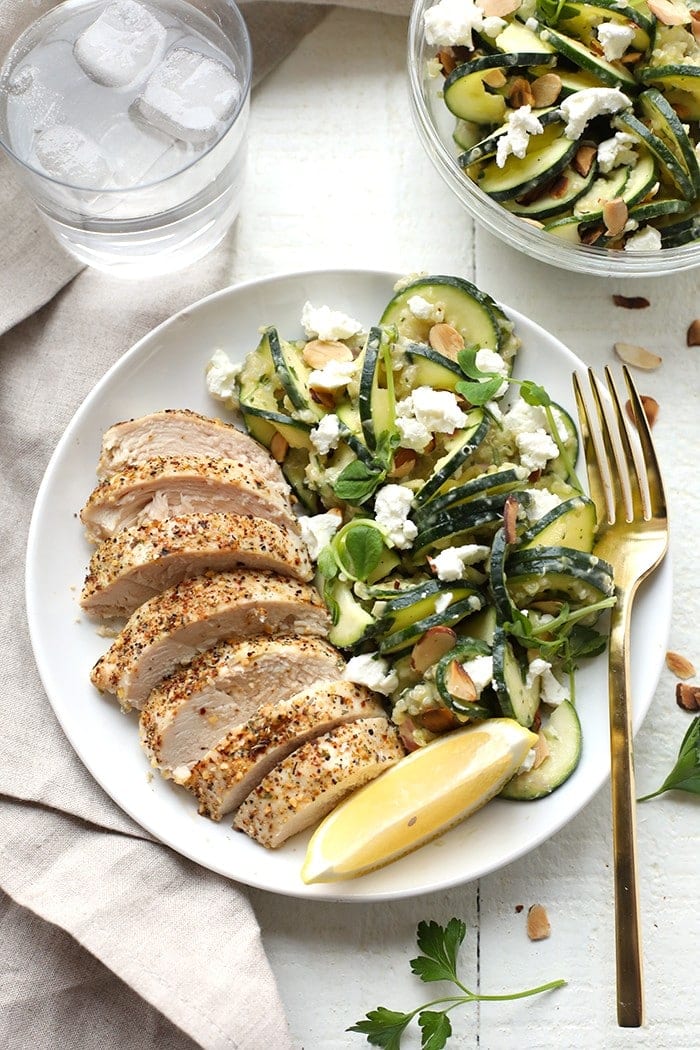 P.S. If you need other cookbook gift ideas, look no further. —> below is a list of other cookbooks I LOVE.
Lexis Clean Kitchen-150 Delicious Paleo-Friendly Recipes to Nourish Your Life
Skinnytaste Fast and Slow: Knockout Quick-Fix and Slow Cooker Recipes
Minimalist Baker's Everyday Cooking: 101 Entirely Plant-based, Mostly Gluten Free, Easy and Delicious Recipes