If you love mixing sweet and salty, then you will love these Ham and Egg Breakfast Tostadas. They are topped with a a strawberry peach avocado smash adding some sweet into your eggy breakfast.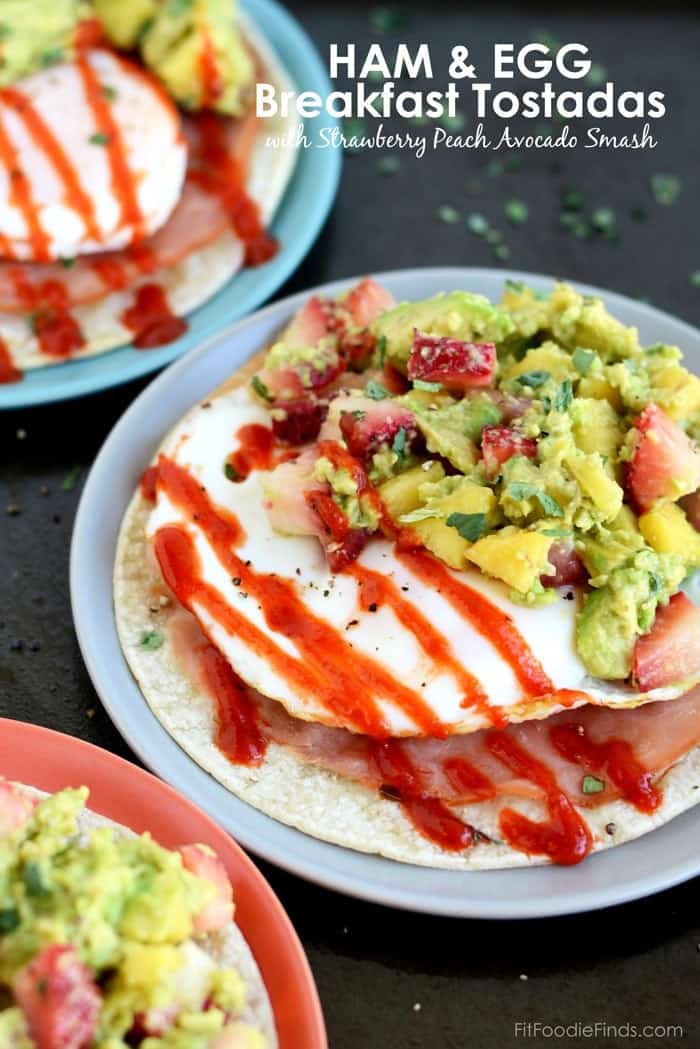 This is the kind of breakfast that happens when Blake "works from home." Lucky for him, Minneapolis hosted the All-Star Game last week, so his boss told him to work from home instead of fighting the mess downtown.
There's pros and cons of him working from home.
Pro- I have a reason to make scrumptious breakfast and not feel wasteful.
Con- We only have 1 office.
Pro- I can sleep in past 6:30 when his alarm usually goes off (I am a 1 alarm kinda girl. The thing goes off and I'm UP).
Con- I make huge messes during the day. Messes that Blake usually doesn't see. I don't like being "watched" while the Fit Foodie magic is happening in the kitchen.
I do want to mention his choice of attire- Camo shorts and no shirt…because duh, he's "working form home."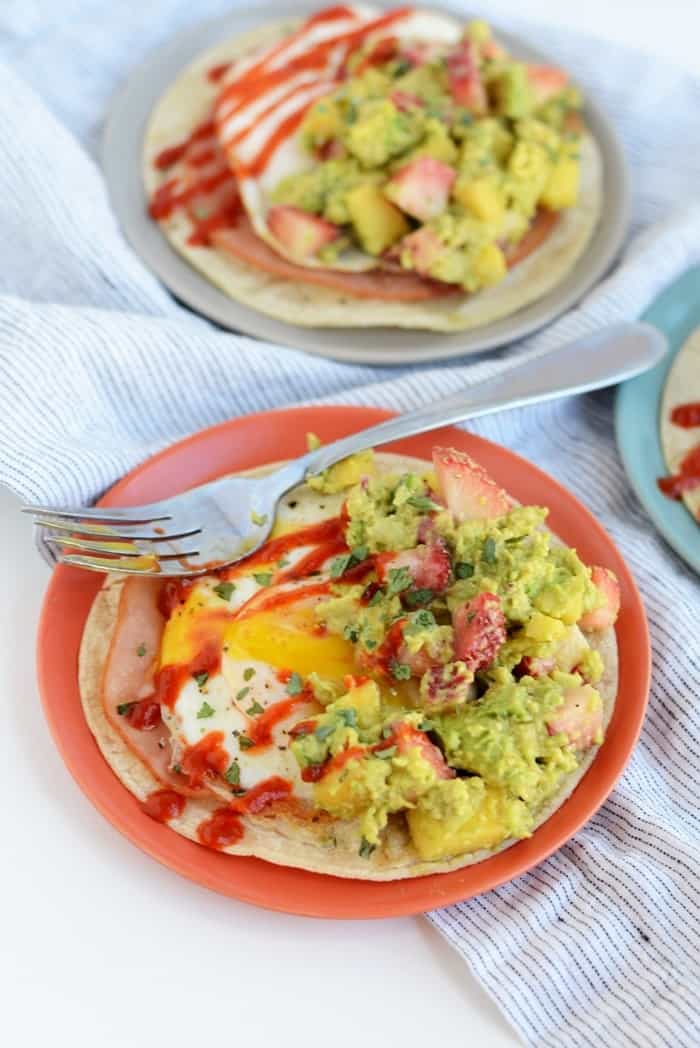 So about this breakfast.
"Literally an explosion of flavor in your mouth," a quote directly from Mr. Blake. The Strawberry Peach Avocado Mash really hit the spot. I love mixing sweet and salty, hot and cold…all kinds of opposites, you name it!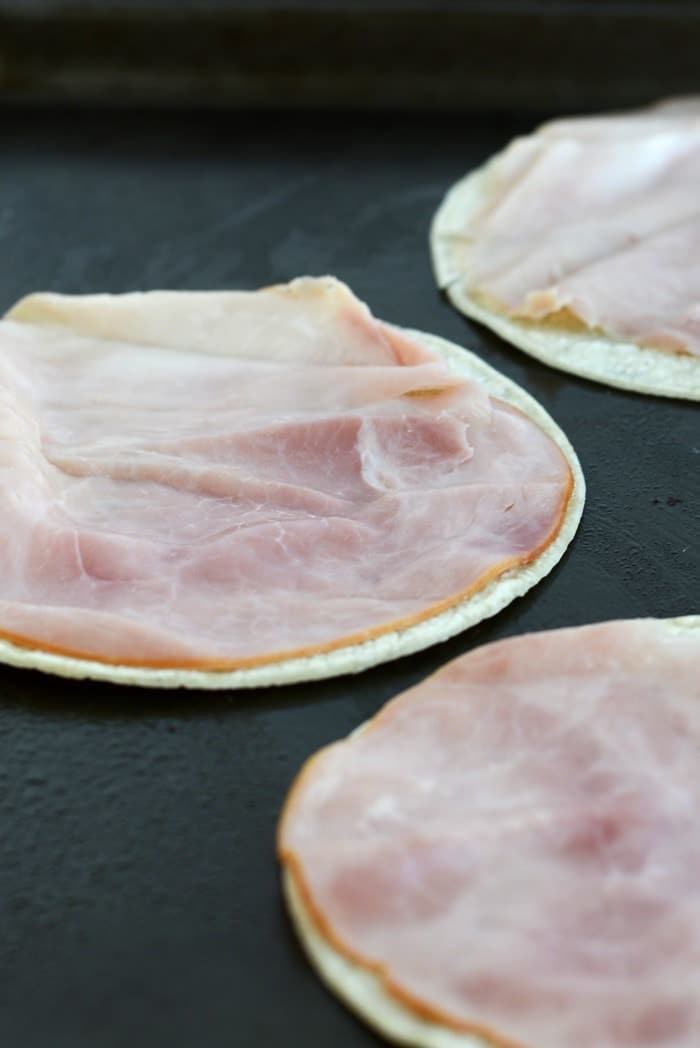 I started off by placing a piece of ham on top of a corn tortilla and broiling it for a few minutes until the ham began to turn golden brown around the edges.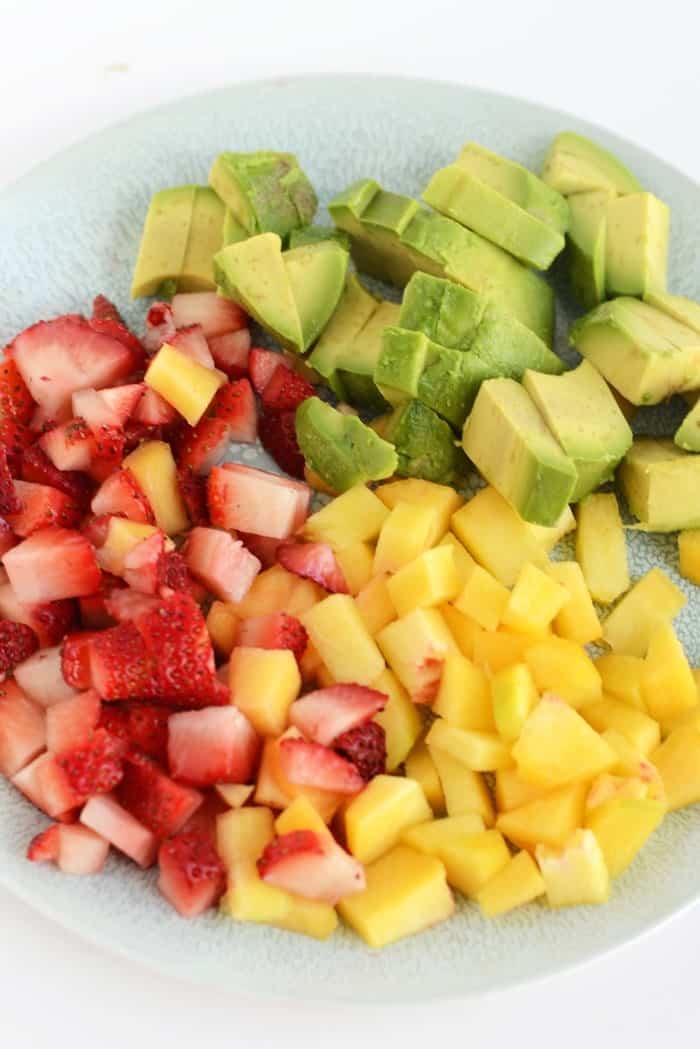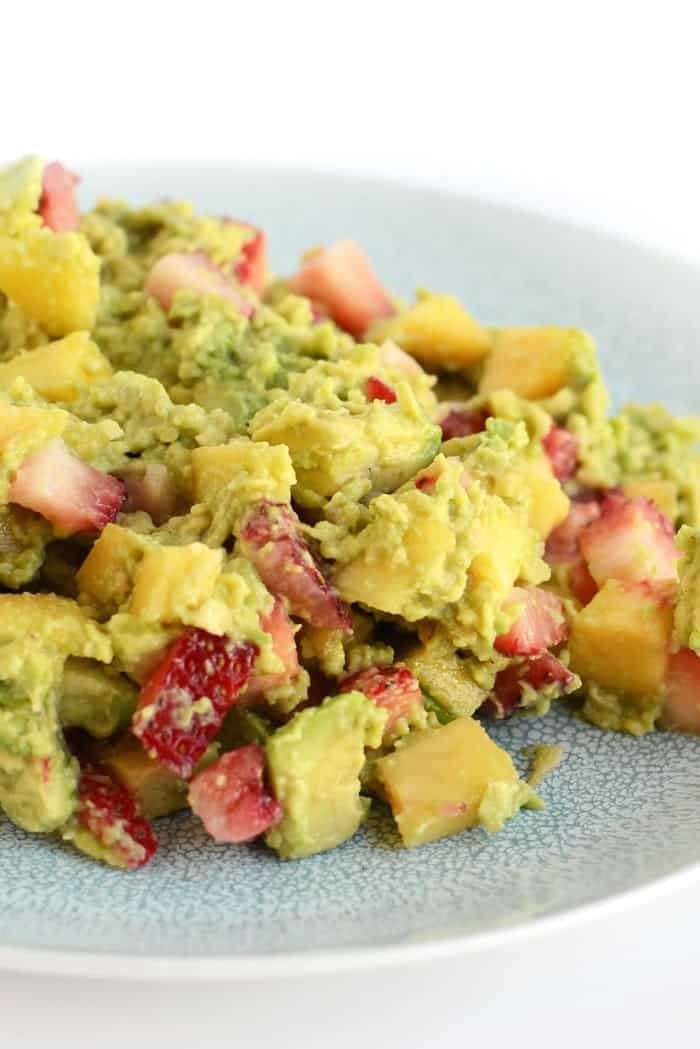 Then, on top went a fried egg + avocado smash + cilantro + sriracha.
Recipe
Ham and Egg Tostadas with Strawberry Peach Avocado Smash
Prep Time:

15 minutes

Cook Time:

5 minutes

Total Time:

20 minutes
Ingredients
For the Strawberry Peach Avocado Smash
1/2 cup

diced strawberries

1/2 cup

diced peaches (~

1

half peach)

1

avocado, diced
Squeeze of lemon

1/2 teaspoon

cilantro
For the Ham and Egg Tostadas
4

corn tortillas, taco-sized

4

eggs, large

4

pieces of ham, from the deli
Coconut oil cooking spray
salt and pepper to taste
sriracha, to taste
Instructions
For the Strawberry Peach Avocado Mash
First, dice 1 avocado. Then, mash it using a fork. Squeeze on 1/2 lemon and add cilantro.
Next, dice strawberries and peaches, then add to the avocado mash and mix. Set aside.
For the Ham and Egg Toastada
First fry up your eggs. Coat a nonstick pan with olive oil or nonstick cooking spray and turn burner to low medium. Then, crack on an egg and season with salt and pepper. Cover with a top and let cook for about 3 minutes or until the yolk is at it's desired consistency. Set aside.
Turn oven to high broil. Then put tortillas on a baking sheet and place a piece of ham on top. Broil for about 2 minutes, watching closely. Remove once the ham and tortilla begin to brown.
Add a fried egg on top and about 1/4 cup of strawberry peach avocado smash. Top with sriracha for some spice!
Similar
Now if only this breakfast could magically appear for every morning. I'm banking on technology. Give it like 20 years and you'll be able to snap your finger and have a fresh, beautiful breakfast on your kitchen table.
Maybe that's called a personal chef?
I wasn't sure how the sriracha was going to be with the sweetness from the avocado mash, but it worked. Love me some sriracha.
These drippy eggs. OH EM GEE.
Do you work from home? Do you AND your spouse work from home?