It was actually painful waiting for this post to go up. HOW GORGEOUS ARE THESE CUPCAKES? I had to time it just right, so that you could get the recipe off of Anytime Health….which is where it lives.
Confession…I created these cupcakes for a duo purpose. The main purpose was for a Valentine's themed recipe post on Anytime Health. The secondary reason was for Ami's babyshower. I love baking..but I need a reason to do it because I don't want to end up eating the entire batch myself :)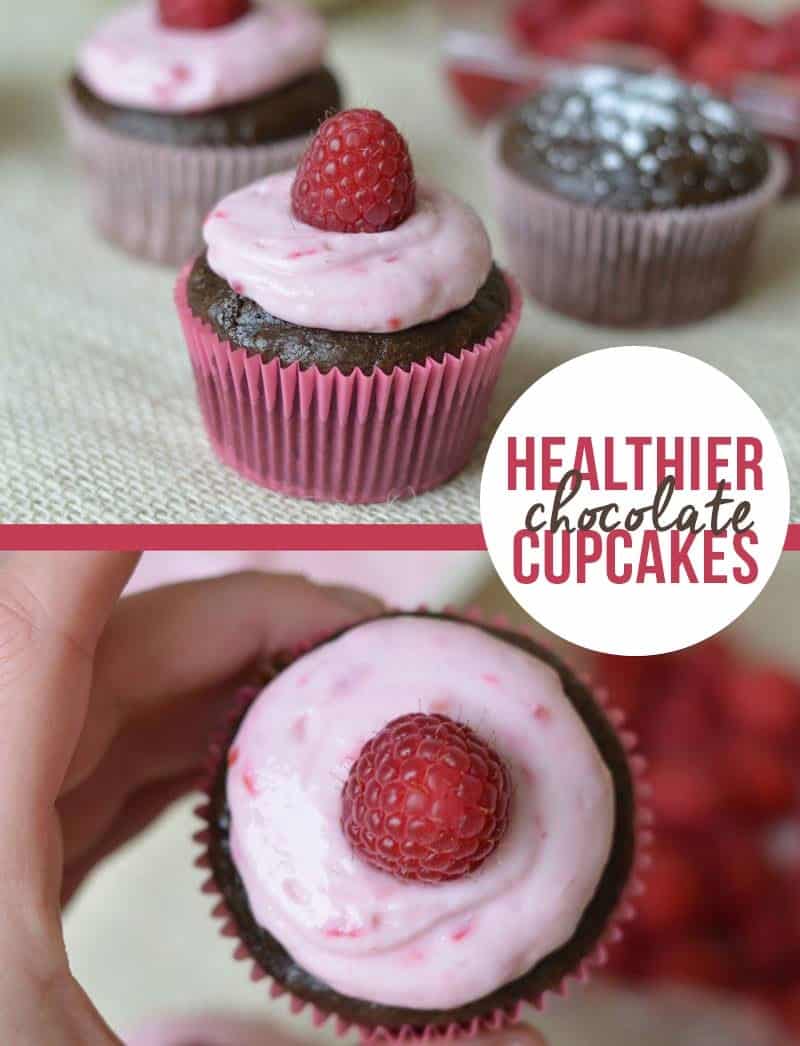 So- yes, both of the recipes are "healthier."
Chocolate Cupcake + Raspberry Cream Cheese Frosting. Both healthier and both To. Die. For. This was the first time making both recipes…and surprisingly both were a success. I get a little bit nervous making a first time recipe for an "occasion," just in case something doesn't go right.
Sadly, they are NOT gluten free. Did I eat one? Heck yes.
If you're not a frosting person…they are perfectly delightful with just a dusting of powdered sugar and maybe some coffee.
I'm thinking that this recipe would actually be PERFECT as a doughnut. Hmmmmm the thoughts going through my mind right now!!!
A little update on my Corepower Yoga Sculpt Audition I had last week. Unfortunately, it turns out it didn't go as well as I had hoped. After my audition, I got both positive feedback and constructive feedback. I walked out of the audition feeling pretty good, but didn't want to get my hopes up. I got an email today stating that "the panel looks for both a right fit and a need when considering a new intern…." I'm sure it was a mixture of both. It's just disappointing for me, in that I have been teaching for 6 months and doing some sort of yoga at least 5 days/week.
I posted on my Facebook page last night about my disappointment and instantly felt better.
Just saying it out loud makes the situation better. On top of that…you guys gave me all sorts of positive responses that lifted my soul right back up. My favorite…"It wasn't meant to be for you at this moment, but it doesn't mean it won't be! Maybe another opportunity will come up that's even better that you weren't expecting. Also, this is a good blog on trying again."
So, thank you so so sooo much for that.
Recipe
healthier chocolate cupcakes with raspberry cream cheese frosting
Ingredients
Wet
1 cup

nonfat/low fat/nondairy milk

1

egg, large

¾ cup

light brown sugar, packed

½ cup

greek

1 teaspoon

vanilla extract

2 tablespoon

s coconut oil
Dry
½ cup

all-purpose flour

½ cup

white whole wheat flour

⅓ cup

unsweetened cocoa powder

¾ teaspoon

baking soda

½ teaspoon

baking powder
Instructions
Preheat oven to 350F and line a cupcake pan with cupcake liners. Then, lightly spray with non-stick cooking spray and set aside.
In a large bowl, combine dry ingredients. Whisk. In a medium size bowl, combine wet ingredients. Mix.
Gradually add wet ingredients to dry, combining with a mixer or wooden spoon, until all lumps are gone.
Fill each cupcake about ~3/4 of the way with the batter.
Bake for 18 minutes or until set. Test cupcape with a toothpick (it shouldn't have anything on it). Let cool completely before applying the frosting. I suggest at least 30 minutes!
Similar