Single-serve dessert lovers, this one is for you! Combining the decadents of chocolate and fresh cherries makes this dessert for one irresistible.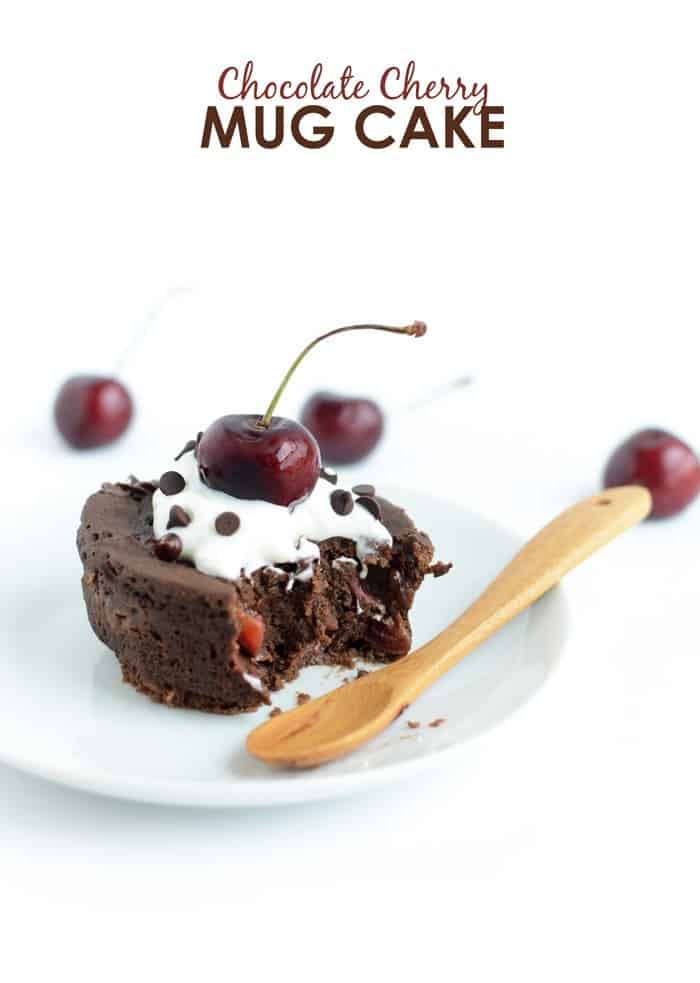 Do you know how hard it is to make a mug cake look pretty?
Like real hard.
Nonetheless I think my attempt is pretty good. Well, it tastes pretty damn good, and that's what really matters.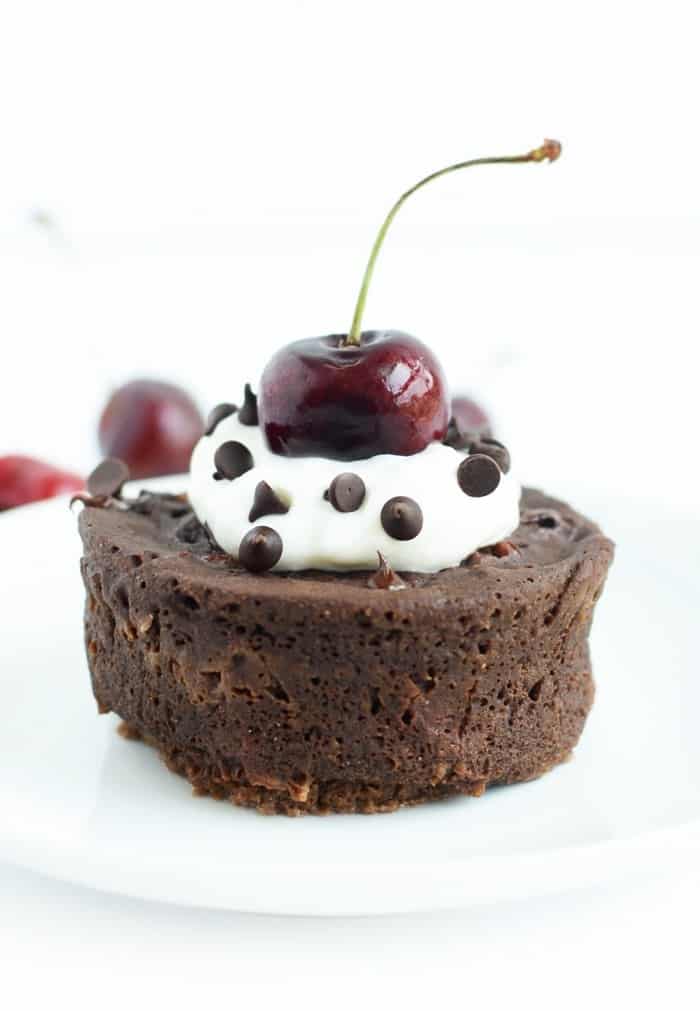 Here are my top 10 reasons why this mug cake rules the world.
It takes less than 5 minutes to prepare.
It only makes 1 serving, so when your significant other asks you for a bite you tell them to make their own.
You could eat mug cake for breakfast and no one would know because they'd think you were drinking your coffee with a fork.
The different variations are endless, so you pretty much can't ever get bored.
This mug cake will easily (and sneakily) satisfy your late night sweet tooth fix.
It's made with no oil or butter.
It's naturally sweetened.
It's actually magic. You can watch the cake grow in the microwave from a wet batter to CAKE in less than a minute. Now that's what you call real live magic.
After you slice and pit the cherries that go into the batter you feel like the king of the world.
Cake > every other meal of the day.
Recipe
Healthy Chocolate Cherry Mug Cake
Prep Time:

4 minutes

Cook Time:

1 minute

Total Time:

5 minutes
Ingredients
Dry Ingredients
2 tablespoon

s ground oat flour

1 tablespoon

gluten free all-purpose baking flour

1 tablespoon

cocoa powder

1/8 teaspoon

baking powder

1 tablespoon

coconut palm sugar

4

–

5

pitted cherries, cut into small pieces
~1/2 tablespoon mini chocolate chips
Wet Ingredients
1

egg white, large

1.5 tablespoon

s almond milk, unsweetened

1 tablespoon

applesauce
Instructions
First, place the dry ingredients in a small bowl. Then, add in the wet ingredients and mix.
Spray a small ramekin or coffee cup with nonstick cooking spray. Then pour the batter into you cup.
Microwave on high for about 60-65 seconds.
Top with Greek yogurt, more cherries, and chocolate chips!
Similar
Sometimes I wish I could just stick a straw in the batter and eat my mug cake that way. Is that gross?
Minus the egg white, of course.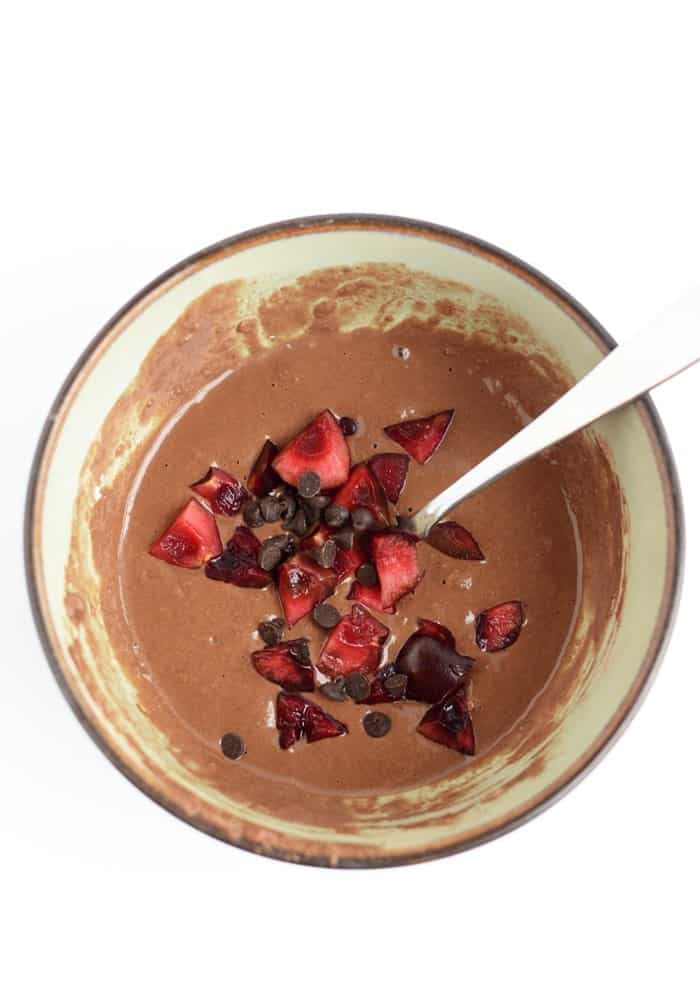 I have a secret. I actually cheated and used a ramekin instead of a mug. I find I get more of a cake-shape and more evenly cooked cake if I use a ramekin. Mugs can get a little wonky because they often times have a skinny base and wide mouth.
My advice to you- use a ramekin.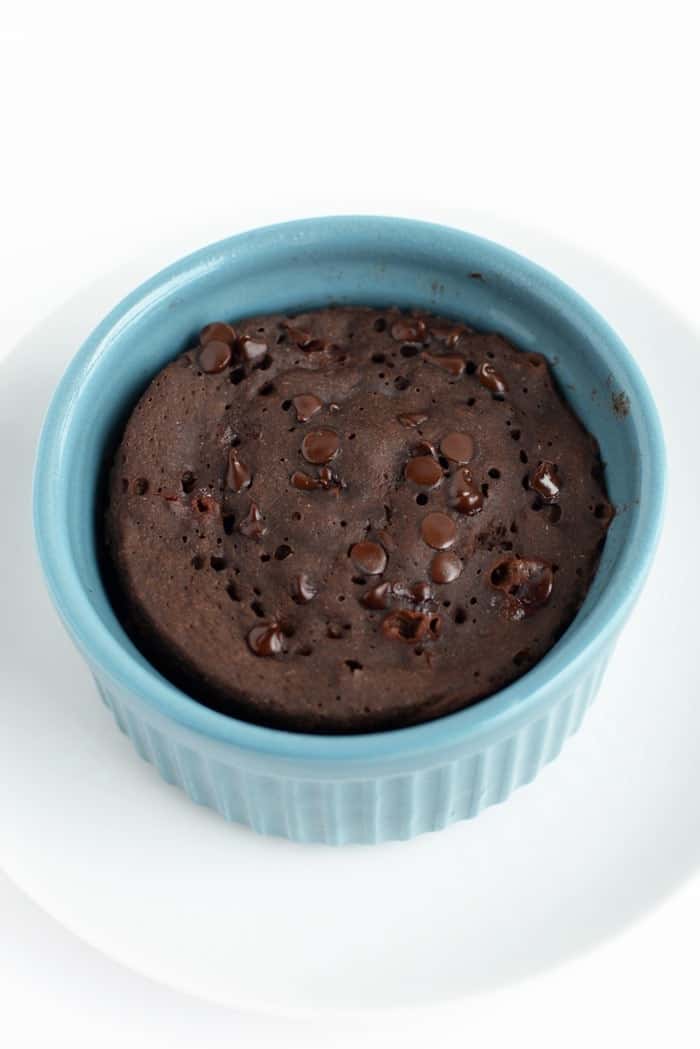 I topped my mug cake with some vanilla Greek yogurt and more chocolate chips.
Cake needs to be topped with something. If your cake has no frosting of sorts, it's not cake. It's a muffin.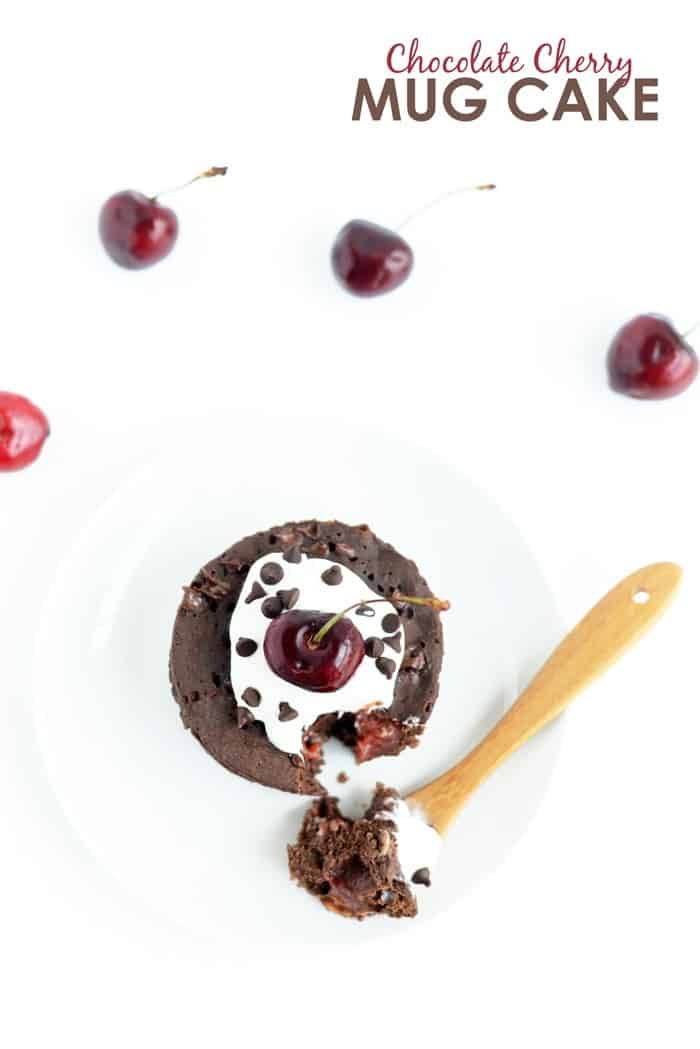 What are your thoughts on mug cake? Are you as obsessed as me?
Love this single-serve dessert recipe? Buy my E-book!