Meal prep at it's finest.
Roasting veggies is something I do very often, but don't talk about much. I think it's one of those monotonous things that I do daily that gets forgotten about. In winter time, Blake and I roast pretty much everything because our grill in buried underneath snow. Plus- asking Blake to go flip the burgers in -10 degrees is asking a lot.
Seriously- It was a low of -10 degrees F yesterday WITHOUT the windchill.
Hot damn it calls for something warm.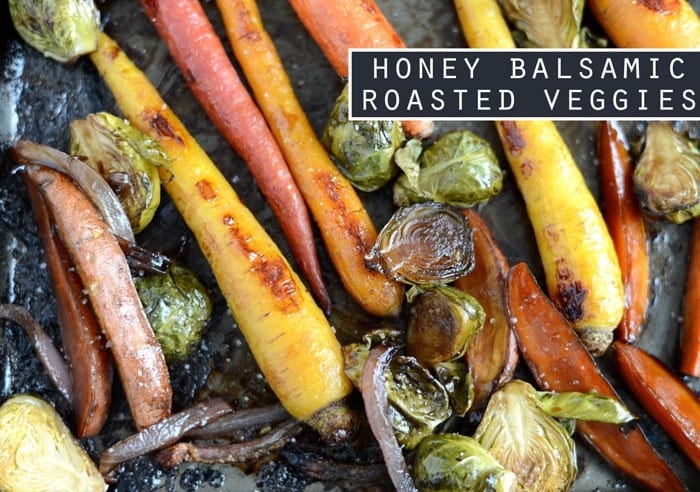 I'd have to say one of my all time favorite flavors is balsamic. I love that when it is heated to a certain temp it gets sweet and thickens. I am also a big fan of sweet and savory flavors combined. A little bit of salt with a balsamic glaze is "lick my chops" delicious.
I found this bunch of gorgeous carrots at Trader Joe's for all of $1.99.
SCORE.
And this red onion. No deal on that guy- but how cute is my new Minnesota cutting board? Props go out to Sister and Sister Boy for the great Christmas gift! I didn't hesitate for a second using it in a photo ;)
Along with the red onion and rainbow carrots are brussels sprouts and sweet potatoes. All of my favorite veggies in a single dish. #TRUEDATSISTA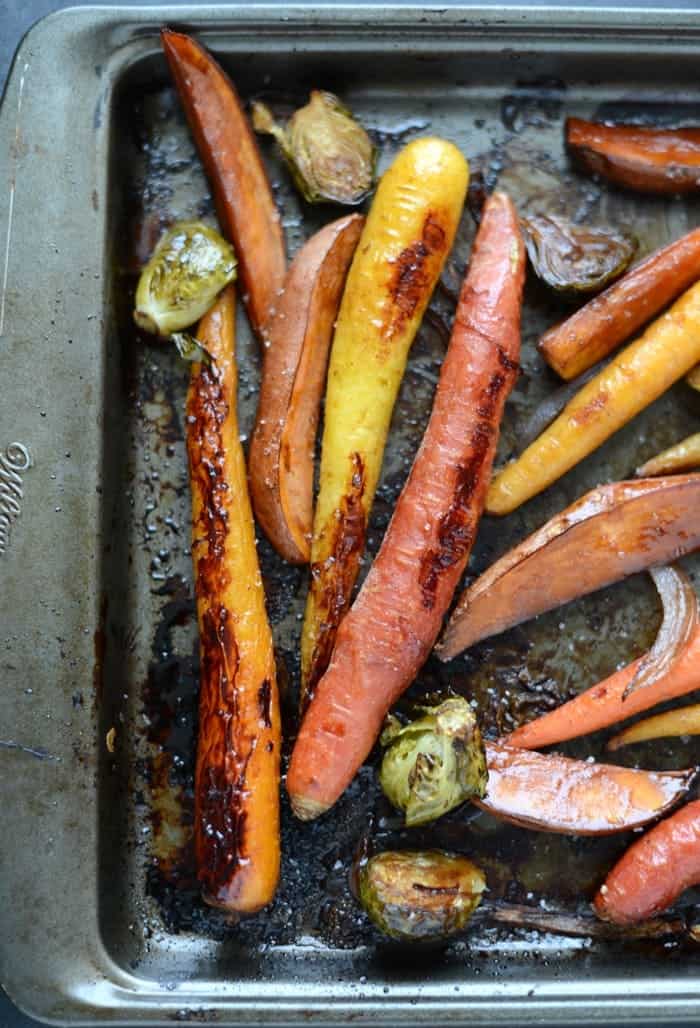 Really. These are my top 4 favorite vegetable…in order starting at the top- 1. Sweet Potatoes 2. Brussels Sprouts 3. Red Onion 4. Carrots.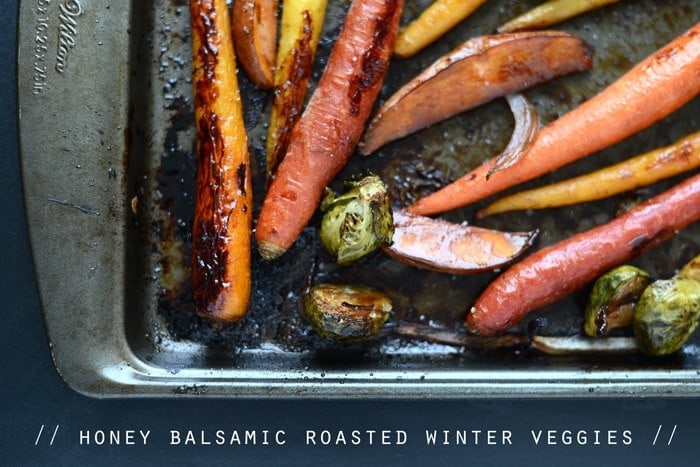 #win #win #win #win situation.
Recipe
Honey Balsamic Roasted Veggies
Ingredients
~3-4 pounds of your favorite winter veggies sliced in similar sizes.
-1/4 cup balsamic vinegar
-1/4 cup honey
-2 teaspoon sea salt divided
-1-2 tablespoons extra virgin olive oil
Instructions
First preheat your oven to 400F and line 2 baking sheets with aluminum foil. Grease with 1-2 tablespoons of olive oil.
Next, prep veggies by slicing them into even chunks. You'll want to make sure they are all similar size, so that they roast accordingly. The veggies I used were: rainbow carrots, sweet potatoes, red onion, and brussels sprouts.
Prepare honey balsamic glaze by mixing together 1/4 cup honey, 1/4 cup balsamic vinegar, and 1 teaspoon sea salt. Use a fork to combine by whisking. Place veggies in a gallon size bag, and pour in glaze. Shake bag until the veggies are completely coated.
Next, place veggies onto baking sheets and season with an additional sprinkle of sea salt. Bake for 20 minutes at 400 then toss. Put the veggies back in for 10-15 more minutes or until they are tender. I had to let the carrots bake a little longer, because they were thicker than the rest.
Similar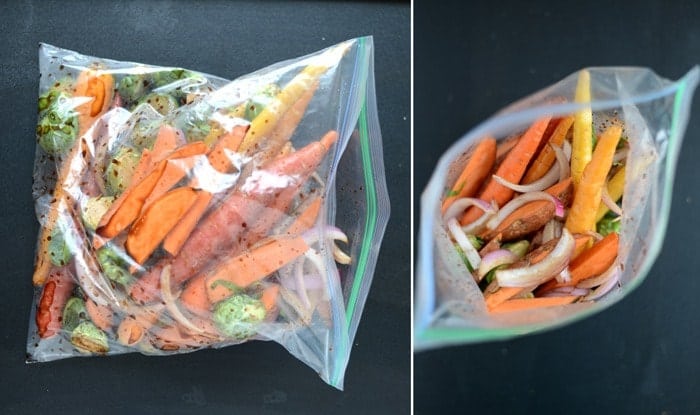 Soooooo gorgeous. And perfect for meal prep. Now I have a boat load of veggies just waiting to be eaten in my fridge.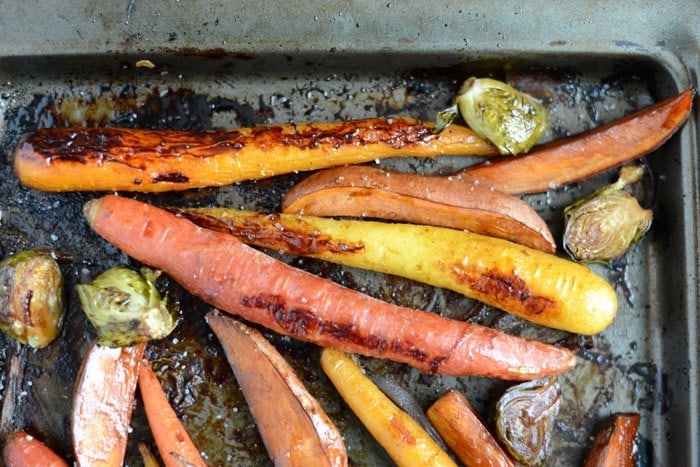 Veggie eating (especially leafy greens) is at the top of of my "goal" list for 2014. I need to eat more veggies. It's true, I don't eat enough of them and I am going to make it a priority from here on out!
Pin for later!
What's are you going to eat more of in 2014?