Snacking guilt. It's a thing. In this post, I'm chatting all about how I got rid of snacking guilt, sharing tips and tricks on intuitive snacking, answering snacking FAQs, + talking all about my favorite whole foods bar, RXBAR!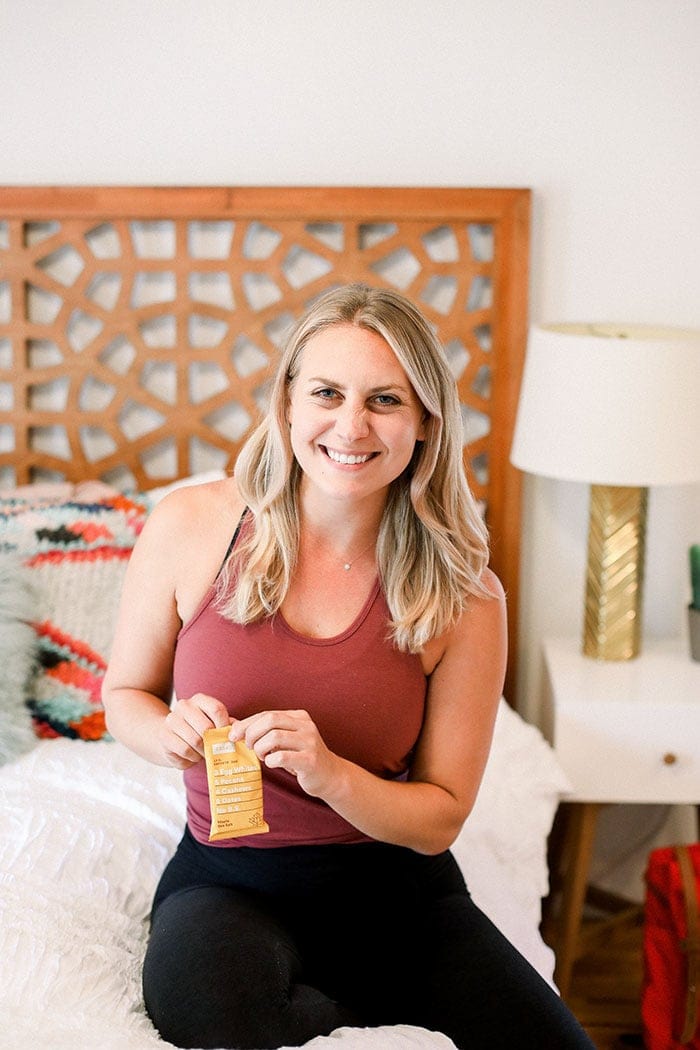 As someone whose wellness journey has taken lots of twists and turns, I can finally say that food no longer brings me guilt. What it does do is fuel my body and bring me pleasure. Today we're talking all about how to kick snacking guilt to the curb + we're partnering with one of our favorite bar companies –> RXBAR to talk all things whole food snacking!
Since the day I sunk my teeth into an RXBAR, I was in love. So much good stuff packed into a little bar. RXBAR is such a fabulous on-the-go-snack, post-workout fuel, or breakfast because of their clean label, simple recipe, and ridiculously tasty flavors. RXBAR carries bars, bars for kids, and nut butters! This past summer, RXBAR released the nut butters and I can't get enough. Same simple ingredient list, just different quantities of each ingredient.
More about RXBAR
No fillers. No additives. No nada!
No added sugar.
No dairy or gluten.
No artificial colors.
No preservatives.
That's a lot of no's, and I'm totally down with that because RXBAR is all about simple, quality ingredients. Here's what I mean:
Eggs + Dates + Nuts = simple ingredients for the perfect, clean bar.
Eggs, dates, and nuts are the core ingredients of their bars. Really, that's it! I love the addition of egg whites into RXBARS because it really amps up the protein. For example, the Maple Sea Salt variation, my favorite, has 12g protein and 3g fiber. I always have RXBARS on hands because there should be no guilt involved with this delicious snack.
RXBAR Discount Code
Use the code: 'fitfoodiefinds' at checkout and get 20% off your order!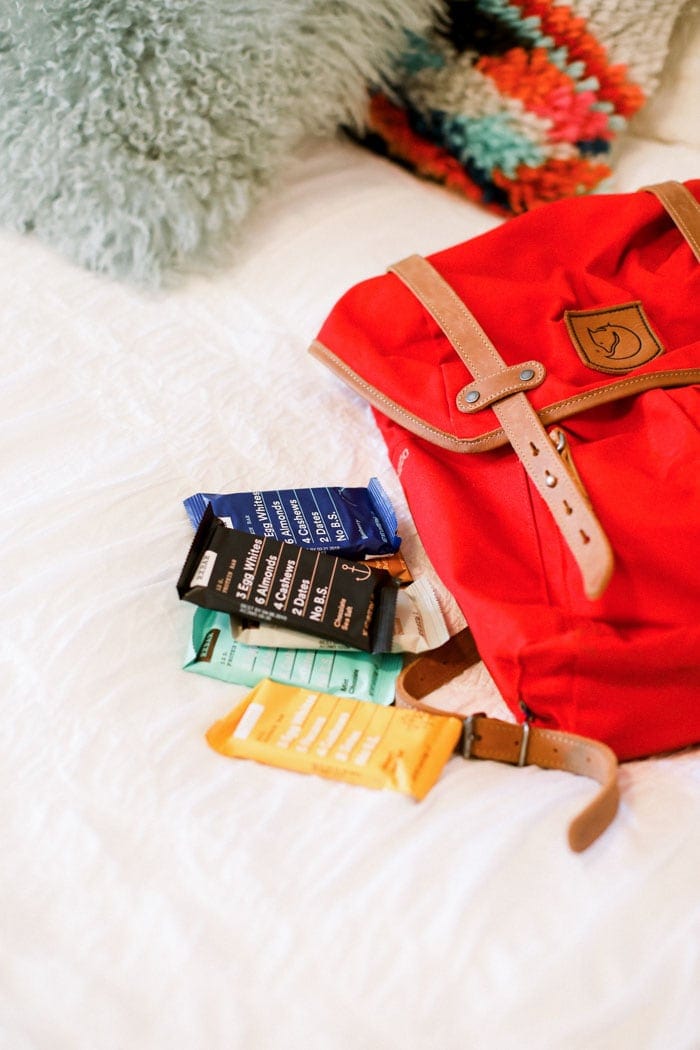 Snacking Guilt
In my early twenties when I was in college, I was a total guilty snacker. This time in my life is when I didn't have the best relationship with food and exercise. Lots of restriction, yes/no lists, and lots of food planning. This disordered eating did not do any good for my mental health and the way food made me feel. For example, Sometimes I would get so hungry, that I would break my regime and add an additional healthy snack into my food plan. Even after eating a healthy snack like apples and peanut butter, I would get this negative, guilty pit in my stomach like I had just done something terribly wrong. Snacking made me feel bad about myself and my body and gave me a lot of anxiety.
Over the last 10 years, I've worked my buns off to create a healthy relationship around food. Instead of following the newest fad diet, I eat all foods. Instead of feeling bad about myself after every meal or snack, I feel empowered to eat. Instead of eating out of boredom, I eat when I'm hungry and what I'm craving. Instead of following a meal plan or a restrictive diet, I eat intuitively. This means that some days I eat 3 meals and 1 snack and some days I eat 10 snacks and no meals. No day of eating is the same and that's the way I like it.
I wanted to talk specifically about snacking guilt and the steps I took to overcome this. I mentioned above the negative feelings I used to have around snacking. This feeling is very similar to shame, but then also mix in the feeling of failure and that's the horrible, nasty feeling I got every time I snacked (or honestly, ate). I want to preface that overcoming this did not happen overnight. It's taken 10 years and a lot of practice to kick this guilt to the curb. So, how did I do it?
There is no one right answer, no book you can read that will tell you everything about food guilt, and no quick fix. For me, it was all about practice. It was about learning and identifying hunger cues and figuring out what exactly what I was craving and when. I also had to teach myself a new, more carefree eating habit and understand that I own my feelings. I own how I feel when and after I eat. I had to constantly challenge myself to snack when I was hungry and stop when I was full. Not having such a strict diet plan to follow was very helpful because sometimes I felt like if I planned my day's worth of eats out, I had to stick to it no matter if I was still hungry or full. I know all of this sounds easier said than done, but I promise you after repetition, it will get better! You will be able to enjoy a healthy snack like an RXBAR and not feel guilty because what you are fueling your body with will make you feel good, strong, and empowered. Food is fuel and it should bring you joy, and nothing else.
Intuitive Snacking Tips
Get to know your body and recognize your hunger cues. Every time you eat a meal or snack, ask yourself if you're actually hungry.
Eat slower and more mindfully. If you do this you'll be able to stop when you are full and continue eating if you are still hungry.
Eat everything! Yes, that means no foods are off limits. It will help you become more normalized around food especially in social situations.
PRACTICE. Practice eating with no plan. This will allow you to really listen to your body's hunger cues instead of eating at a certain time every day or eating exactly what you planned out even if you're full.
Challenge yourself with unhealthy foods. I know this sounds bizarre, but you know you're going to put yourself in a situation when you're out with friends and they're all snacking on something you used to stay away from. Practice eating those foods and controlling the feelings you get afterward.
Fill your kitchen with whole foods and food you thoroughly enjoy eating. That way, when you are hungry, you can snack on foods that bring you joy.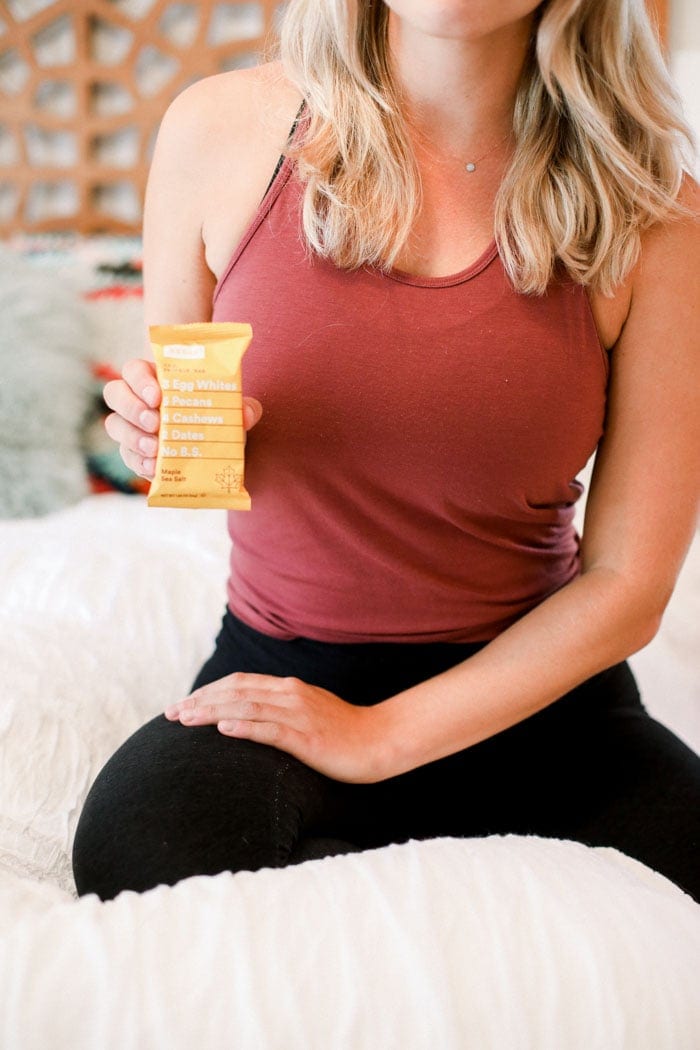 Snacking FAQ
How many times/day do you snack? It varies! If we're in the kitchen for Fit Foodie, much more than normal, only because we're taste testing. On these days, I don't really eat full meals because I'm snacking so often. On the weekends when my eating is more normal, I'd say I have anywhere from 2-4 snacks per day.
Best non-perishable snacks that can sit in your car. RXBARs, jerky, apples, dried fruit, nuts, or trail mix without chocolate.
Kid snack ideas. Banana sushi, homemade fruit leather, edible cookie dough, or sweet potato pizza bites.
Do you try and balance macros for muscle gain or not worry about it? I personally do not count my macros, only because it is triggering for me! I'm also in a really great, intuitive place when it comes to food and I'm happy with where I am in my eating journey.
How do you eat mindfully, adding in the unhealthy, but finding balance and not overdoing it? No foods are off limits! I eat everything and I listen to my body. Eating slower and understanding your hunger cues is also a great way to not over do it.
What are the best whole foods to eat to stay fuller longer? Anything high protein and high fiber will keep you fuller longer!
How do you stop a nightmare snacking habit? I don't! I try and take a step back to ask myself if I'm really hungry. If I am, I go for it! Sometimes if I could swing both ways, I still go for it because popcorn brings me joy.
Is it wrong to eat for comfort/pleasure instead of just for fuel? Absolutely NOT. We are human.
Snacks you can prep for on the go.
How do you recognize when you're full? By eating slower, I am able to allow the food to digest a little bit to fully understand if I'm still hungry or full.
Intermittent fasting. Do you do it? I do not! This is also very triggering for my eating disorder past and do not fast.
Do you have advice on handling cravings? If you're craving a cookie, eat the cookie! I'm a firm believer that it is okay to indulge a little bit because often times you will restrict, restrict, restrict, and then end up overdoing it.
How to make a meal out of snacks when you don't have time to cook. I do this all the time! As I am typing this post I'm realizing that my lunch today is all snacks. We're doing charcuterie [check out our Charcuterie Board Recipe]! My rule of thumb is that I always try to get a protein + fat + carb + veggie/fruit. Think charcuterie…all the goods!
What are the best late night snacks? For savory, I always go popcorn and for sweet, I go homemade peanut butter cups.
What are the best "cupboard snacks?" RXBARS, Siete Nacho chips + hummus, Siggi's yogurt, Blue Diamond Almond Crackers, RXBAR nut butter + apples, Gin Gins, Meat sticks, Cheese, and Trader Joe's dried mangoes
How do you break the habit of obsessing after so many years of doing it? PRACTICE. Challenge yourself to not plan out every single thing you are going to eat and when. If you put yourself in that situation you can start listening to your body and figuring out if you're even hungry. For so long I ate the same things at the exact same time every day. I didn't even give my body a chance to tell me how it was feeling.
This post is sponsored by RXBAR. Thank you for supporting Fit Foodie Finds and making this website possible!