This post is sponsored by Blue Diamond Almonds. I was compensated and all opinions are my own.
These Frozen Banana Yogurt Pops are a refreshing dessert with a crunch. They're packed with protein and easy to make! No popsicle mold needed!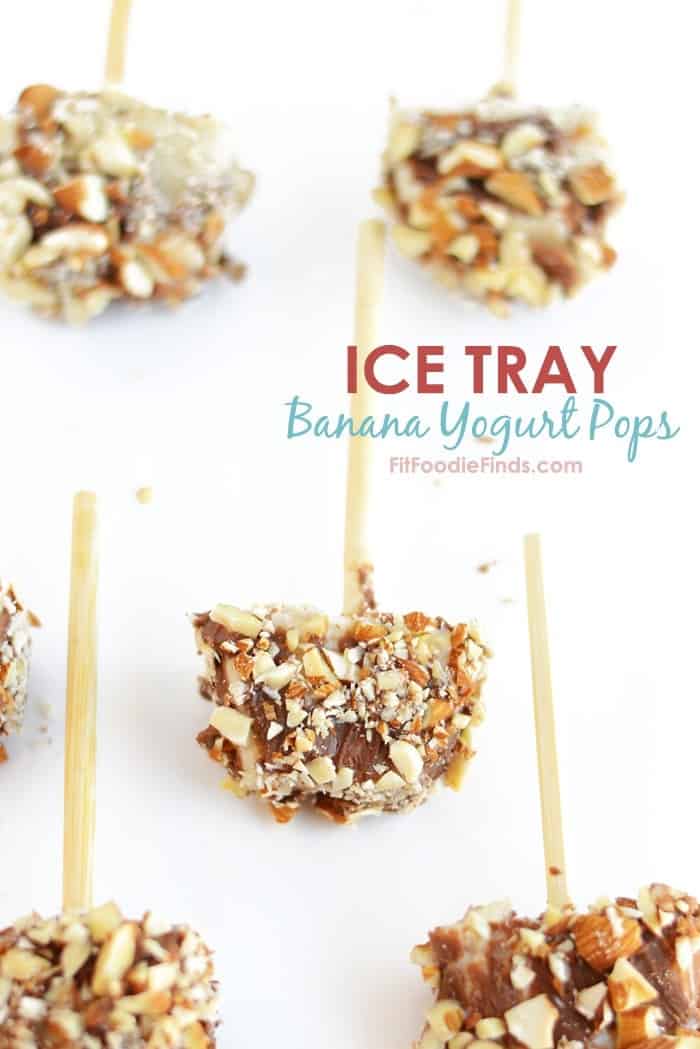 The worst feeling is when I find an amazing ice cream recipe on Pinterest and then realize it calls for an ice cream maker, which this girl doesn't have. My kitchen isn't big enough for hundreds of gadgets, so I have to pick and choose which ones I buy. That's why I decided I was going to make frozen banana yogurt pops with out the help of 1. an ice cream maker and 2. popsicle molds.
What you do need is a: food process, Magic Bullet, or blender AND an ice cube tray.
For this particular recipe, I used frozen banana, greek yogurt, and vanilla protein powder. The combinations are endless. You could add any kind of frozen fruit you wanted and even leave out the protein powder. I dipped these lovely pops in a dark chocolate/nut butter mixture and then rolled them in chopped Blue Diamond Whole Natural Almonds for a little crunch. Let me just say that the crunch is absolutely necessary.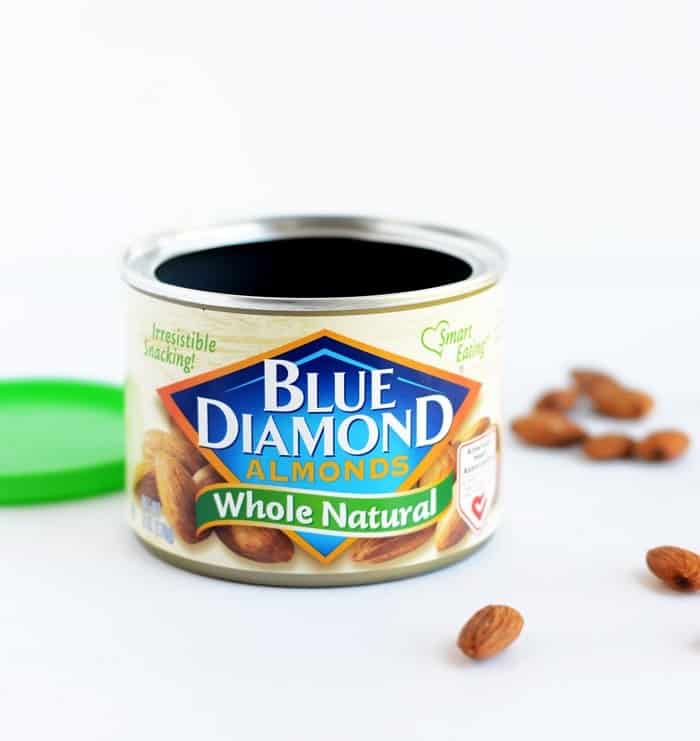 There is something about plain almonds. I had to refrain from eating this entire jar in one sitting. #truth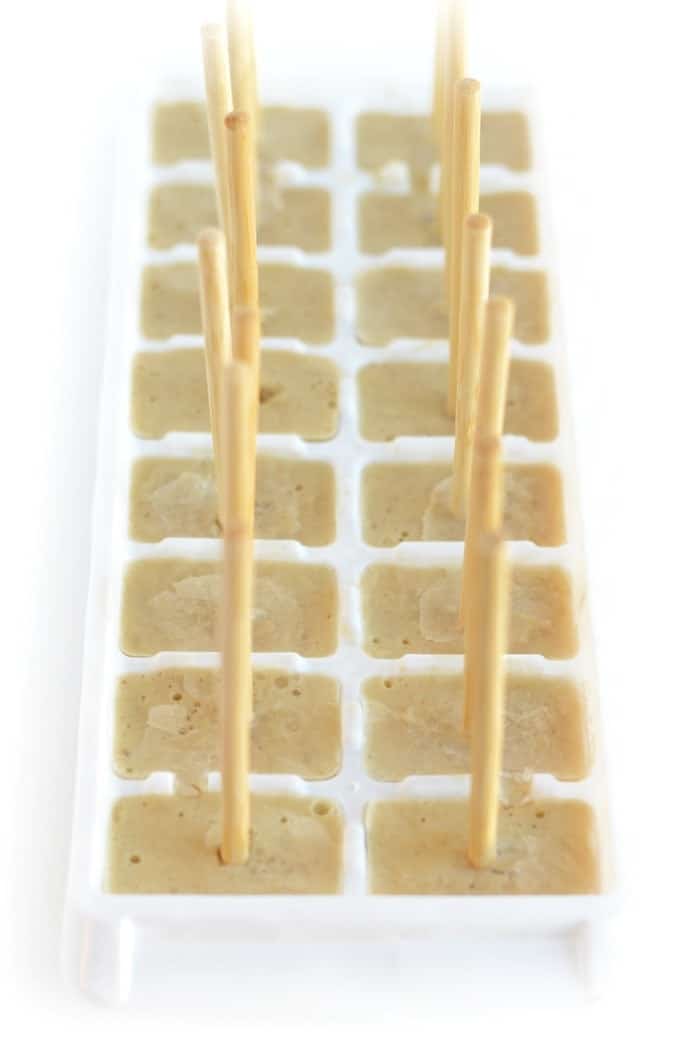 Make sure you let your banana pops freeze ALL THE WAY, or you will have issues getting them out of the tray.
Speaking from experience. I am not patient. AT ALL. Especially when it comes to dessert.
You'll also need to work fast because these guys will melt on you! I only took about 2 or 3 out of the freezer at a time to add the toppings and then put them right back in the freezer once they were dressed. That prevented me from having a huge sloppy banana-ey mess.
Recipe
Ice Tray Banana Yogurt Pops with Dark Chocolate and Almonds
Prep Time:

1 hour

Total Time:

1 hour
Ingredients
For the Frozen Banana Yogurt Pops
2

bananas, large and frozen

1 cup

vanilla or plain Greek yogurt

2

scoops vanilla protein powder (I used Designer Whey)

1/2 cup

dark chocolate chips
For the Toppings
2 tablespoon

s nut butter (I used peanut butter)
~1/3 cup dark chocolate chips

1/3 cup

Blue Diamond Whole Natural Almonds, finely chopped
Instructions
Place frozen bananas and Greek yogurt in a food processor or Magic Bullet and mix until smooth. Then, add in protein powder and mix again until smooth.
Fill an ice cube tray with the mixture and place in freezer for about an hour to an hour and a half.
Once the pops begin to freeze, insert popsicle or wooden sticks in the middle of each cube. You'll need to work quickly or they will begin to melt and the stick won't stay straight up.
Place tray back in freezer over night or until completely frozen.
Once the pops are fully frozen, prep the toppings by melting 1/3 cup dark chocolate chips with about 2 tablespoons of your favorite nut butter. Finely chop about 1/3 cup Blue Diamond Whole Natural Almonds.
Line a baking sheet with parchment paper and place in freezer. This is what you will place each pop on once they have been coating with toppings.
Working with 2-3 pops at a time, Use a brush (the kind you use to rub sauce on meat), rub each cube with the chocolate nut butter mixture on all 6 sides. Then, roll in almonds. Place the frozen pops directly on the baking sheet in the freezer to solidify,
Repeat with all cubes.
Similar
These seriously hit my sweet tooth post dinner and would be perfect to serve at a summer BBQ.
You will wow people in the fact that they are 1. Healthy and 2. Homemade.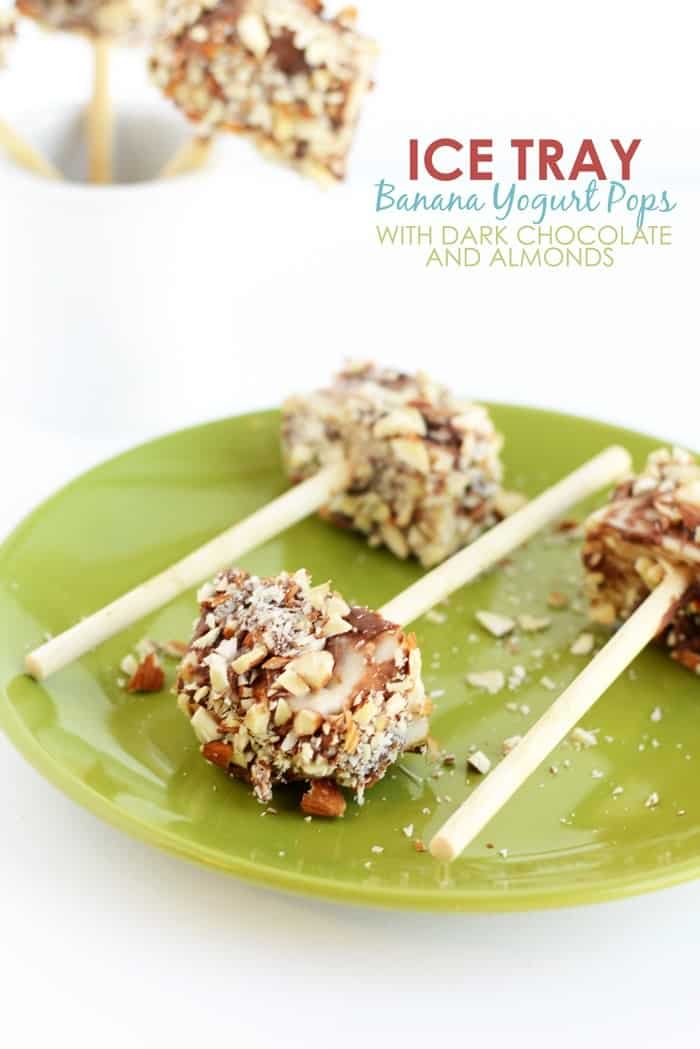 These are pretty much the best dessert ever. You'll be crossing your fingers your guest don't eat them all so you can have a few left for yourself :D At least I'm selfish like that :D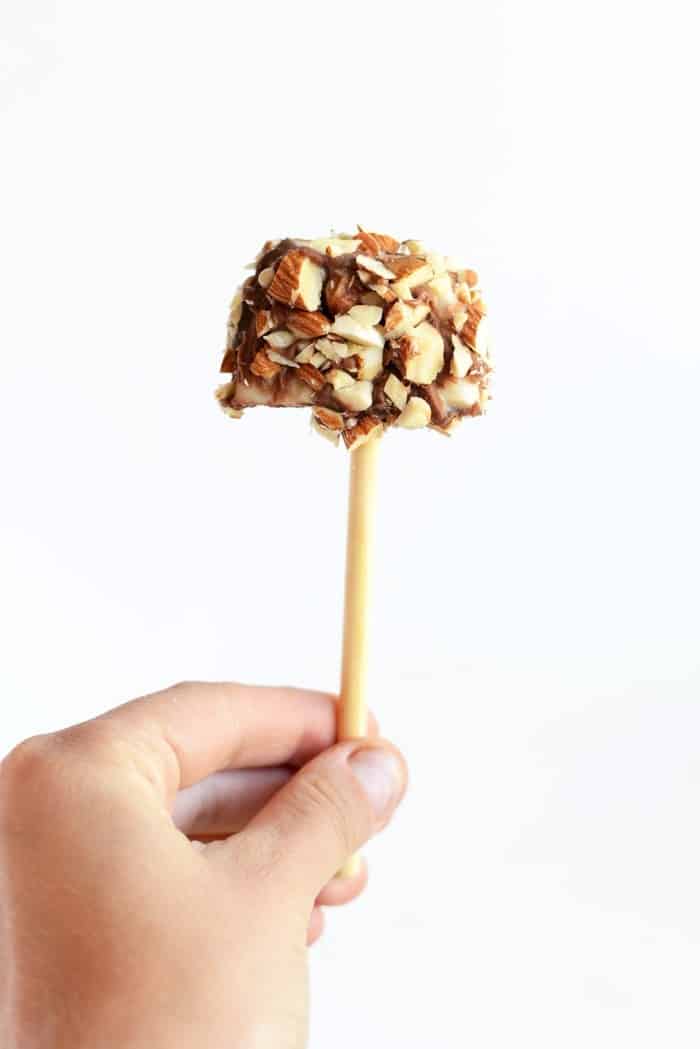 If you've got any of Blue Diamond's other flavors: ie: The Mocha Flavor, which is my ALL TIME FAVORITE, you could chop those up instead of the plains ones.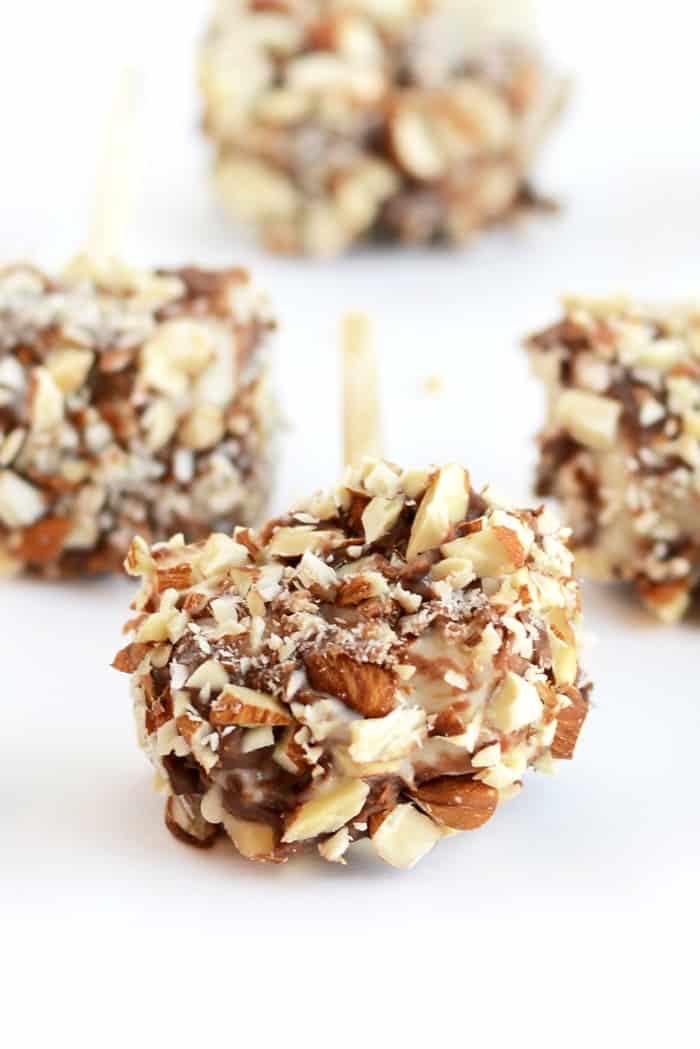 PS: Happy National Ice Cream Day!!!!