How has it taken me over 6 years to write this post? I get questions all the time from fellow food bloggers and readers about the equipment I use to photograph and film everything that goes on in here! Whelp, thanks to it being the end of year and tax season…I decided it was the perfect time for me to invest and upgrade my camera! I retired my Nikon D600
, which I had for 3 years, and bought the AMAZING Canon 5D Mark IV
.
Not only did I upgrade MAJORLY, but I also switched brands, which is a huge move especially for those that have invested in lenses. Why did I switch brands? I wanted to get the best of the best and I don't think anything else on the market beats the Mark IV at this time. I've had my fair share of practice on Brooke's Mark III and I fell in love the first time I put my hands on it! I also only have 2 lenses for my Nikon D600, so my investment into Nikon really wasn't that much. Long story shot, I think purchasing the Mark IV is going to be one of the best decisions I've made for my business! If you scroll down- I rave why this camera is so amazing and why the $3,500 investment is worth it for me.
In this post, you will not only find what gear I use to shoot, but also links to some of my favorite food styling props. Props and styling are a HUGE part of my food photography and I'm excited to share some of my favorite places to shop and pieces I love.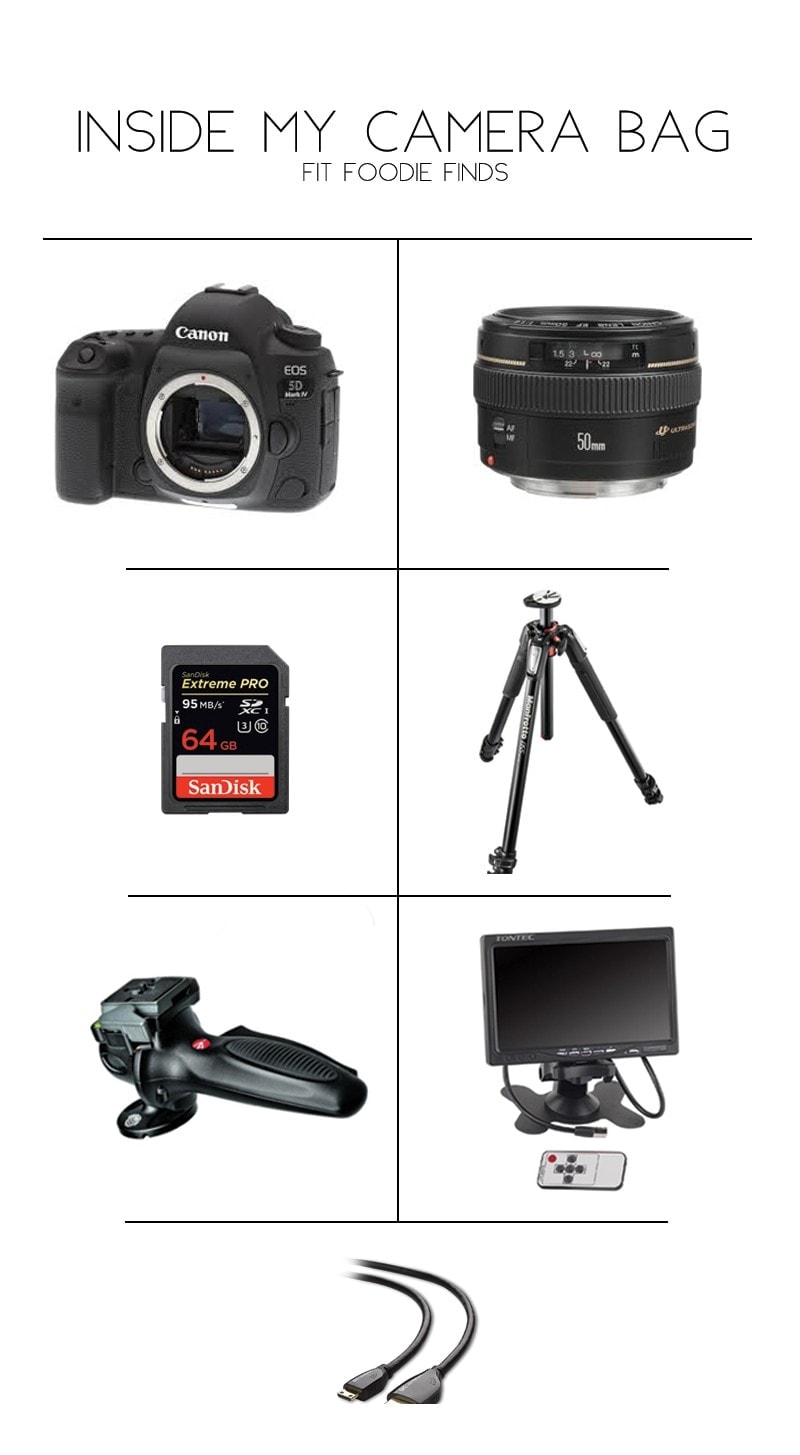 I LOVE MY CANON 5D MARK IV
. If you could see me right now, I'm jumping up and down with joy that this is part of my camera bag. The Mark IV is one of Canon's newest full-frame releases. It has a 30.4 full-frame megapixel sensor, 4k video, 61-point AF system, up to 7 frame per second, a super fast processor, wi-fi capabilities, and a touch screen LCD nav. You guys, this camera is SO COOL and super intuitive. I've been really impressed with the image quality and I just love that there is now a touch screen (you can even tap the screen to refocus the camera!!). The 4k video is something I'm excited to dive into, but the little that I've played with it makes me so excited. I love the wifi-capability it has to transfer photo and video right to my phone with its own network. Wahhh there are so many amazing features about this camera and I am so happy I decided to invest into this bad boy.
You might be surprised at this, but the 50mm lens is ALL I shoot with when it comes to food and workout content. The Canon EF 50mm is a fixed lens and really great not not only food, but lifestyle photos. The Canon f/1.4 runs at around $299, f/1.2 jumps to $1350, and the f/1.8 is $110. I probably would have been fine with the f/1.8 because I never shoot lower than f/3.5 for food, but I got the f/1.4 with hopes to get more into people photography! Remember: the lower the f-stop, the blurrier the background of your photos will be. If you're a Nikon shooter, I used the 50mm f/1.8 for years and it worked great (and it's only $200)!
It's inevitable that you're going to need a SD card for your camera! I say go big or go home. I just got a 64GB SD card on Black Friday and I've been really happy with it…especially if you're planning to shoot in both Raw + Jpeg.
Since I've added video to my content calendar, this Manfrotto Tripod has been incredible. Show Me The Yummy is who recommended this (and the next 2 items) to me and I've been extremely happy with the purchase. It has a center horizontal column that pops out so you can easily film top down recipe videos, which is HUGE. I also love how heavy duty it is because I don't want my $3500 camera crashing down!
If you get the above tripod this joystick IS A MUST…especially if you are planning to shoot video. It lets you swivel your camera is all directions and is a no brainer. It's a bit of an investment at $179.99, but well worth if it you want to start filming video.
Tontec LCD Screen Display
The LCD Screen Display is an external screen that hooks right into your camera so that you can see what the heck is going on up there! To be honest, I don't use this a whole lot, but when I do it's great to make sure everything is in line and centered on the screen! If you're going to buy this, don't forget to purchase some HDMI cords
. Also- this is no longer for sale on Amazon and I can't find it anywhere else on the web, but wanted to let you know that I do own it.
Food Styling and Blog Props
Now that we got the big stuff out of the way, I wanted to talk food styling and blog props. My office is overflowing with bowls, and spoons, and towels because this girl has one hell of a collection! I try and rotate things out and donate as much as I can, but I feel like I've been doing a great job at purchasing timeless pieces that will work forever! I'm sure you see a lot of the same dishes and accessories repeated throughout my recipes and I honestly prefer it like that! I like that it has helped me establish a certain kind of branding and can pop out if you see me on Pinterest.
Some of my favorite places to shop for props are: Crate and Barrel, West Elm, Target, and The Foundry (a local shop in Minneapolis). Obviously I'm always on the lookout for sales because that's just how I am, but those are my four go-to places for props! If you're wondering where I get my photography boards- Erickon Woodworks is where the wooden ones are from and my marble slab (only $49.99!) is from Crate and Barrel!
When it comes to styling, the simpler the better. For so long I shot very white and bright and lately I've really been trying to explore more moodier styles. One thing that has stayed pretty consistent is the simpleness of my photos such as solid colored bowls/plates, gold accessories, and matte fabrics. Because some of my props are so old, I pulled a lot of newer stuff that I've purchased more recently!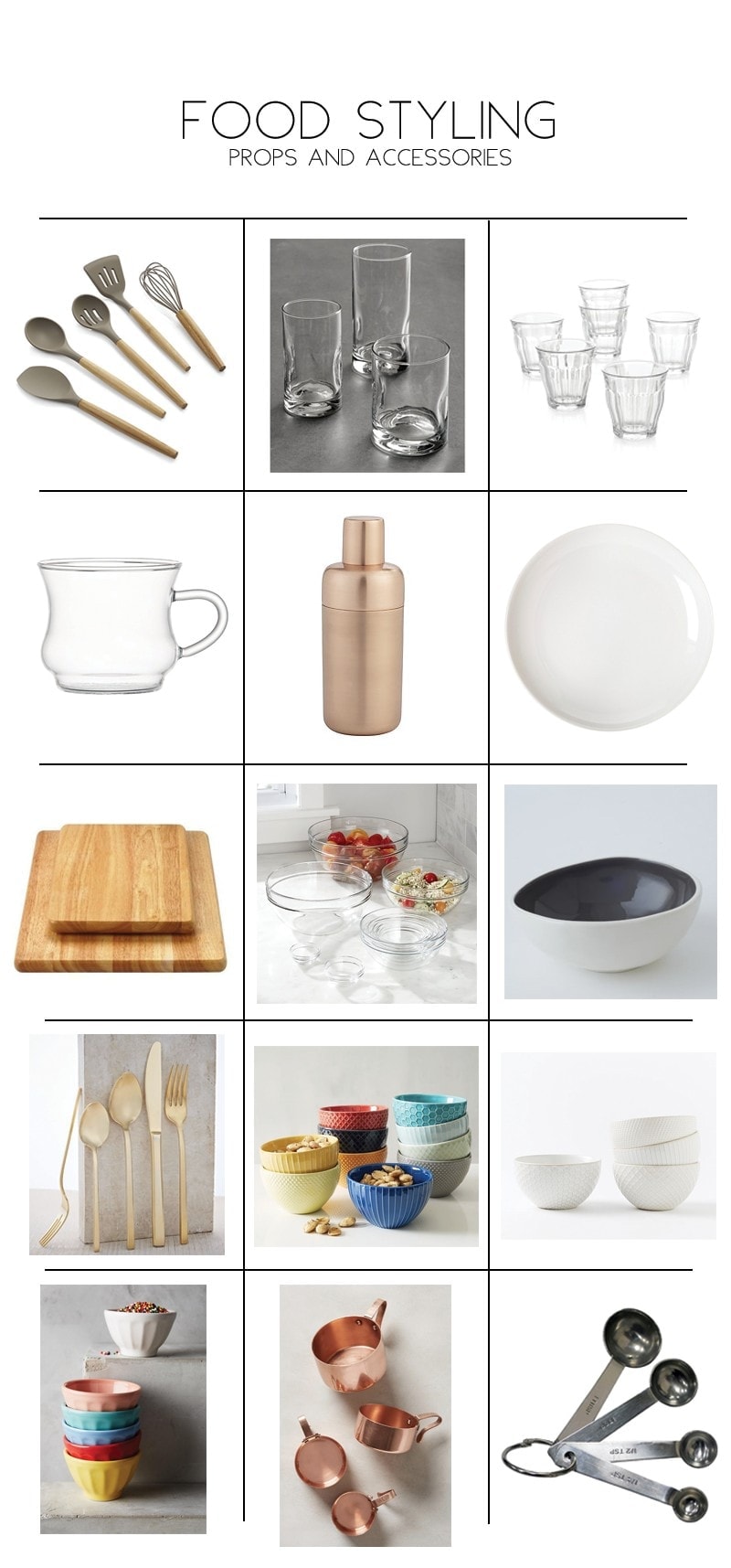 Siliaone Bamboo Serving Utensils- Crate and Barrel || Impression Glasses-Crate and Barrel || Duralex Picarde Glasses- Crate and Barrel || Hot Drink Glass- Crate and Barrel || Orb Cocktail Shaker-Crate and Barrel || Threshhold Basic White Salad Plate-Target || Architect Gripper Wood Wood Cutting Boards- Target || 10 Piece Clear Mixing Bowls- Crate and Barrel || Color Glaze Prep Bowls- West Elm || Gold Flatware- West Elm || Textured Dip Bowls- West Elm || Textured Bowls- West Elm || Assorted Mini Latte Bowls- Anthropologie || Russet Measuring Cups- Anthropologie || Stainless Steal Measuring Spoons- Target || Helena Graphite Linen Dinner Napkin- Crate and Barrel
If you are a food blogger or food stylist, I'd love to know some of your favorite places to shop for accessories and what gear you use to shoot with!