HEALTHY OREOS!!!!!!!!!!
Did I mention that these have a chocolate protein filling?
I mean fer real. This is a dessert lovers dream, right here ya'll.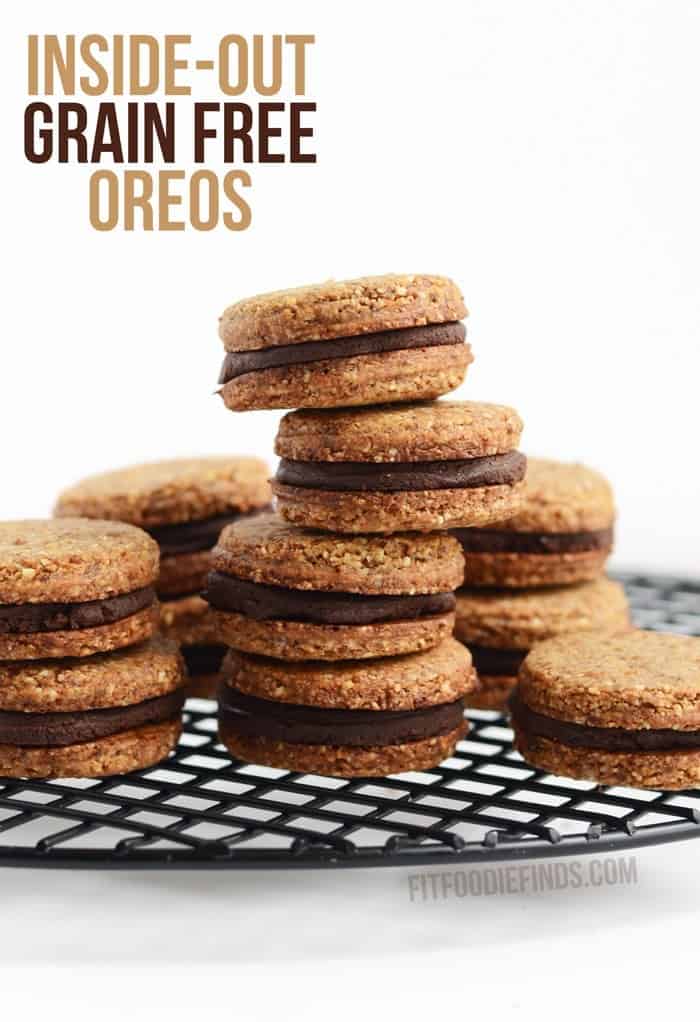 I find cookie making extremely therapeutic. Especially the kind that takes a bit of elbow grease like these guys. I usually have the radio on in the background and leave my phone in my office (unless I need to take a quick pic, of course :D).
For these oreos, you'll need to have a circle cookie cutter…or at least a make shift one like I had. I used the cap from a spice jar. It was sized perfectly.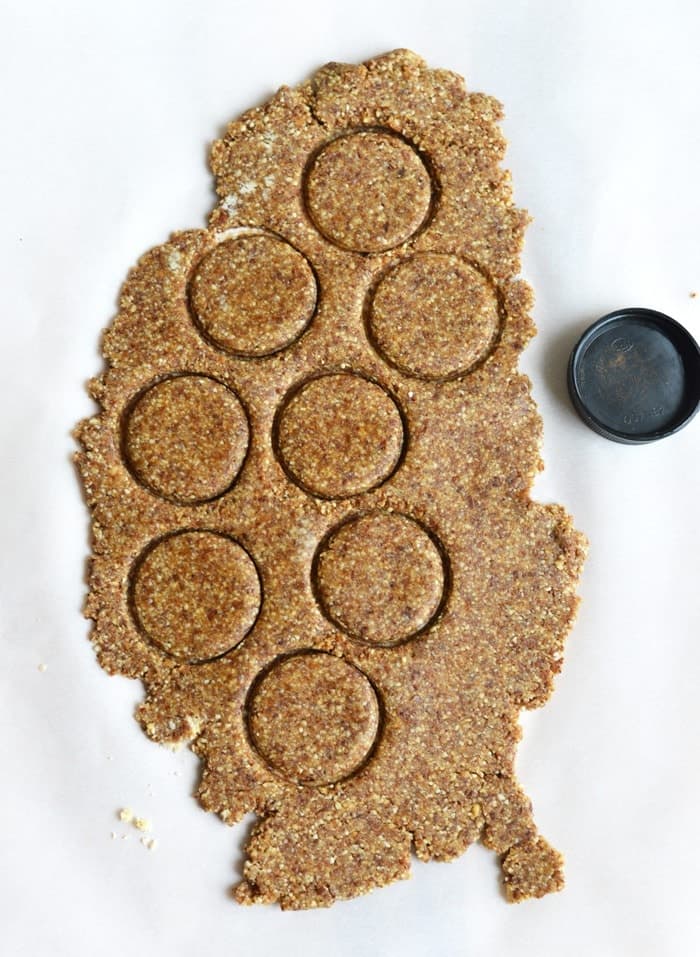 These guys don't really rise or expand much, so you could probably fit in an extra row and be fine.
This was one of those recipes where I purposefully put them somewhere I know Blake won't look. More for me less for him. MWAHAHA.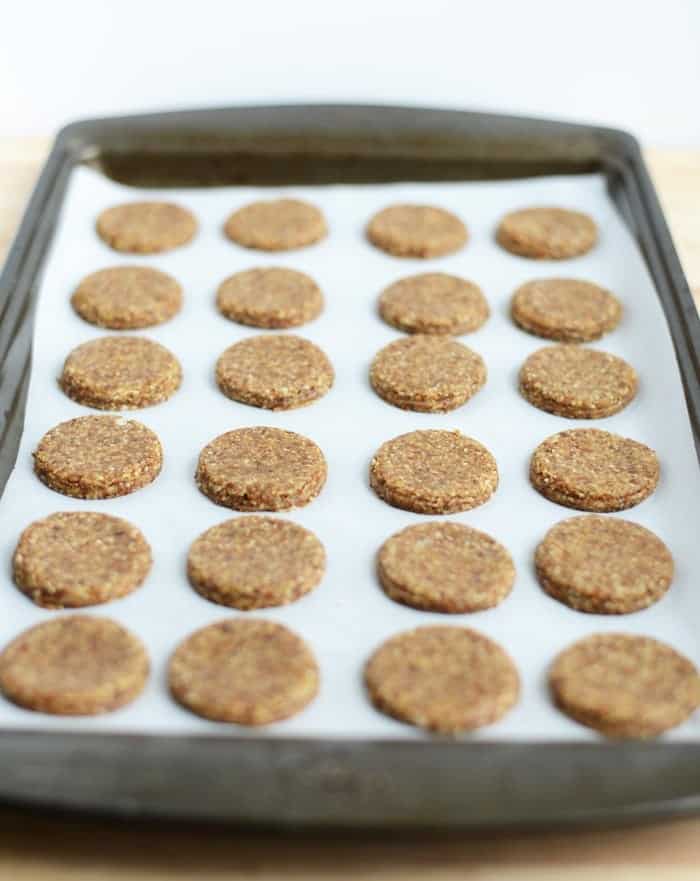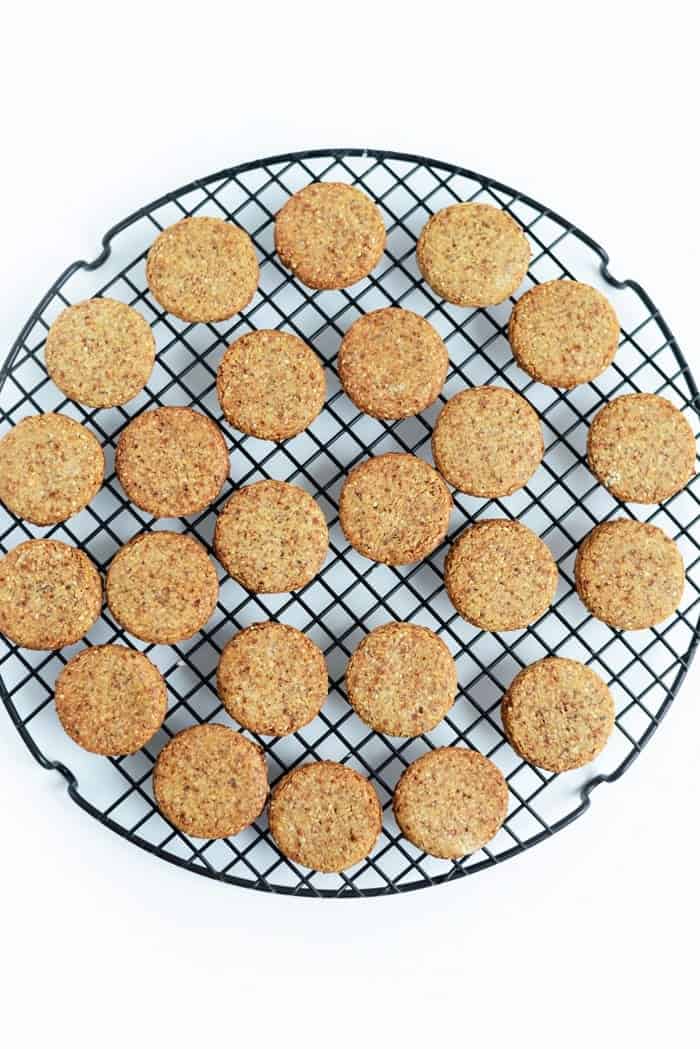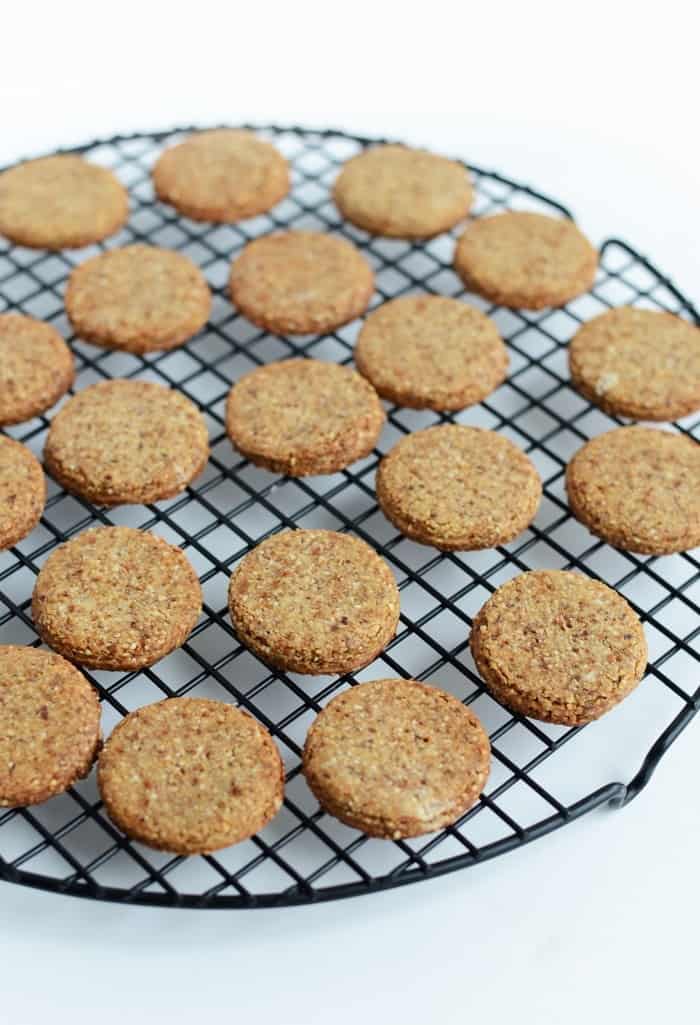 The cookie part of the oreo was softer than I thought it was going to be, but I think that's that's because it's pretty much almonds. I don't mind a softer sandwhich cookie. I just wanted to throw it out there that it's not super crumbly.
Side note- there was just a giant flash of lightening outside and I peed a little the crack of thunder was so loud.
Side-Side note. Kansas has the craziest storms I have ever seen. Excuse my french- but I got my shit tossed driving home from a wedding Saturday night. 70 mph gusts of wind. I kid you not I have never been more frightened to drive in my life.
Here are a few photos from this weekend! Blake's family lives in Kansas and we went back for his dad's 50th birthday/father's day/a wedding!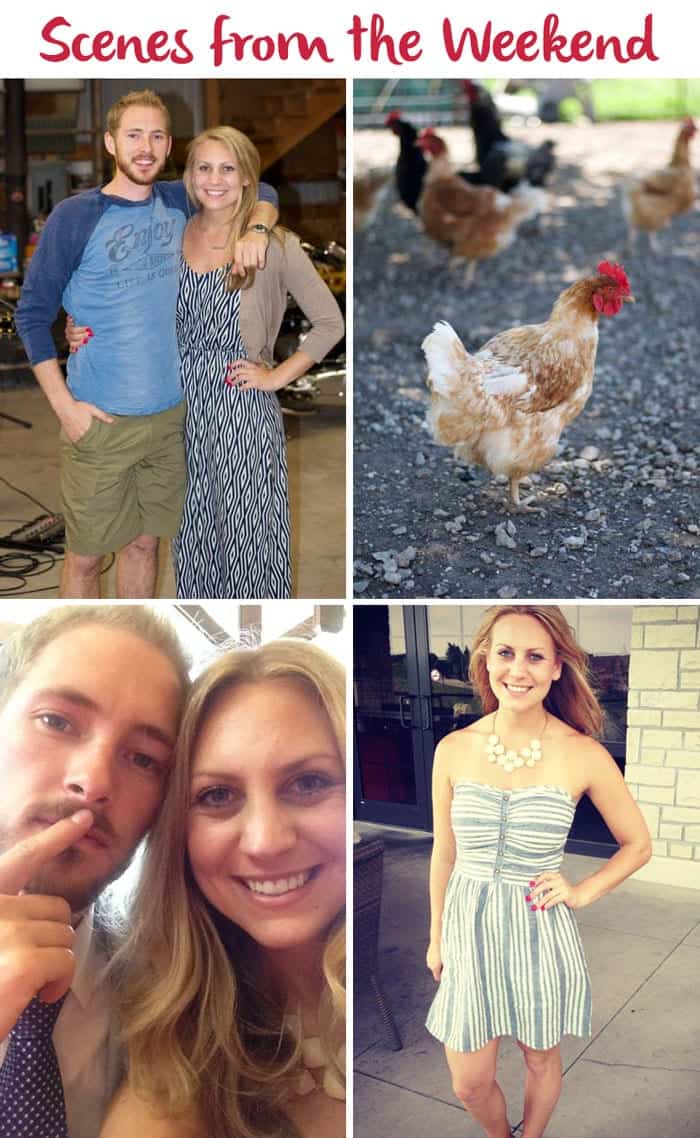 *Because I know you're wondering (and I'm a wee bit obsessed) Both of my dresses are from GAP, purchased just last weekend for $41.99 and $21.99*
Kansas people know how to party. Blake's dad lives outside of Topeka in the country. We had a surprise party for him! There was tons of food and even a live band! His chickens gave him a birthday surprise too…one of the hens laid eggs outside of the coop and 14 chicks hatched that morning! I'm obsessed.
The wedding we went to was in Manhattan…one of Blake's college buddies. It was an all around really fun weekend!
Un-side not. Back to cookies.
The chocolate protein filling is where it's at. All you need is chocolate protein powder, maple syrup, cocoa powder, and almond milk.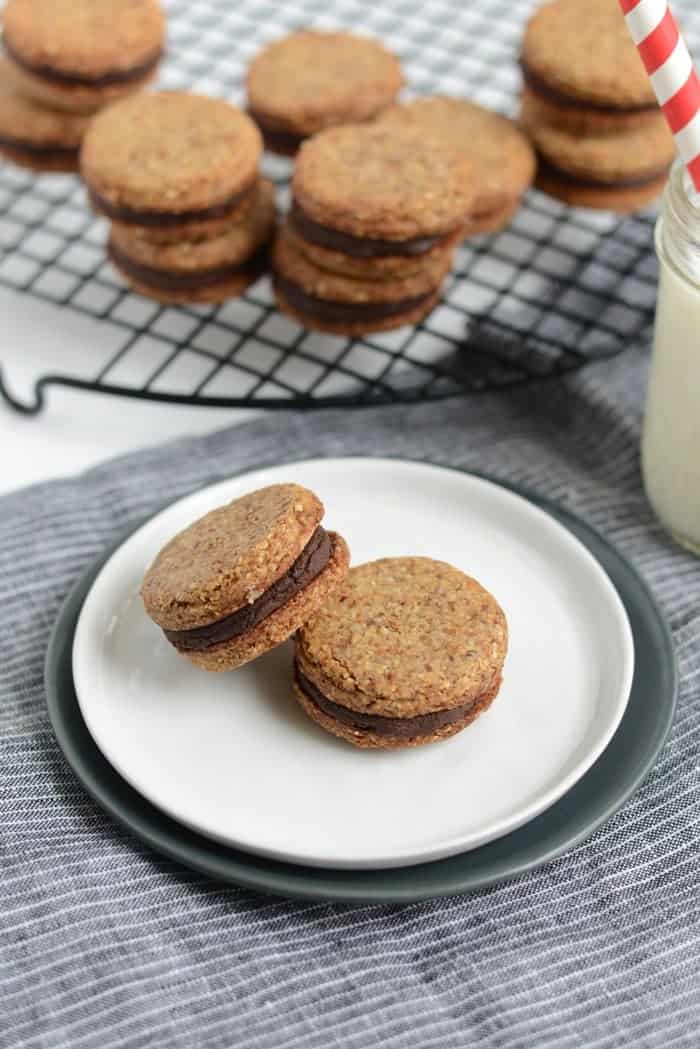 I think I forgot to mention that these cookies are vegan, paleo, and gluten free! …depending on the protein powder you use, of course.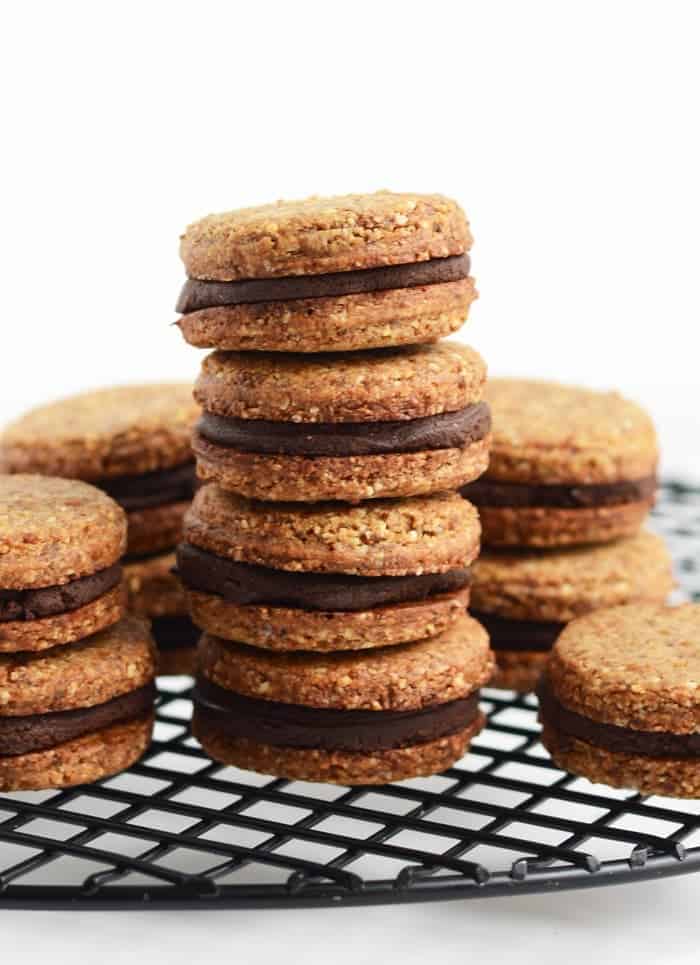 Recipe
Inside-Out Grain Free Oreos
Nutrition Information: 191 calories | 16g carbs | 12g fat | 8g protein | 11g sugar
Prep Time:

10 minutes

Cook Time:

14 minutes

Total Time:

24 minutes
Ingredients
For the Cookie
3 cup

s almond meal

2/3 cup

coconut sugar

3 tablespoon

s almond milk, unsweetened
For the Chocolate Protein Filling
1/2 cup

chocolate protein powder

1/4 cup

cocoa powder

3 Tablespoon

s maple syrup or honey

5 Tablespoon

s almond milk, unsweetened
Instructions
First, preheat oven to 350F. Then, prep the sandwich cookie dough by mixing all ingredients together and forming a ball. You'll want your dough to be the consistency of classic cookie dough. Be very mindful of the amount of liquid you use…because you don't need much!
Next, place a piece of parchment paper on a baking sheet. Roll dough out about 1/2 inch thick and use cookie cutter to cut cookies. Repeat. Place cookies on baking sheet.
Bake at 350 for 14-16 minutes or until cookies begin to turn golden brown.
Transfer cookies onto a cooling rack and let cool completely.
While cookies cool, make chocolate protein filling.
Place all ingredients in a bowl and mix until combined, forming a ball. Just like the cookie dough, roll the filling out about 1/2 inch thick. Use the same cookie cutter to cut the filling into circles. Place filling in between two cooled cookies.
Similar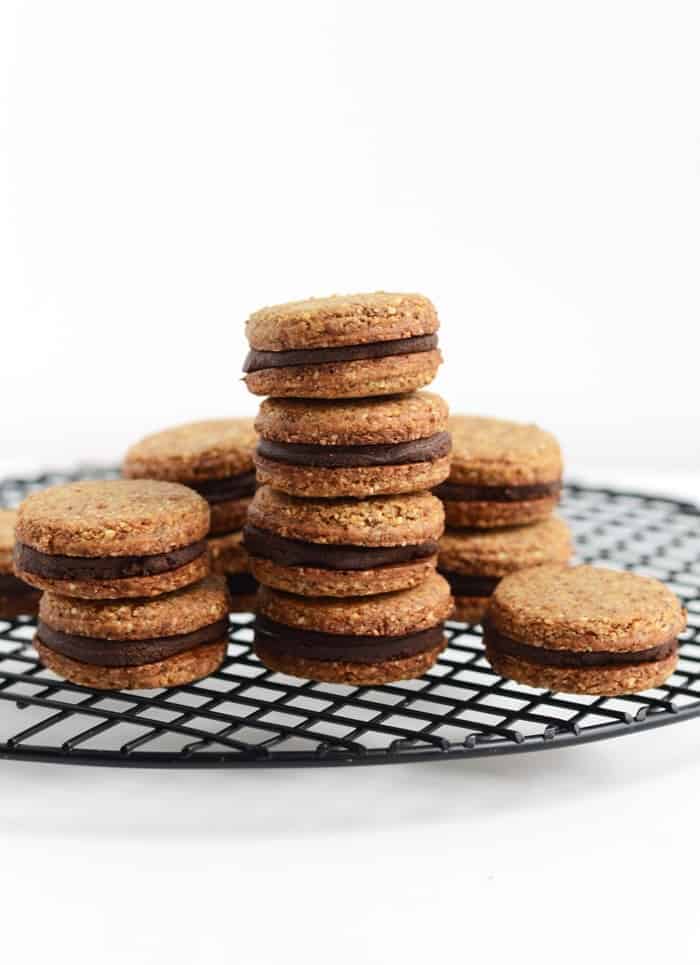 Confession- I ate every cookie in this batch.
Over a week and a half, okay.
Don't judge.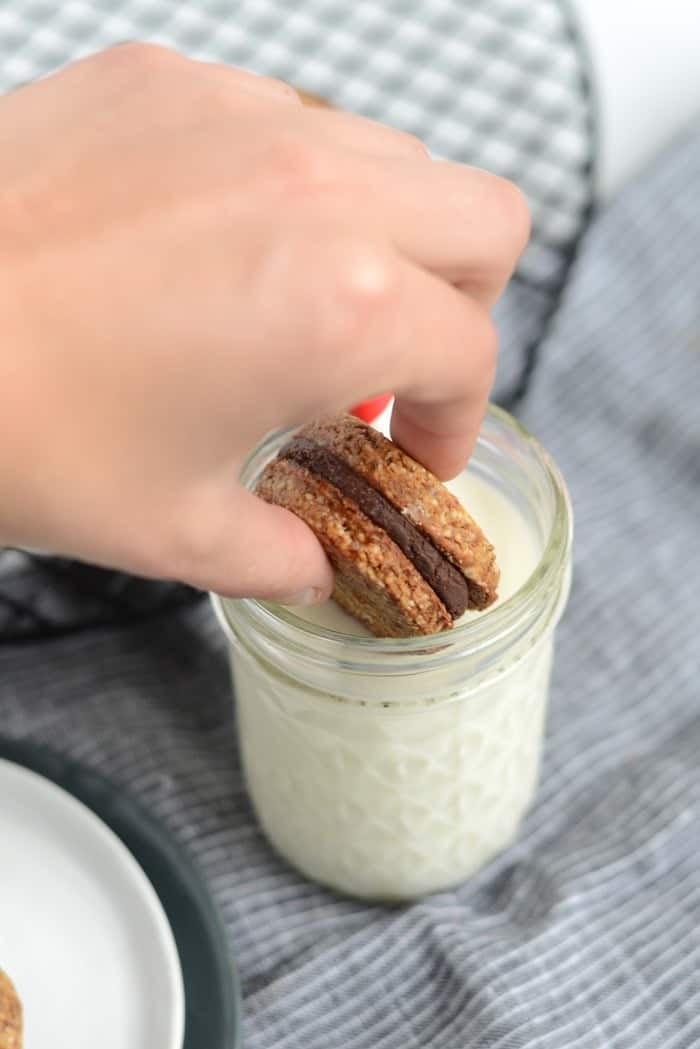 What's your all time favorite cookie?!