Before we talk Lorna Jane, I wanted to give you a little glimpse into my day yesterday! It was spent in the beautiful Cannon Falls, MN with Blake, Sister, and Sister Boy. The day started off stormy, but ended with beautiful sunshine. We canoed 8 miles of the Cannon River, fished, and hiked. It was the epitome of my perfect Saturday.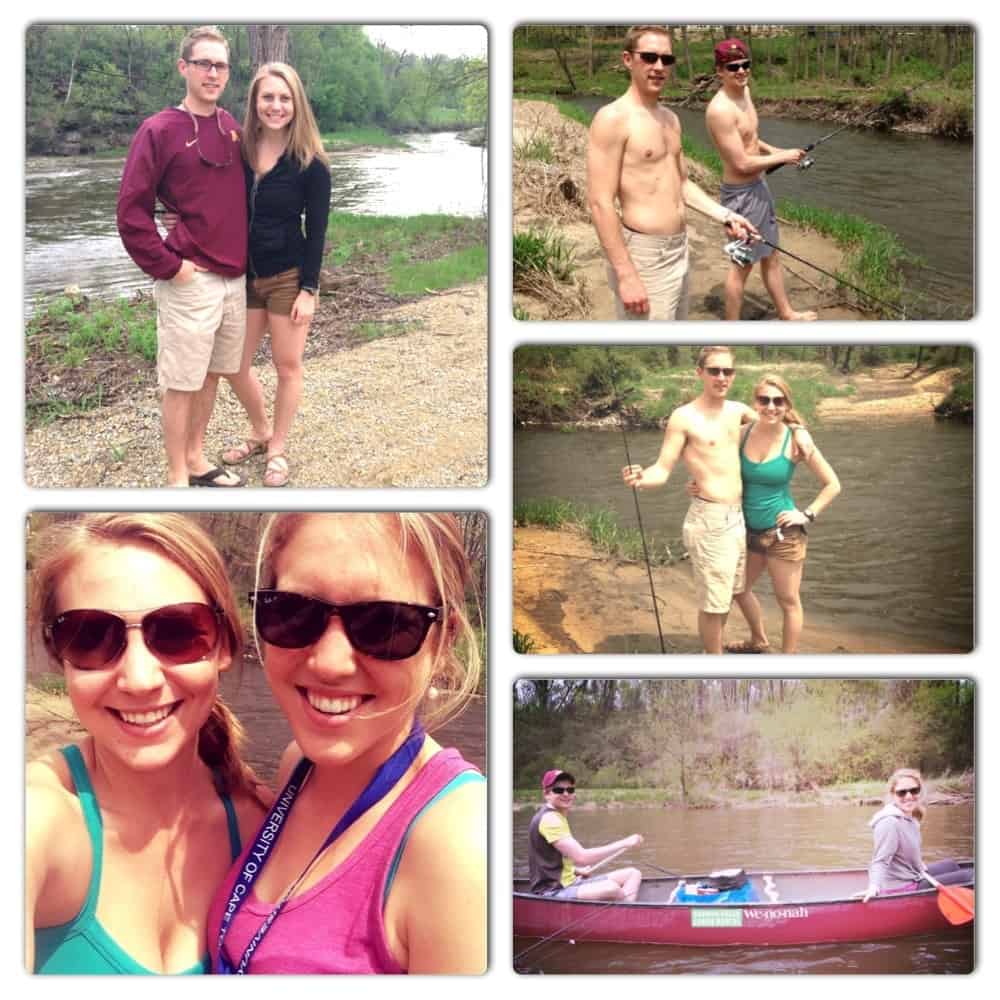 I can't wait to do more hiking, canoeing, and fishing this summer. It just doesn't get better than that!
*Disclaimer: This is a sponsored post through Fitfluential and Lorna Jane. I was provided apparel for this post. All opinions are my own.
Alright, now for the good stuff. LJ! I actually hadn't heard of Lorna Jane before I was brought on to this Fitfluential Campaign. They are a women's activewear company based out of Australia (no wonder!). As part of this campaign I was able to choose a few articles of clothing to review. Here's what I chose:
Bra: React Sports Bra (size M)
Tank: Selena Excel Tank (size M)
Pants: Devoted 7/8 Tight (size S)
Zip-Up: Lavish Zip Through (size S)
I feel like I have the hardest time choosing the right size for myself. I chose correctly 2 out of the 4! The Pants and the Zip Up I ordered both in size Small and they fit great. I had to go up a size in the bra and tank from a small to the medium. My "girls" make purchasing tops an issue.
LJ's motto is Move, Nourish, Believe…that is where the Believe comes from on the butt of the pants. The pants are great. They are made with a high quality fabric making them stretchy, but not too stretchy. When it comes to yoga/workout pants, I am usually a cookie cutter black pant kind of girl. It was nice to step out of my comfort zone and get some cute ones!
The bra and the tank both came with pads inside, but I took those out right away (they were removable). I am a 34C cup, and will do anything to make them look smaller. I love that both the bra and tank have interesting backs. You could get some pretty stellar tan lines :)
Last, but not least- the infamous blue zip up that I never want to take off. I seriously love that thing. I have a long torso- so it's nice to actually have an article of clothing that fits! The color just makes me happy and I LOVE the fit. It is very flattering. If I had to choose 1 out of the 4 pieces that I got- it would be the zip up…hands down!
As part of this post…I am able to giveaway one lucky FFF reader a $50.00 Lorna Jane Giftcard! Here's how to enter…
Lorna Jane $50.00 Giftcard Giveaway

CLOSED
Mandatory Entry
1. Leave a comment on this post telling me what you would spend your $50.00 giftcard on to JornaJane.com.

Additional Entries: In order to be counted for these entries, make sure you leave an additional comment (completely separate from your mandatory one) telling me about your entry!
2. Tweet the following: @FitFoodie_Lee is having a @LornaJaneActive #Giveaway. Check it out: http://bit.ly/10e72m4 #liveactive #fitfluential
3. Share my giveaway on Facebook: Fit Foodie Finds is having a Lorna Jane Giveaway. Check it out: http://bit.ly/10e72m4 #liveactive #fitfluential
4. Pin my Giveaway on Pinterest.
5. Like/Follow Fit Foodie Finds on Facebook and Twitter and Instagram
I will choose a winner on Tuesday Morning…