Disclaimer: This post is sponsored by Sizzlefish through Fitfluential LLC. I was compensated. All opinions are my own.
I am really excited about today's post and recipe. I LOVE FISH…especially salmon. Sizzlefish is a home delivery supplier of pre-portioned, highquality seafood items. Which they actually specially developed for athletes.
All of Sizzlefish's fish (tongue twister much?) is pure and untreated. They flash freeze their items and portion each size out, which I love! I was send a giant box filled with a variety of fish called the Omega 3 Protein Mix (including: Caho Salmon, Atlantic Salmon, Sablefsh, Rainbow Trout, Catfish, Atlantic Cod, and Haddock). In today's recipe I used the Caho Salmon because I was struck by the gorgeous color. Per serving it's only 119 calories with 25 grams of protein. ZING.
Holy caramelization. Have you ever caramelized your fish? This recipe has the most amazing flavor and uses very seasonal ingredients: maple syrup and apple butter.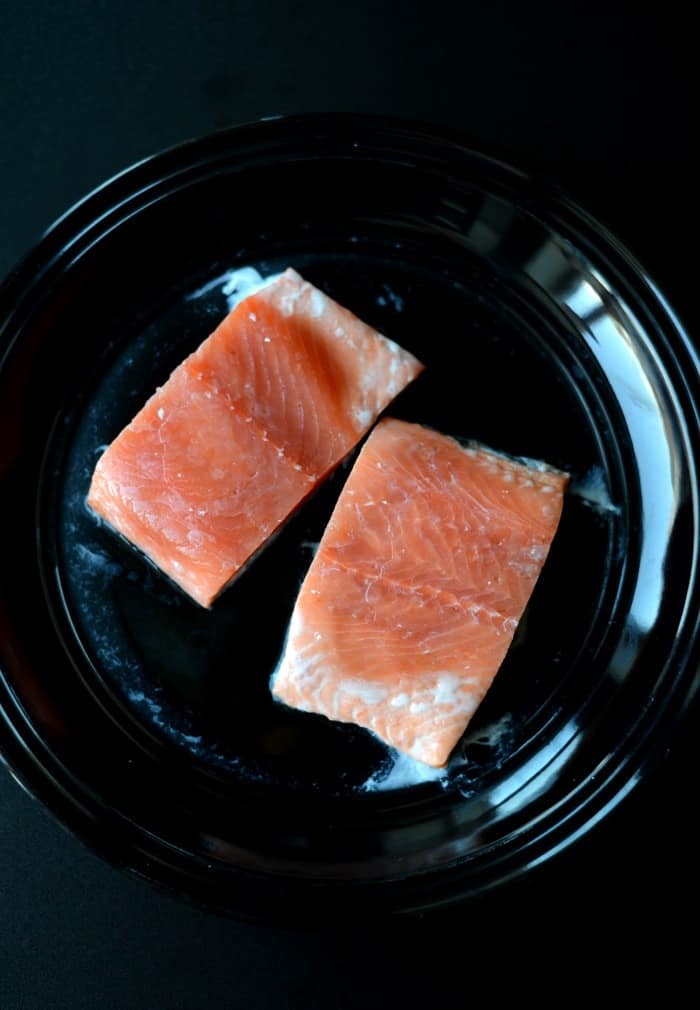 I started off by thawing 2 filets. I told myself I WOULD NOT OVER DEFROST THEM….but it happens every time. Then, I prepped my glaze: 1T maple syrup, 1T turbinado sugar, 1T apple butter, and about 1/2t salt.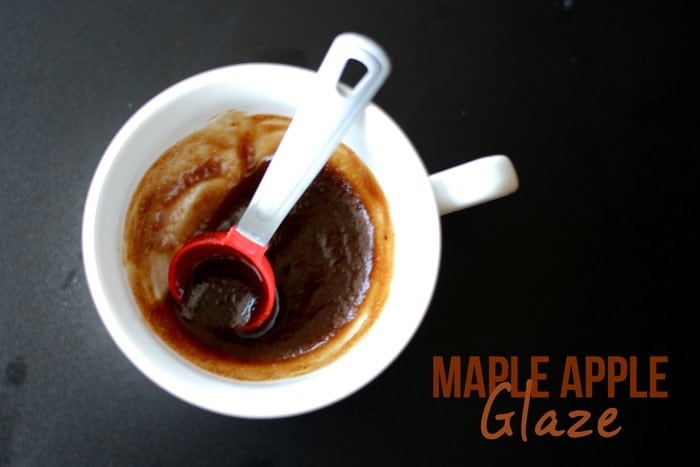 I spooned the glaze right on top of my salmon and waited for my burner to heat up! Sizzle sizzle. The key to this recipe is pan frying for a minute on each side and then sticking it in the oven at 400 to finish it off!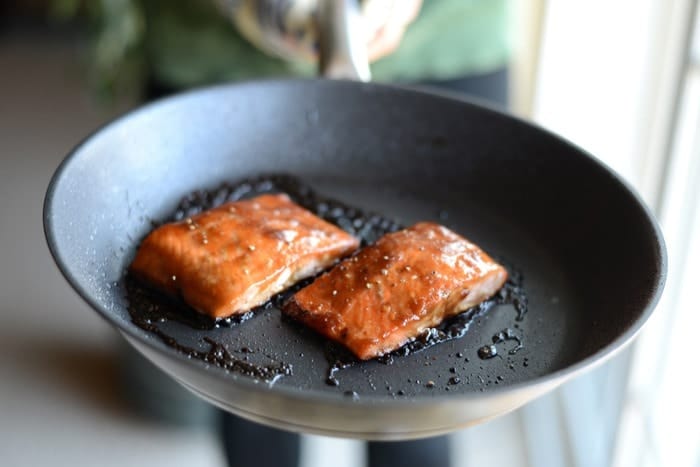 Recipe
Maple Apple Carmalized Salmon
Ingredients
-2 frozen Sizzlefish Salmon Filets, defrosted
-1 tablespoon maple syrup
-1 tablespoon organic turbinado sugar
-1 tablespoon apple butter
-1 teaspoon salt
-1/2 tablespoons olive oil
Instructions
First, preheat oven to 400F. Next in a large nonstick skillet, heat up about 1/2 tablespoon of EVOO to medium heat.
Next, prepare your glaze. In a small bowl, mix together maple syrup, organic turbinado sugar, apple butter, and salt. Then, spread glaze on top of defrosted fish filets.
Once the EVOO is heated, place fish onto pan skin-side down. Cook for about 1 minute, then flip (this is where the nonstick will come into play later). Cook for another minute and flip again. Sprinkle on a little more turbinido sugar, salt, and pepper to taste.
Place the entire skillet into preheated oven and cook for about 10-12 minutes. (*****Make sure your skillet does not have rubber on it…I've learned the hard way, twice)
Similar
Ahhh, perfection. Like mega.
Look at how gorgeously colored this fish is! I can't get over it. Also love the nutrition facts that come along with fish. Not only s salmon high in Omega 3 fatty acids, but extremely high in protein.
Per filet: 214 calories | 9g fat | 16g carbs | 25g protein | 15g sugar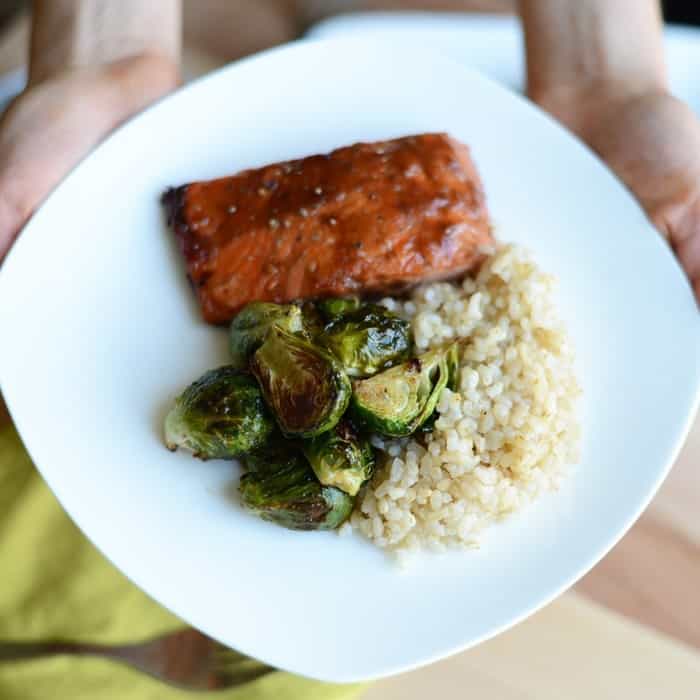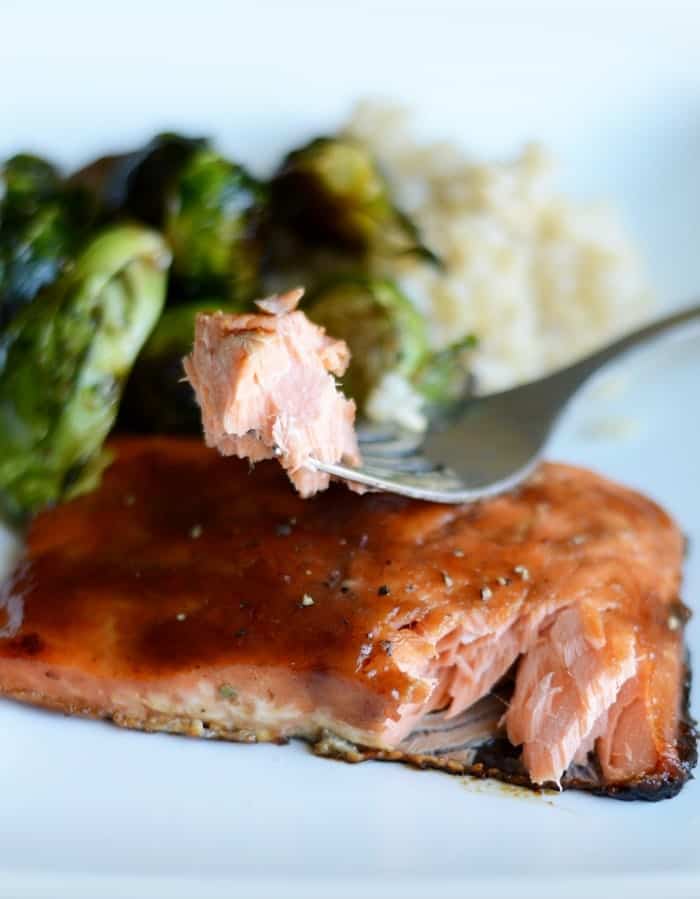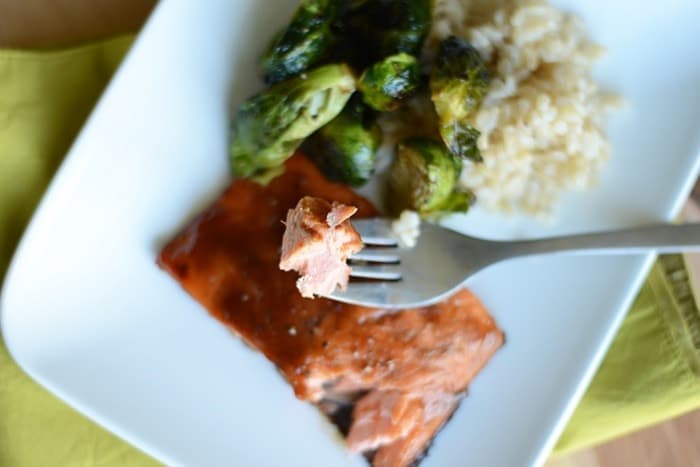 I am very thankful for my fish stocked fridge and can't wait to try Sizzlefish's other flavors! The USDA actually recommends 2 servings of fish in your diet per week- so I am challenging myself to do just that!