These Maple Dijon Baked Salmon Skewers only call for a few ingredients and are a healthy dinner the entire family will love!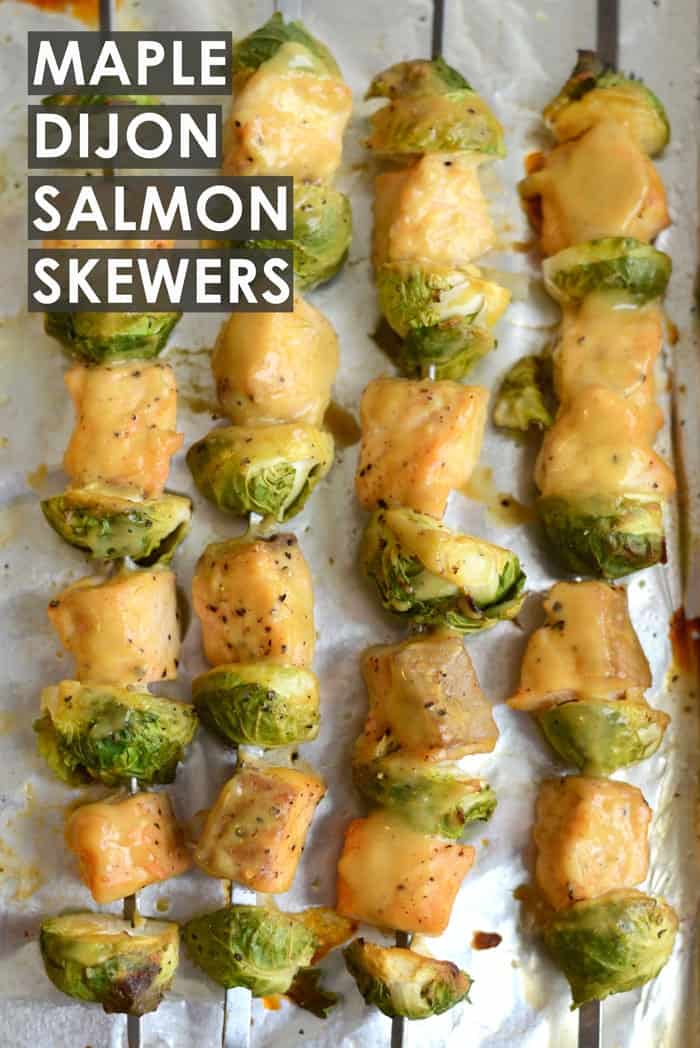 Has anyone else gotten sick yet this year? I HAVE I HAVE! And it's literally the first time in like 3 years that I've even had a cold. WTFFFFFFF. Apparently I have sinus congestion, which I have never experience before. My throat hurts, I have mega sniffles, I can't hear, I'm always tired, anddddd I get super light headed when I exercise.
Crossing my fingers this bug only lasts a few more days because It's been almost a week and I can't handle this i'm-always-tired-and-I-can't-think-straight body of mine.
I'm also eager to jump back on the workout train because it's been a rough couple of weeks :D I've been a traveling fool and that really throws off your healthy living rhythm. I've got 2 weeks before my next trip (We're going to Kansas for Christmas) and I'd really love to start kicking my own ass in the gym :D
Otay enough whining (sorry for the negativity this AM!), check out these cute little salmon skewers!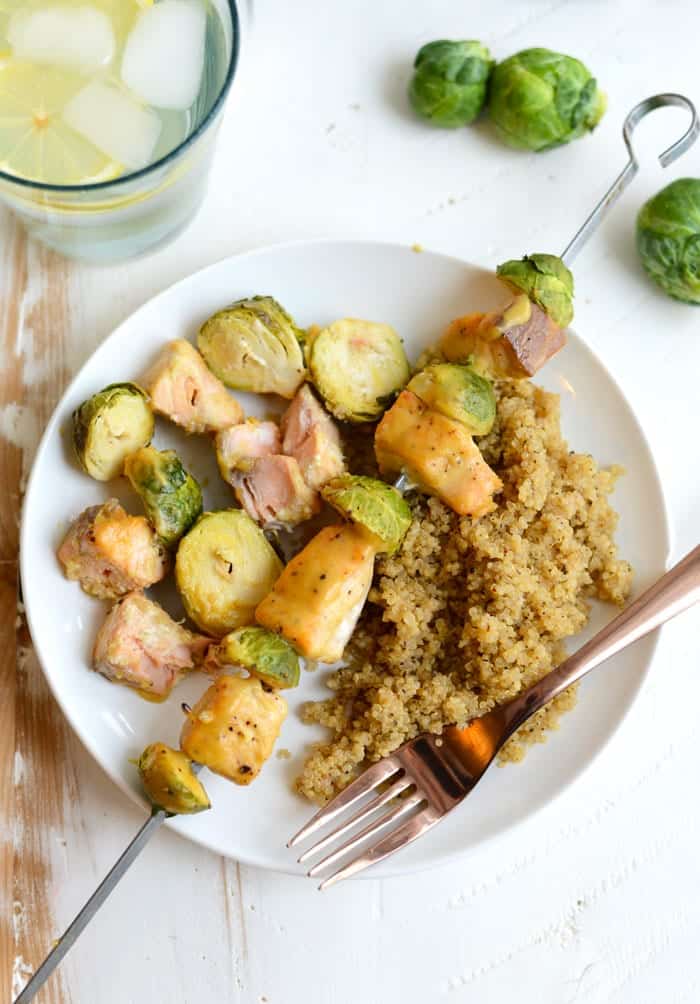 Now that it is officially the North Pole in Minnesota, I am completely devastated that we can't use our grill. That's all we've done for the past 6 months. How am I suppose to cook my perfect salmon?
I guess I will have to resort to my oven! I played off an old recipe – Lemon Salmon Kebabs – I just love how salmon looks on a stick. This time, I whipped up an easy marinade that is oh so flavorful and baked these bad boys in the oven!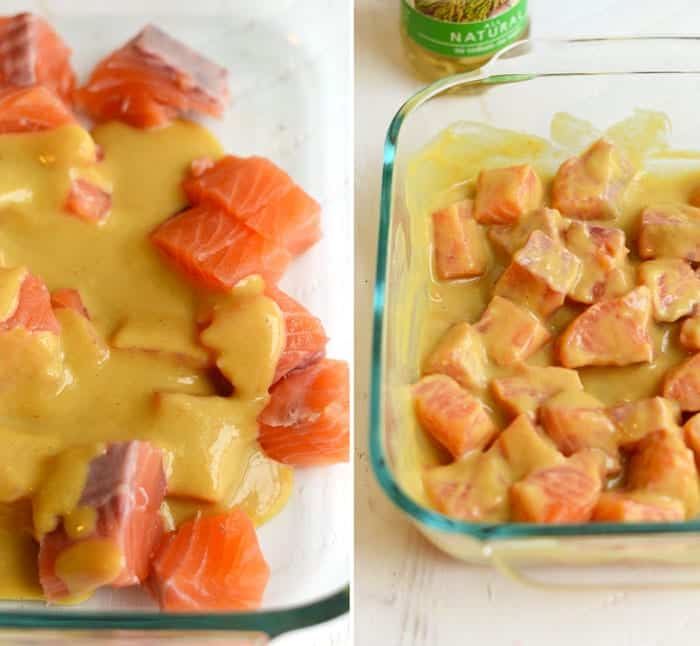 I'd say the hardest part of this recipe is filleting the salmon, other than that it's easy peasy lemon squeezy.
Also be careful not to stab yourself with the skewers when you're pushing the veggies through. It can get a little kung-fu.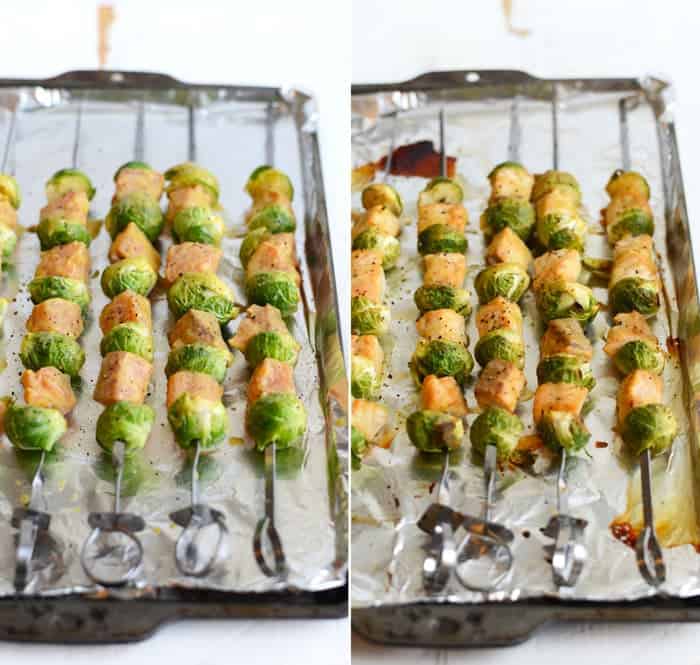 I decided to pair my salmon squares with some brussels sprouts for literally a meal on a stick. You could do any vegetable you like, but brussels are my fav! I suggest tomatoes, potatoes, onion, or peppers.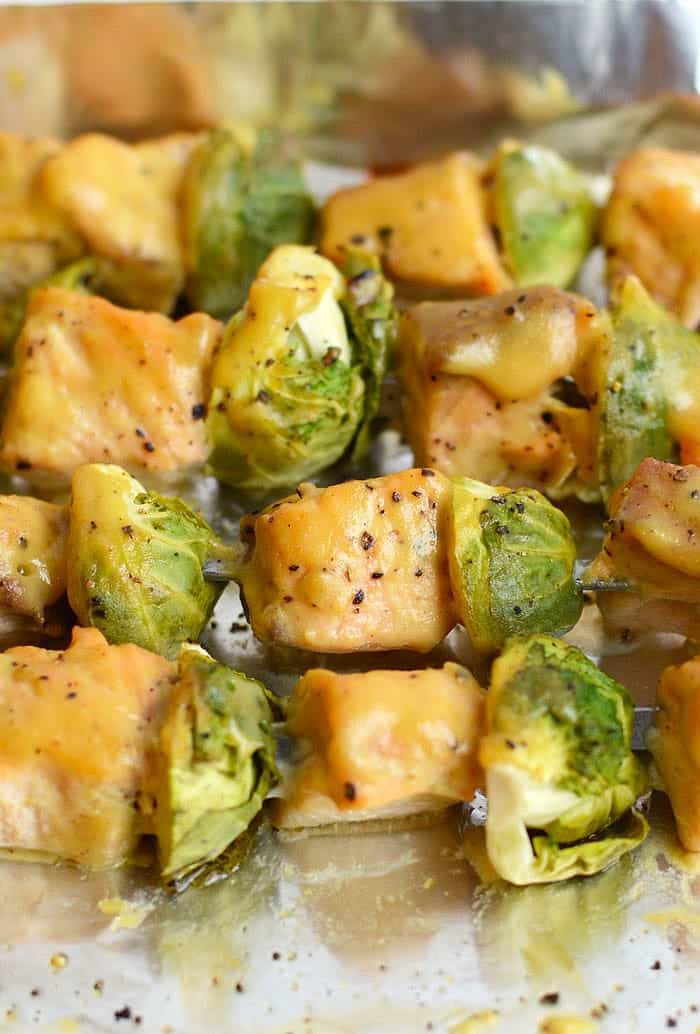 So cute!!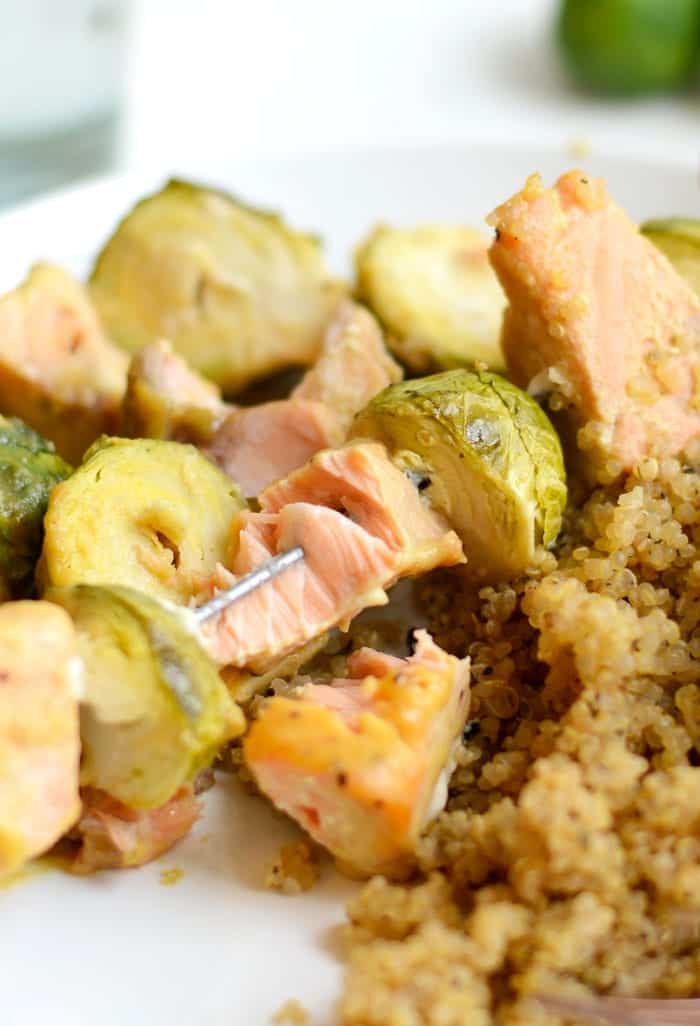 As for the quinoa…
I have a lot of friends and readers who tell me they don't like quinoa because it doesn't tastes like anything. Gang- all you have to do is add a little flavor and you are good to go! For this batch- I cooked the quinoa in chicken broth (KEY) instead of water, and added a little garlic powder and my favorite spice mix- Tuscan Sunset from Penzey's, but you could sub Italian seasoning. SO GOOD and SO FLAVORFUL!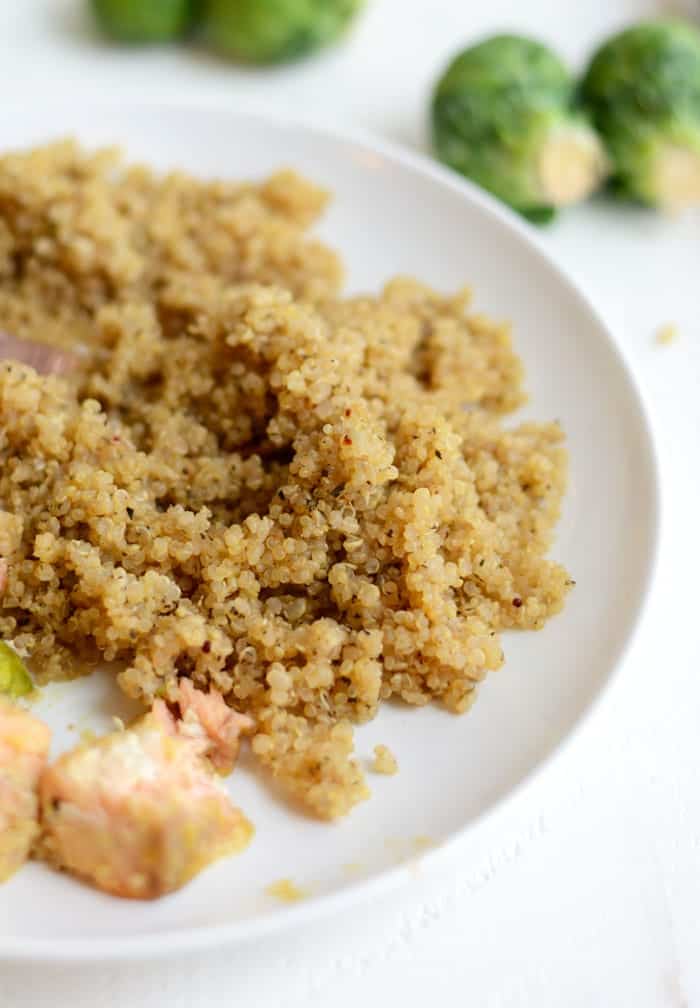 Recipe
Maple Dijon Baked Salmon Skewers with Garlic Herb Quinoa
Prep Time:

20 minutes

Cook Time:

25 minutes

Total Time:

45 minutes
Ingredients
For the Maple Dijon Baked Salmon Skewers
1

–

1.5

pounds of salmon

1/3 cup

dijon mustard

2 tablespoon

s 100% pure maple syrup

1 tablespoon

Rice Vinegar
salt and pepper, to taste

1 tablespoon

EVOO
~3-4 cups of sliced veggies (I used brussels sprouts)
nonstick cooking spray
For the Garlic Herb Quinoa
1 cup

quinoa, rinsed

2 cup

s chicken broth, low sodium

1 teaspoon

garlic powder

1 teaspoon

Tuscan Sunset
salt and pepper to taste
Instructions
For the Maple Dijon Baked Salmon Skewers
First, prepare your marinade. Mix together mustard, maple syrup, rice vinegar.
Then, prepare salmon by removing the skin and slicing into bite-sized pieces. Just make sure all the pieces are relatively the same thickness so that they bake evenly.
Place salon pieces in large bowl or dish and pour in about 2/3 of the marinade. Let sit in the refrigerator for 30 minutes to an hour.
To prepare your skewers, slice vegetables into bite-sized pieces. For this particular recipe, I used brussels sprouts. It's important to slice them into smaller pieces because you will only be cooking them for 25 minutes! Roll them in about 1 tablespoon of EVOO and season with salt and pepper
Preheat oven to 375ºF and line a baking sheet with aluminum foil and spray with non-stick cooking spray.
To create your skewers slide on one piece of salmon followed by a piece of vegetable. Repeat. Once you've completed your skewer, place on baking sheet. Use the remaining marinade to brush on the salmon and veggies. Generously sprinkle with pepper and little salt.
Bake at 375ºF for ~25 minutes or until salmon is cooked all the way through.
For the Herbed Quinoa
Place all ingredients in a medium size pot. Turn heat to medium/high and bring to a boil, then reduce heat to low and cover. Let simmer for about 15 minutes or until all the liquid has absorbed.
Similar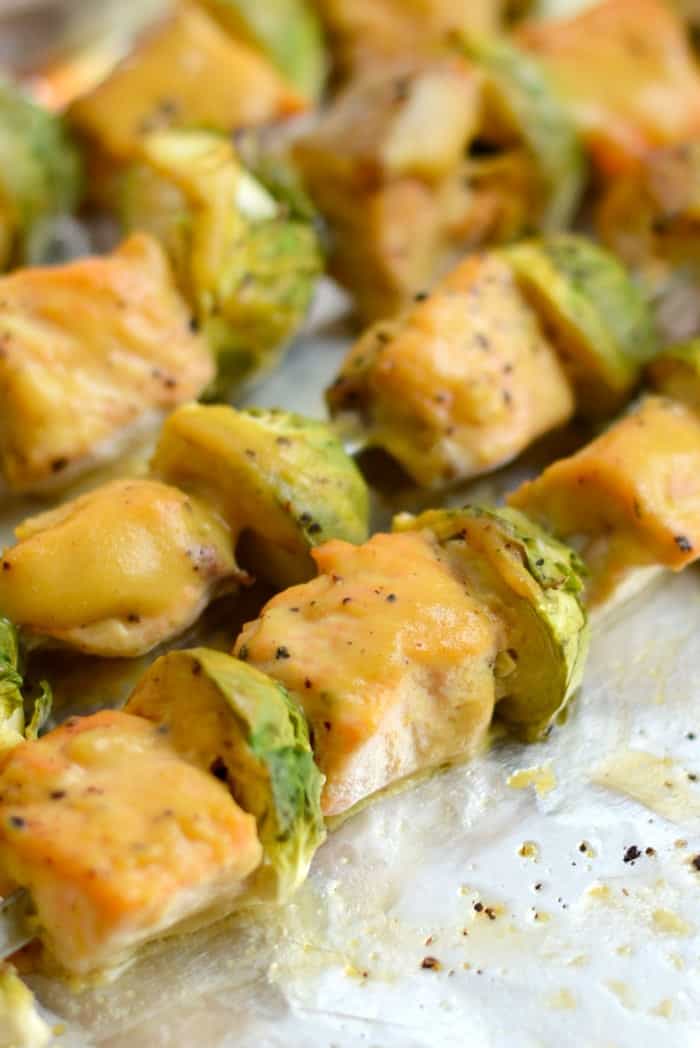 I am spending the day in the kitchen making Christmas cookies and a few up-coming client recipes! Have an awesome sauce day :D