These maple sesame cashew butter cups are the perfect homemade, healthy treat. Best part is, all you need are a few ingredients!
Who needs Halloween candy when you can make your own! However, I do have a thing for red Dots and yellow Starbursts. Only the red and yellow, though. It's like the worst day ever when I get 2 green Dots…yick.
I got today's glorious recipe idea from a few readers who commented how delicious my Maple Sesame Cashews would as a nut butter. Ga Ga Ga Genius.
A few months back, I did a similar butter cup recipe…Almond Butter Sea Salt. Those lasted about 2 days. #eatallthechocolate
All you need are 2 ingredients…why wouldn't you make your own butter cups?!
Melted chocolate + cashew butter + melted chocolate.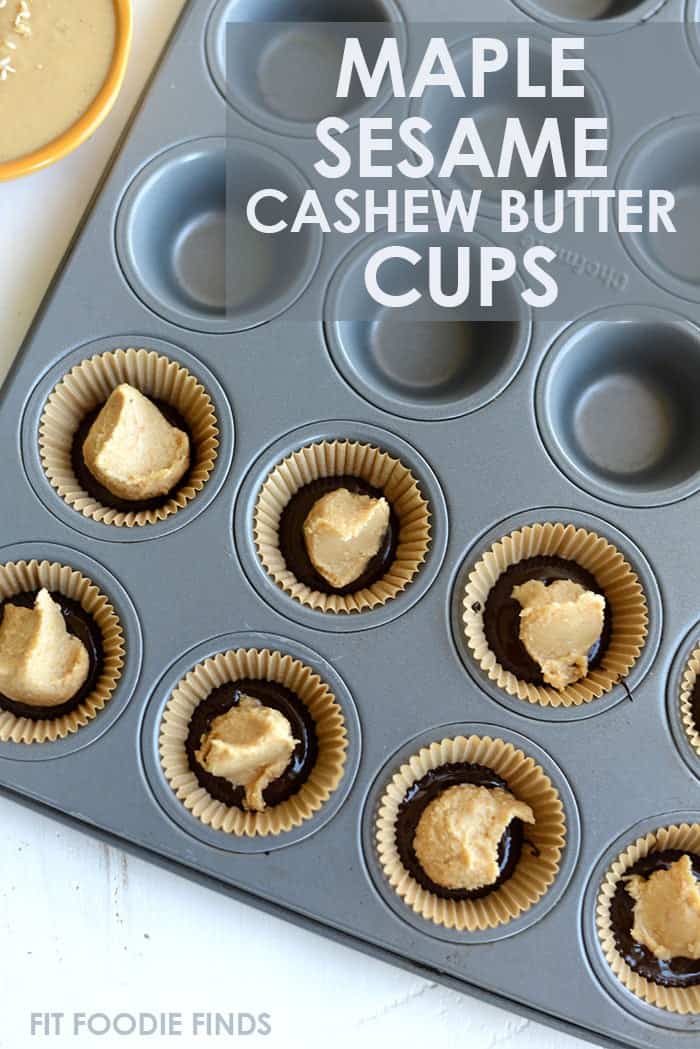 I feel like this would be a great project to make with kids. They can help you melt the chocolate and pour it into cups, add the nut butter, and top it with more chocolate. It may get a little messy, but it's all in good fun!
Plus- it only needs to sit in the freezer for like 10 minutes and the chocolate magically hardens.
Recipe
Maple Sesame Cashew Butter Cups
Prep Time:

20 mins

Total Time:

20 mins
Yield:
8

-

10

cashew butter cups

1

x
Ingredients
2 cup

s Maple Sesame Roasted Cashews

1 tablespoon

coconut oil (possibly/optional)

2 cup

s semi sweet or dairy free chocolate chips
Sesame Seeds, for garnish
Instructions
Begin by making your cashew butter. Place roasted cashews in a small food processor. Process for about 8-10 minutes or until your cashew butter is at desired consistency. Note: you may need to add a tablespoon or so of melted coconut oil, in order to soften things up, that's what I did!
Next, line a mini cupcake tin with cupcake liners (about 10). Then, place chocolate in a microwave safe bowl and melt in the microwave.
To make cashew butter cups, spoon in 1 teaspoon of chocolate, then 1 teaspoon of cashew butter, then 1 teaspoon of chocolate. Repeat.
Sprinkle on some sesame seeds for garnish.
Place in the freezer for about 10 minutes.
Notes
You will not use all of the cashew butter! In fact, you will only be using 8-10 teaspoons of it!
Nutrition
Serving Size:

1 cashew butter cup

Calories:

235

Fat:

16

Protein:

5
Similar
Pin for later!
I have been hiding some exciting news from you! I'M GOING TO ISRAEL…TOMORROW!
Each year a non-profit called Kinetis, invites a handful of bloggers to show them the amazing Israeli culture first hand on a trip called Vibe Israel. This time around, the theme is wellness and they are bringing over food/health/fitness bloggers for a tour of Israel's wellness scene. I AM SO EXCITED.
As of right now, I do not know what the official itinerary looks like…because it's a surprise! I do know we will be visiting Jerusalem, Tel Aviv, Northern Israel, and Southern Israel. I can't wait to experience Israel's foodie scene!
Much of my dad's side has been to Israel for birth-right, so I am excited to get to experience it all…and with a fit foodie twist! Get ready for 1,001 Instagrams!!! If you're not following me yet…DO IT NOW!
I've got some exciting posts scheduled out for when I am gone, but know that…I won't be able to respond to your comments/questions until I get home! Have an awesome week!