This tender pork roast is marinaded in a maple tamari glaze and baked to perfection (gluten-free, too!). It's a perfect family meal and features Fit Foodie Finds partner, Nakano Rice Vinegar.
This was one of those meals where Blake came home from work and the entire house smelled like dinner. The first words out of his mouth were…WHAT IS IN THE OVEN?!
I picked up a gorgeous-looking pork roast from the grocery store and could hardly wait to eat it! I got a steal too…3.5 lb. roast for like $13 bucks. That much meat = dinner for 3 nights!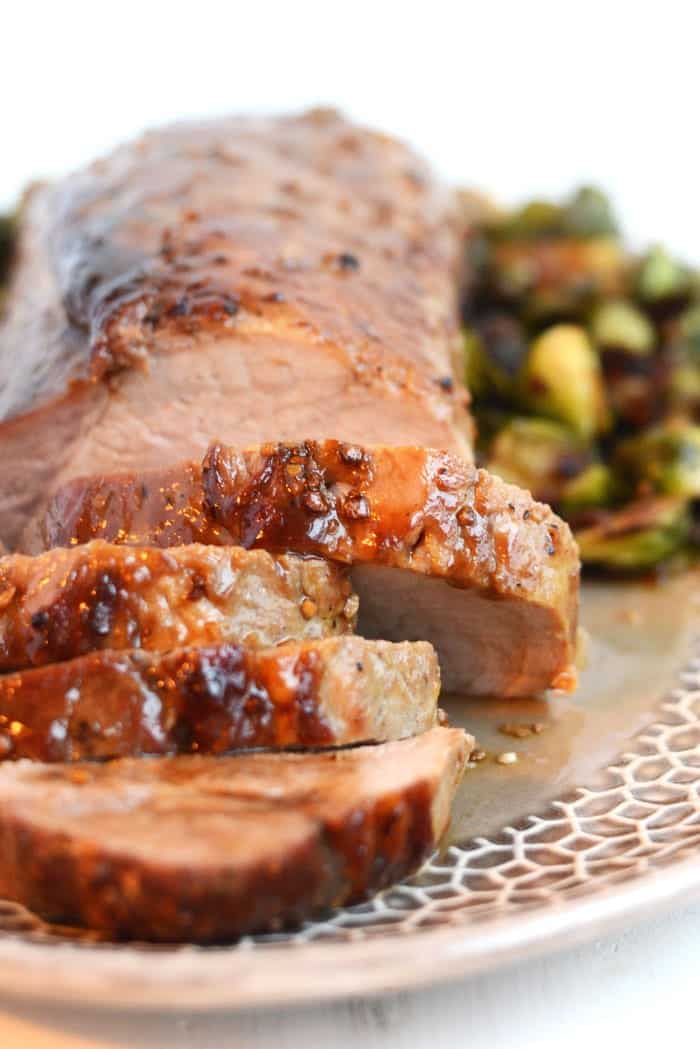 I started off by making a Tamari Maple Glaze for the marinade featuring Nakano Rice Vinegar. <—-that stuff makes all marinades taste better, I swear! This time I used the roasted garlic variation. Garlic + Love.
It's a mixture of tamari (gluten-free soy sauce), 100% maple syrup, rice vinegar, teriyaki sauce, garlic, and spices. I poked a few holes in the roast, plopped it in a gallon-sized bag and poured the marinade on top. I let it sit for about an hour in the refrigerator.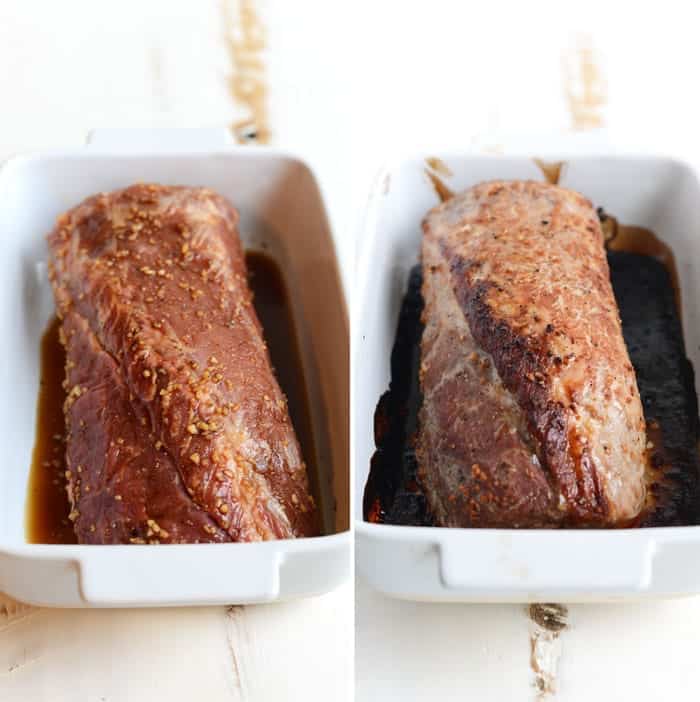 The roast took about 90 minutes to fully cook.
When it comes to dinner, I'm usually all about 15 minute meals. This 90+ minute meal is TOTALLY worth it. The meat comes out so tender and delicious.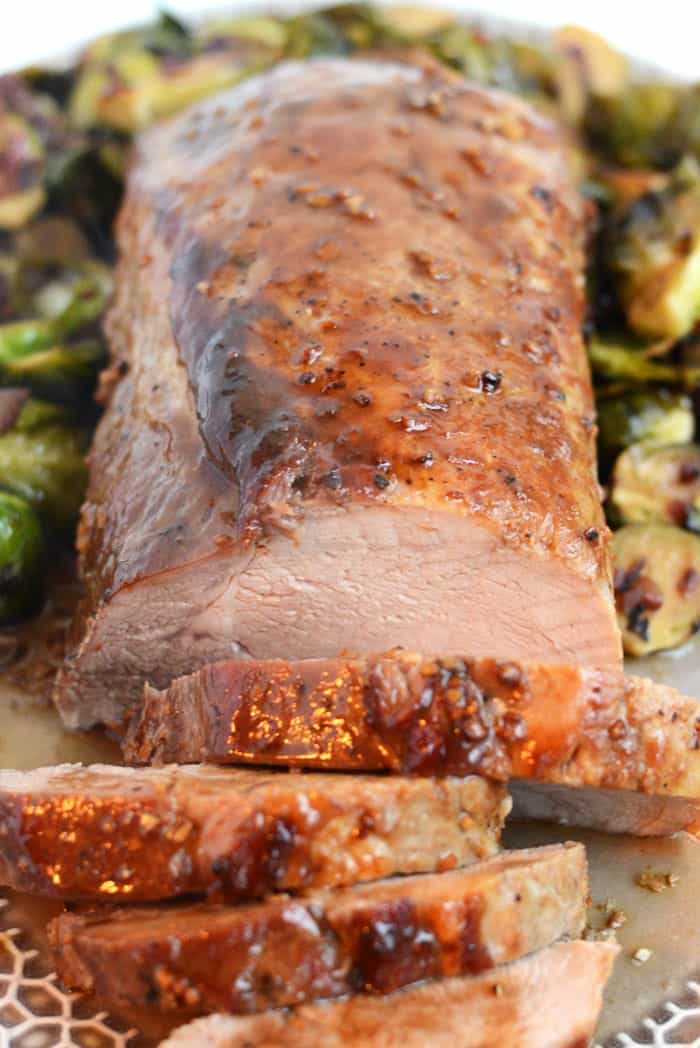 The nice thing about pork roasts, is that it's pretty low maintenance. All you need to do is marinade it, stick it in a pan, and bake it.
It also only requires minimal ingredients for a whole lotta flavor!
One thing I recommend doing is lining your baking dish with tin foil. Maple = sugar and sugar + heat = caramelization.
Well, let's just say I learned the hard way :D
Recipe
Maple Tamari Glazed Pork Roast
Prep Time:

10 minutes

Cook Time:

1 hour 30 minutes

Total Time:

1 hour 40 minutes
Ingredients
-3.5 lb. center cut pork roast
-1/4 cup 100% pure maple syrup
-1/4 cup tamari
-1/4 cup teriyaki sauce
-2 tablespoons Nakano Garlic Roasted Rice Vinegar
-2 tablespoons garlic, minced
salt and pepper, to taste
Instructions
Prepare marinade by mixing all ingredients together other than pork roast. Next, pierce roast with a fork, then place in a gallon size bag. Pour marinade on top and massage pork roast so that everything is evenly coated. Let sit in refrigerator for about an hour.
Next, preheat oven to 400ºF. Then, line a casserole or baking pan with tin foil. Spray with nonstick cooking spray. Then, transfer roast onto dish. Brush with a thin coating of additional marinade, but set aside leftover marinade for later use.
Cook for about 90 minutes, uncovered, or until your meat thermometer reads 145ºF.
Once the roast has about 20 minutes left to cook, prepare glaze. Place leftover marinade in a small sauce pan and add in about a teaspoon of starch. Bring to a boil and then let simmer for about 5 minutes. Turn off heat and let sit for about 5 minutes to let thicken.
Use a meat brush, to brush glaze over roast. Slice and serve!
Notes
On the bag, it said to cook for 20-24 minutes per pound at 350ºF.
Adapted from Tasty Kitchen.
Similar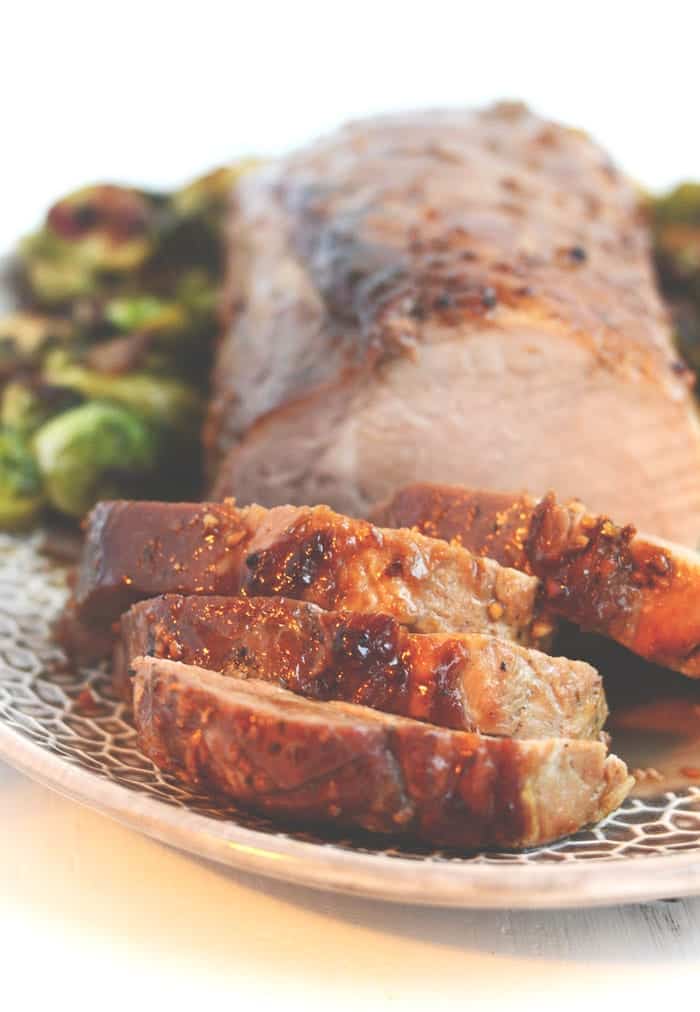 This post is sponsored by Mizkan's Nakano Rice Vinegar. Thank you for your continued support as I run my business!
What's your all time favorite meat marinade?