Get your meal prep on with these delicious breakfast stuffed peppers! They're made with a breakfast sausage/sweet potato hash mixture on the bottom and a baked egg on top.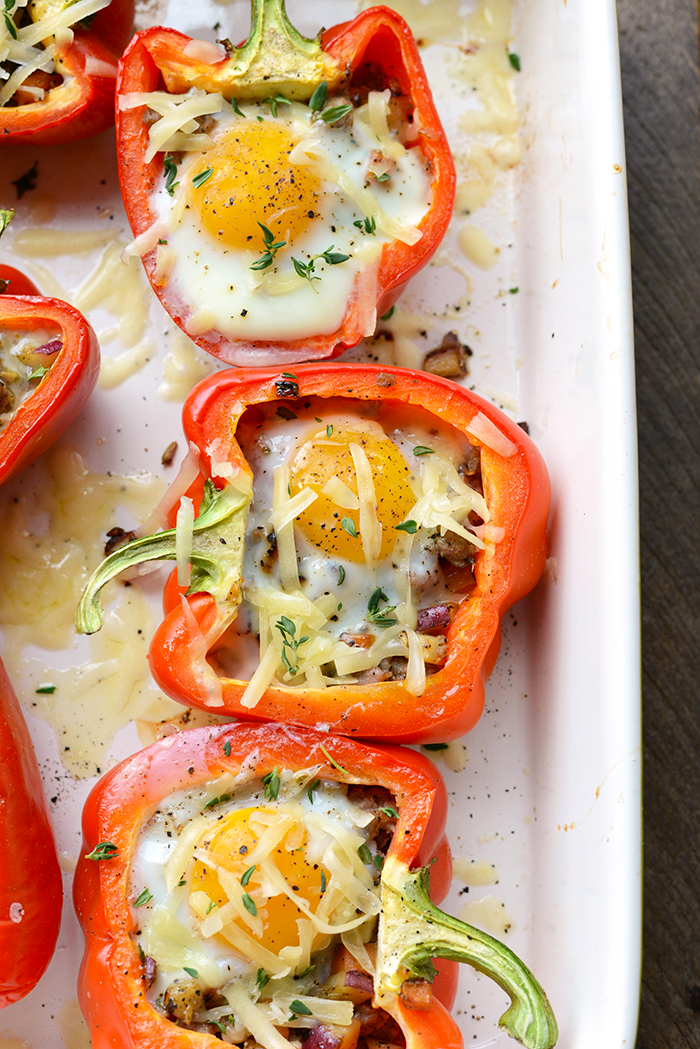 Sometimes we make things at Fit Foodie HQ that are almost too beautiful to eat. THESE PEPPERS, though. So good and so beautiful! They're even little brother approved.
Honestly I can't even remember how we got the inspiration for this recipe and Linley isn't in the country to ask 😛 I've got 2 more full days without her and then we are REUNITED! It's crazy how reliant we are on each other to GSD. I almost feel paralyzed when she is gone because I don't know how to do things on my own anymore. Teamwork makes the dream work. Frealz, it's so much more fun to have someone to work with during the day. I think that was one of the biggest struggles of growing my business – – being so alone for the first 4 years was tough! Then, Linley joined the team and I felt such relief that I wasn't alone and trying to plow through 100 hours of work each week by myself.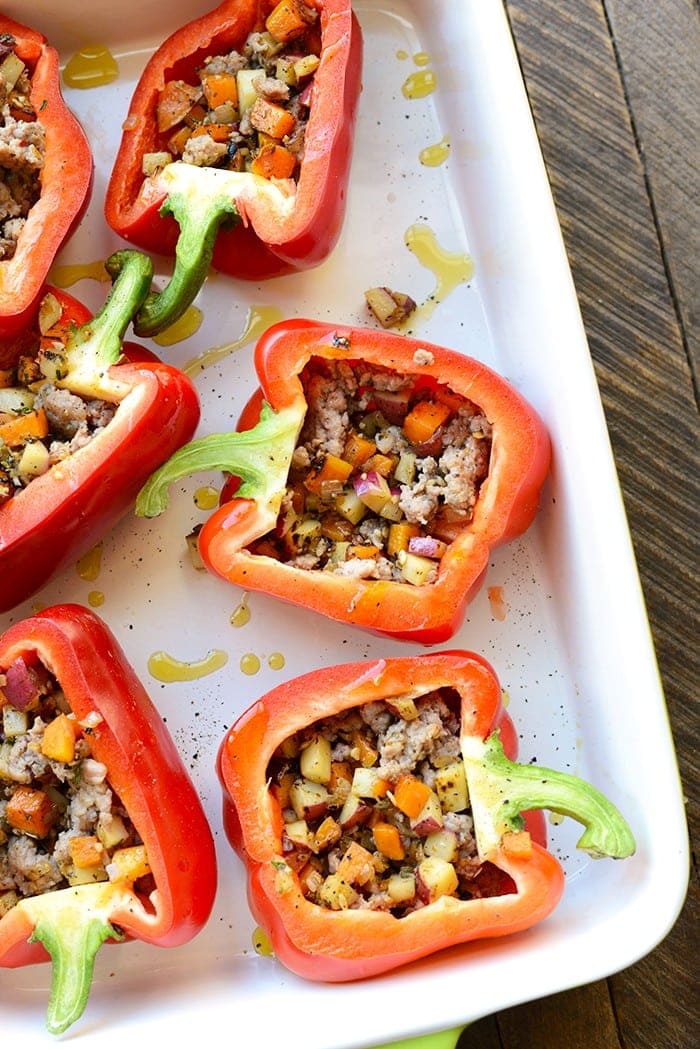 So I got a really funny comment the other day…
"I don't eat cheese."
Errrrrrr…sorry?
I bring this up because a lot of FFF recipes are extremely customizable. For example this recipe has cheese sprinkled on top, but you could always skip that if that's not your jam. There's also meat under the baked eggs which could be taken out as well. My question to you guys is- do you want me to start adding "optional steps" into the recipes. Ie: for a meat-free recipe, don't use the meat. Or for a dairy-free recipe, don't use the cheese. OR- are you good to make that call yourself? I always assumed you were good to make that call, but I thought I would ask!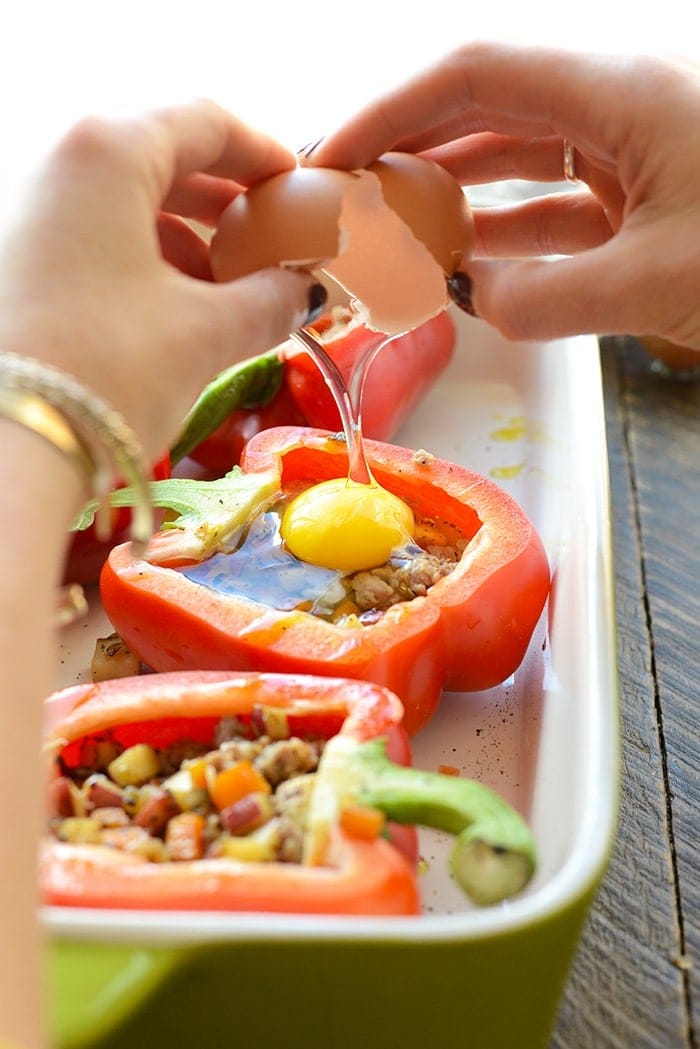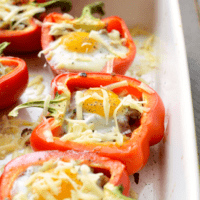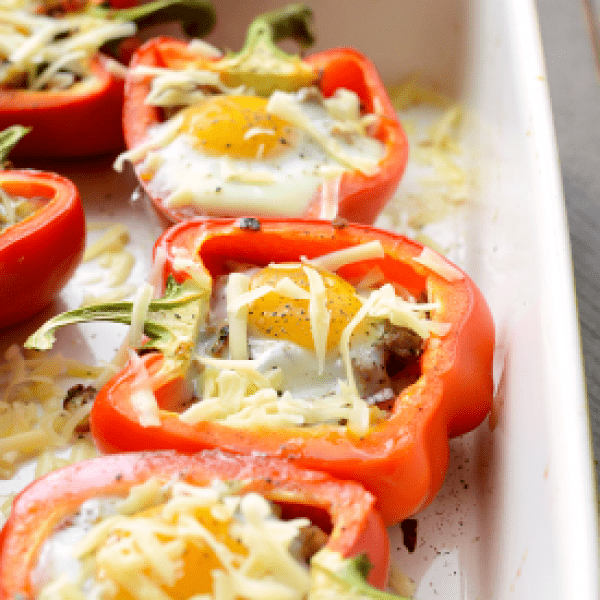 Meal Prep: Breakfast Stuffed Peppers
Ingredients
3

large red peppers

or any color!

1/2

lb.

ground pork

3

tablespoons

olive oil

1/2

cup

shallot

finely minced

1

cup

red potatoes

finely diced

1

cup

sweet potato

finely diced

salt and pepper

to taste

1

tablespoon

minced garlic

1

tablespoon

Italian seasoning

1

tablespoon

fresh thyme

1

tablespoon

maple syrup

6

eggs

large

1/2

cup

white cheddar cheese
Instructions
First, preheat oven to 375ºF and spray a casserole dish or cake pan with nonstick cooking spray.

Prep peppers by slicing in half (hot dog way) and removing the seeds and innards. Rinse, dry, and set inside casserole dish.

Saute ground pork on medium/high heat for a few minutes, just to cook it about half way. Remove and place in large bowl.

Wipe grease from pan and then heat about 3 tablespoons of olive oil to medium/high heat. Add in 1/2 cup shallot, red potato, and sweet potato. Season with minced garlic, Italian seasoning, fresh thyme, salt and pepper. Saute for about 5 minutes minutes only to partially cook the potatoes. They will continue to cook in the oven! Remove and add into the same bowl as the ground pork.

Mix together potato mixture with the ground meat. Then, add in about a tablespoon of maple syrup.

Use a spoon to transfer mixture into peppers, filling them about 3/4 of the way. You may have a little left over depending on how big your peppers are! Crack a large egg on top of each pepper, being very careful not to puncture the yolk!

Place in oven at 375ªF for around 35 minutes (depending on how running you like your yolk.

Season with salt and pepper and sprinkle on some white cheddar cheese.
Nutrition facts
Serving:
1
breakfast stuffed pepper
Calories:
366
kcal
Carbohydrates:
20
g
Protein:
20
g
Fat:
23
g
Fiber:
3
g
Sugar:
6
g
Storage
In the refrigerator: Let cool completely and then transfer into a glass pyrex
. Cover and store in the refrigerator for up to 4 days.
In the freezer: Let cool completely and then wrap with plastic wrap, making sure you get as much air out as possible. Then, wrap with tin foil and place in the freezer for up to 3 months.

For more meal prep breakfast ideas…CLICK HERE.