Meal prep saves the day when you have a busy week ahead or if you are trying to eat healthy throughout the week. Meal prep can be easy if you are equipped with all of the best meal prep essentials. We put together a list of our favorite meal prep containers, meal prep ideas, meal prep bags, and more!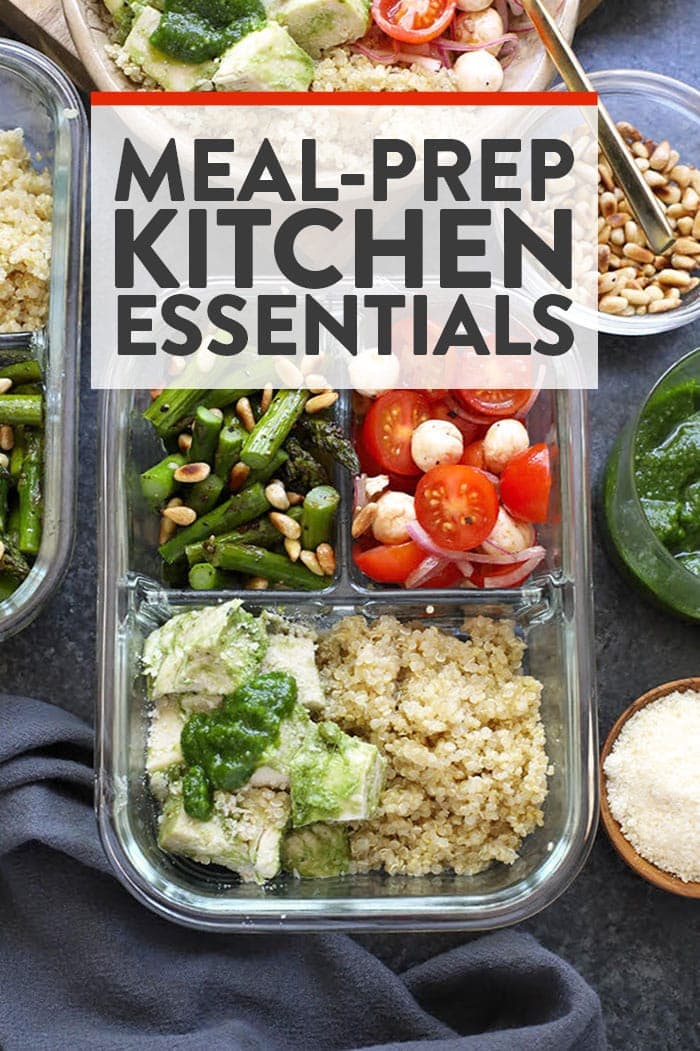 Now on to a little meal-prep chat. You asked, we answered. You wanted to know what Team Fit Foodie uses when we meal prep for the week because making food for breakfast, lunch, and dinner for an entire week all at once can be daunting. Having the proper kitchen tools on meal prep days makes life so much easier. Though we don't meal prep for every single day of the week (we do eat out once or twice), there is usually food ready to eat in the fridge from meal prep!
I've separated out our favorite meal prep kitchen essentials into 2 categories: Meal Prep Essentials for Food Prep and Meal Prep Food Storage. HAVE FUN!
Meal Prep Essentials for Food Prep
When I prepare food for the week, I typically make more than one thing at once. If I'm going to mess up my kitchen, I might as well go big. Since I make a larger amount of food all at the same time, I'll typically use multiple kitchen gadgets to make this happen. I like to utilize my oven, slow cooker, and Instant Pot. That way I can mix up a Fit Foodie Finds meal prep bowl recipe, set my slow cooker or Instant pot and forget about it until it is done cooking.
This also means I can multi-task. When I meal prep I do a bunch of recipes all at once. I'll have our Slow Cooker Sesame Chicken in the slow cooker, our Instant Pot Hamburger Soup in the Instant Pot and our Apple Chai Oatmeal Cups in the oven. If I'm going to meal prep, it's going to be all at once! It sounds a bit crazy, but it makes busy weeks a breeze!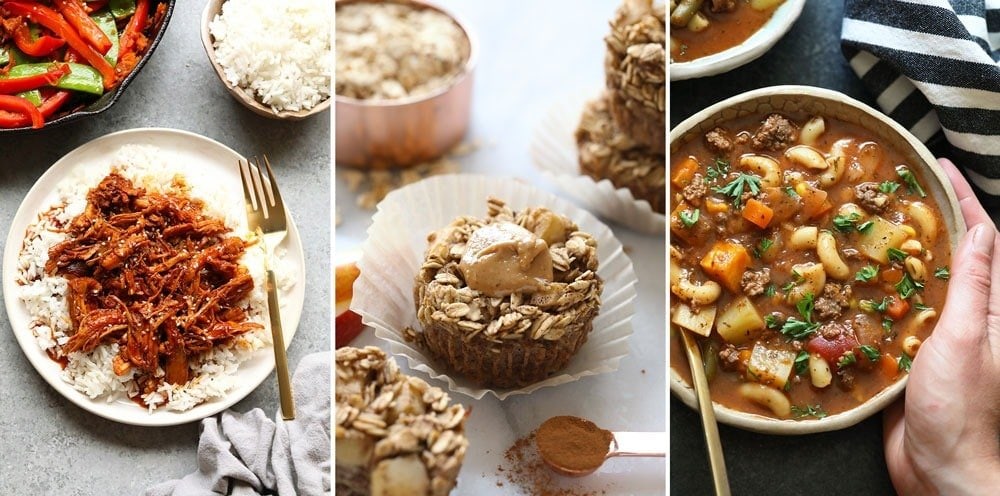 I have found the A-team when it comes to meal prep kitchen essentials! Below are all of my favorite tools for meal prep. Check them out!

The Best Meal Prep Containers
Next up is meal prep food storage. One thing I've learned over the years is that investing in higher quality food storage pieces is not only better on your wallet, but better for the environment. Now, I'm not saying I'm 100% anti-plastic because I still buy my fair share amount of plastic meal prep containers to give away to friends and family. However, I've started to invest more in glass containers because they last longer and can be ran through the dishwasher.
When storing lunch or dinner for the week, we LOVE our different sized glass Pyrex containers. PYREX IS LIFE. Prep the food, let it cool and then stack all of your meals for the week in the fridge. Actually, one of my favorite things about the Pyrex glass containers is how much food I can fit in them without them taking up a crazy amount of space in my fridge. When I am prepping food for friends + family and know that I probably won't be getting my storage container back, I like to stick with rubbermaid containers.
Meal Prep Oatmeal Containers
I've always loved myself a nice jar and over the years have collected some really great ones. When prepping overnight oats for breakfast I love the easy-to-open Weck Canning Jars or a classic Ball Mason Jar. Mixing up the oats the night before, giving them a shake, and voila…breakfast is ready for you in the morning. In a quick, easy, and ready-to-go jar!
Lastly, my favorite new find for lunches or easy snacks are these Disposable Bento Boxes (though I still wash them and reuse them), they are GREAT for portion control, making sure you have a couple different options in your snack box throughout the day, and they are just so dang cute.
Here is a list of all of our favorite food storage containers:
Easy Meal Prep Ideas
So, get inspired. Meal prep can be easy, fun, and stress-free if you have the right tools to help you out a bit. Below are some of the best meal prep recipes on FFF! Good luck and happy meal prepping!