This is a sponsored post written by me on behalf of Nature Made. All opinions are 100% mine.
Today I'm talking about — SUPPLEMENTS! I have been getting questions about my supplement routine more and more lately,  so I'm partnering with Nature Made to share exactly what supplements I take and why I take them! Supplements can be super overwhelming, but they're actually quite simple to integrate into your lifestyle and help in so many different ways.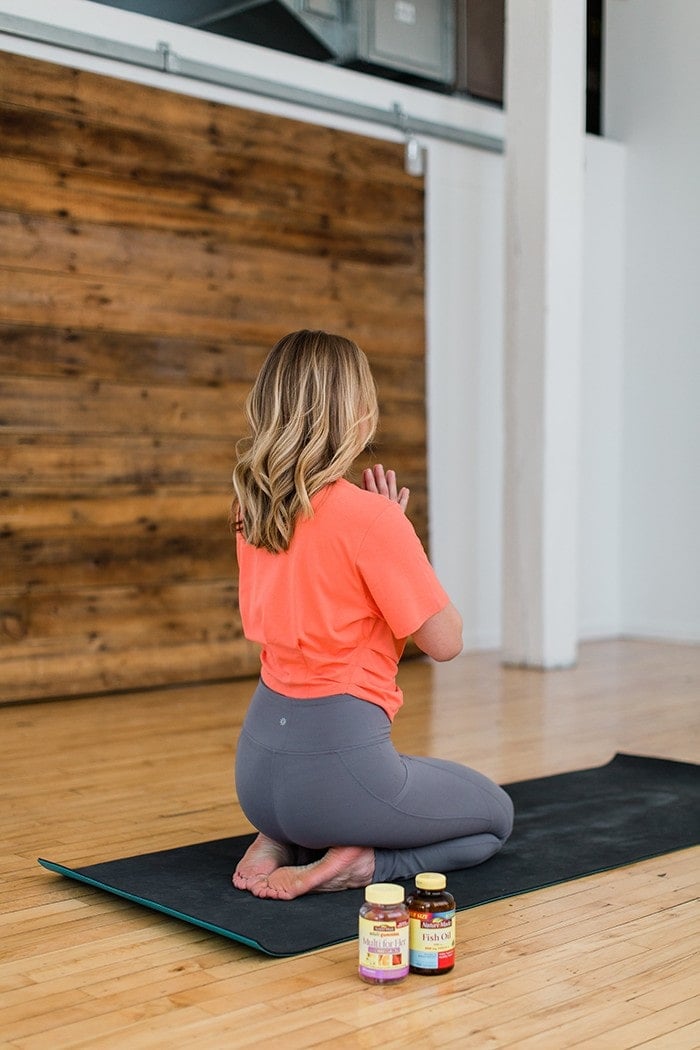 First things first, I want to share why I choose Nature Made. Nature Made not only high-quality ingredients, but they are also affordable and accessible. Nature Made is USP verified for purity and potency and they only source their ingredients from the best vendors. I wrote a post a few weeks ago on why my healthy isn't your healthy and today's post is an excellent follow up on that one because…what works for me, might not work for you! I want to make sure you keep this in mind as you're reading about my personal routine.
My supplement routine has definitely evolved over the years. There are certain supplements like a multi vitamin and probiotic that I take every single day and other supplements that I take seasonally or as needed like vitamin C and and Zinc. I've separated my routine out into 4 different categories: women's/general health, digestive health, immune support and sleep health.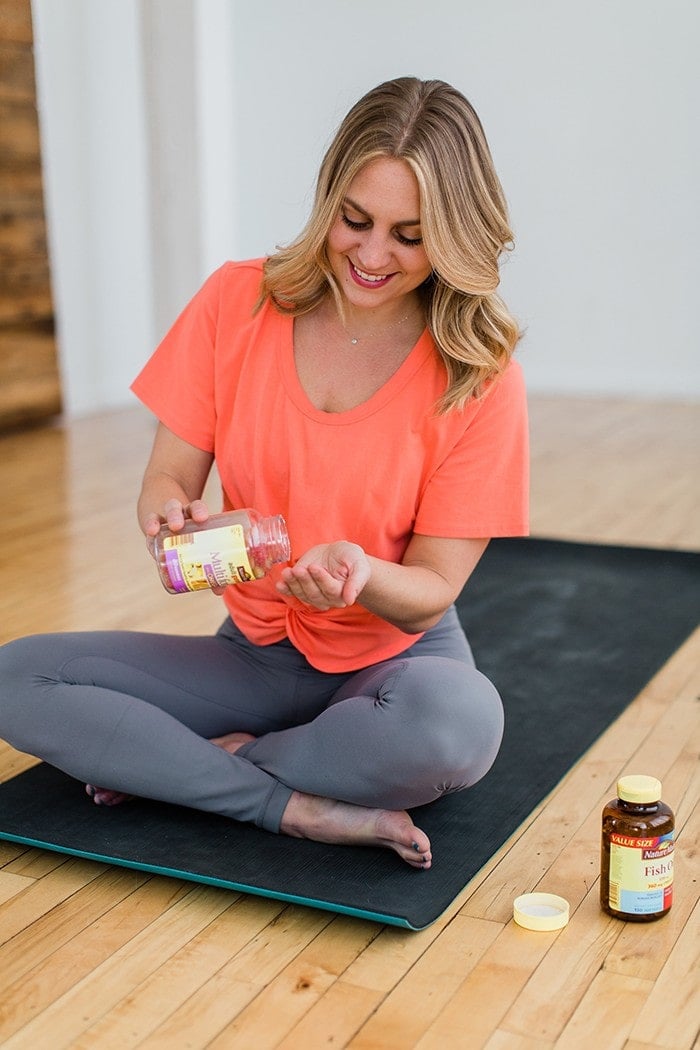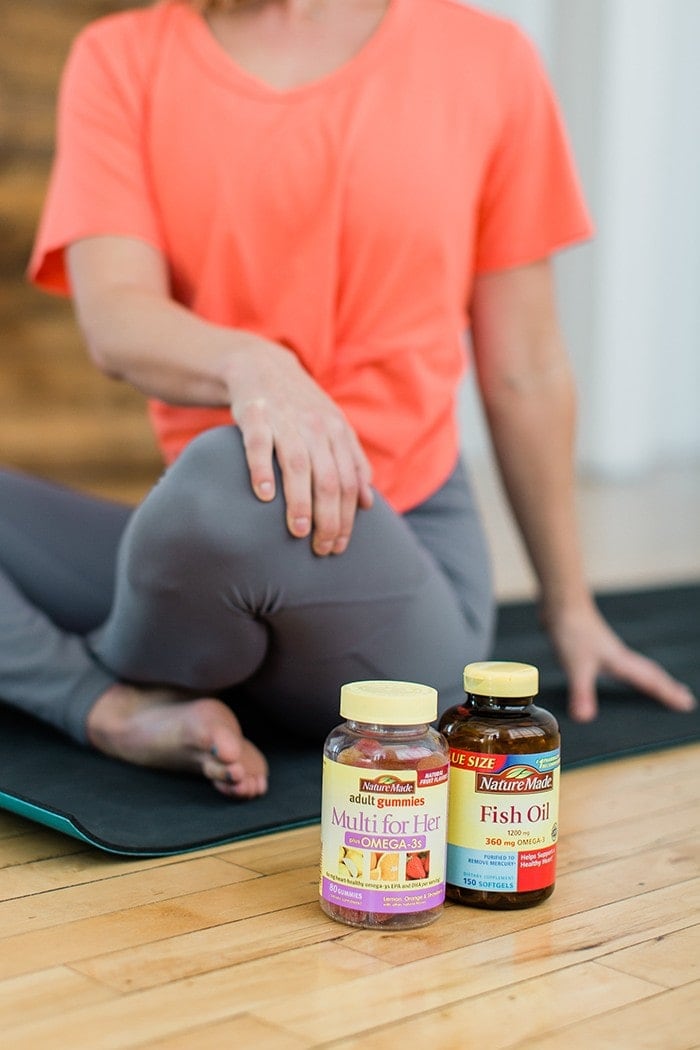 Women's/General
I named this the women's/general category because both the Multi for Her and Fish Oil I take daily and are all around two great supplements to incorporate into your daily diet.
Nature Made's Multi for Her (gummies!) is something that I take two of every single day. First of all, I'm obsessed with gummy vitamins (kid at heart) and second of all, it's a no-brainer. As much as I try to get all of my nutrients from food, it just doesn't happen every day. So, by taking the Multi for Her with my breakfast, I'm guaranteed key nutrients and piece of mind that my body is getting what it needs.
If you have a hard time fitting fish into your nutrition, then a fish oil is perfect for you!  Fish oil is how you get all of those healthy fats AKA omega-3 fatty acids into your diet (contains DHA and EPA). I know fish oil sounds bizarre, but it supports your heart health†,which obviously is essential for, uh, LIVING. HERE is the one I take…it's burpless, which is pretty incredible. If you've ever taken fish oil and burped a few hours later, then you know what I'm talking about! This hasn't been the case for me with Nature Made!
Digestive
Until the age of 27, I was blessed with an excellent digestive system (minus being lactose intolerant growing up). Give me coffee and oats and I'll poop pretty much on cue. For some reason when I hit 27, I started to struggle more and more with constipation and acid reflux. This isn't fun for anyone but has really helped me come full circle when it comes to my digestive health.
Gimme all of that good bacteria! Probiotics are a boost of "good bacteria" that are naturally found in fermented foods such as yogurt or cheese. We need this good bacteria in our tummies for good gut health†. I take a probiotic every single day for this reason and well, because it helps with occasional constipation among so many other things†. From the research I've done, a probiotic helps decrease inflammation, creates healthier skin, etc! I love Nature Made's gummy probiotic because it's way more fun to eat gummies than take a pill 🙂
Immune Support
Extra vitamin C and zinc all winter long definitely played a large role in my health along with constant hand washing and extra sleep. These two things I take seasonally to support my immune system!†
Vitamin C:

Vitamin C is an antioxidant and supports the immune system. It also helps absorb iron and synthesize collagen.

†

Zinc

: Zinc supports the immune system and also aids in normal growth and development.

†
Sleep
Oh sleep. I have a love/hate relationship with you. The last year of sleep has been a bit rough with my occasional sleeplessness spiking more than it ever has. I am the type of person who needs a solid 9 hours of sleep (yes, that's an hour more than the recommended amount of 8). Sleeplessness differs from person to person and my trouble happens in the middle of the night. I'm able to fall asleep just fine, but I often times end up waking up at 2 or 3 AM and not able to fall back asleep. I've found a definite correlation between stress and sleep, so managing my stress on top of supplements has also been a priority.
There are 2 different sleep supplements that I take on a regular basis — melatonin and magnesium.
Melatonin is such an excellent all-natural sleep aid. Melatonin is a hormone produced in the pineal gland that helps to reset the body's natural biorhythm, or sleep/wake cycle†. I like to take it right before bed on most nights…especially when I'm stressed or anxious.
Magnesium helps support nerve, muscles, heart, bones and teeth†. I use it specifically at night to help relax my nerves and muscles and ultimately help me sleep better.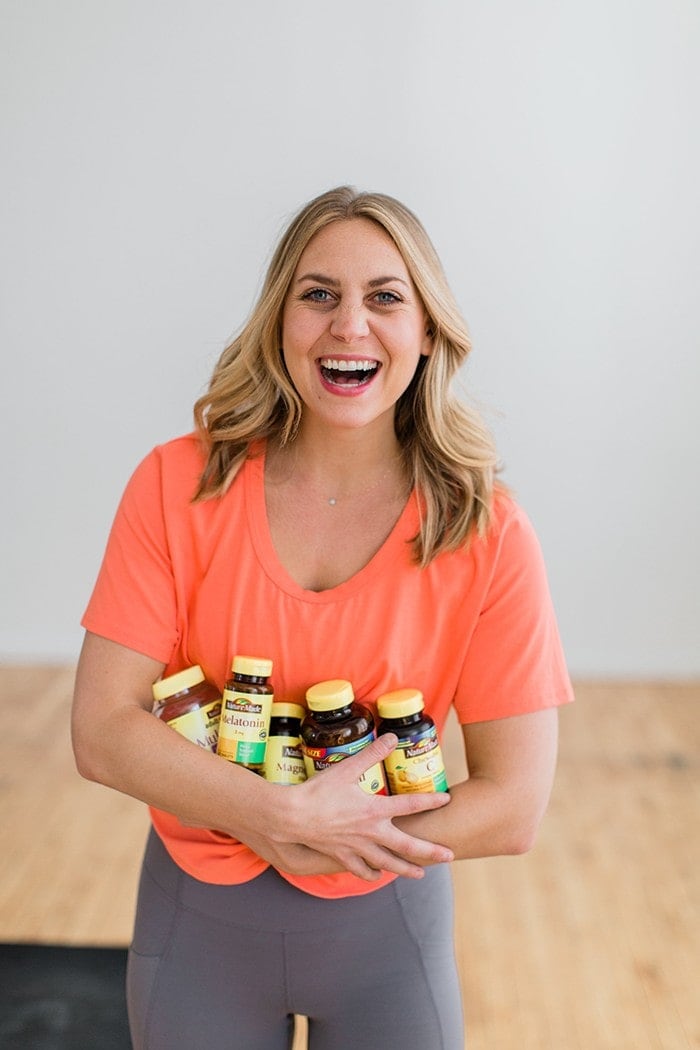 I'd love to know what kinds of supplements are in your routine! Also, head on over to Nature Made Instagram, Facebook, and Website because we're doing a MASSIVE giveaway with Nature Made tomorrow. No purchase nec. 18+ Ends 5/27. See rules.
This post is sponsored by Nature Made. I was compensated and all opinions are my own! Thank you for supporting Fit Foodie Finds.
†These statements have not been evaluated by the Food and Drug Administration. These products are not intended to diagnose, treat, cure or prevent any disease.