I want to start off by letting you know how sincerely grateful I am to have all of you! I appreciate every single person who reached out to me with words of support whether it was in the comments, an email, through Facebook, Instagram, or Twitter. That post is something I've wanted to share for months now and it feels good to have it off my chest! So again, if you reached out to me in some way yesterday, I thank you from the bottom of my heart!
In other news. I bought kale for the first time, but didn't really know what to do with it so I stuck it in a smoothie…along with a whole bunch of other random stuff.
I couldn't even taste the kale. I think that calls for a #winning. AND. Guess what I took this photo with? My new cam!
I bet you think I'm crazy because I just purchased the Nikon D5100 just a few months ago. Well, I'm not crazy, I'm being a realist (slash I am trying to justify this giant purchase in any way shape or form). When I went to upgrade my camera a few months back, I didn't really upgrade my camera. I pretty much just purchased the newest version of the camera I already had. It only took me a few months to realize that and I was back to the drawing boards. After reading the first half of Minimalist Baker's food photography e-course, I was sold on the D600- the same exact camera they use.
Thus. The new camera.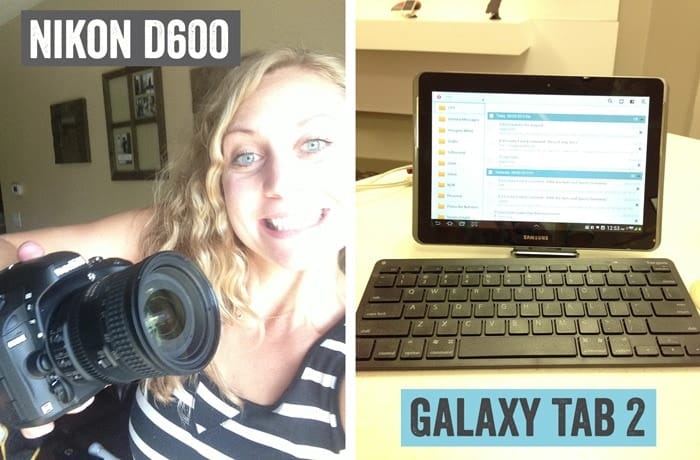 Speaking of new gadgets…my second device came last week for the Verizon Wireless Blogger Program I am part of! I was definitely crossing my fingers that it would be a tablet. I love it so far. I love it so much I went out and purchased a wireless keyboard and stand for it. Now it's like a mini computer!
"Disclosure: I am participating in the Verizon Health and Fitness Voices program and have been provided with a wireless device and six months of service in exchange for my honest opinions about the product."
I can already tell you that my favorite feature is going to be the fact that it has 4G LTE and a hotspot. I am a current Sprint consumer and throughout the past 4 months I have been monitoring the two services based on my personal phone and VZW Voices phone and Verizon has MUCH better service. It's much faster and I have service in more places (ie: when I was in Montana/Wyoming, I was pretty much roaming the entire time on Sprint, but Verizon worked just fine).
Enough chit chat, let's look at some more pretty photos.
Recipe
Kitchen Sink Smoothie
Ingredients
-1/2 frozen banana
-5 stalks of kale
-1 tablespoon chia seeds
-1/2 frozen peach
-1/2 scoop Designer Whey Vanilla Protein Powder
-1/2 Scoop Amazing Grass Chocolate Green Superfood Powder
-1 cup vanilla almond milk, unsweetened
Instructions
Place all ingredients in a blender or Magic Bullet and blend until smooth.
Nutrition
Calories:

435

Sugar:

49

Sodium:

18

Fat:

18

Saturated Fat:

10

Unsaturated Fat:

7

Trans Fat:

0

Carbohydrates:

76

Protein:

7

Cholesterol:

0
Similar
I actually had this for dinner last night, but it would be divine as a post workout smoothie or breakfast!
That is all for now! I will report back once I use my new camera a bit more…same with the tablet. I can't wait to share which apps I've already downloaded :)