Wedding season is finally in full swing for me and I'm here to share some gorgeous (and super classy) wedding guest dresses for summer that we're lovin'.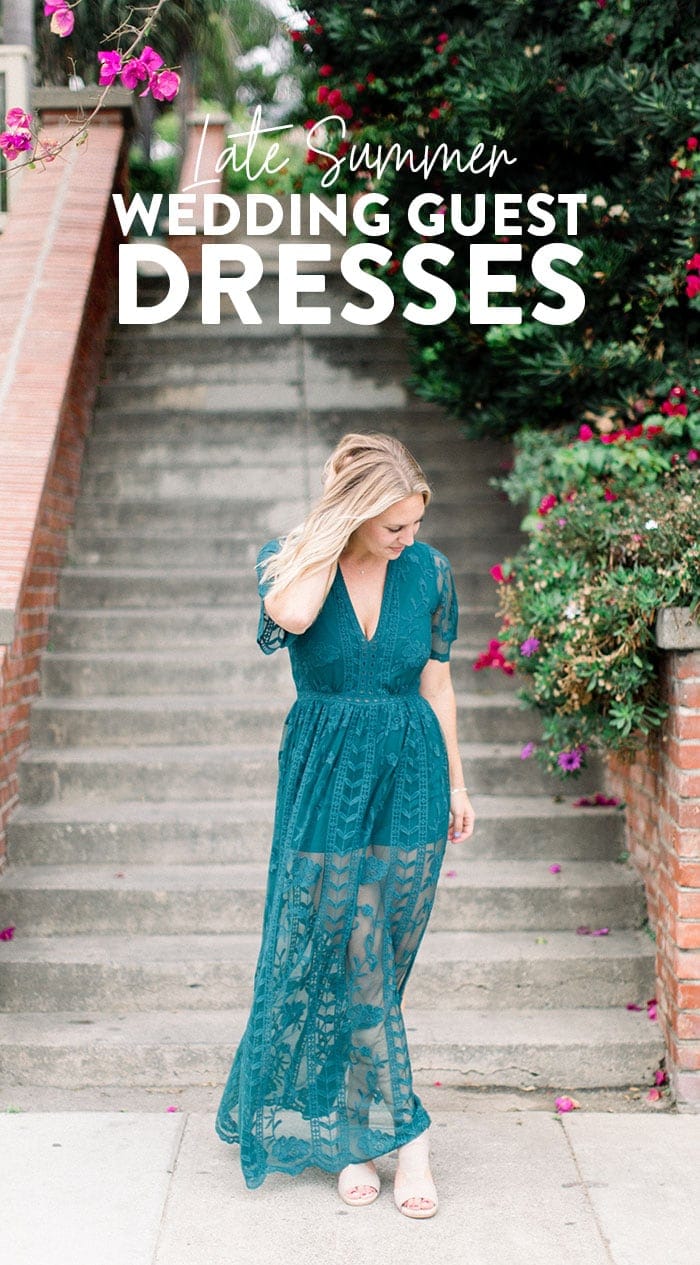 Between the month of August and Septemeber, Mark and I were invited to 5 weddings. Not a single one of those is in Minneapolis…here comes all the travel! Unfortunately, we are only able to swing 3 of them (1 in Seattle and 2 in Milwaukee), but nonetheless, I'm excited to attend each of them. I just love weddings so much. It's such a happy time and it also gives me an excuse to get all dolled up and have a wild night of dancing with my Man Candy!
It's normally a big #strugglefest for me to find the perfect wedding guest dress. I've got the girls that make things more difficult than they should be. This year I thought I'd start the wedding guest dress shopping early so that I don't have a minor freakout 2 days before the wedding with "nothing to wear." So what stores did I go to? I actually just turned to my Trunk Club stylist, Lucy, and let her know that I wanted all wedding guest dresses for my next trunk. PS: This is NOT sponsored…I just love Trunk Club SOOO MUCH. Anyways, I also decided to send her some links from Nordstrom dresses that I was digging and that I thought might look good on my body type. I find this is how I have the most success with Trunk Club…finding a few items that I for sure want them to include and then they can stray from there to find similar items that I might like too!
Anyways, Lucy NAILED IT with all of the dresses she sent me. I've been loving wrap dresses and jumpsuits and that's what I got! Below are my 3 favorite dresses from my most recent Trunk + a few more that are on my wishlist. I'm also sharing some shoes that I'm digging too for a late summer wedding. I've been obsessed with chunky heels and mules. Can't go wrong!
PS: If you haven't tried Trunk Club before…check it out! If you sign up through my link, you'll get my stylist, Lucy, who is amazing!
Talk about a sexy romper that's great for ladies with "the ladies" and a long torso. I bought myself a size medium and for only $79, I feel like a million bucks. This get-up comes in 3 different colors and I can't wait to wear this to the next 10 weddings I go to (but really).
Outfit Details: Lace Overlay Romper – $79 // Peep Toe Sandal – $129 (currently on sale)

This is the most perfect wrap dress! I love the high-low cut and the ruffles are so feminine. I am a 34DD and the girls are held in quite nicely without being too showy. The price point in this dress is stellar as well at just $79. Oh, and it comes in 2 colors!
Outfit details: Ruffle Wrap Maxi Dress – $79 // Peep Toe Sandal – $129 (currently on sale)
Talk about a well-constructed wrap dress. This dress is so well made that I didn't want to take it off! It's priced a little bit higher at $218, but the cut is so classy that this dress is going to be in style forever! I love where it hits me in the waist and the thickness of the material is so great. It comes in 3 styles so scoop it up while you can!
Outfit details: Midi Wrap Dress – $218 // Black Peep Toe Mules (similar) – $89

Late Summer Wedding Guest Dresses We Love
We've pulled a few more dresses that we're totally digging this summer/fall for wedding season! Enjoy and happy shopping.