Have your meat and veggies too! Make this delicious prosciutto asparagus stuffed chicken breast on the grill for a yummy, summer. 
Happppppy Monday!
It's crazy to think that just a few years ago I had NO IDEA how to use a grill. I think I was more intimidated to actually light the thing than to use it. I always thought I was going to light it wrong and blow something up (don't laugh at me). Turns out, most grills are really easy to light and they work very similarly to an oven, but leave beautiful grill marks and delicious flavor.
Girls. Grills aren't just for guys. #justsaying #itstrue
So- take one of these recipes and get grilling! Us ladies did it and you can too!
The perfect healthier Summer dessert! If you've never grilled bananas, you need to start with these! Lightly sweetened and topped with a flavorful chocolate sauce for the perfect grilled treat.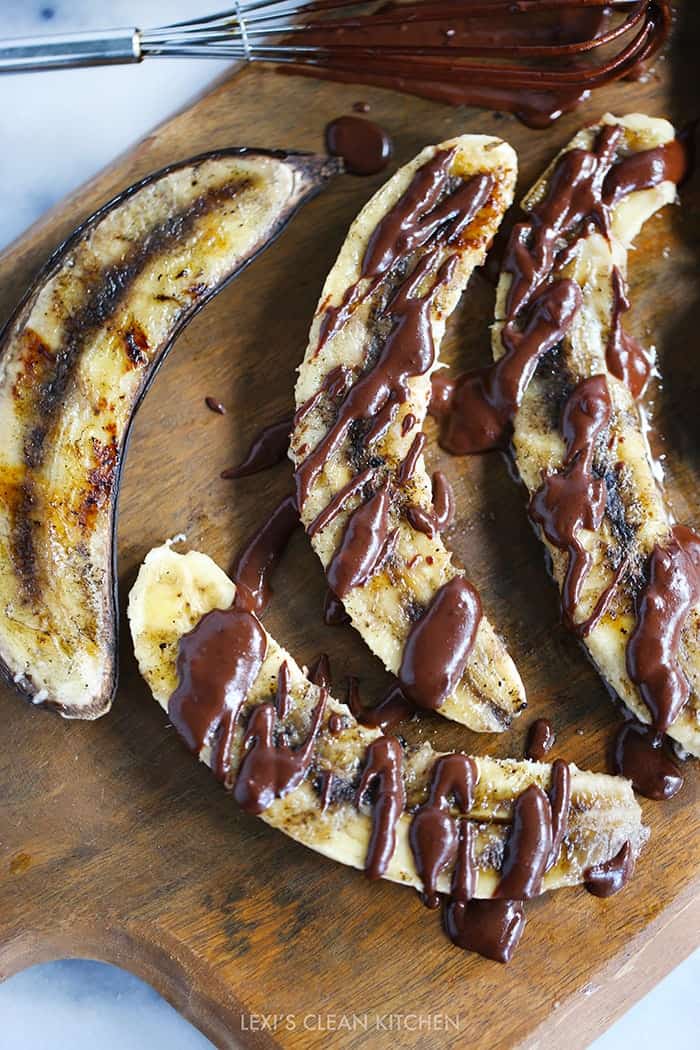 These grilled BBQ short ribs are covered in a smokey dry rub with an optional BBQ sauce slathered on at the end. They're cooked low and slow on the grill for a tender meaty summer dinner and served with a fresh grilled pineapple salsa.
Who says you can't grill salad too?! Try this delicious and summery recipe for Grilled Kale Salad with Lemon Vinaigrette! Topped with peaches, shallots and toasted hazelnuts, you will never go back to regular old kale.
Zesty, light and quick to cook, these shrimp skewers are a grilling favorite. Pair them with grilled veggies or serve over a fresh salad for a crowd-pleasing summertime meal.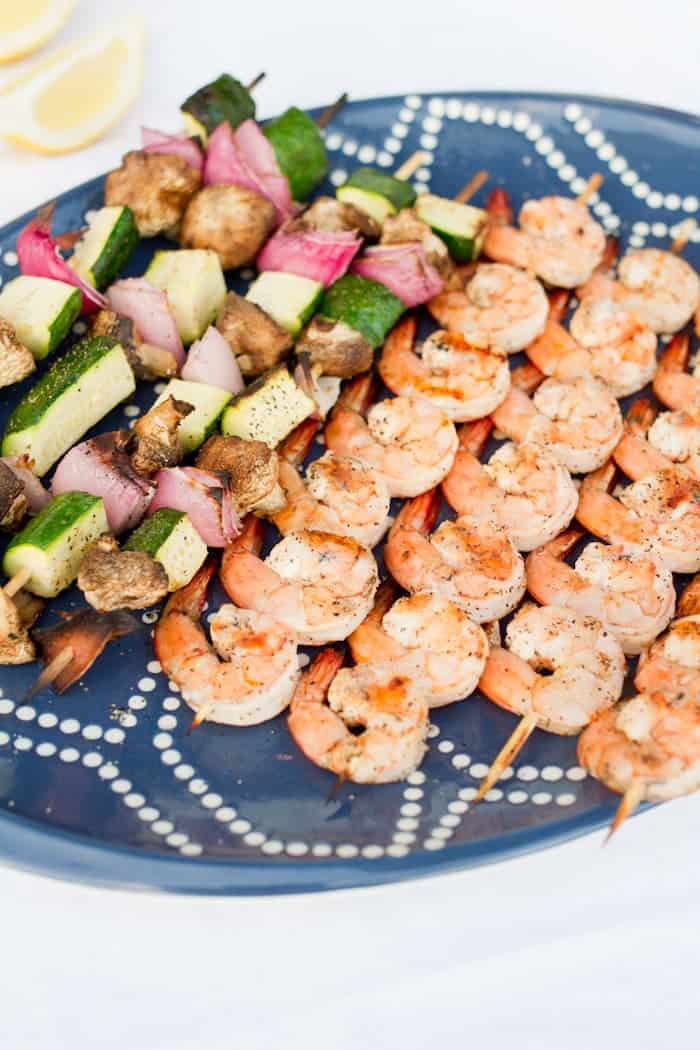 This isn't your traditional cherry crisp! It's easy, paleo-friendly and made on the grill! A fun, smokey-sweet dessert for summer that's made a little healthier!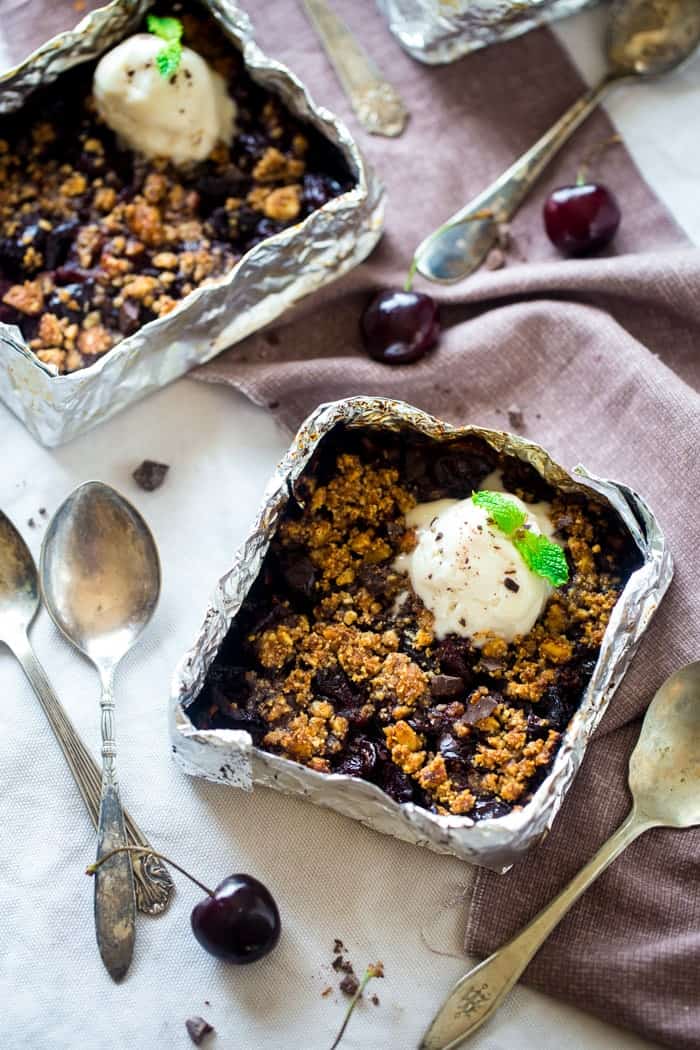 I am of course, super excited about this stuffed chicken recipe because this recipe is a meal in itself. We've got 2 types of meat involved, a vegetable, lots of flavor, and cheese (if you want!).
For this recipe, I highly suggest purchasing a meat tenderizer. I got mine from target for less than $10 and I've used it a few times now! It's a great tool to have and really makes stuffed chicken a lot easier. The reason you need it is because pounding the chicken down to 1/2 inch to an inch will ensure it will cook evenly and makes it easier to stuff and tie off!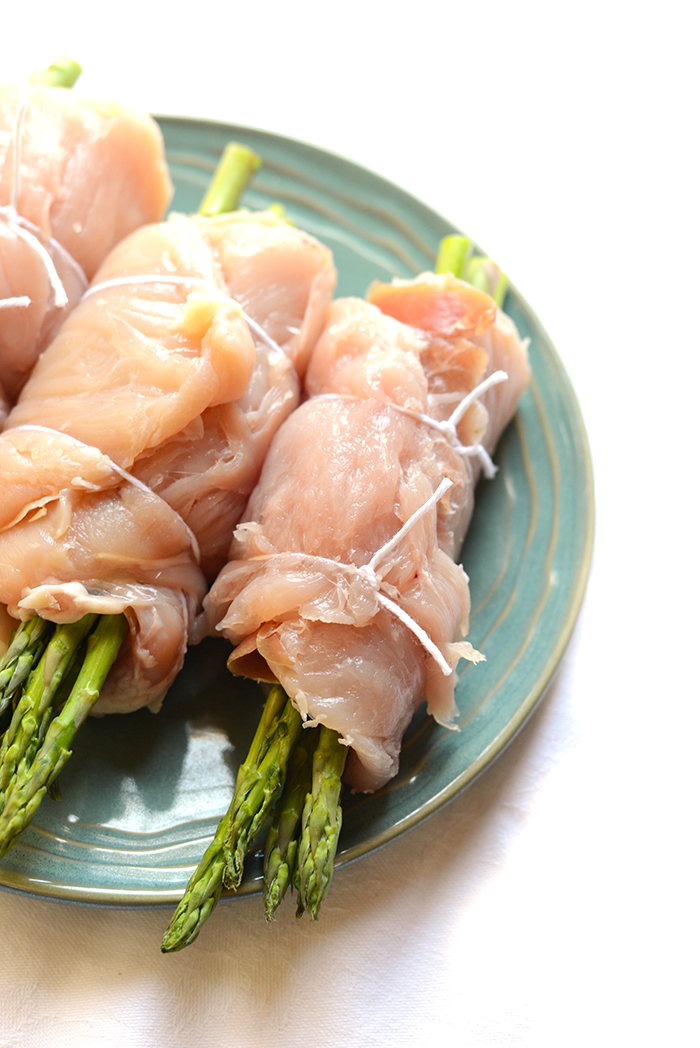 I ended up topping my chicken with a delicious sun dried tomato puree I made by food processing sun dried tomatoes, balsamic vinegar, salt, and EVOO. Easy peasy and so delish. To make things even easier, you can buy  jar of pureed sun dried tomatoes at the store, which is equally as good!
Recipe
Prosciutto Asparagus Stuffed Chicken Breast
Have your meat and veggies too! Make this delicious prosciutto asparagus stuffed chicken breast on the grill for a yummy, summer.
Prep Time:

10 minutes

Cook Time:

16 minutes

Total Time:

26 minutes
Ingredients
3

medium-size organic chicken breasts

6

pieces of Prosciutto, thinly sliced

12

–

15

asparagus stalks

3 tablespoon

s + 3 tablespoons fresh parmesan cheese, grated (divided)
salt and pepper, to taste
~1 teaspoon garlic powder
Instructions
First, preheat grill to 400ºF.
Then, prepare chicken breasts by laying them flat on a cutting board. Then, using a meat tenderizer, pound until the chicken flattens out and is the same thickness all around (~1/2 to 1 inch).
Next, season chicken breast with salt and pepper to taste along with some garlic powder.
Stuff each chicken breast with about 2 slices of Prosciutto, 5 asparagus stalks, and a tablespoon on fresh parmesan cheese.
Then, place chicken on the grill and let cook for about 7-8 minutes on each side before flipping. Flip and cook for another 7-8 minutes or until chicken is completely cooked all the way through.
Top chicken breast with sun dried tomato paste and another tablespoon of grated parmesan cheese.
Nutrition
Serving Size:

1/3

Calories:

262

Sugar:

1

Sodium:

946

Fat:

7

Carbohydrates:

4

Fiber:

1

Protein:

43
Similar