This post is sponsored by Pacific Natural Foods. I was provided product and compensated. All opinions are my own.

One Pot Sundays is back…because it's…Sunday! If your house is anything like mine, meat is almost always a must at dinner (thank you Blake!). I think he is enjoying this series too because I've gotten really crafty with my meaty recipes. What's great, is that he's given me some really good feedback about how these recipes are turning out.
Making pulled pork in your crock pot is the way to do it. It's easier than making oatmeal. Kind of. First you start off by creating a seasoning for your pork. For this recipe I used salt, pepper, paprika, onion powder, garlic powder, and chipotle powder.
Then you rub it all over your 4 pound pork butt (which I got from Target).
Next, you sear both sides for about a minute and then you plop it in your crock pot and…
Pour about 1 cup of Pacific organic chicken broth on top so that it can soak up all the amazing flavor this broth has to offer!
Side Note: Pacific Organic Chicken Broth is everywhere! You can get it from Target, Whole Foods, local co-ops, etc.
Another side note: broth doesn't always have to be JUST for soup :)
I turned my crock pot to high and let it simmer for about 4-5 hours. But turning it to low for 8 hours would work too. Then, I removed the pork from the crock pot and did some shredding action. Drained some of the liquid, put the pork back in the crock pot, added a can of enchilada sauce and let it simmer for about another 15-20 minutes.
Recipe
Pulled Pork Enchilada Tacos
Prep Time:

20 minutes

Cook Time:

8 minutes

Total Time:

28 minutes
Ingredients
-4 pounds pork butt (or roast)
-1/2 teaspoon salt
-1 teaspoon pepper
-1 teaspoon smoked paprika
-1 teaspoon onion powder
-1/2 teaspoon garlic powder
-1t chipotle powder
-2 tablespoons olive oil
-1 cup Pacific Organic Chicken Broth
-1 can enchilada sauce
-1 lime, juiced
-Corn tortillas
-Optional Toppings: cheese, salsa, black beans, brown rice, lime, cilantro, green onions etc.
Instructions
Begin by creating your rub. Mix together salt, pepper, paprika, onion powder, garlic powder, and chipotle powder in a small bowl.
Next, lay your pork butt flat on a cutting board or flat surface and rub the spices into it. Flip over and do it again. You may have some spices left over, this is okay, we will save them for later!
Next, in a large skillet, heat 2 tablespoons of olive oil. Then, sear the pork butt on each side for 1-2 minutes or until golden brown.
Next, transfer pork butt into crock pot and add 1 cup of Pacific Foods chicken broth and the rest of your spices if you have any left. Turn to high and cook for about 3-4 hours. If you are leaving for work, turn the crock-pot to low and cook for 8 hours.
Once the pork is tender, remove from crock pot and use 2 forks to shred the pork (this should be rather easy). Remove some of the liquid if there is a lot in your crock pot. You will want about 1/2 cup – 1 cup of liquid in with the shredded pork.
Place the shredded pork back in the crock pot and add a can of enchilada sauce and give it a stir. Let cook for another 15 – 20 minutes so that the pork can soak up as much flavor as possible!
Serve pork on top of a corn tortilla with green onions, cilantro, salsa, cheese, a squeeze of lime, and anything else you desire!
Similar
Viola, you have pulled pork enchilada meat ready to eat!
I topped mine with cheese, green onion, a little cilantro, and some salsa.
This recipe is also tasty as a lettuce wrap! More meat…less carbs.
 I've never made pulled pork before, so I have to give How Sweet Eats a shout out. Her recipe method was my inspiration.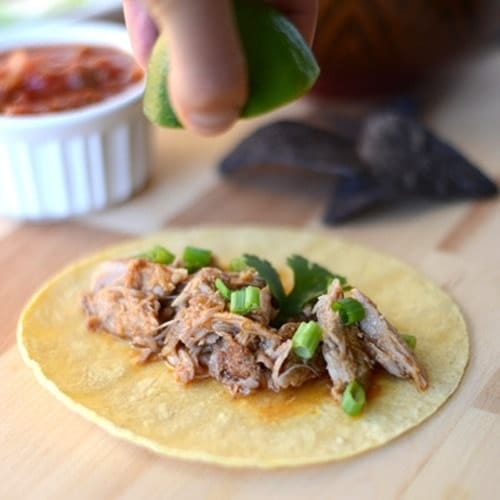 What is awesome about this method of making pulled pork, is that you can season it how every you want. Just make sure you sear both sides, and use a cup of broth while its cooking in the crock pot.
Here's my One Pot Archive…Happy Sunday!