Southern-Style Cheesy Grits made in less than 30 minutes topped with sauteed cajun veggies and a fried egg.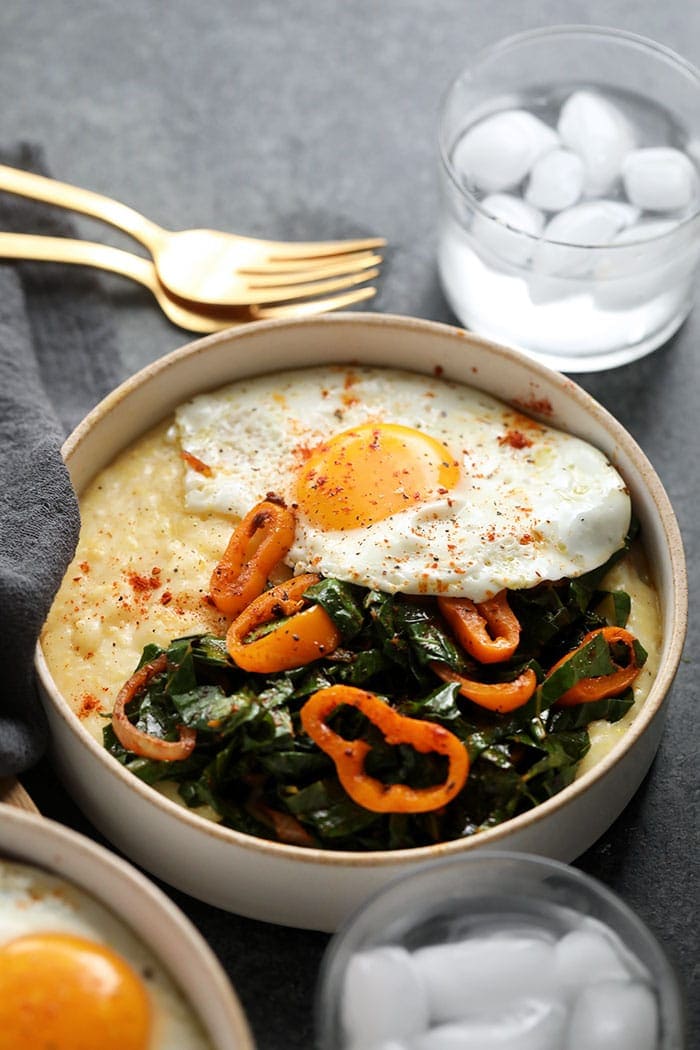 This post is sponsored by Blue Apron. I was compensated and all opinions are my own. Thank you for supporting Fit Foodie Finds.
Do you ever have those days when you just don't know what to make or don't feel like going to the grocery store? Blue Apron basically solves all of your problems with their delivered-fresh recipes that'll make dinner a breeze!
Blue Apron is also a great way to experience new and delicious flavors that you wouldn't otherwise be cooking up in your own kitchen. Here's the DL:
Skip meal planning: let someone else do the meal planning for you and choose between 16 different meals. Check out more sample recipes HERE.
Delivered fresh: all of your ingredients are delivered fresh to your home in a refrigerated box so there is no need to worry about things spoiling.
Perfect portions: food waste no more! Blue Apron sends you the exact amount of food you need to make perfectly portioned meals so that you don't have to throw anything away or have anything leftover.
Serves 2 or 4: you can select meals to serve 2 or 4, which is great for single ladies, couples, and families!
40-minutes or less: all Blue Apron meals are made in under 40 minutes and some are made in only 20.
This Blue Apron meal is veggie-packed with southern inspiration. It combines southern-style cheesy grits with tons of veggies. Plus, there's added protein with an egg on top.
How to Make Cheesy Grits
Grits are such an easy thing to prepare at home it's almost silly I don't eat them more often! All you need are a few staple ingredients and a saucepan to get started.
Ingredients
3/4 cup polenta
4 cups liquid
~1.5 oz cheese
salt and pepper
Instructions: Bring 4 cups of water to a boil. Then, add in polenta and use a whisk to frequently whisk for around 10-12 minutes or until thickened. Once thickened, add cheese, salt, and pepper, and continue to whisk until cheese melts.
Polenta vs. Grits
Ever wonder what grits are made from? The answer is CORN. Now, if you're wondering if polenta and grits are the same thing, then I can answer that right now! Grits are typically made from stoneground white corn or hominy. Polenta is made from yellow corn and is typically ground coarser than grits. So the only real difference is the corn itself.
Since they're so similar, polenta and grits can often be subbed for one another…just like in this recipe!
Veggies + Protein
Once you've got your polenta ready to go, it's time to give your veggies a quick sauté and fry your eggs!
Veggies
garlic
shallot
sweet pepper
collard greens
Sauté veggies in olive oil and use salt, pepper, and cajun seasoning to infuse them with flavor!
Pro tip: make sure not to overcook the collard greens. No one likes soggy greens, plus they have so much flavor with a bit of a bite to them.
Eggs – Any Style
Last but not least, it's time to fry your eggs! We prefer our eggs over-medium, but since this meal is yours, you can cook them however you want! Some suggestions include over-hard, over-easy, or even scrambled!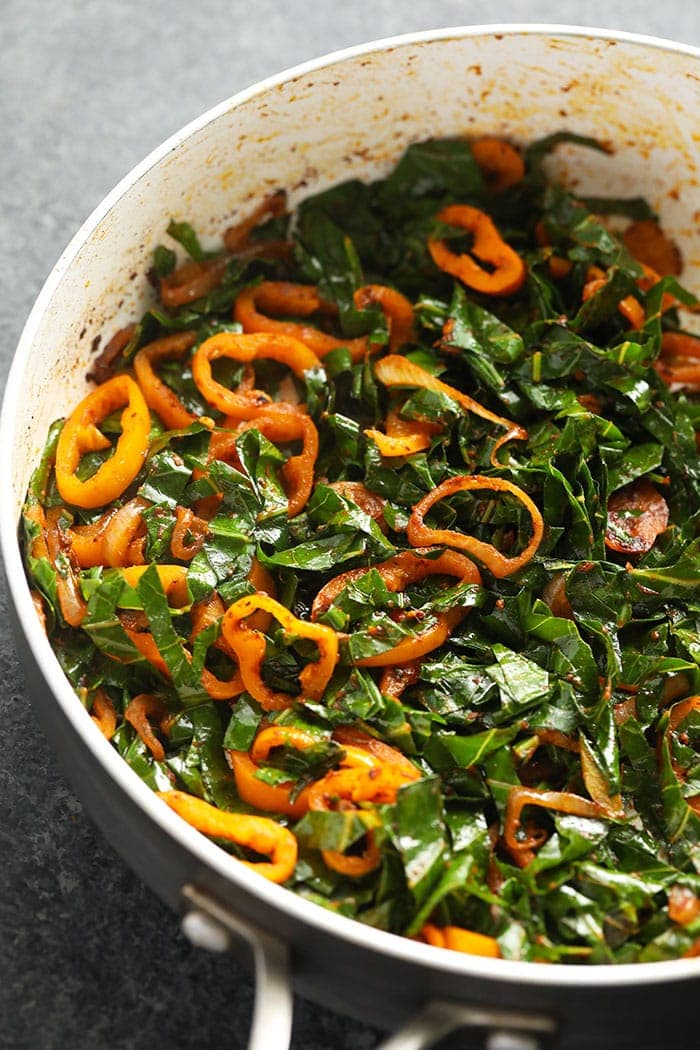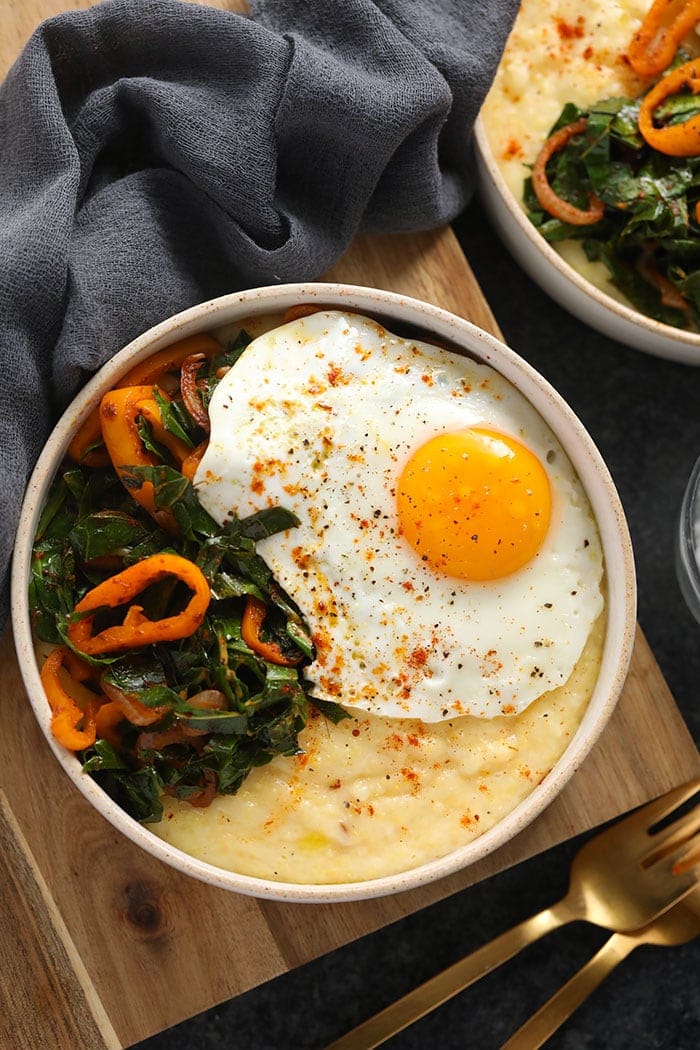 $60 Off Blue Apron
Who loves a deal? ME! Get $60 off your first 3-weeks of Blue Apron using THIS link! This deal is limited to the first 50 that sign up, so hurry up to secure the discount!
More 30-Minute Meals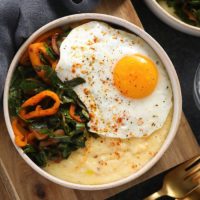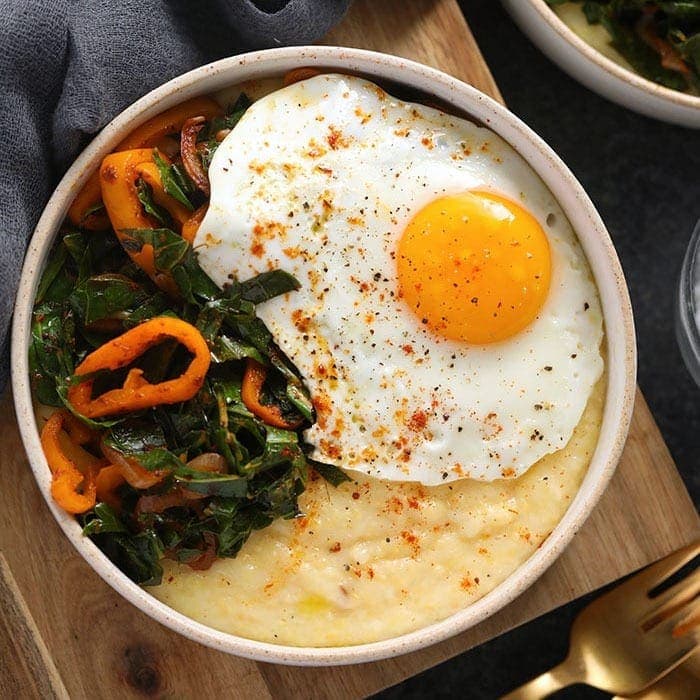 Southern-Style Cheesy Grits
Southern-Style Cheesy Grits made in less than 30 minutes topped with sauteed cajun veggies and a fried egg.
Ingredients
3/4

cup

polenta

4

cups

broth or water

.7 oz. grana padano cheese

3/4

oz.

goat cheese

1

clove

garlic

grated (or more, to taste)

1

tablespoon

olive oil

divided

1

shallot

thinly sliced

4

oz.

sweet peppers

thinly sliced

1

teaspoon

cajun spice blend

or more, to taste

1

bunch collard greens

sliced

2

large eggs

salt and pepper

to taste
Instructions
First, prepare grits. Fill a medium pot with 4 cups of broth/water and add a pinch of salt. Bring to a boil over high heat.

Prep grana padano cheese by grating it with the small side of a box grater and set aside.

Once broth/water is boiling, add polenta to the pot and whisk thoroughly to combine.

Reduce heat to medium and whisk frequently to prevent lumps from forming. Cook for around 10-12 minutes or until the polenta is thickened and the water has been absorbed.

Turn off heat and add goat cheese crumbles, half of the grated grana padano cheese, and grated garlic clove and whisk until combined and the cheese is melted.

Give the grits a taste and season with salt and pepper, as desired.

Next, cook the vegetables. Heat 1 to 2 teaspoons of olive oil in a medium pan over medium/high heat.

Once fragrant add sliced shallot and peppers. Season with salt, pepper, and 1 teaspoon of cajun spice blend.

Saute for 2 to 3 minutes, stirring occasionally or until slightly softened.

Next, add sliced collard greens. Saute for an additional 2 to 3 minutes, or until the collard greens are wilted and the liquid has cooked off.

Transfer veggies to a bowl and cover with foil to keep them warm.

Last, fry eggs. In the same pan, heat 1 teaspoon of olive oil over medium/high heat.

Once olive oil is fragrant, crack the eggs into the pan, keeping them separate. Season with salt and pepper, to taste.

Cook eggs for 4 to 5 minutes, or until the whites are set and the yolks are cooked to your desired degree of doneness.

Serve the cheesy grits topped with cooked vegetables and fried eggs. Option to season it with more cajun seasoning and the rest of the grated grana padano cheese.
Nutrition facts
Calories:
490
kcal
Carbohydrates:
69
g
Protein:
23
g
Fat:
16
g
Fiber:
9
g
Sugar:
6
g