Got a yam? Make these paleo spiralized hash browns flavored with garlic and Sriracha for a flavorful and filling breakfast paired with baked eggs!
I'm not going to lie. I have a love/hate relationship going on right now with my spiralizer. You see- after I made these delicious hash browns, I was cleaning the spiralizer in the sink and ended up getting up close and personal with the blade. There was a lot of blood and a trip to the ER. The docs ended up using glue to hold it together. It was too deep for a bandaid and not long/deep enough for stitches.
It didn't really hurt that bad when it happened but it was one of those days where I was super hormonal and stressed so I literally sat at my kitchen table and bawled for 30 minutes. I was suppose to teach in 2 hours, the kitchen was a mess, and I had laundry to fold. All things I couldn't do with a thumb split in half.
I called Blake like 19 times and then texted him- going to Emergency Room. I just needed a hug. Clearly the situation wasn't as bad as I made it out to be, I acted a little bit dramatic. Long story longer- the situation really opened up my eyes that I need to SLOWWWWW down. I've got a lot going on with FFF, SU, and a new project launching in a few weeks AND a last minute cruise that I went on last week.
Anywho :D This post was suppose to be about how amazing spiralizers are. Because they really are! You can make so much cool stuff with them. If you keep reading below you will see 5 more recipes fro my bloggin' besties and then the recipe for this guy at the bottom! Thanks for being my sounding board and for letting me whine on the internet.
Speaking of amazing spiralizers. My girl Ali from Inspiralized just launched her very own spiralizer. I can't wait to get my hands on one of them. Hopefully it's a bit safer than the one I own now :P

Homemade Vietnamese Pho soup that's been healthified with zoodles and packed-full of veggies. Don't be intimidated, this Healthy Chicken Pho with Zucchini Noodles is a lot easier than you think!
This pad thai is completely grain-free (using spiralized carrots and sweet potatoes), completely nut-free (using sunflower butter), and completely over-the-top delish! You'll want to lick the bowl when you're done!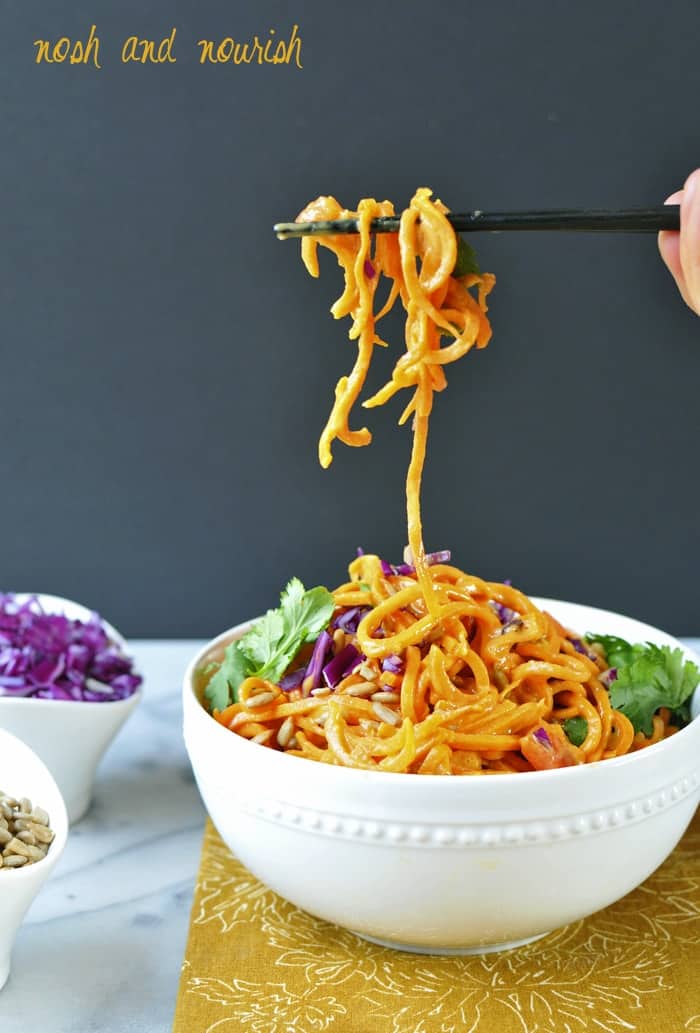 This orange beef stir fry is served over sweet potato noodles for a healthy, Paleo-friendly meal that is quick, easy and perfect for a weeknight!   You won't even miss the take-out!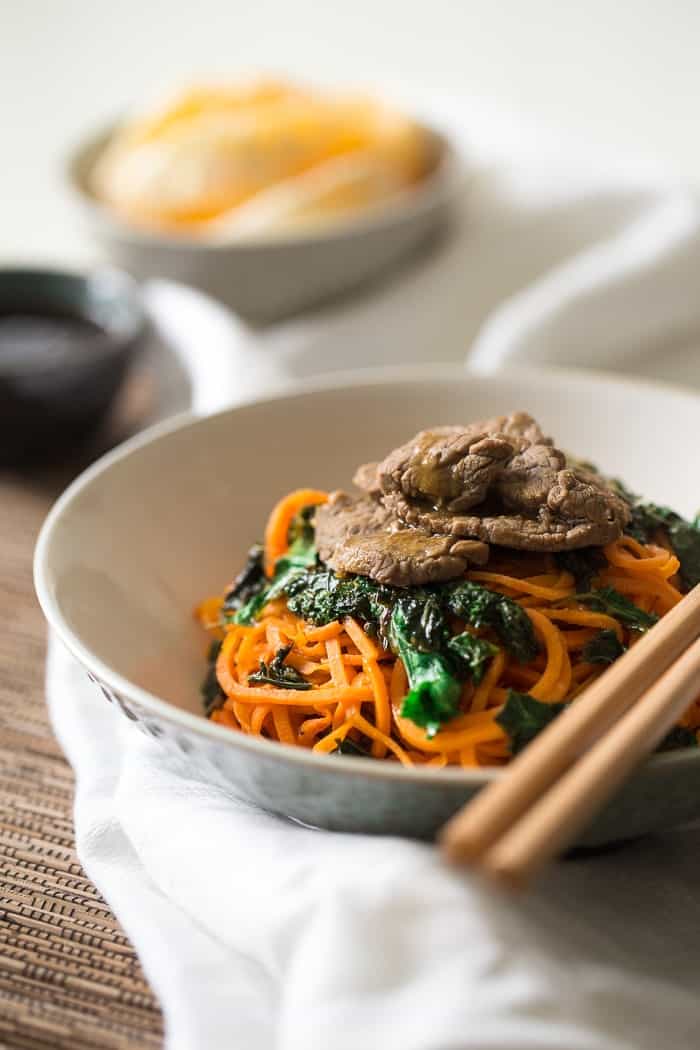 A dairy-free creamy vodka sauce loaded with crispy prosciutto, shallots, basil, and garlic over zucchini linguine will quickly become a staple in your house! The perfect pasta alternative of your favorite classic dish; guilt-free!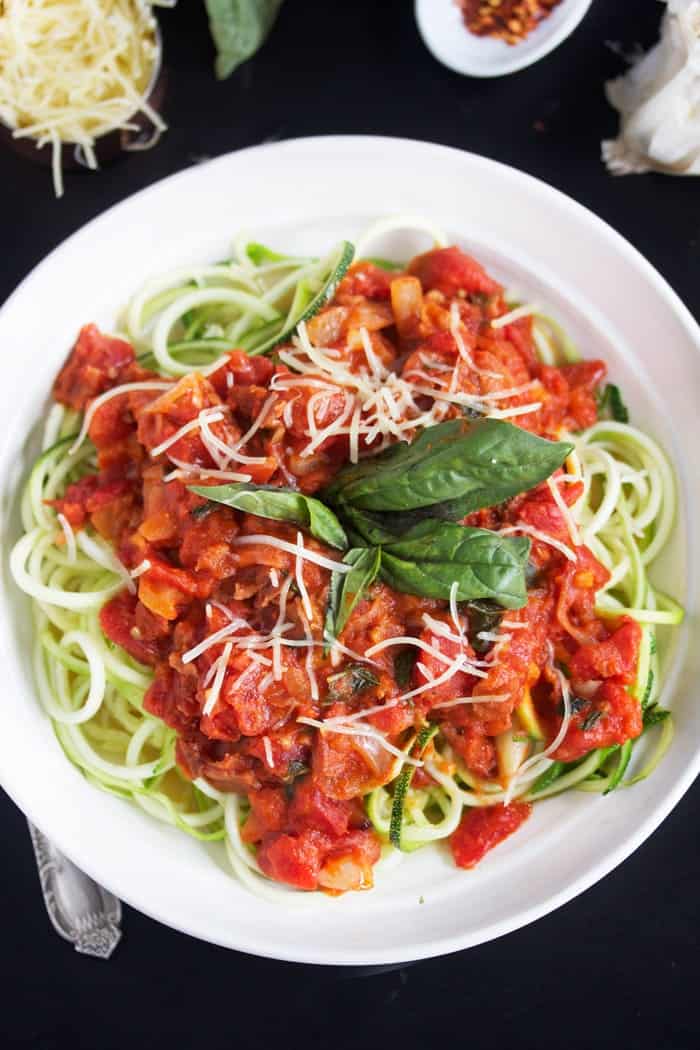 Take your tastebuds on a trip to the Caribbean with sweet and spicy jerk shrimp served over a crispy bed of spiralized plantains sautéed in coconut oil.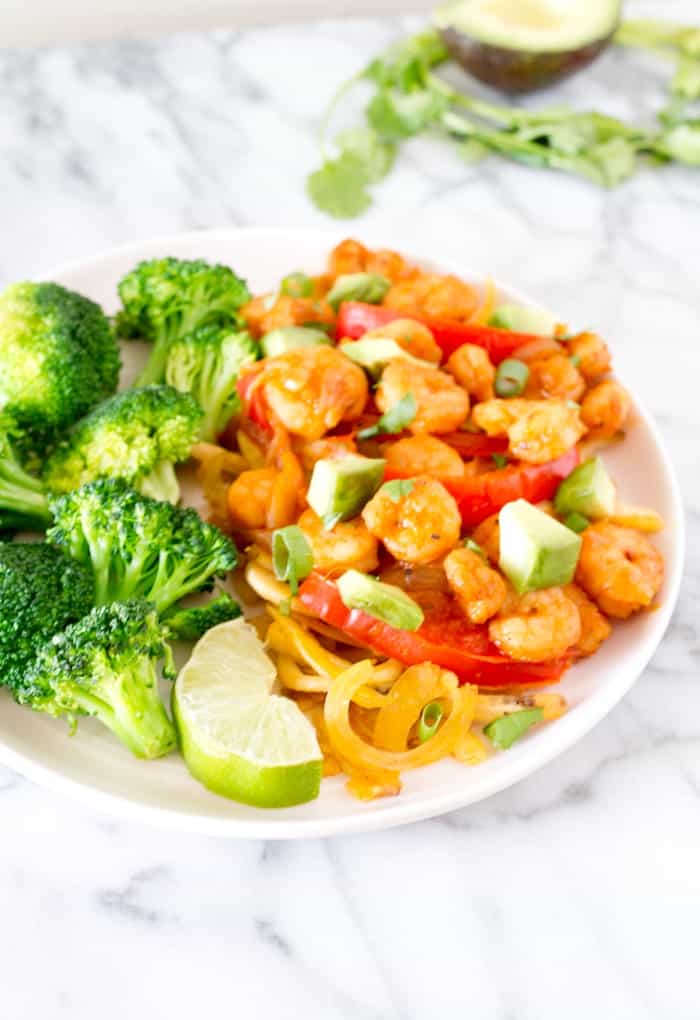 Are you hungry yet?
Yah…me too.
Spiralized hash browns are one of Blake and my favorite breakfasts! I swear, every time I spiralize I feel like I'm doing magic tricks. Until I spiralize my finger.
Too son?
Feel free to use this recipe with any kind of potato. I loved using a yam because the sweetness compliments the spice from the sriracha!
Recipe
Spiralized Garlic Sriracha Hash Browns with Baked Eggs
Got a yam? Make these paleo spiralized hash browns flavored with garlic and Sriracha for a flavorful and filling breakfast paired with baked eggs!
Prep Time:

5 hours

Cook Time:

15 hours

Total Time:

20 hours
Ingredients
1 tablespoon

EVOO

1

–

2

tablespoons minced garlic

1

large yam, peeled and spiralized
salt and pepper to taste
~2 teaspoons of sriracha OR MORE (to taste)
Instructions
First, begin by peeling your yam and sprializing it with the smallest blade. Watch this tutorial from Inspiralized.
Next, using a scissors, cut the the yam pieces a few times, so that it's easier to eat.
In a large sauce pan, heat 1 tablespoon of garlic and 1-2 tablespoons of minced garlic to medium heat. Then, add in spiralized yam, sriracha, and salt and pepper. Sautee for 5-10 minutes, continually stirring the yam. Once the yam is cooked all the way through, let cook over heat for 1-2 minutes on each side and press down with a spatula to brown it.
Serve with baked eggs.
Notes
Nutrition facts are when using 2 eggs
Nutrition
Serving Size:

1/2

Calories:

223

Sugar:

1

Sodium:

258

Fat:

12

Carbohydrates:

22

Fiber:

3

Protein:

8
Similar
In case you are wondering, here's the exact spiralizer I own. $33 well spent (unless you end up going to the emergency room…just sayin').