Happy Thursday, my friends! I woke up yesterday morning and it was 45 degrees outside. WHAT IS THIS? I am not ready for Fall. Well, I kind of am…but I have a mental date that fall starts October 1st…also the first day it's acceptable to drink a PSL, if you're one of those 😛 I've actually never had one myself. I'm a year round classic HOT latte kind of girl.
Speaking of lattes and coffee, EUROPE DOES COFFEE LIKE A BOSS. I think I dragged Mark into every coffee shop we walked passed. Rightfully so…they actually have proper sized coffees over there. For example a small is more like a 4 oz. and a medium is an 8 oz. Here I feel like when you order a medium, you get 16 fl. oz. Anyways, I'm sure if you follow FitFoodieFinds on Snapchat, you saw the amount of coffee we drank. Thanks to Verizon's Travel Pass, I was about to send REAL TIME Snaps and Instagrams, while I was abroad. More importantly, we didn't get stranded in the middle of Iceland because we had access to GPS.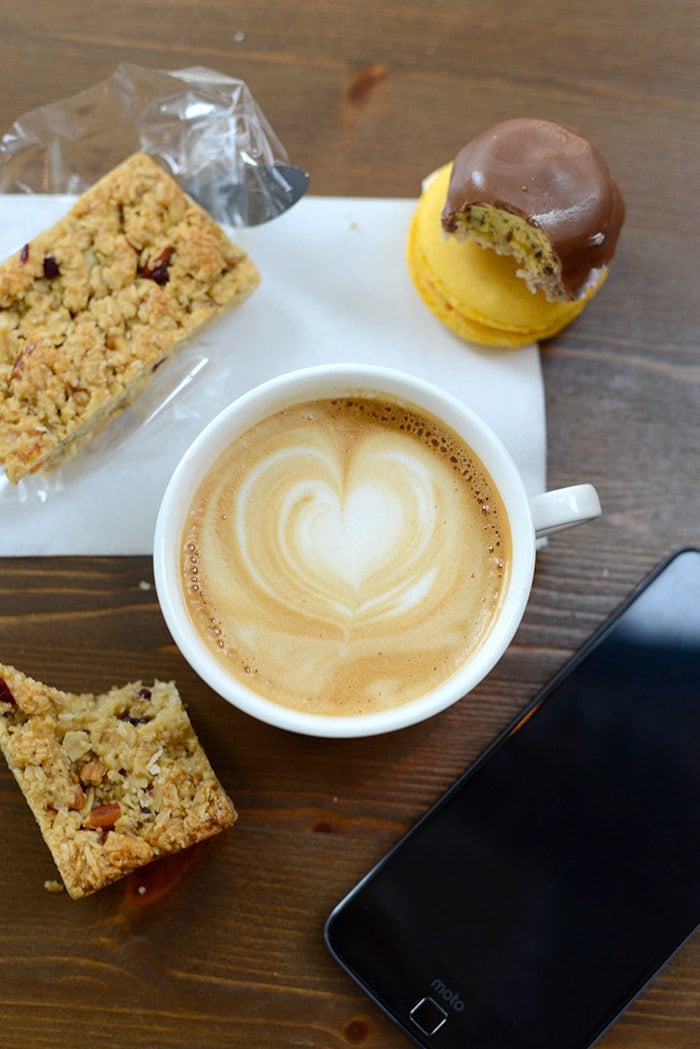 I was very grateful to parter with Verizon and their Travel Pass feature while I was abroad for 16 days! I used a MotoZ Android Smartphone and it was awesome! I mentioned GPS above and that is one thing in my every day life that I have come to rely so much on, especially when I'm in another country and don't know my way around. It was extremely helpful in Iceland and Copenhagen to have a data plan because we didn't have our own personal tour guide telling us where to go and how to get there. It was so great to have access to Yelp and reviews on what restaurants to eat at on the fly, to stay connected on social media in real time, and have a hotspot available to check my email on my laptop when needed! I couldn't image traveling without access to any of that #millennial #sorrynotsorry
If you are traveling abroad any time soon I HIGHLY RECOMMENDED tacking on a travel pass to your plan to stay connected. Prices are super reasonable and there's multiple options to choose from! Check out more information below:
Verizon Travel Pass
When traveling abroad, the TravelPass is a simple and convenient way to stay in touch with friends & family
Those who rely on their mobile devices while traveling internationally can use their phones just as they would in the U.S. – no need to worry about roaming charges or hidden fees.
Available in more than 100 countries, TravelPass lets you use your existing voice and data plan outside of the U.S. for as little as $2 per day, per line to talk, text, surf the web and more.
———————————————-
MotoZ Yoga Sculpt Event
When I got back from Europe, I was super excited that I had the opportunity to share my experience from across the pond and share how much I appreciated having the MotoZ and Travel Pass along for the ride at a killer event that I planned with Verizon. Verizon invited me to host a workout event at one of their AMAZING flagship stores at the Mall of America. (Side-note about the flagship store….it's an interactive store where you can test out all of Verizon's awesome new products. I could seriously spend a whole day in that place). Anyway, in the process of planning for the event I decided it would be way more fun to partner with the amazing Lindsey Bomgren from Nourish Move Love to co-teach the workout with me. She makes everything more fun.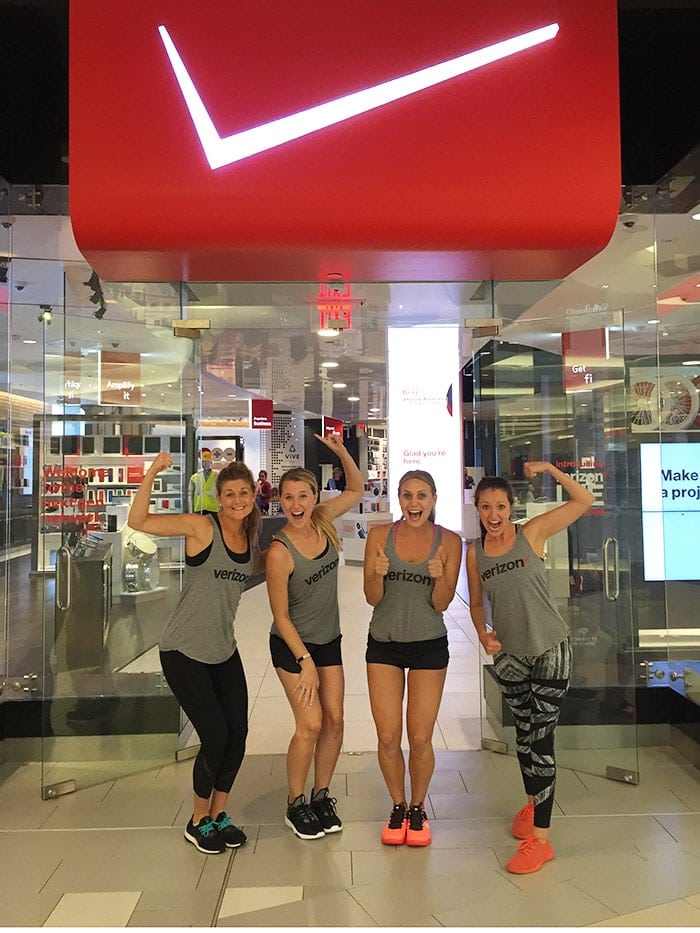 We invited all of our Minneapolis people to come hang out with us at Verizon for a sweaty Yoga Sculpt Circuit Workout. We had over 35 people in the store just killin' it. The workout was a 45-minute Yoga Sculpt Circuit and it wasn't easy. Linds and I both love timed workouts that work your whole body and that's just what we did. It mixed yoga, strength training, and cardio all into one circuit. We wanted people to come to the event and get a GREAT workout and I think we nailed it. If you want to try out the workout for yourself, head over to Nourish Move Love's post today where she is sharing the whole circuit!
After the workout, Verizon provided tasty snacks and some awesome PRIZES. This wasn't your everyday meat-raffle, people (even though I love meat raffles). Everyone that came to their event was eligible to win! A Lululemon yoga mat, multiple Fit Bits, a Garmin watch, and a Lulu back pack were just some of the items that Verizon provided for the raffle. THANK YOU to everyone who participated in the event. It was only a success because we had such amazing people to sweat with. You are all truly amazing. Keep your eyes open for more events coming to the Minneapolis area!

If you went to the event…head on over to FFF's Facebook page. We uploaded a ton of pics. Tag yourself 😀
Also, here is the stellar playlist that we grooved to for the workout!
This post was sponsored by Verizon Wireless. I was compensated and all opinions are my own. Thank you for supporting Fit Foodie Finds and making this website possible!