Hiyah friends! It's been such a long time since I shared a Stitch Fix! I still get a monthly shipment and lately it's been very hit or miss with the items that I receive. Why do I keep doing SF if it doesn't hit a home run every time? BECAUSE I LOVE MAIL and I love trying clothes that I wouldn't necessarily pick out for myself. While I LOVE shopping, sometimes I find it rather difficult. We've all got different bodies and different pieces look so different on each of us and I feel like Stitch Fix opens up my mind to different kinds of clothing and styles. Plus- it's wedding season and you can never have too many wedding dresses!
This month I was pleasantly surprised with my box. SF recently introduced shoes and so far I've received 3 fixes with shoes in them. This month I was sent some Steve Maddens, which I decided not to keep…however I think it's awesome that they are sending out well-known, designer brands.
Primrose Skinny Jean – $99.00 (KEEPER)
Jeans are by far the hardest item of clothing for me to shop for. Why? Because I have a smallerish waste and bigger thighs. This means that I often have to go up in size for my legs, but then it's too big in the waste band. I've found that the best kind of skinny jean for my body type is a mid-rise jegging.  These were AWESOME. I love jeggings because I don't feel so restricted (I could even do a squat if I wanted :P). Defs keeping these.
Evangelista Snap Back Chambray Top – $58.00 (RETURN)
I am ALL about chambray tops and Canadian tuxedos :P I loved the fabric of this top and the color, however because of my booby issue (hello DDs), this neckline doesn't work for me. I do have to say…the back of this tank is super adorable and would look great with some high-wasted leggings.

Sharin Beaded Sandal – $80.00 (RETURN)
These sandals are right up my ally, but they fit kind of weird and felt a little cheap…especially for $80. Plus- it's August and unfortunately sandals will be phasing out of my Minnesota wardrobe quite soon.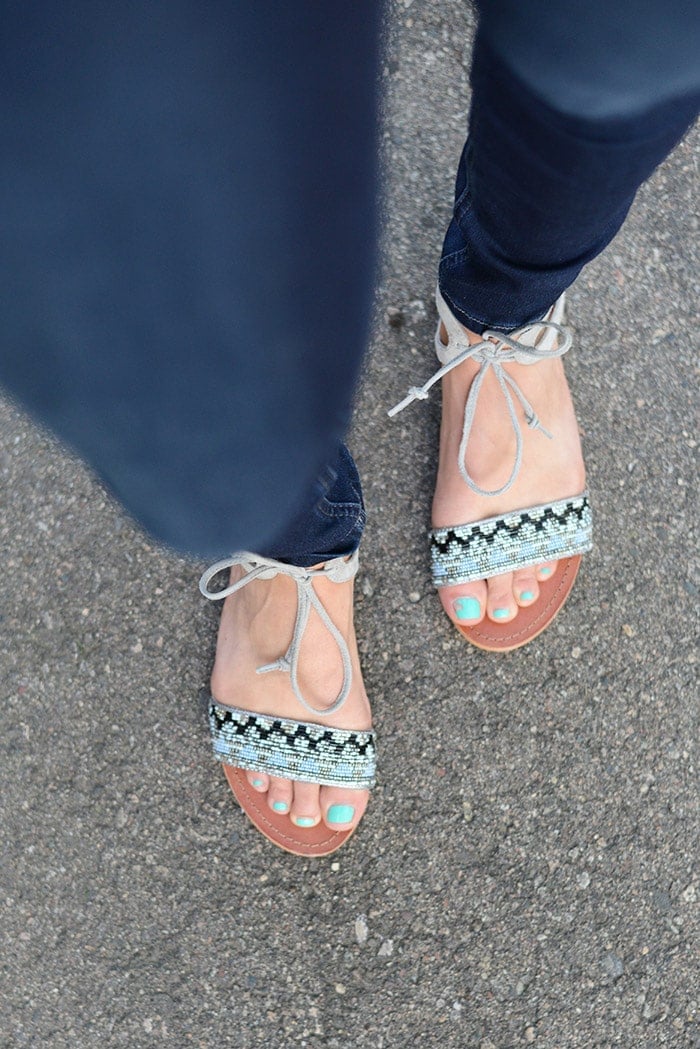 Kano Textured Knit Dress – $78.00 (KEEPER)
I held up this dress and instantly said NOPE. Thennnn I put it on and completely changed my mind! This dress is super classy and I CAN WEAR A SPORTS BRA WITH IT. I've talked about this before, but sports bras are all I wear and finding a dress that allows me to do so is AMAZING. The wedge sandals that I'm wearing with this dress are actually from my previous fix. I can't remember what they are called!

Elissa French Terry Moto Jacket – $78.00 (RETURN)
This sweater jacket is pretty cute, but just not my style. It felt really well made and seems to be a versitile item that can be dressed up or down. I am pretty particular when it comes to jackets because I have a long torso. This guy seemed a little bit short for my frame!
What are your thoughts on what I kept and returned from my fix?
Never done Stitch Fix? I highly recommend it! Check them out HERE to learn more about what it's all about.