Did you know that when peaches and strawberries are baked together…they turn purple?
Who would'a thunk it?
Not this girl!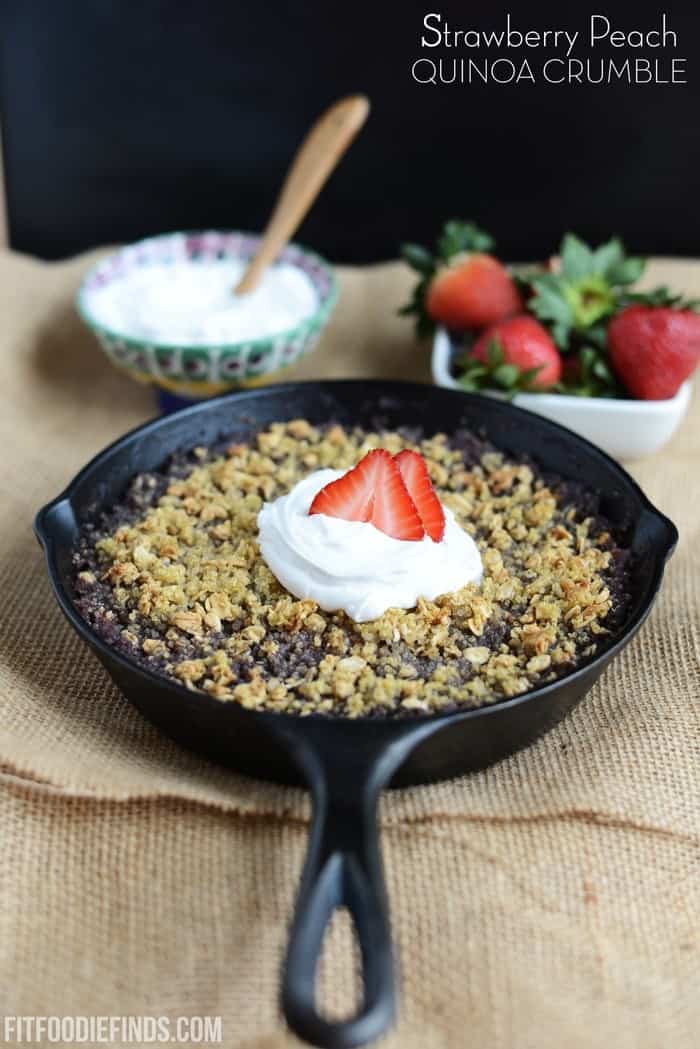 I spent most of my day yesterday working on the ebook. Blake is taking summer courses for grad school (MBA), so our weekends are very low key. He has to write a 12 page paper…and it was raining, okay! I had a last minute change of heart in the design I was working on. I had originally had my mind set on a horizontal layout (11 x 8.5), but then I started designing covers…and this happened.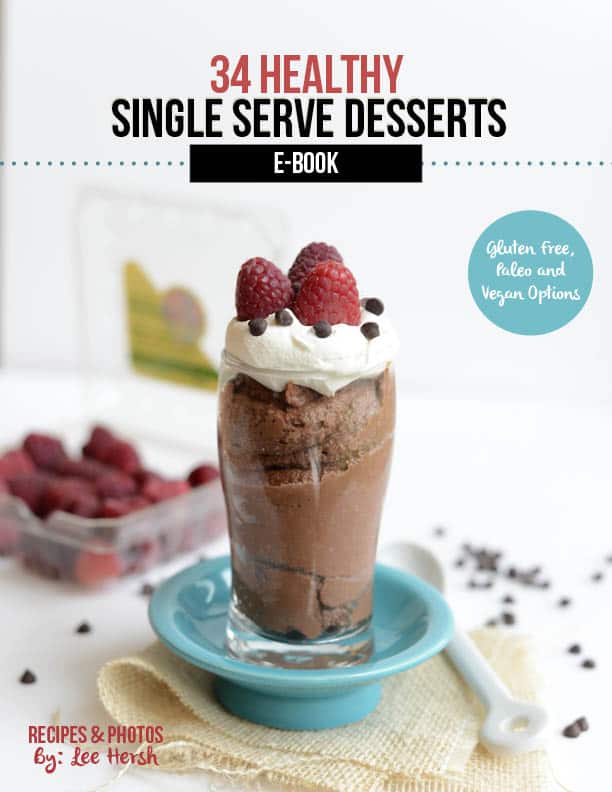 This still isn't the final final, but I LOVE the color story and the amount of white space this photo has. I keep my fonts pretty consistent on the blog, so I tried to take those into the book for continuity.
If you have a design eye. I'd LOVE your feedback on…
Font choices
Font color choices
Font placing
Anything else you have an opinion on!
Do you ever get in one of those modes WHERE YOU JUST CAN'T STOP. Like I am so excited to be in the home stretch of designing this e-book that I could literally stay up all night and do it. #obsessive
Okay, back to this delicious DESSERT.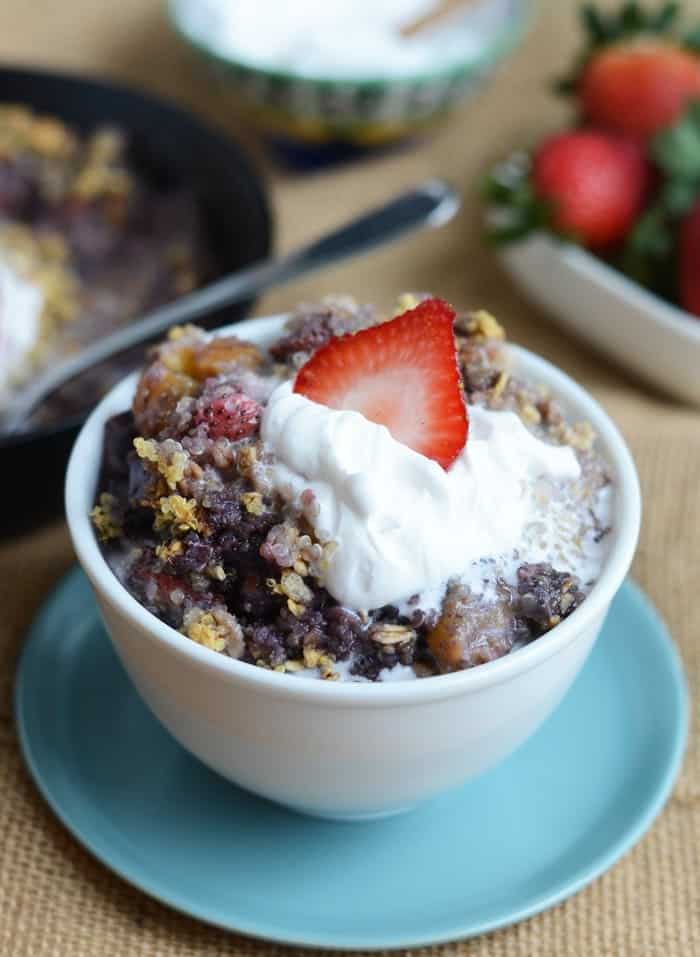 All you need are 8 ingredients. It's gluten free. Seasonally tasteful. And healthy enough to eat for breakfast! LEGITIMATELY.
The innards are a mixture of fresh strawberries and peaches mixed with maple syrup, orange juice, and a few tablespoons of almond meal for texture.
On top- I mixed together some leftover quinoa from the night before and some Bob's Red Mill Gluten Free Granola. Very basic. Very very basic.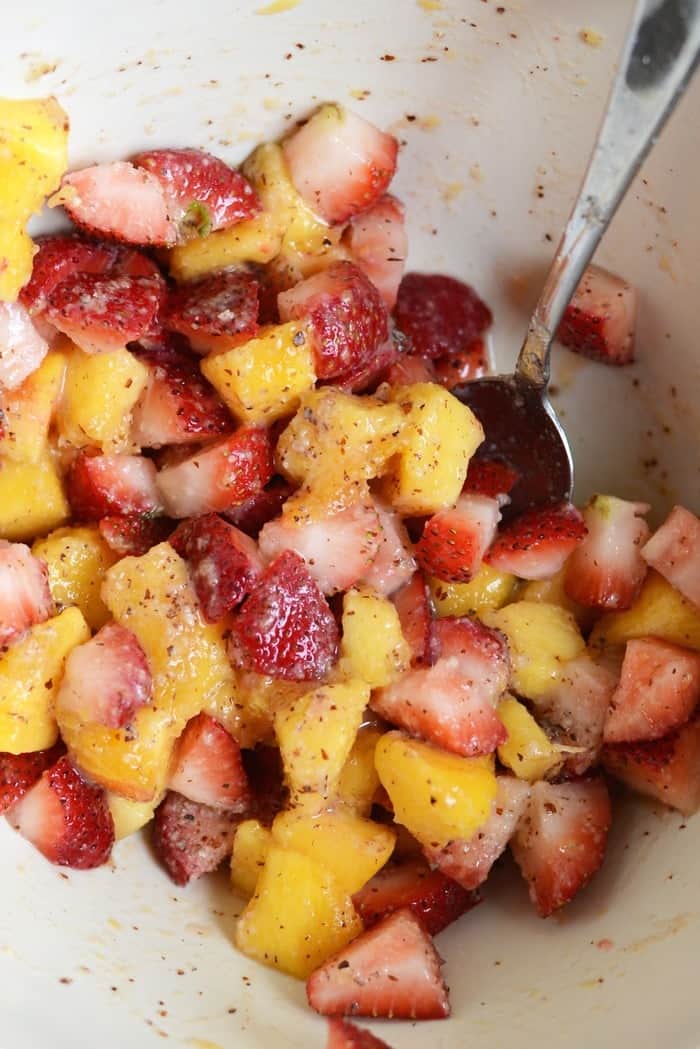 I finished this bad boy off with some coconut whipped cream…but you could totes go straight up ice cream. I would if I had any…but I try and keep that out of the house or I would probably turn into the ice cream man himself.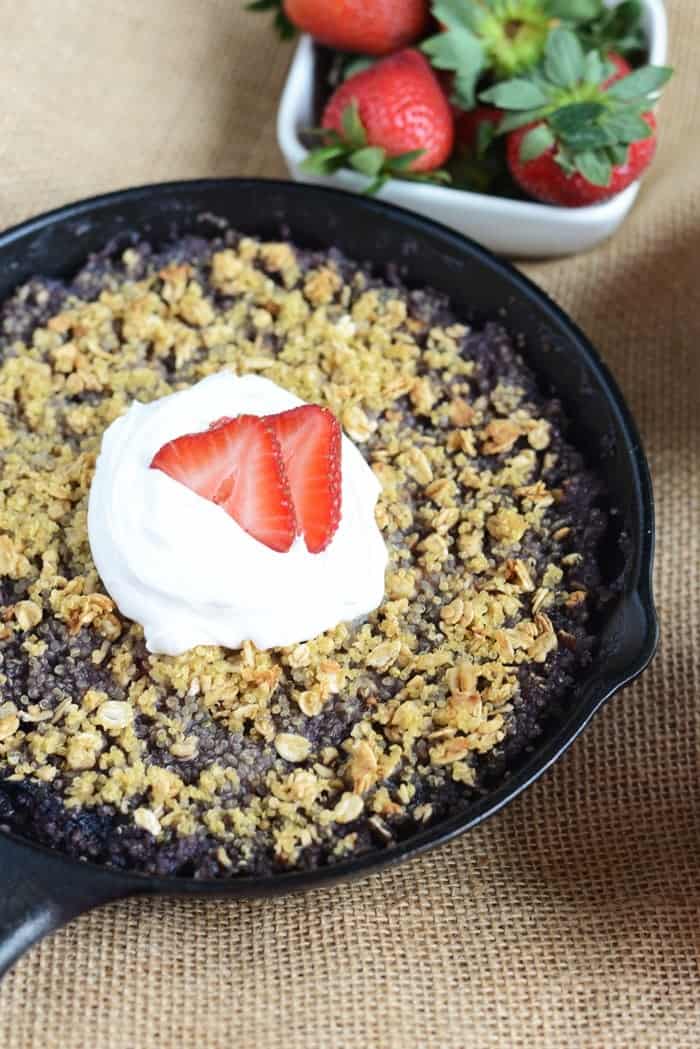 I still can't get over the color that was made when the two fruits roasted in the oven and mixed together. #baffled
Unless I bought magical fruit, in that case…SWEET!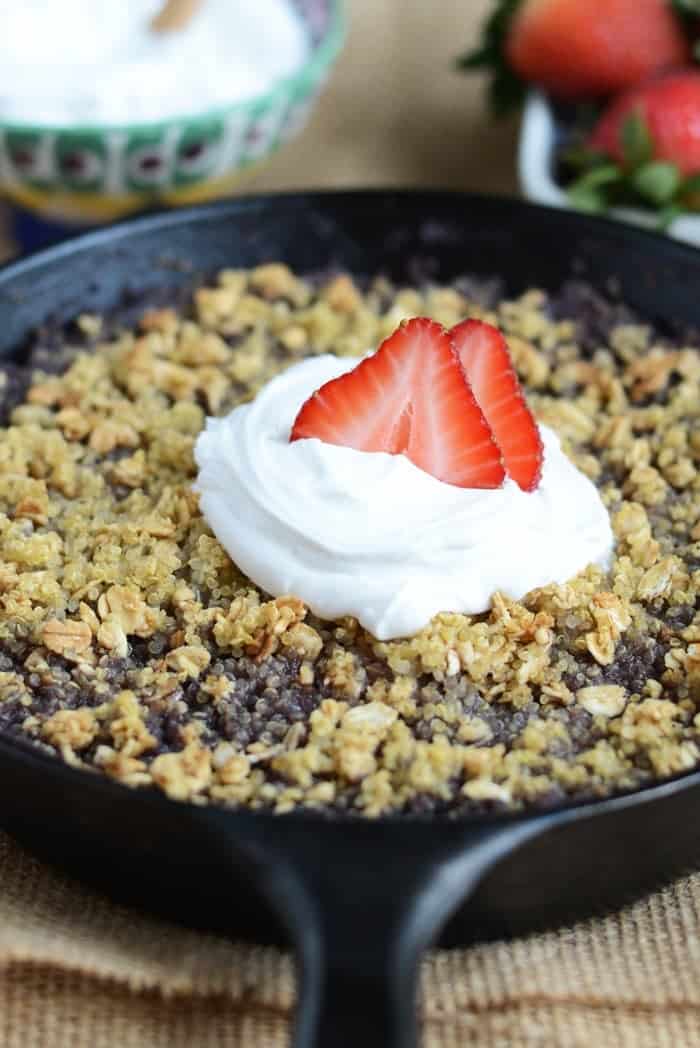 Recipe
Strawberry Peach Quinoa Crumble with Coconut Whipped Cream
Nutritional Information (sans coconut whipped cream) 329 calories | 68g carbs | 7g fat | 10g protein | 22g sugar
Prep Time:

15 minutes

Cook Time:

30 minutes

Total Time:

45 minutes
Ingredients
3

large peaches

2 cup

s strawberries (or

one

carton)

2 Tablespoon

s almond meal

1 Tablespoon

maple syrup

1 Tablespoon

orange juice

1 cup

quinoa, cooked

1/2 cup

gluten free/vegan granola OR Rolled Oats

one

can coconut cream (Trader Joe's Brand), chilled for 2 hours
Instructions
First, preheat oven to 350F. Then, grease a medium size cast iron pan (or normal medium size frying pan with NO rubber) with coconut oil. Set aside.
Next, dice peaches and strawberries into one inch cubes. Place in a medium size bowl. Add almond meal, maple syrup, and orange juice, and mix.
Transfer into cast iron pan.
Bake at 350 for 15 minutes.
While the fruit is baking, mix together about 1 cup of cooked quinoa and 1/2 cup of your favorite granola. Spread evenly over fruit.
Place back in oven for 15 more minutes or until the fruit begins to bubble.
While the crumble cools off a bit. Pour chilled coconut cream in a large bowl. Mix with a hand mixer for 30 seconds to 1 minute or until fluffy. Feel free to add a tablespoon of sweetener or a few drops of liquid stevia if preferred.
Similar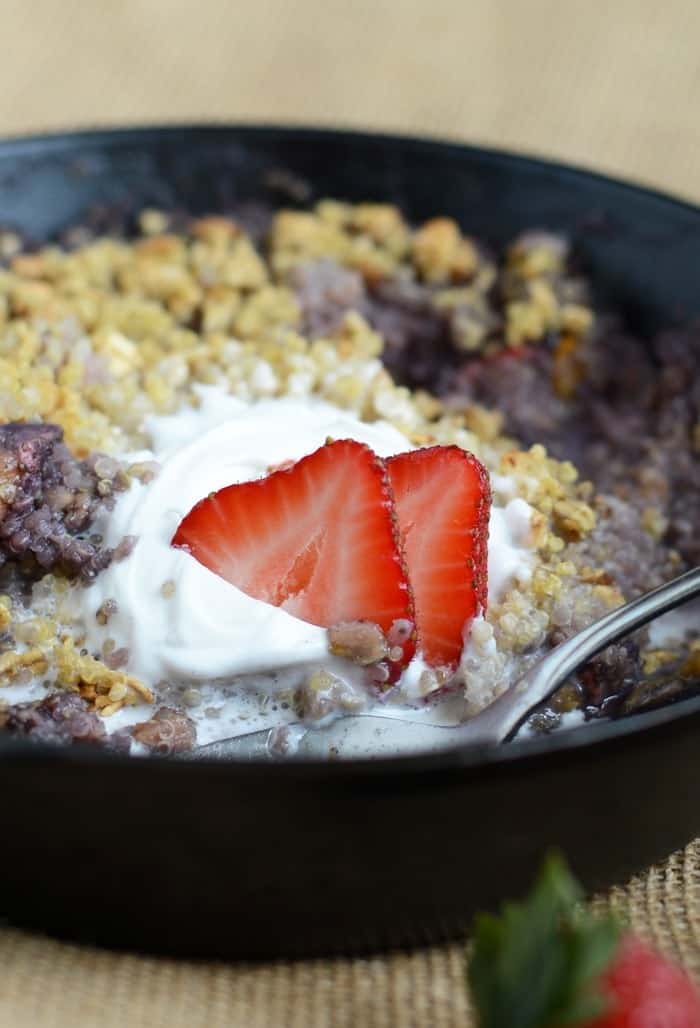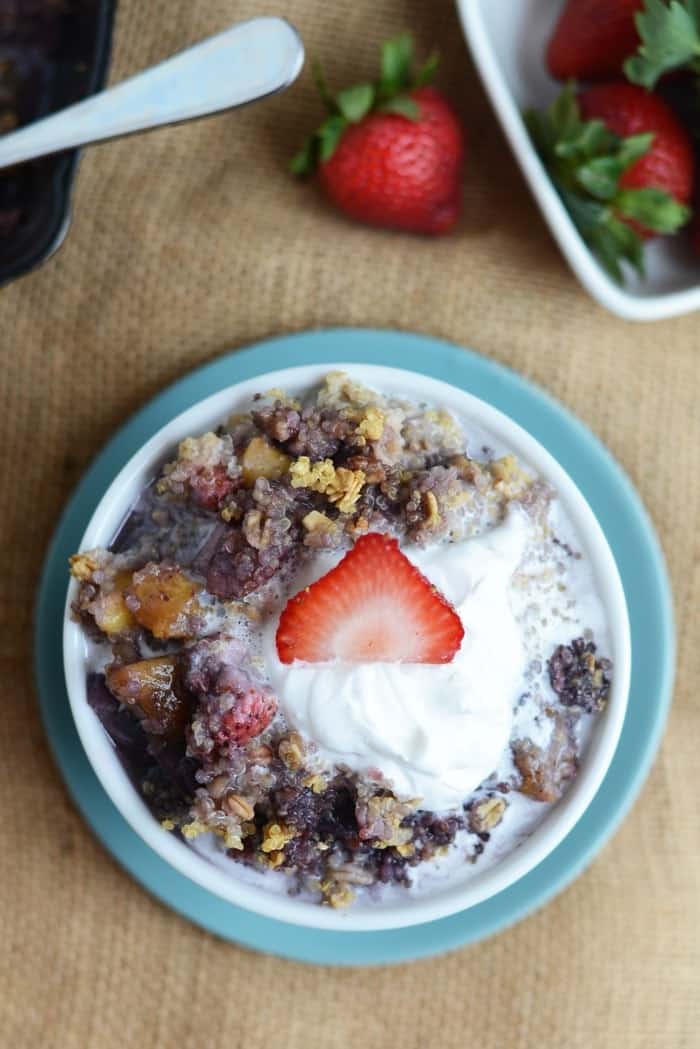 Feedback on the cover? CHIME IN!
Seasonal summer fruits- what's your fav?