Hidey ho neighbor! Guess what I'm super excited about? A new FFF series called Style Friday! I can't believe it's taken me 6.5 years to start a series like this, but better late than never. These post will be dedicated to all things style, whether it's related to my wardrobe or home! This one specifically is all about jeans that I'm loving lately for Spring.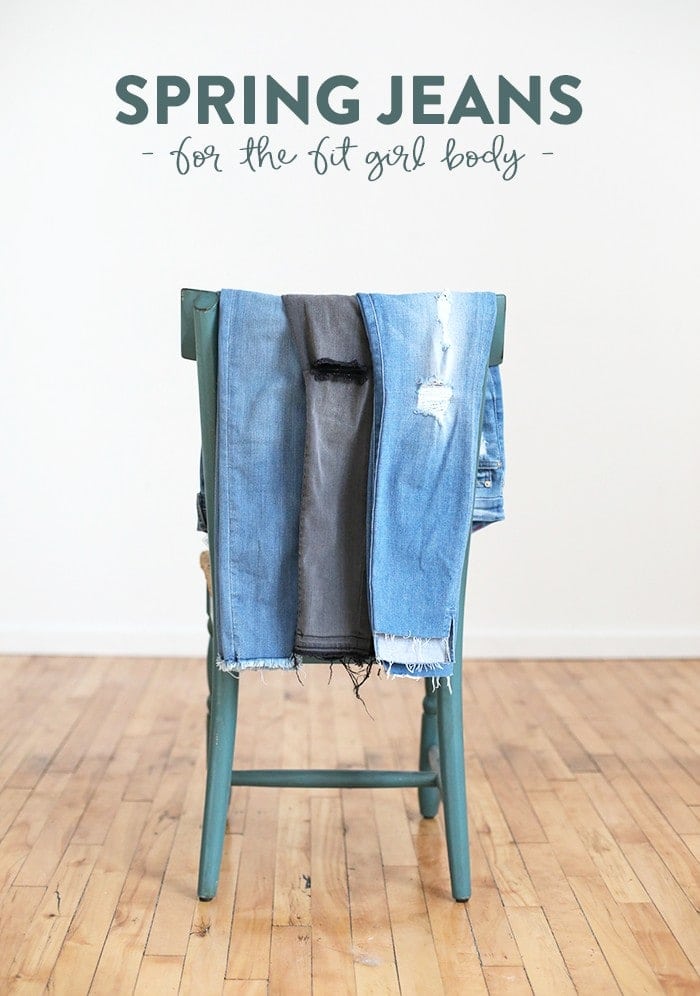 I recently went through my closet and donated a whole load of stuff. My rule of thumb was that if it hadn't been worn in a year, adios! I pretty much tossed all of my jeans unless they were a mid or high-rise fit. Why in the world were low cut jean ever even a thing? Higher rise jeans are amazing for women with an athletic build. As you know I've got myself an @$$ and thighs, so finding jeans has proven to be a major struggle fest. I'm typically a 27 in the waist, but have to go up to a 28 for the thigh/butt region. I feel like mid and high-rise jeans solve this problem. Praise 2K17 fashion trends! I've been buying a 27 all around and they actually fit in my waist and through the thigh! Hallelujah!
As I mentioned above, I donated the majority of my jeans because they just didn't fit right. I likely purchased them on a mega sale because that's what I do best, so they never actually fit me right to begin with. I decided to try on a bajillion pairs of jeans (sale or no sale) and find a a few Spring washes that actually fit, are higher quality, and make me feel good about the lower half of my body. Right now I am all about mid-rise light washes that are distressed in some way. This could be through the thigh or at the bottom! Check out my current favs below!
(Similar Pair: 7 For All Man Kind "The HW Skinny" – $229)
I know what you are thinking. Holy shit, who would spend $219 on jeans? Yeah, not me. At least until I tried these 7's on. These are my most expensive pair of jeans by like $100 and I tried them on at Nordstrom and fell in complete love. YOU GUYS. I have never put on a softer pair of jeans in my entire life. They are also my first pair of light skinny jeans that are cropped at the ankle. I normally don't love the ankle length crop because I feel like it makes my short legs feel even shorter than they already are, however I love this Step Hem! and paired with a short heel…SO CUTE. These jeans are a mid-rise and they feel like pajamas they're so soft! I'm telling myself that I will have them for forever and even give them to my kids as a hand-me-down. If you're in the market for a new pair of light skinnies and are willing to spend the money for the quality…these are an 11/10. I can NOT wait to wear these once the weather warms up a little bit.

(Similar Pairs: Articles of Society "Heather High Waist Crop Skinny Jeans" – $64 & Articles of Society "Sarah Skinny Jeans"– $64)
So these Articles of Society Mya Skinny Jeans are what I'm calling my transition jean. I pretty much haven't taken them off since February 1st. I got them in a Stitch Fix and then Googled where else you can buy them and Nordstrom popped up. Hells to the yes! I love these jeans for a few reasons. 1- they are SUPER soft. 2. they are a jegging 3. they're mid-rise and 4. the price! This light grey is my jam because I have a million and one tops that go with it (specifically white and black). I am also loving the un-hemmed hem. The one thing that I don't love about this jean is that I feel like I should have gone down a size. These are a 27 and I think I could have gone 26 just because they are a jegging. Nonetheless, they're still my favorite jean right now! Unfortunately the wash that I am wearing is sold out everywhere. I did some more research and found the same fit in jean here. 

(Similar Pair: Banana Republic Devon Legging-Fit Luxe Sculpt Medium Wash with Fray Hem – $98)
I love me a good sale. I just got these Sculpt Light Wash Fray-Hem Skinny Ankle Jeans from BR when there was $40 off $100 purchase. SCORE. I love love love these jeans. They're a mid-rise fit and the size 27 actually fits over my bum and stays up on my hips. SCORE. I love the frayed hem at the bottom; I feel so trendy. These hit me right at the ankle and look really good with a bootie or sandal. I'm planning for these to be my day jeans. CAN IT JUST BE SPRING ALREADY?

Lastly…because I'm actually OBSESSED with these shoes.
(Similar Pair: Sole Society "Arroyo Peep Toe Booties" – $89.95)
Hellloooooo new favorite shoes. I am beyond OBSESSED with these and can't wait to wear the crap out of them. I got this specific pair from Evereve, but actually just returned them because they were a half size too big 🙁 I ended up switching colors and going with a lighter brown (similar shoe here) because I feel like I have more in my closet that will go with them. They are sooooo comfortable! I am so excited to wear these shoes with any of these jeans, summer maxi dresses, summer short dresses, and shorts. Basically I'm about to put these shoes on and never take them off. They are the PERFECT height. Since I'm 5'8″, I don't love a HUGE heel. Plus, I Can't walk in them 😀 I want these in every color. PS: I can't find this color on Evereve, but I did find them on Dillard's here!

Let me know what you guys think and if you have any questions. I can't wait to share more of my style finds!