TILAPIA!!!!!
Is one of the foods Blake and I always have on hand. in bulk. and frozen. Along with Kansas beef- which we get every year from Blake's dad.
Because winter here in Minnesota is cruel and doesn't allow us to use our grill, we've pretty much turned to baking, crock-potting, and pan frying all of our meat. Because a meal without meat is not a meal (according to Mr. B!). You guys are going to love the simplicity and ease of this dish!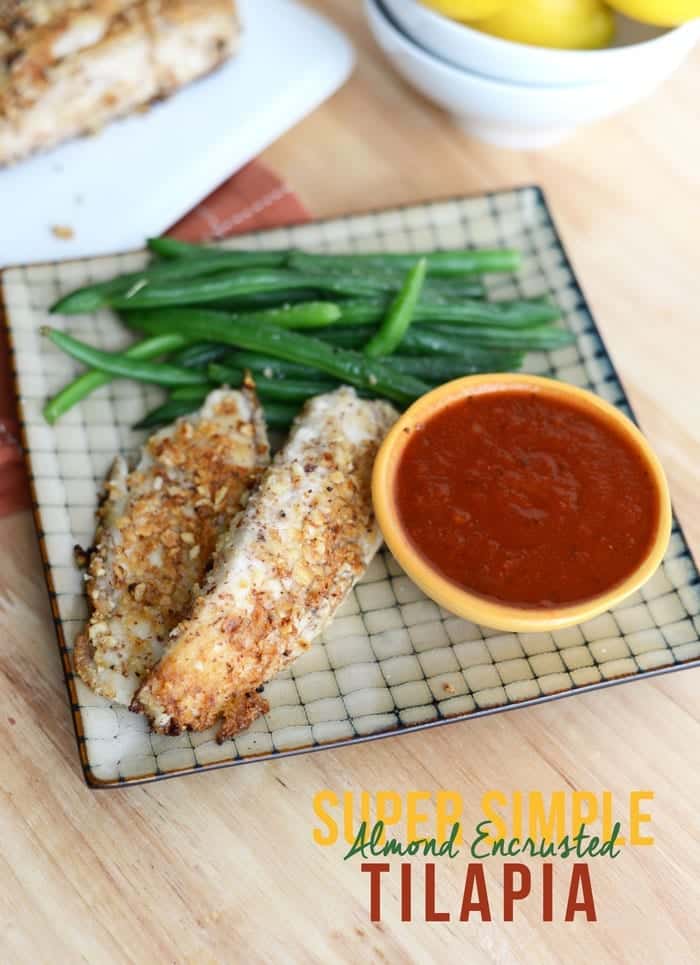 Super simple ingredients and a whole lotta texture and flavor! The lemon squeeze at the end really takes this to perfection.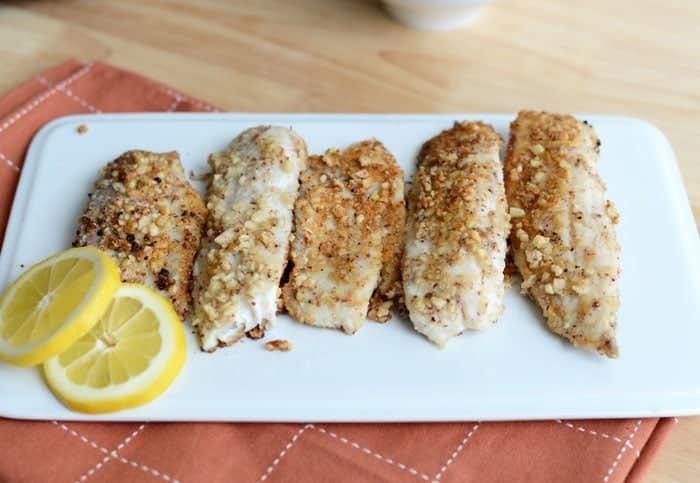 I remember as a kid eating fish sticks. Yerp. The kind that you can buy pre-packaged. These are WAY better.
I blame my fish sticks eating on my sister- who was THE PICKIEST eater as a child. Her diet consisted of fish sticks, peanut butter sandwiches (probably without the jelly), chicken fingers, bananas, and that's about it. I remember when she ate her first hamburger in high school.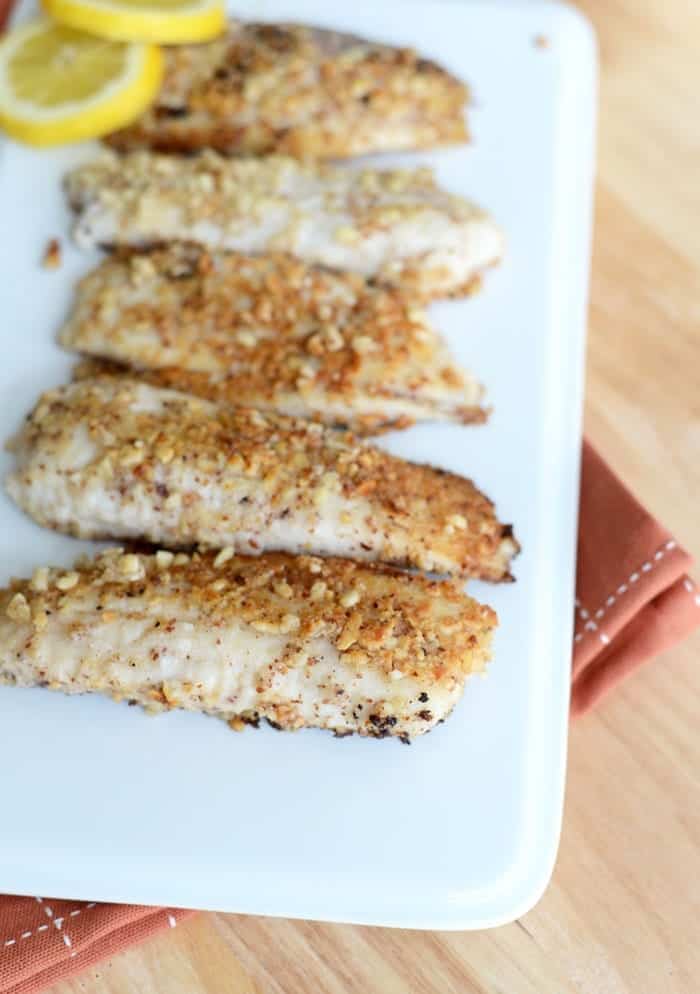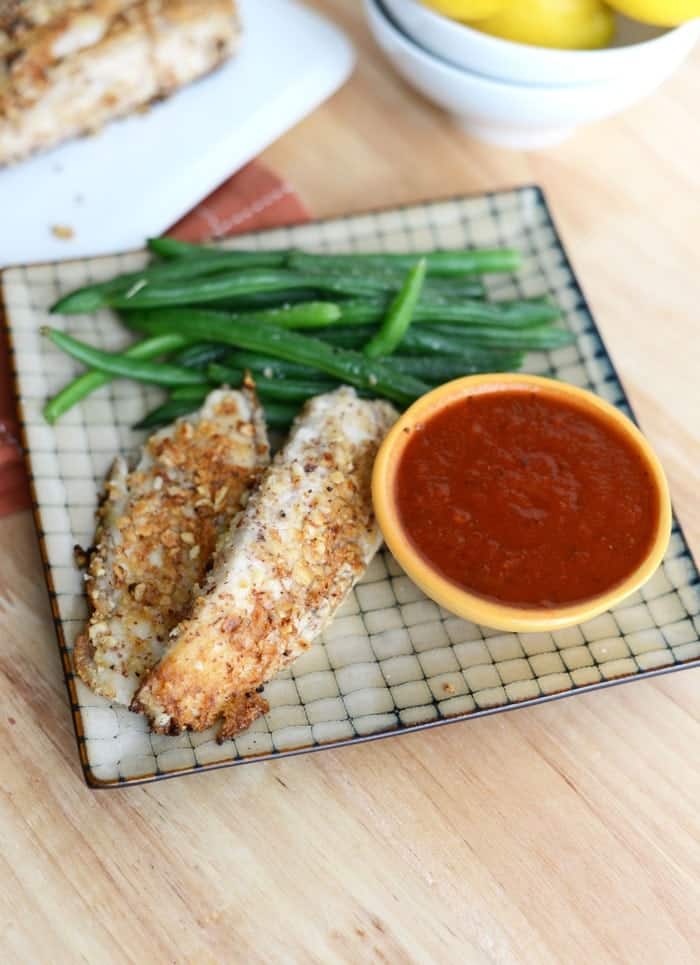 Served along side my homemade fish sticks is some simple marinara sauce I got from Target. You could even make homemade marinara if you're diggin it!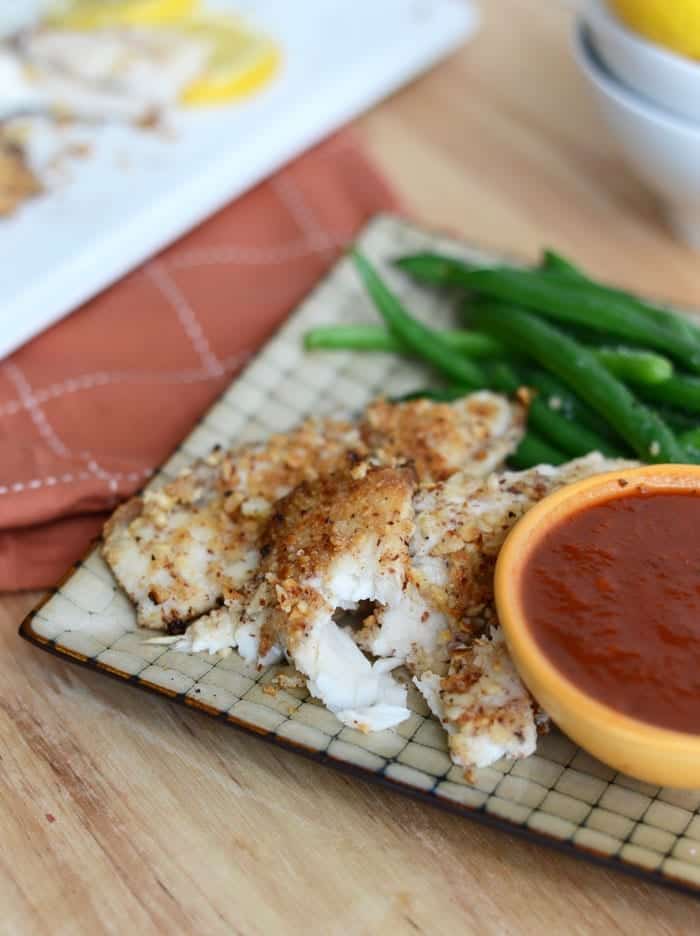 Recipe
Super Simple Almond Encrusted Tilapia + a workout!
Nutrition Per Serving: 248 calories, 15g fat (1g sat, 0g trans), 4g carbs (2g fiber, 1g sugar), 25g protein
Prep Time:

10 minutes

Cook Time:

20 minutes

Total Time:

30 minutes
Ingredients
4

servings of Tilapia (4-4oz. filets), thawed

½ cup

of coarsely crushed almonds

½ cup

of finely crushed almonds or almond meal
salt (to-taste)
pepper (to-taste)

½

lemon wedge

1.5 tablespoon

s + .5 tablespoons EVOO
Instructions
First, prep the the almond topping by placing ½ cup of whole or slivered almonds in a food processor. Process the almonds until they become flour-like and are finely ground. Add ½ cup more of almonds and coarsely chop, enough so that the larger pieces will stick to the fish. Add in salt and pepper to taste and give it one last spin. Transfer onto a large plate.
Next, preheat a large skillet with about 1.5 tablespoons of olive oil to medium heat. Then, prep tilapia by slicing each fillet in half or thirds. The tilapia might already have a natural cut in it, so feel free to follow that line.
Rub each slice with olive oil on both sides. This will help the almond crust stick to the fish. Then, coat the the fish in the almond topping on both sides.
Transfer fish onto skillet. Sprinkle with additional salt and let cook for about 5 or 6 minutes or until the almonds begin to brown. Then flip and cook for an additional 5 or 6 minutes.
Once fully cooked, transfer tilapia onto a large plate and garnish with a squeeze of fresh lemon.
Similar
And because I haven't shared a workout in a while — check it out. Total Body Tabata- Combining cardio tabatas and a body weight circuit. I did this post a few weeks ago again for Anytime Fitness. ENJOY, kids!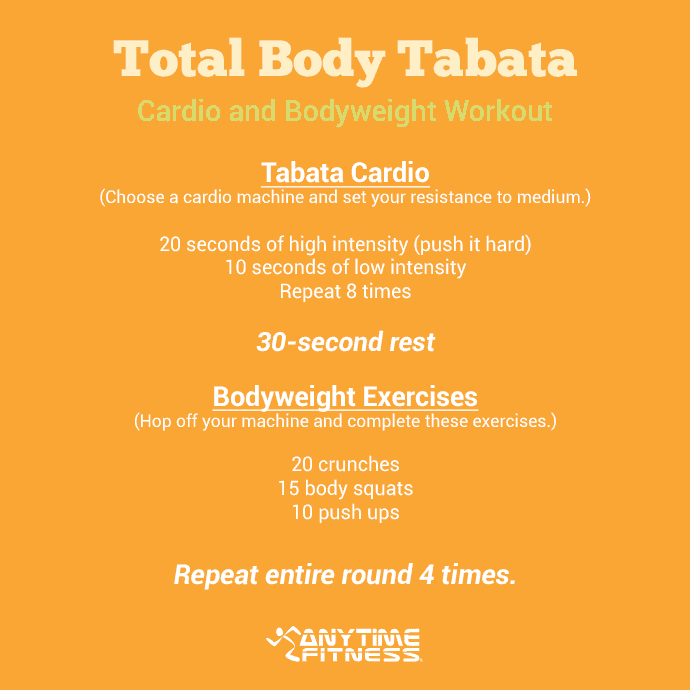 Fish Sticks- do or don't in your current diet?