These meatloaf sliders are jam packed with superfoods and topped with a delicious chipotle mustard sauce featuring sponsor, French's Mustard as part of their #FrenchsMixology Campaign.
You know you're going to have a productive day when you've got dinner in the oven by 9AM.
I woke up Wednesday morning SO excited for the day ahead because my to-do list said 1 thing: make meatloaf sliders with a French's chipotle mustard sauce.
Uhmmmm, okay!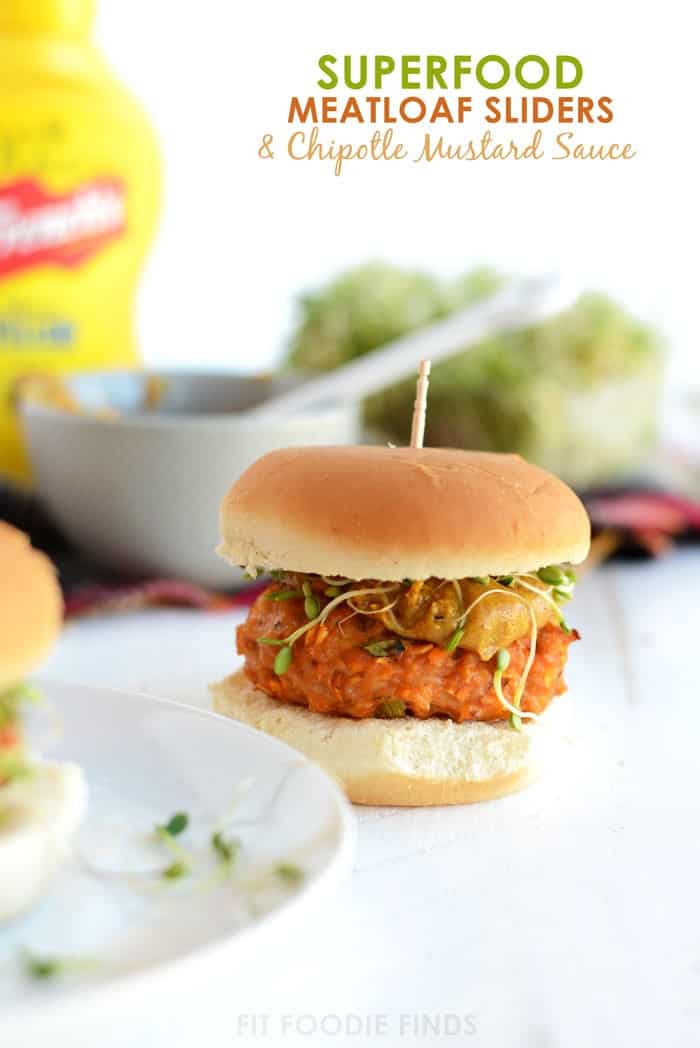 By 10 AM my house smelled like a home-cooked meal and I had destroyed my kitchen about 3 times- once after the making the patties, once after making the sauce, and once after prepping the sliders for the photoshoot.
So worth it.
You guys- these sliders have SO MUCH FLAVOR and are jam packed with superfoods (sweet potato, carrots, & kale). The texture is amazing a the best part is, they are mini!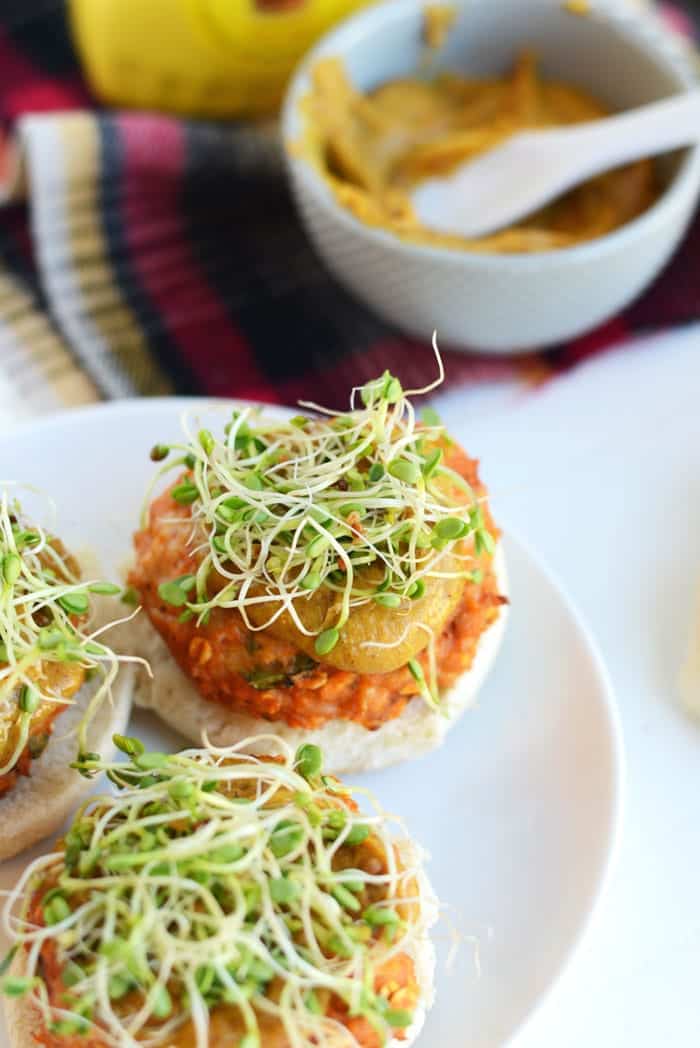 About this Chipotle Mustard Sauce. Talk about a party in my mouth!
French's + Almond Butter + Spices = Amazingness. The whole premise of this French's campaign is "Mixology." Mixing simple ingredients with French's Mustard to create something extraordinary-tasting.
Check and check.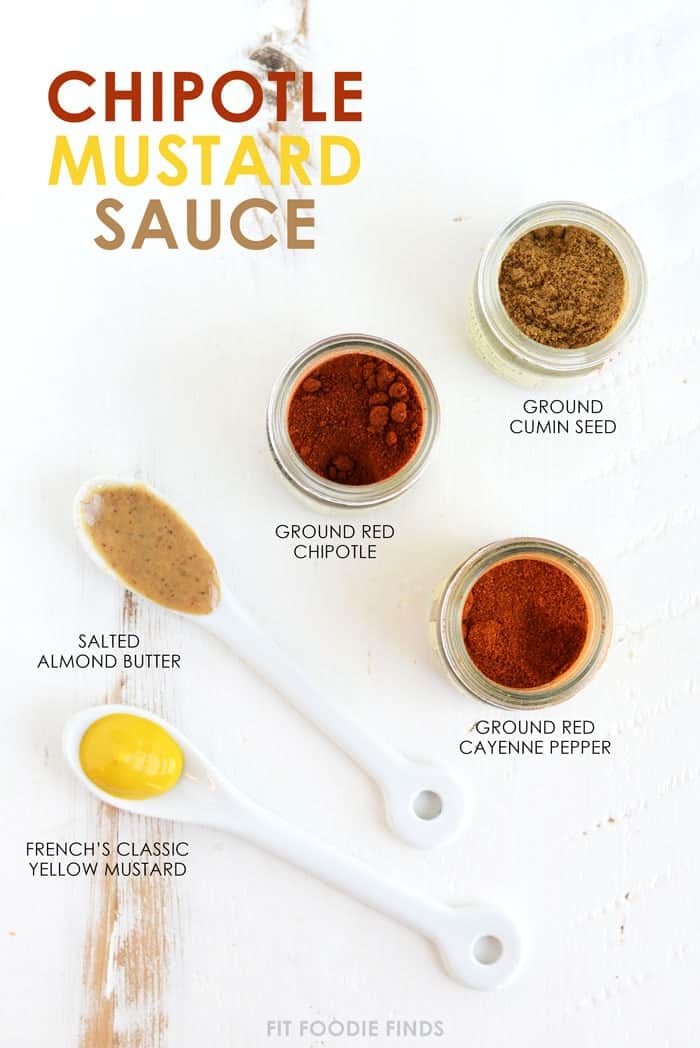 This sauce got a mega thumbs up from Blake….my ultimate (and very honest) taste-tester. It's got a bit of a kick, but compliments the sliders in the best way possible! I love how the almond butter thickened up the mustard a bit. Perfect for spreading.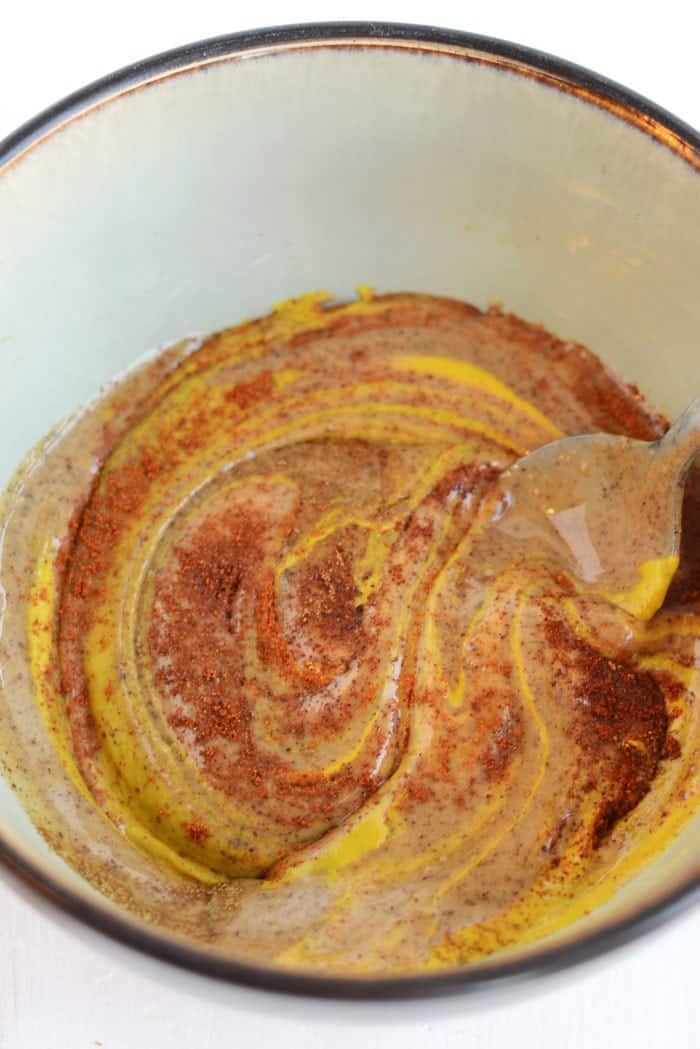 In this recipe, I used French's 100% Natural Yellow Mustard. If you would have asked me what is in mustard a few weeks ago, I would have stared back at you blankly. I honestly had no idea until I read the back of the bottle. Check it out:
INGREDIENTS: Distilled Vinegar, Water, No.1 Grade Mustard Seed, Salt, Turmeric, Paprika, Spice, Natural Flavors and Garlic Powder.
Did you know that French's is…
Gluten-free
Sugar-free
Dairy-free
Grain-free
Vegan
Paleo-friendly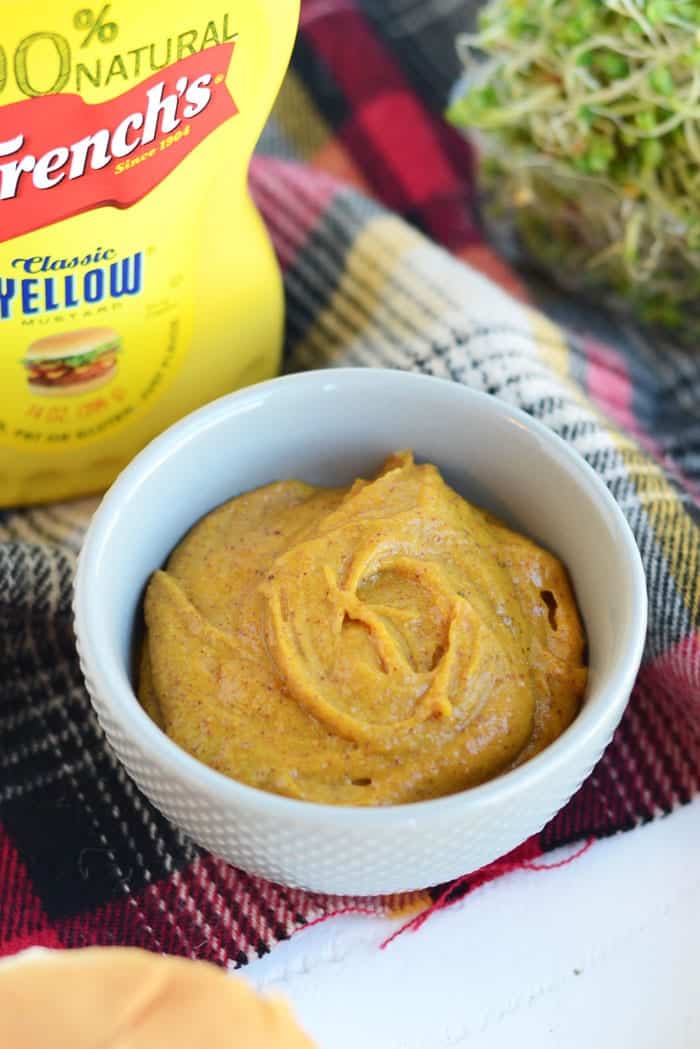 Can I get a woot woot?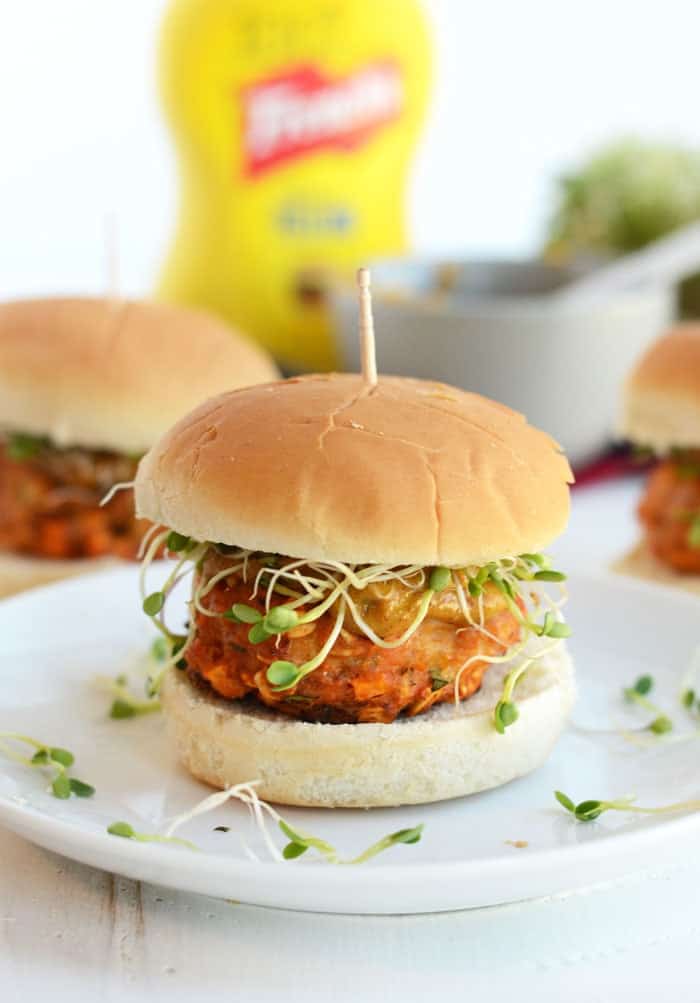 Recipe
Turkey Meatloaf Sliders with Chipotle Mustard Sauce
Prep Time:

15 minutes

Cook Time:

30 minutes

Total Time:

45 minutes
Ingredients
For the Sliders
1

pound ground turkey, lean

1

small sweet potato, peeled and finely diced (~

1/3 cup

)

2

celery stalks, finely diced

1

large carrot, peeled and finely diced

2

kale leafs, de-boned and finely diced

1 teaspoon

parsley, dried

1/2 teaspoon

onion powder
salt and pepper to taste

1/3 cup

ground oat flour (or any kind of flour)

1/4 cup

rolled/quick cooking oats

2

eggs, large

2 teaspoon

s minced garlic

1 tablespoon

French's Classic Yellow Mustard

2 tablespoon

s tomato paste
For the Chipotle Mustard Sauce
1/4 cup

French's Classic Yellow Mustard

1/4 cup

almond butter, salted and unsweetened

1/4 teaspoon

ground red chipotle powder

1/4 teaspoon

ground cumin seed

1/4 teaspoon

red cayenne pepper
Instructions
For the Sliders
First, preheat oven to 375ºF and line two baking sheets with tin foil. Spray with non-stick cooking spray and set aside.
Next, prep slider patties by finely dicing vegetables. The more equal in size the vegetables, the better the will cook in the oven. Transfer veggies into a large mixing bowl and add in ground turkey. Then, add in spices, oat flour, oatmeal and mix.
In a small bowl, whisk 2 eggs. Then, add in garlic, French's Classic Yellow Mustard, and tomato paste. Mix until combined. Pour mixture onto meat and vegetables and combine (I use my hands for this part).
To create patties, scoop out 1/4 cup of meat. Then form a patty shape in your hand. Place on baking sheet. Repeat until there is no more meat left (you should be able to make 12 slider-sized patties).
Bake at 375º for about 30-33 minutes, or until the patties become crispy on the outside and start to turn golden brown on the bottom.
For the Chipotle Mustard Sauce
Place all ingredients in a small bowl, and mix until combined.
Notes
Serve patties with slider buns and broccoli sprouts. Top with about 1/2 – 1 tablespoon of Chipotle Mustard Sauce.
Nutrition
Serving Size:

2-3 sliders
Similar
Now for the sliders- they are super easy to make! My one piece of advice: The smaller the veggies, the better they will cook!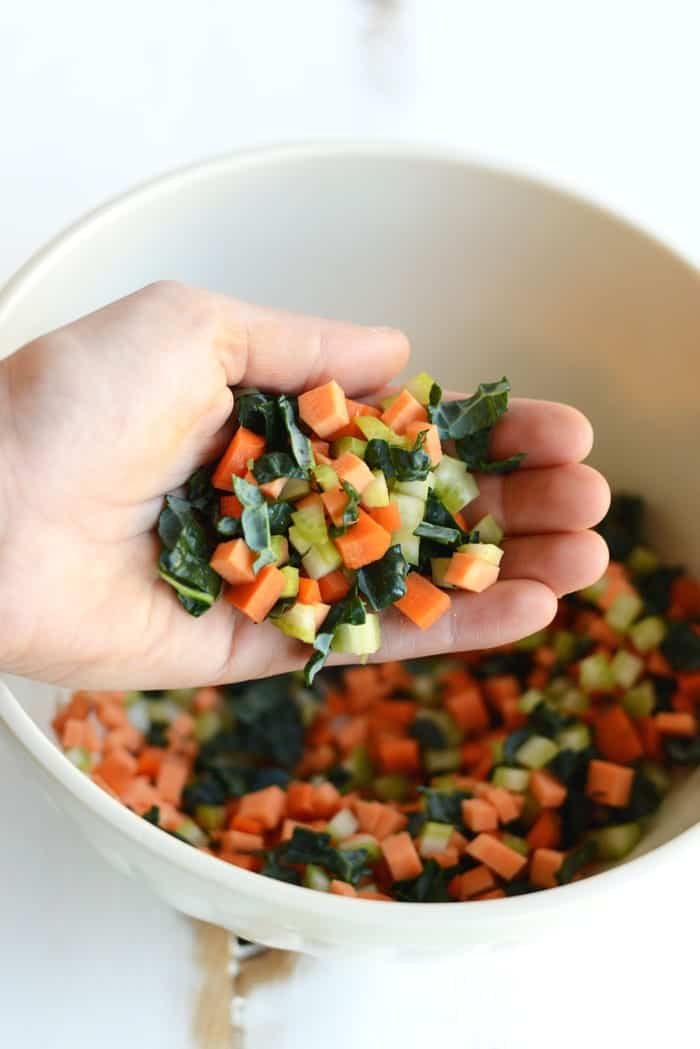 I was able to get about 12 sliders out of this recipe. I used a 1/4 cup measuring cup as my scoop to make them slider-sized.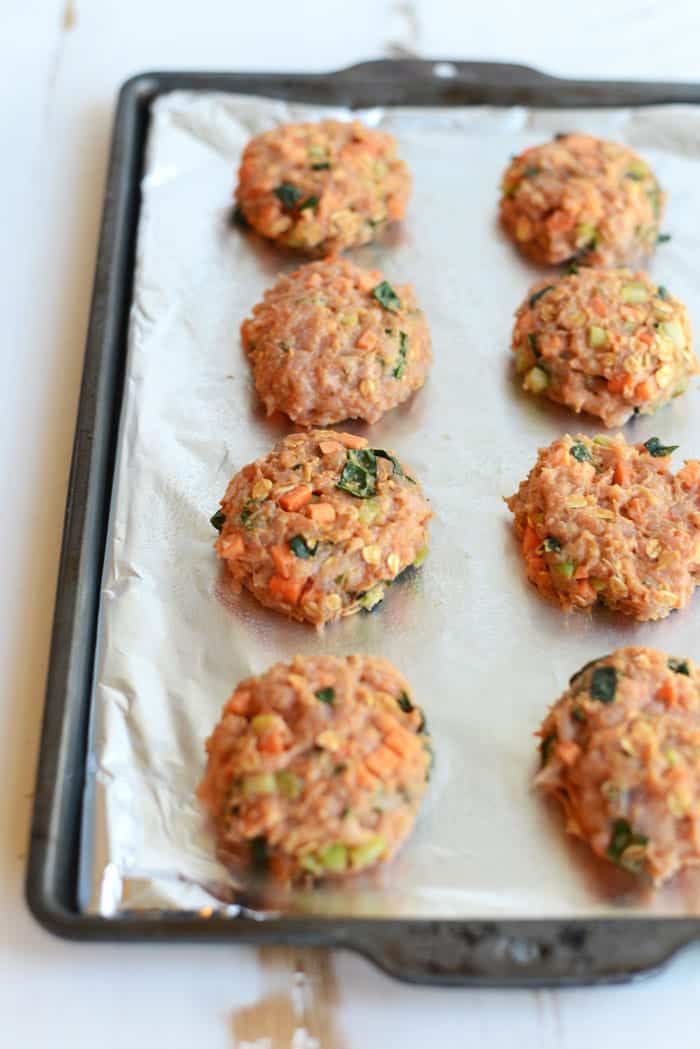 I topped the patties with some of the fabulous Chipotle Mustard Sauce and broccoli sprouts. Yum.
Pin for later!
Before I let you go. I've teamed up with French's to over FFF readers a chance to win some AWESOME swag. We're talking $450 worth of swag.
Here's your chance to win a Napoleon grill and French's mustard prize pack valued over $450! It's easy to grill anywhere! This grill features an electronic jetfire ignition, lid locks for security, a temperature gauge for monitoring, and a removable grease tray for easy cleaning.The prize pack includes:
Napoleon TravelQ 285 Portable Grill
An assortment of French's mustard sauces
Coupons good for French's Foods products
French's T-shirt, Bag and Hat