Vegetarians…meat haters…this one is for you! Today I went with a one pot dish that has to of my all time favorite foods- sweet potato and quinoa to make a delicious vegetarian gratin packed with protein thanks to the quinoa. What is gratin you ask? According to Wikipedia… "gratin is when an ingredient is topped with a browned crust, often using breadcrumbs, grated cheese, egg and/or butter."
In this recipe, I used quinoa and cheese as my browned crust (insert thumbs up).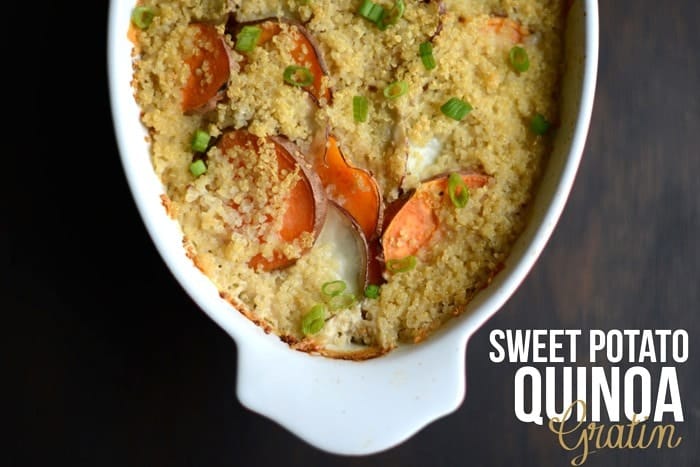 Holy Hannah Hot Dish.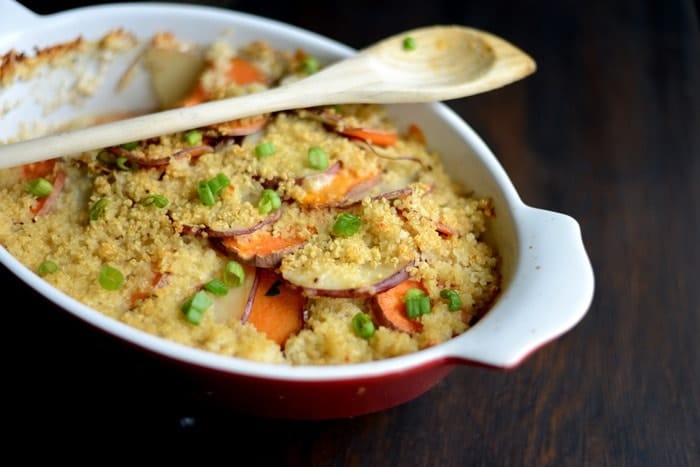 This would actually be an incredible side dish to compliment your turkey at Thanksgiving or to eat on its own! Whatever floats your fancy.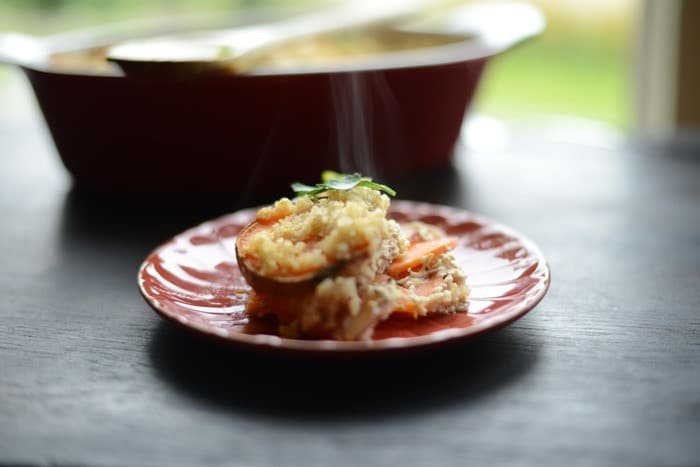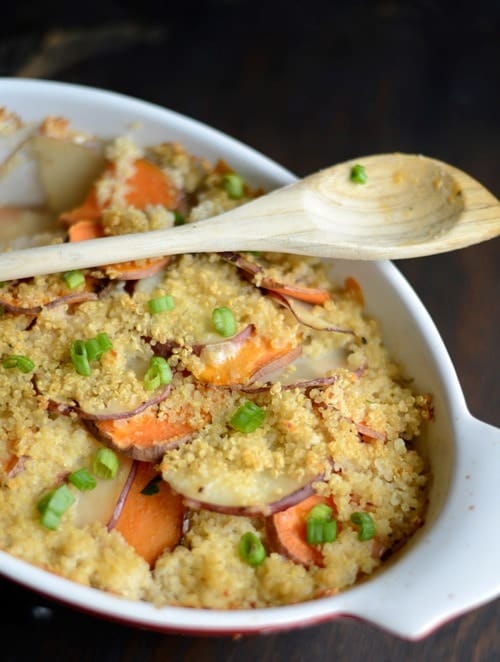 What great, is that it is a rather simple thing to make. It all about the layering: sliced potato (regular, sweet, or both), spices, cheese, quinoa, cheese repeat. Then you pour some milk on top to give it a creamy factor and then you stick it in the oven.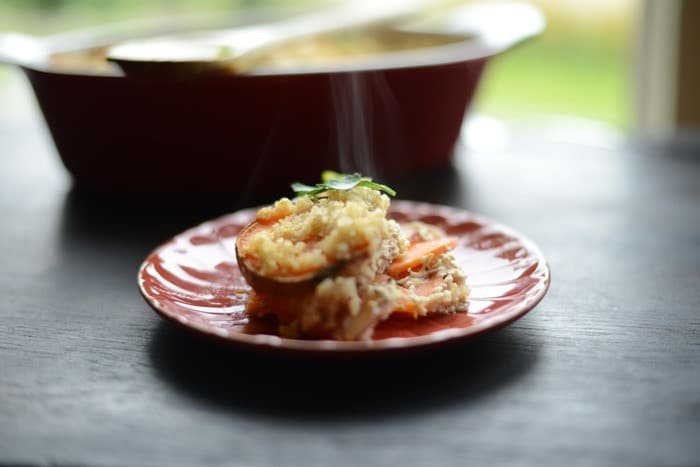 Recipe
Sweet Potato Quinoa Gratin
Prep Time:

30 minutes

Cook Time:

1 hour 10 minutes

Total Time:

1 hour 40 minutes
Ingredients
-2 large sweet potatoes
-4 medium size red potatoes
-1/3 cup quinoa
-2/3 cup vegetable stock (or water)
-2 tablespoons olive oil
-1/2 – 1 cup cup shredded cheese (any kind will work)
-salt, to taste
-pepper, to taste
-rosemary, (optional)
-1.5 cup milk or cream (I used 2%)
Instructions
First, preheat oven to 350F and spray a large, deep baking dish with nonstick cooking spray.
Next, cook your quinoa. In a medium sized sauce pan, bring 1/3 cup of quinoa and 2/3 cup of vegetable broth to a rolling boil. Cover and reduce heat to low and let cook for about 20 minutes or until all of the water is absorbed and the quinoa is fluffy. Set aside.
Next, prepare your potatoes. First, wash your red potatoes and sweet potatoes and pat dry. Next, using a sharp knife, thinly slice your potatoes as thin as you can.
Then, layer the bottom of your pan with red potatoes (see photo above for how I did it). Then, drizzle with olive oil and sprinkle on salt and pepper (to taste), along with a sprinkle of cheese. Next, do the same thing with sweet potatoes, drizzle on more olive oil, sprinkle salt, pepper and cheese. Repeat until you've used all of your potatoes or until you've gotten to the top of your dish. I did about 6 layers of potatoes.
Once you've layered all of your potatoes, pour about 1.5 cups of milk/cream over the top. Then, evenly spread your cooked quinoa on top and then sprinkle with more shredded cheese.
Cover baking dish with tin foil and bake at 350 for 30 minutes. Then, turn the heat up to 375 and bake for another 30-40 minutes, or until the quinoa begins to brown on the top.
Notes
To make vegan, replace cream/milk with a non-dairy substitute like almond milk, coconut milk, or soy milk.
Similar
Feel free to layer more quinoa amongst the potatoes. I'd for sure do that the next time I make this.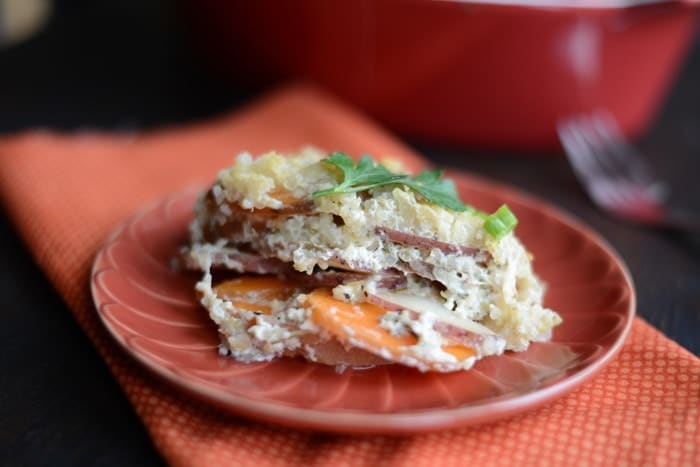 Cheers to hot dish.