All you need for Team Fit Foodie's go-to meal prep bowls is a protein + veggies + grains. Make lunch for the week a breeze and give Team fit Foodie's Go-To Meal Prep Bowl a try!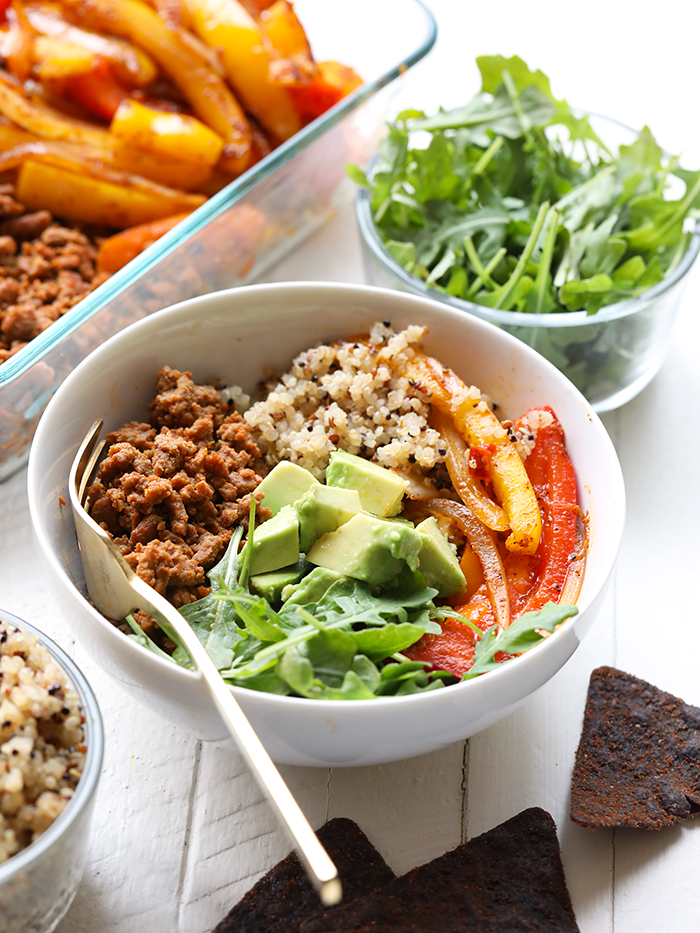 Happy Sunday, frands! I can't tell you how good it feels to be home more than a week at a time. You know that I do love to travel and that I am so grateful for the opportunity to do so. However, it has been so good for me (my mind, body, and spirit) to hunker down at home and have a routine. Do you feel me? Today it's all about doing my favorite Sunday things. Coffee, spending time with my people, and MEAL PREP. Specifically, MEAL PREP BOWLS.
If you follow us on social media, you know that Team Fit Foodie has some kind of bowl for lunch most days of the week. When lunch rolls around we usually have a mish-mash of different ingredients in the fridge. There are usually some vegetables, a protein, and a grain waiting for us. It's surprising how often you think that there is nothing to eat in the fridge, but when you throw it in a bowl it (somehow) just makes sense and tastes delicious.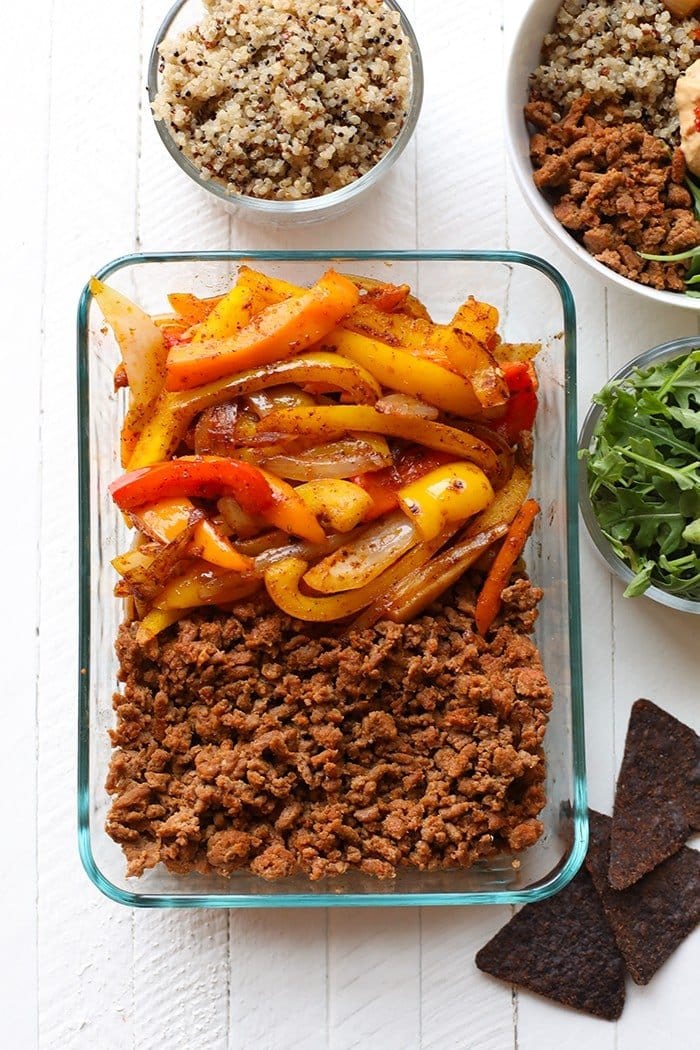 One thing about meal prep bowls or meal prepping in general. Most weeks, Linley and I don't sit down on Sundays and plan out every single meal we're going to eat. What we do have to do, however, is go over every recipe we have to test, make, or shoot for Fit Foodie and get a feel for how much food we will be making, if it's sweet or savory, and so on. We try to evenly spread out savory and sweet recipes throughout the week to reduce food waste. By mid-week we do have quite a few left overs and those left overs generally turn into some kid of bowl.
During weeks when we don't have as many recipe days, you will most likely find the ingredients for Team Fit Foodie's Go-To Meal Prep Bowl in the fridge—> Ground Turkey + Peppers + Quinoa + Greens (probably arugula because Linley is obsessed). We find ourselves time and time again using fajita or Mexican spices (cumin, chili powder, garlic, paprika, etc.). But no matter what flavors we choose the toppings are usually special sauce (franks + greek yogurt) or HOISEN.
Though we have a go-to bowl most weeks FFF has plenty of bowl recipes to choose from. I included those recipe links at the bottom of the post!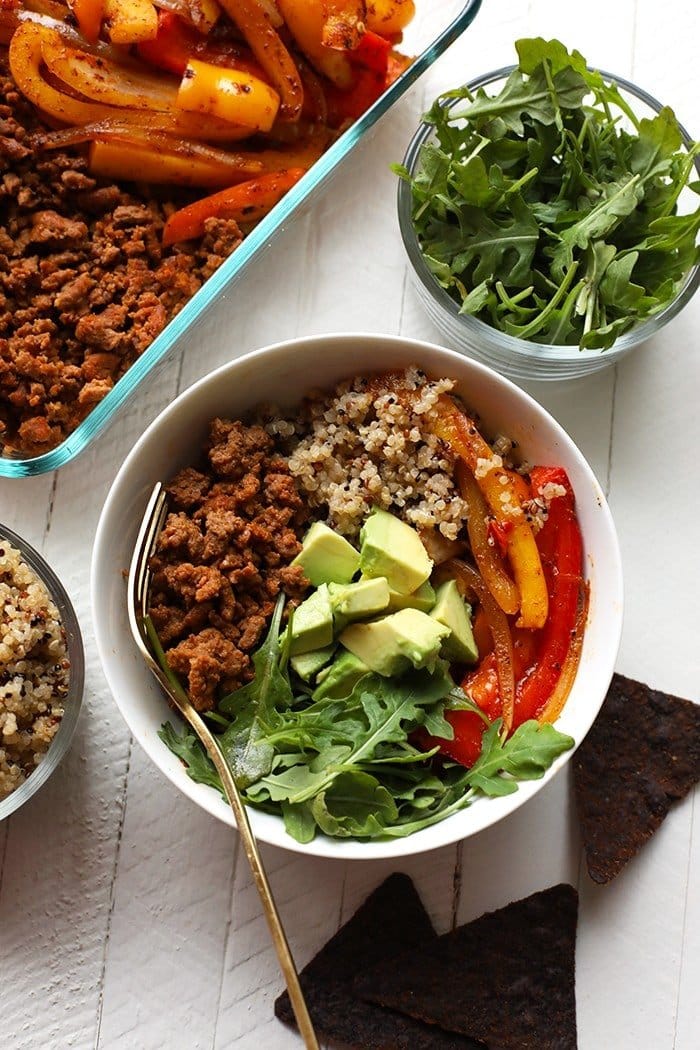 Turkey Fajita Meal Prep Bowls
Prep:
15
Cook:
15
Total:
30 minutes
Ingredients
Quinoa
1 cup

quinoa, rinsed

2 cups

water
Bowls
2 tablespoons

chili powder

2 tablespoon

ground cumin

1 tablespoon

garlic powder

1 teaspoon

paprika

1/2 teaspoon

sea salt

1

lb. ground turkey

2

bell peppers, sliced (any color)

1

purple onion, sliced

4

 cups arugula
Instructions
Prepare quinoa by bringing quinoa and water to a boil. Turn heat to low, cover, and let simmer for 10-15 minutes until quinoa is fluffy. Set aside.
Prepare spices by mixing chili powder, cumin, garlic powder, paprika, and salt into a small bowl. You are going to use half on the ground turkey and half on the veggies.
Preheat a a medium size pan to medium/high heat. Then, sauté ground turkey, stirring continuously until slightly browned. Add half the spice mixture to meat and continue cooking until fully cooked. Remove meat from heat.
In the same pan, heat one tablespoon of olive oil and add in sliced onion. Cook for a few minutes and then add peppers and the rest of the spice mixture. Sauté for 3-5 minutes. Remove from heat.
In 4 meal prep containers (these are the ones we use), separate out the ground turkey and veggies. Then add in around 1/2 cup cooked quinoa and a handful of arugula to each container.
Serve with avocado and salsa.
Nutrition Facts
Serving Size:
1/4
Calories:
332
Sugar:
6
Fat:
8
Fiber:
5
Protein:
35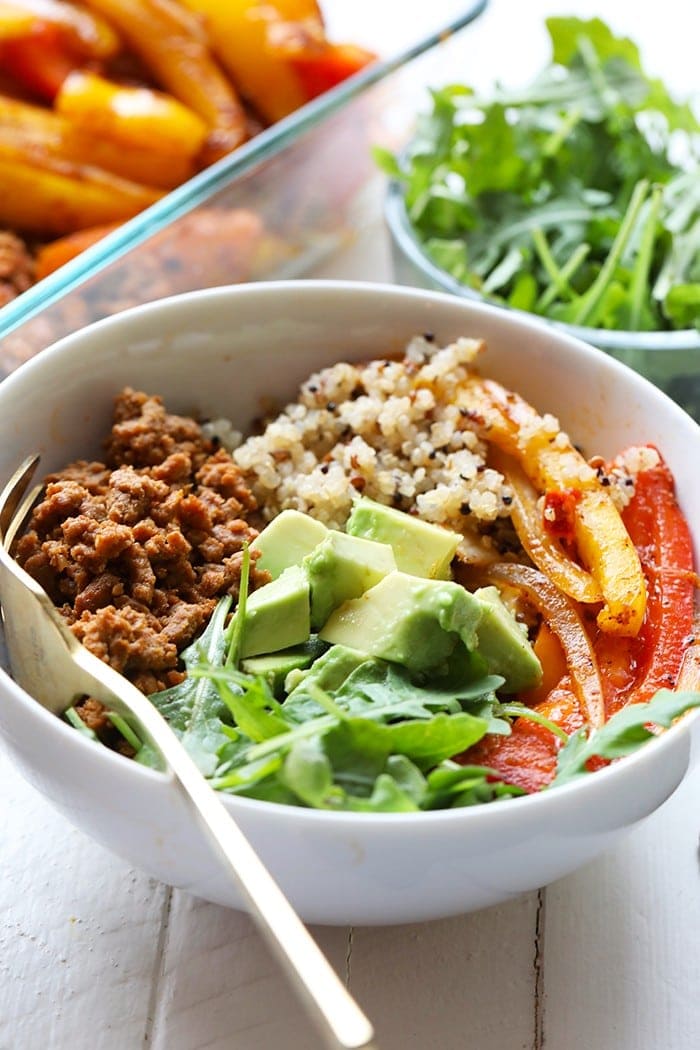 10 of our FAVORITE Meal Prep Bowls
Meal Prep Vegetarian Kung Pao Quinoa Bowls 
Meal Prep Carnitas Burrito Bowls 
Roasted Brussels Sprout Polenta Bowls
Healthy Hawaiian Chicken Noodle Bowls 
Healthy Thai Coconut Quinoa Bowls
Red Coconut Curry Meatball Bowls
Clean Eating Crock-Pot Chicken Bowls 
Tell me, what is YOUR go-to meal prep bowl recipe?