Give your next brussel sprouts side dish a little extra flavor and make these Roasted Brussel Sprouts with Maple Apple Butter. They are caramelized, crispy, and delicious!
After you make these roasted brussel sprouts with maple butter whip up these bacon-wrapped brussel sprouts or this roasted brussel sprout salad with quinoa.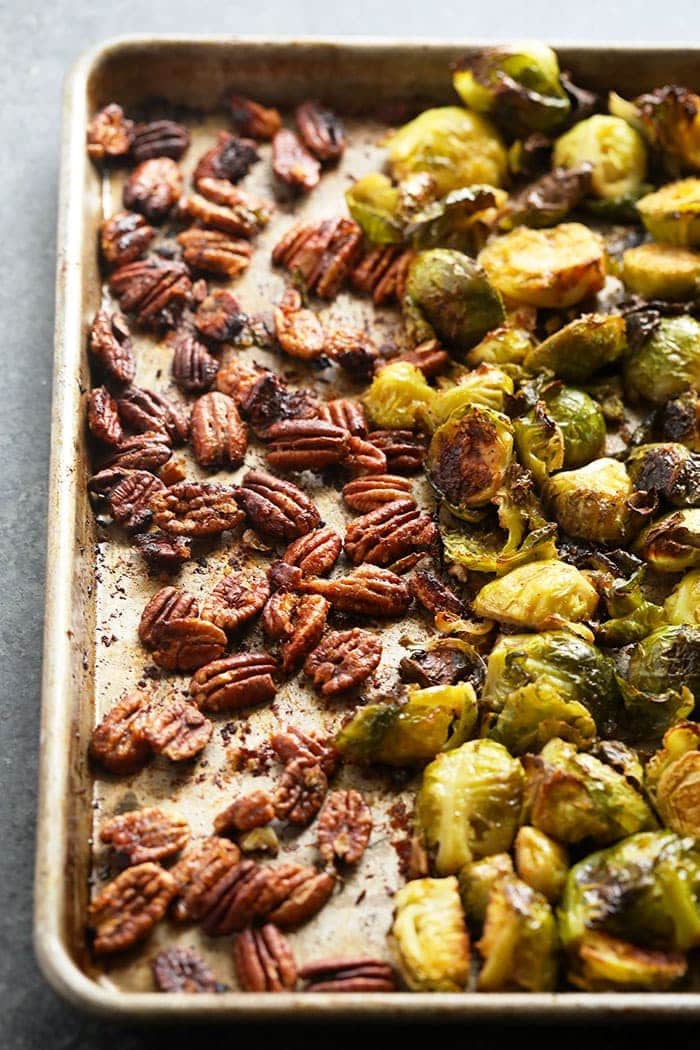 The Best Vegetable Side Dish
If you are in a pinch for what to make for a healthy and delicious vegetable side dish turn your eyes to the BRUSSEL SPROUTS.
Brussel sprouts are back to being one of the most versatile and hearty vegetables. No more mushy brussel sprouts in our kitchen! Brussel sprouts are one of the most perfect vegetables (in our opinion). Want to know why?
They are hearty and filling.
Brussel sprouts take on any flavor profile you give them.
Raw brussel sprouts last forever in the refrigerator
You can make almost any dish out of brussel sprouts (salad, side dish, appetizer)
Our favorite vegetable side dishes right now all highlight brussel sprouts! These roasted brussel sprouts with maple apple butter are a twist on a classic roasted brussel sprouts dish.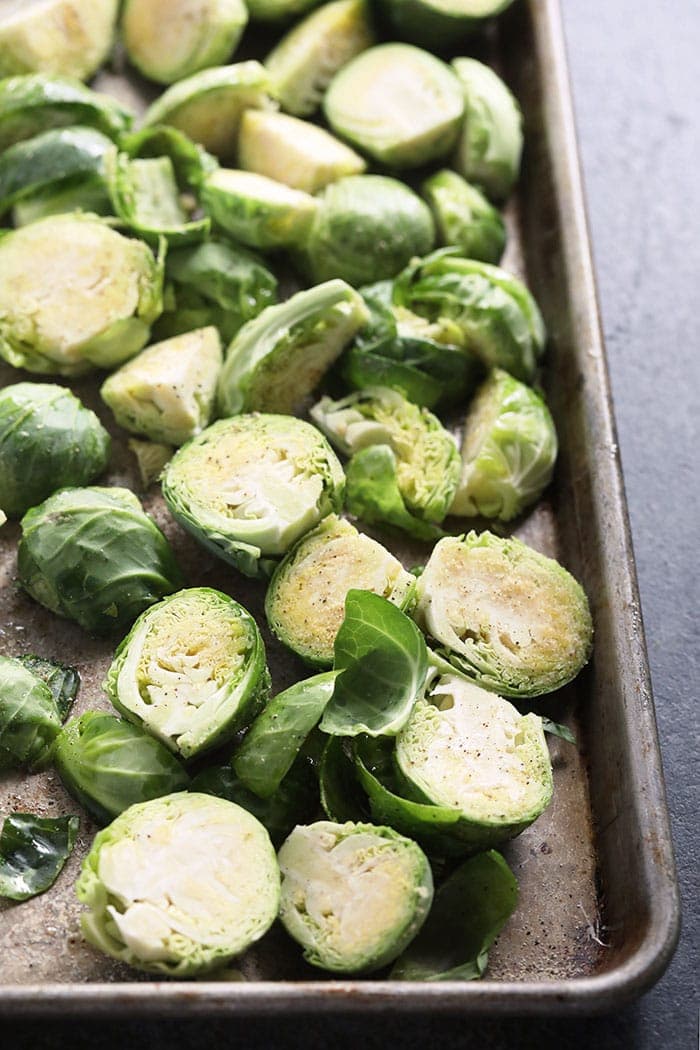 What You Need
This roasted brussel sprouts recipe with maple apple butter sounds complex, but is so easy to make! You only need 8 ingredients to make this recipe, let's do it!
Brussel Sprouts- Brussel sprouts are the star of this recipe. Make sure you use fresh brussel sprouts. Be sure to cut the stump off the end of the brussel sprout and to cut them in half lengthwise.
Olive Oil- We like to toss our brussel sprouts in olive oil. It gives them great flavor, helps to keep whatever spices we use on the brussel sprouts, and crisps them up perfectly!
Garlic Powder- A little garlic powder goes a long way! The savory garlic powder in this recipe compliments the sweetness of the maple syrup and apple putter for the perfect sweet + savory combination.
Salt + Pepper- Salt and pepper give the brussels a little extra seasoning while also enhancing all the other flavors of this dish!
Maple Syrup- Hello sweet maple syrup! We love that the maple syrup gives this recipe a little flavor of fall, but also helps to caramelize the brussels! SO GOOD.
Apple Butter- When in doubt, add a scoop of apple butter! The apple butter and the maple syrup act as a caramelizer and the perfect amount of sweetness in this dish.
Pecans- Add a little crunch to the your brussel sprouts side dish with nuts! We chose pecans in this dish because they add a great earthy flavor and caramelize perfectly. If you have walnuts or almonds at home, they will work too!
Brussel Sprouts 101
Can I reheat brussel sprouts?
Yes, you can reheat these brussel sprouts! You can heat them up in the oven at 350ºF for 5-10 minutes or on the stove over medium-high heat for 4-5 minutes.
Do frozen brussel sprouts work in this recipe?
People always ask if they can substitute frozen Brussel sprouts for fresh Brussel sprouts and the answer is always NO on our end!
Frozen Brussel sprouts tend to get soggy once you thaw them out. No amount of roasting will make your frozen Brussel sprouts crispy.
Moral of the story, we recommend always use fresh Brussel Sprouts.
Where can I find apple butter?
You can find apple butter at any grocery store around the holidays or usually at any boutique grocery store. You can also order it on Amazon all year round!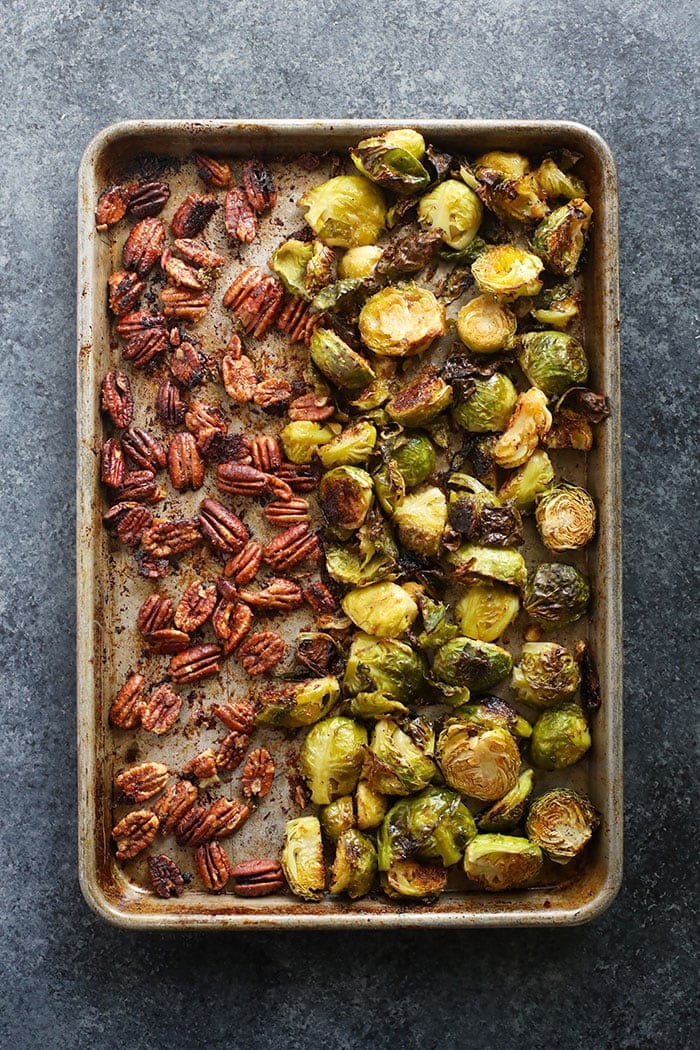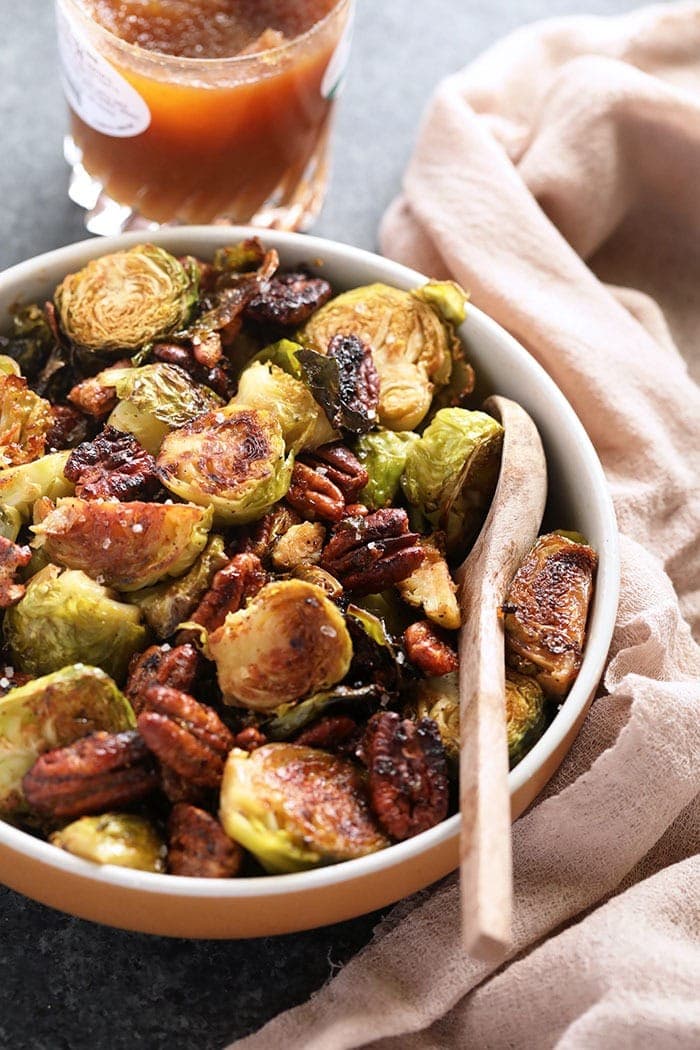 Brussel Sprouts Recipes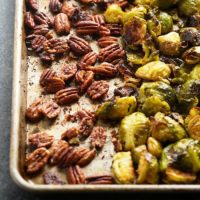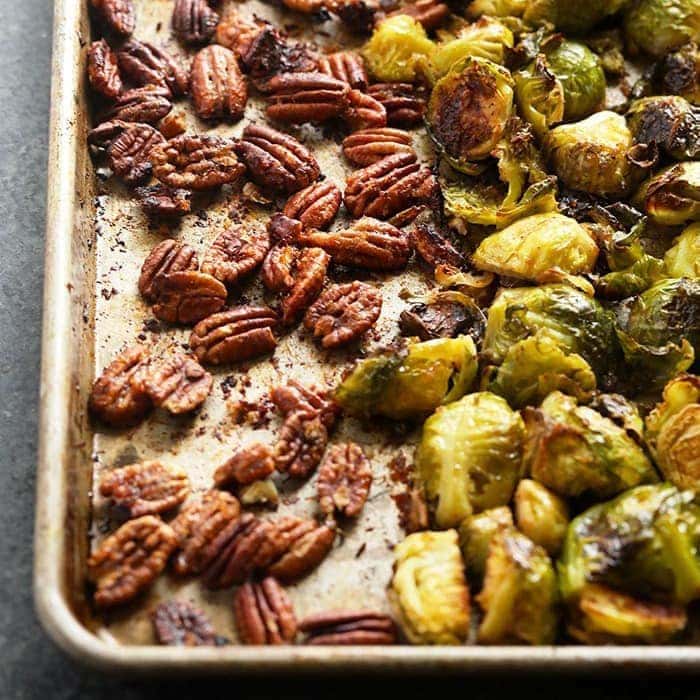 Roasted Brussel Sprouts with Maple Apple Butter
Give your next brussel sprouts side dish a little extra flavor and make these Roasted Brussel Sprouts with Maple Apple Butter. They are caramelized, crispy, and delicious!
Ingredients
1

lb.

Brussels sprouts

stem removed

2

tablespoons

olive oil

1

teaspoon

garlic powder

1/4

teaspoon

salt

1/4

teaspoon

pepper

1

tablespoon

maple syrup

3

tablespoons

apple butter

3/4

cup

raw pecans
Instructions
First, preheat oven to 400ºF and spray a baking sheet with nonstick cooking spray.

Then, prepare Brussels sprouts by washing, patting dry, and halving the longway.

Place Brussels sprouts on a large baking sheet, drizzle with olive oil, and toss.

Then, season with garlic powder, salt, and, pepper, and toss again.

Bake at 400ºF for 20 minutes.

While the Brussels sprouts are roasting, mix together apple butter and maple syrup and set aside.

Once your Brussels sprouts have cooked for 20 minutes, remove them from the oven and spoon on 3 tablespoons of the apple butter mixture. Toss to make sure everything is fully coated.

Then, move the brussels sprouts to one side of the pan and spray the other side with nonstick cooking spray. Add the raw pecans.

Toss the pecans in the remaining apple butter mixture. Spread pecans out evenly so none of them are overlapping.

Roast at 400ºF for another 10 to 15 minutes.
Nutrition facts
Calories:
198
kcal
Protein:
4
g
Fat:
15
g
Fiber:
4
g
Sugar:
8
g