If you're like me, you don't like to use your oven when it gets warm outside. Keep your oven use to a minimum with The Best Healthy No-Bake Bars on Pinterest!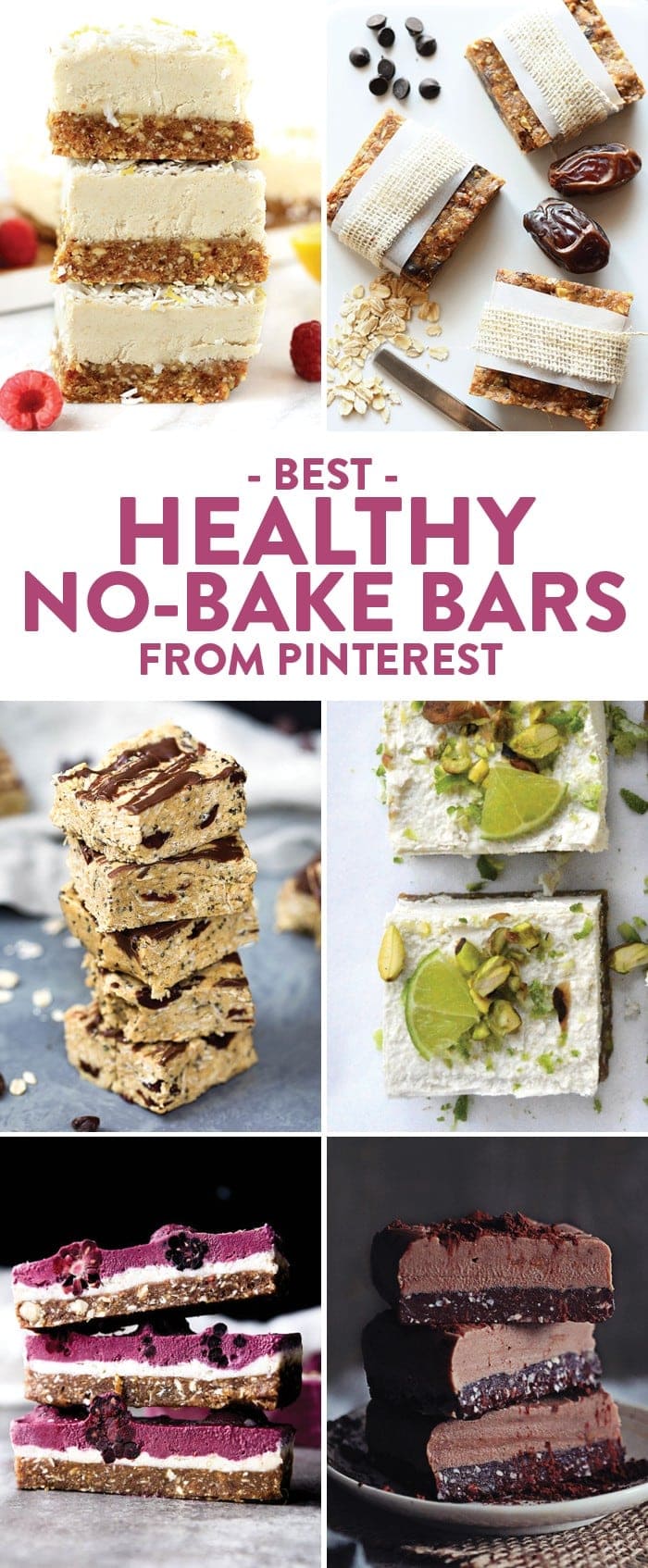 Last week, I went from Florida sunshine, to spring in Milwaukee, to 60º weather in Minnesota. Vitamin D and sunshine, COME TO MAMA. You will find me at my happiest when I have my people, sunshine, a glass of wine, and a tasty dessert all in one place. Today we are talking about The Best Healthy N0-Bake Bars on Pinterest.
Oh, PINTEREST. I just want to take a moment to honor how freaking cool Pinterest is. I wrote a paper in college on Pinterest in 2010 chatting about how it was going to be the next Google. NO LIE. Blogging was just becoming a legitimate thing and as a newborn blogger I naturally gravitated towards Pinterest. I just knew it was going to have a major kind of impact on my blogging career because I was bypassing every other search engine when looking for recipe inspiration and going directly to Pinterest. Pinterest is one of Fit Foodie Find's main traffic drivers. In the good ole days, Pinterest was a real time platform meaning that when someone pinned something, you instantaneously saw it if you followed them. Now, like every other social media platform, there is an algorithm for users that tries to predict what they want to see based off of what's trending. Luckily, FFF has been around a while and there is quite a bit of FFF content naturally circulating within Pinterest these days, but I'm still learning about all the nuances within Pinterest.
Long story short, I LOVE PINTEREST. Not only because it drives traffic to FFF, but because I am a visual person. I still use it personally to this day to look for design inspiration, outfit inspiration, home inspiration, and everything else related to pretty things and design.
Whew, Pinterest talk gets me AMPED. So do No-Bake Bars. If you type in No-Bake Bars on Pinterest you're sure to find most of the delicious recipes in this post. Like I said earlier, I do as much as I can to avoid my oven in the summer months and no-bake bars are a perfect dessert to mix up when it's warm outside and you're looking for something tasty to bring to a BBQ.
Get making (not baking) this spring and summer!