If you read our last post, Linley really spelled out my feelings about transitioning into Fall. Grab the Kleenex, people. When the first colored leaf hits, I still get the willies that school is starting and winter is right around the corner. What a nostalgic time of year. With that said, I will give it to the state of Minnesota for having one of the most AMAZING falls in The States. We are lucky enough to have 4 legit seasons and Fall is hands down the most beautiful. Gotta love when you go to L.A. in October and people are wearing coats and boots when it's still in the 80's. Here in MN, we ACTUALLY have sweater weather. This makes shopping really fun…because it gives you an excuse to have 4 mini wardrobes for all of the seasons.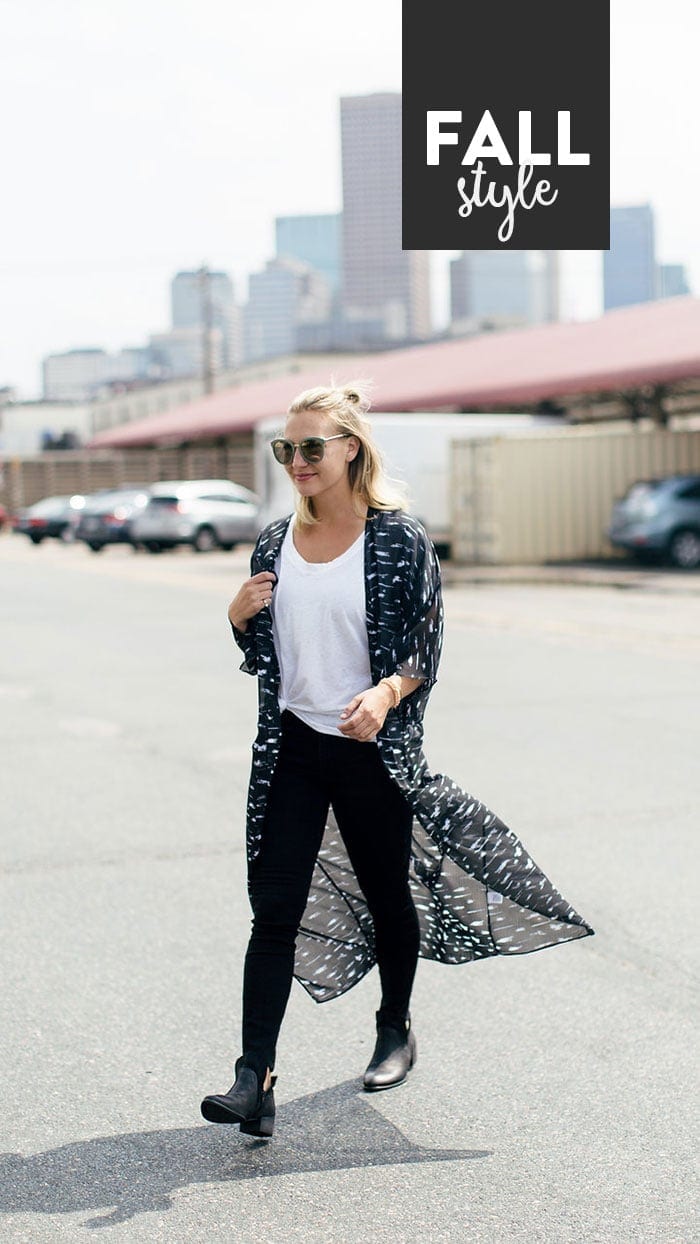 As you know, I am basically a weather woman…and this year friends, I am predicting quite a lovely fall in Minnesota. This means us Midwesterners gotta be all about those transition pieces. How can you turn a summer outfit into something more fall-like? I want to chat about the outfit I am wearing in these photos because it really is the PERFECT transition outfit.
I want to start with the kimono because I LOVE IT SO MUCH. I feel like it can totally fall up any outfit especially classic white tea. This Kimono is BP from Nordstrom. I also picked up a white tee from Nordstrom that I'm obsessed with. It's only $25 — the Treasure and Bond Boyfriend Tee. Moving down the outfit you've got some black high-rise Madewell skinnies + my new favorite booties on the planet. I actually got these during the Nordstrom Anniversary Sale, so they were a steal. So pumped to finally start wearing them this fall! They also have them in brown which I am tempted to also buy.


Places I've been shopping lately include Nordstrom, Madewell, JCrew Factory, Stitch Fix, and Abercrombie. I Feel like 2 of those stick out a bit– Stitch Fix and Abercrombie. It's been a white since I shared a Stitch Fix on FFF because I was striking out every time I got a box. After like a year break, I finally decided to vie them a try again and have been loving it! I'm planning on sharing my latest fix on the blog soon. Abercrombie. Guys, this may sound weird but I have been loving A&F. Ever since Linley and I went into the Mall of America store last Spring, I've been keeping an eye on them and they're clothes are 1. pretty damn cute and 2. reasonably priced. They almost always have a sale going on, so nothing is ever really full priced! I highly recommend you check it out. I just got this shirt (see below) there that everyone has been raving over on IG.
With that said, I've pulled some pieces that I either currently have or that are on my wish list for this year! Skinnies, boyfriend shirts, and booties…never go out of style! Please and thanks.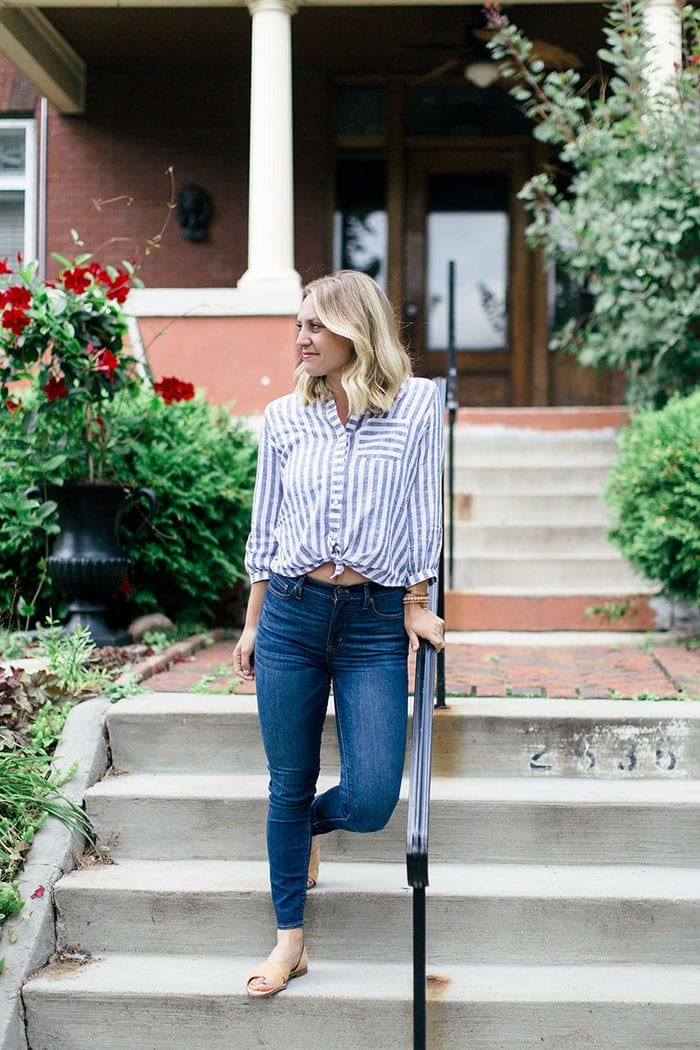 PANTS/JEANS
Praise the lawd that skinny mid-rise jeggings are still in because they are all I wear. For once in fashion history, I think trend jeans actually fit my body! Anyone with a booty and thighs knows that the mid-rise fit is a godsend and jeggings…need I say more?

SHOES
As I was scrolling through shoes online, I realized I was saving mostly booties and mules. I like to keep my shoes pretty neutral such as beige, browns, and blacks so that they go with everything in my closet. Here's some of my favs right now.

TOPS/SWEATERS
When it comes to tops I'm all about comfort. I am also all about that front tuck. This year I'm planning on wearing a lot of slouchy tees, front tie blouses, and of course, plaid shirts! I'm also loving the super long cardigan look.

DRESSES/ROMPERS
Dresses that hit me at my waist are my jam. Not going to lie, dresses are tough for me because I have to figure out how to balance my boobs without making them look frumpy or buy a dress that's skin tight (no always comfortable!). I tend to gravitate towards solid, darker dresses, but this year I want to get riskayyyy and go pattern or floral.

ACCESSORIES/BAGS
Living in Minnesota, I am all about that scarf. I almost always have on in my bag just in case it gets cold! I'm still loving blanket scarfs and ascots. As for bags, leather me up! I've been on the lookout for a leather backpack purse and I think I found a few contenders.

Alright friends your turn. What are you most excited to wear for fall? What good style finds have you found recently?
Disclaimer: This post contains affiliate links meaning that if you click through using my link and purchase something, I will receive a monetary commission. Thanks for supporting Fit Foodie Finds!