Top your taters with some delicious slow cooker three-Bean turkey chilly and you have yourself a protein-packed lunch or dinner!
FUN FACT- My Dad used to call me spud as a kid. As a family, we had a favorite restaurant in town (New Berlin Family Restaurant <— I grew up in New Berlin, WI) and I would order (I kid you not):
A Baked Potato
Hash Browns
And steal my sisters fries
I am thinking about changing all of my social media handles to FitFoodie_Spud. I wonder if they are taken ;)
The day I learned POTATOES WERE BAD FOR YOU was like the worst day ever. Then I did some researched and realized, okay they aren't THAT bad. It's really what you do with them and what you top them with.
Insert —> Crock-Pot Turkey Chili.
Guys.
Top your taters with something protein and fiber-filled and it will cancel out the starchiness of the potato. Uh…I think.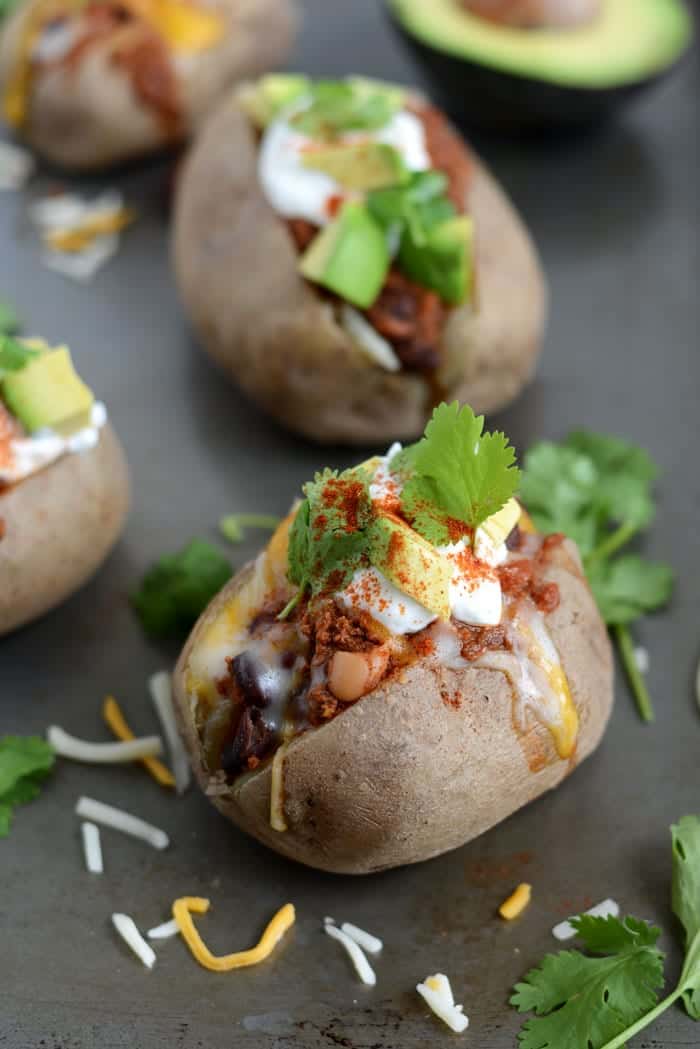 That's what I do at least! I also top it with some plain Greek yogurt, a sprinkle of low fat cheese, avocado and about a cup of salsa (not pictured).
Recipe
Crock-Pot Three Bean Turkey Chili Baked Potatoes
Top your taters with some delicious slow cooker three-Bean turkey chilly and you have yourself a protein-packed lunch or dinner!
Prep Time:

10 minutes

Cook Time:

8 hours

Total Time:

8 hours 10 minutes
Ingredients
For the Chili
1 lb. Ground Turkey, extra lean
2 cans Diced Tomatoes
1 can Black Beans, rinsed and drained
1 can Kidney Beans, rinsed and drained
1 can White Beans, rinsed and drained
1 small can Tomato Paste
1 small can Green Chilis
3 tablespoons Chili Powder
1.5 teaspoons Paprika
1/2 tablespoon Cumin
Salt and Pepper, to taste
For the Baked Potatoes + Toppings
8 Medium-sized baked potatoes
Plain Greek yogurt
Avocado
Salsa
Low-Fat Colby Jack Cheese
Instructions
Place all of the chili ingredients in your crock-pot and mix until combined. Turn to low and let cook for 8 hours OR turn to high and let cook for 4-5 hours.
For the baked potatoes, you can either nuke them for 3-5 minutes each, or follow THESE DIRECTIONS on how to do them in the oven.
Top with Greek yogurt, avocado, more paprika, cheese, and salsa!
Notes
Nutrition information does not include toppings listed
Nutrition
Serving Size:

1/8

Calories:

426

Sugar:

9

Sodium:

814

Fat:

4

Carbohydrates:

71

Fiber:

14

Protein:

26
Similar
You could also do this with sweet potatoes if that is your jam. I had to go classic this time, because a good baked potato every once in a while never did any harm!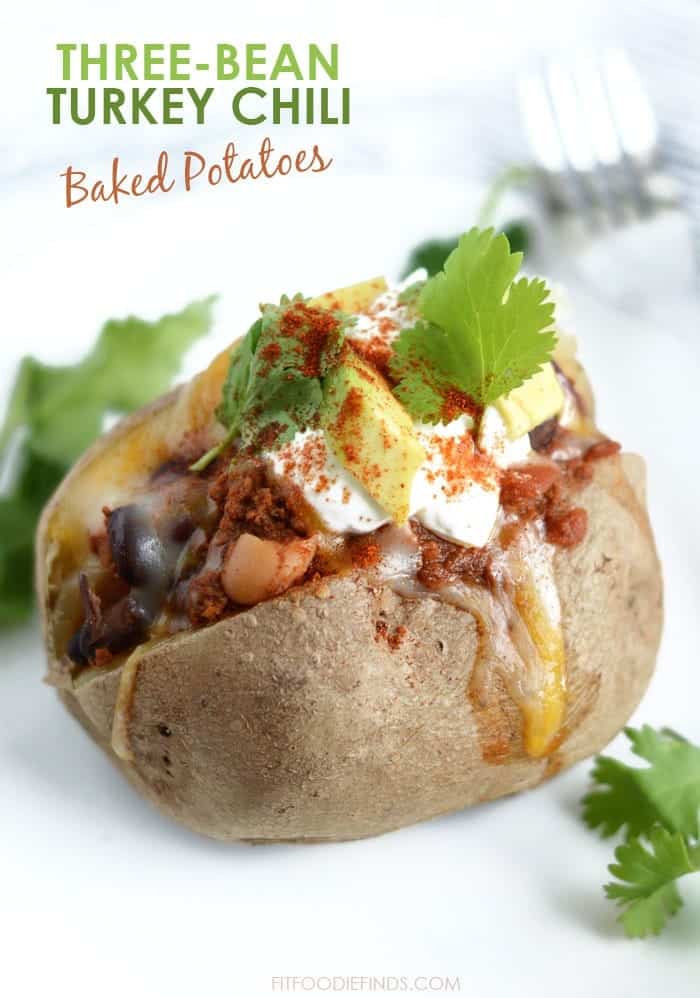 Plus- Blake prefers normal potatoes over sweet…I think.
Normal Potatoes vs. Sweet Potato. What is your jam?
PS: I am out of the country for the next week! I left yesterday for Nelson, BC Canada to spend a week at the Mountain Trek Resort. So just take this as my Out of Office Response for the next 7 days. You can follow my adventure on Instagram where I will be capturing the beautiful scenery of BC (we're talking hot springs, mountains, and more!) .