All you need are 3 ingredients and 3 minutes and you've got yourself a frozen dessert that's sure to satisfy your sweet-tooth craving!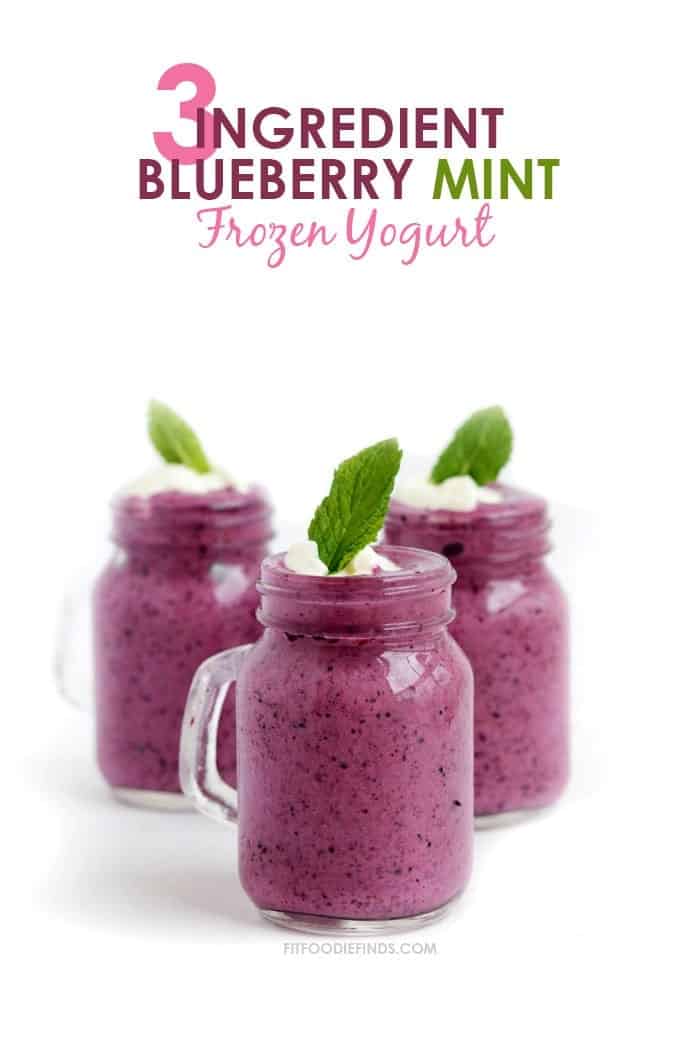 I can't tell you how often I get asked the question: Do you eat everything you make?!
My answer: Of course I test and eat everything I make! BUT- sometimes It goes a little like this: Breakfast is pancakes for next week's blog post, lunch is left over's from tomorrow's blog post (which I prepped the day before) and dinner is a protein shake. Sometimes I even eat JUST brownies for lunch…because, well, that's what works for me!
Intuitive eating has played a huge roll in my career change.
PS: Did you know, that this month marks a full year since I decided to go full-time with Fit Foodie Finds? Remember that post I wrote back on July 14 of 2013? CRAZY how fast time flies. I can't even believe it's been a full 365 days. I couldn't be in a happier place with my life. I wake up happy and I go to bed happy.
Not only do I love what I do, but I love WHO I am surrounded by. I wouldn't be doing what I am doing if it weren't for my sister who suggested I start a blog almost 4 years ago. For my parents who haven't doubted me for a second. For Blakester who is my partner in crime and Fit Foodie Fan Boy constantly challenging me to be my best. For my little brother who makes me laugh until I pee (laughter is key people). For my friends who think it's normal to take selfies and pictures of food everywhere I go (seriously, no judgement…not for a second!). For my mentors in the fitness and blogging community who paved the way showing young females like me that it is possible to be your own boss and build your own business from the ground up.
I am mocking up big plans to give back to the female blogging industry. You just wait.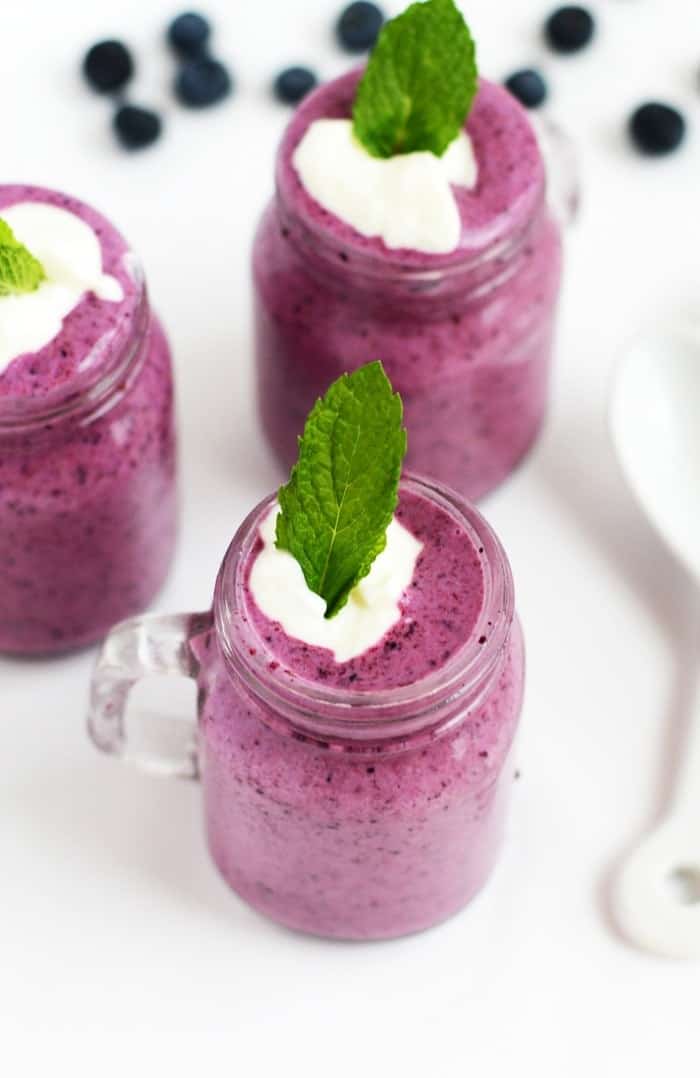 I wanted to post a little something that isn't so extravagant, but very familiar to my tummy. Just because I'm a "food blogger" doesn't mean I go all out for everything I eat. Come to think of it, a lot of what I eat only consists of 2 or 3 ingredients and I am totally okay with that. Less is more :D
This fro-yo is perfect after a workout or as a late night snack. You'll need:
frozen blueberries
vanilla Greek yogurt
fresh mint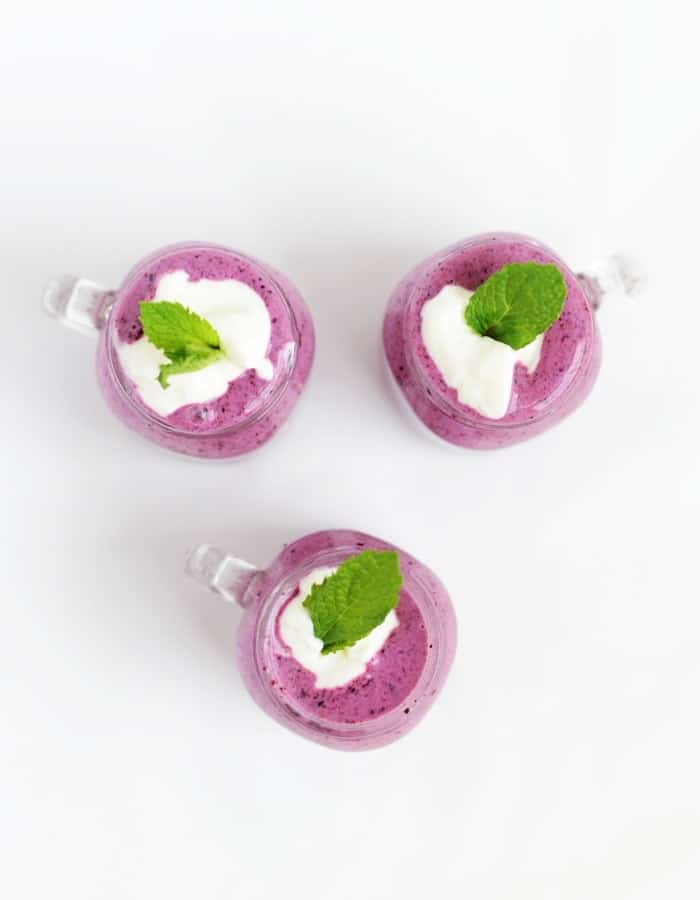 Mix it all together and you've got yourself a frozen dessert that is mm mm good.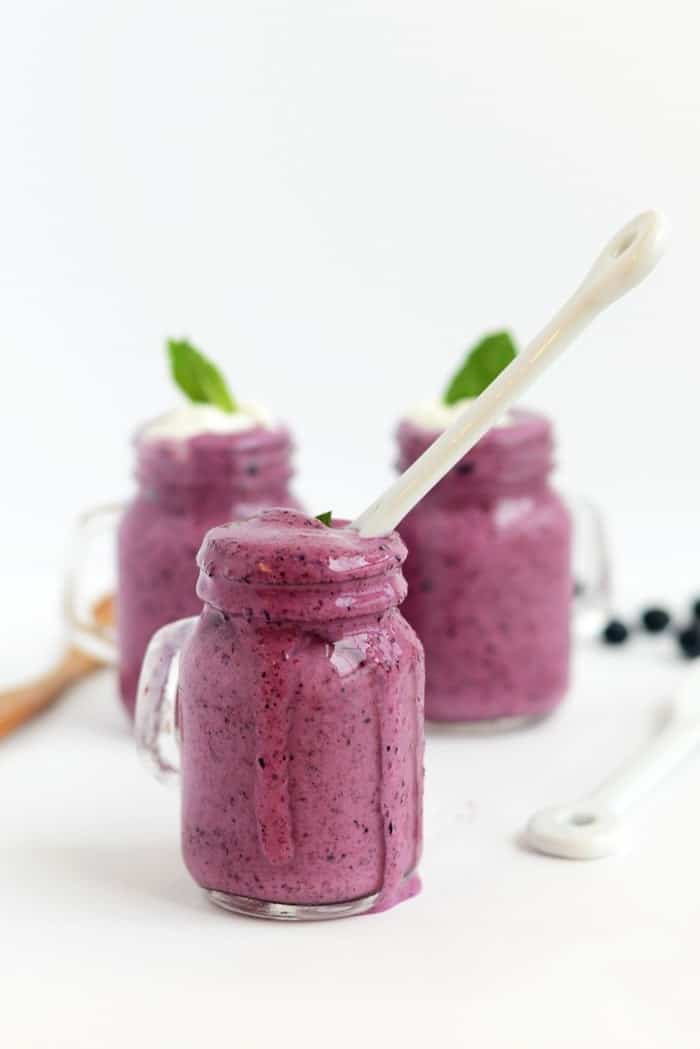 I also want to make a note that this serves 1-2. I got these little mason jar shot glasses the other day…and it filled about 4 of them. Just because it fills 4 shot glasses doesn't mean it's 4 servings. Let's face it- I did it for the photo.
Recipe
Three-Ingredient Blueberry Mint Frozen Yogurt
Prep Time:

5 minutes

Cook Time:

5 minutes

Total Time:

10 minutes
Yield:
3

-

4

smaller servings or

2

larger servings

1

x
Ingredients
1 cup

vanilla Greek yogurt, 0% fat

1.5 cup

s frozen blueberries

2

–

3

mint leaves, to taste
Instructions
Place all ingredients in a small food processor. Process until smooth. Serve with additional greek yogurt and a mint leaf on top.
Similar
I even made a Bad A image for you to pin. Plus, I thoroughly enjoy making images like this.

Do you work for yourself? What keeps you motivated to do what you love?